Indian food is hardly homogenous. The local cuisine changes every few hundred kilometres. Find out which restaurants in the five metros boast of the finest Indian cuisines.
The cuisine: North-West Frontier
The place: Bukhara, Delhi


Why it tops:
This is not just the best in India, but also among the very best in the world. The employees here are genuinely proud of the fact that former US President Bill Clinton chose to stay at ITC Maurya because he wanted to dine here.
It doesn't come as a surprise then that the UK-based Restaurant Magazine ranked Bukhara as one of the 50 best restaurants in the world and the best in Asia in 2007.
The best way to experience Bukhara's celebrated cuisine is to order an assorted kebab platter. Follow this up with any of Bukhara's classic lamb (raan) dishes, which are best savoured with thin butter naans. And if you have a sweet tooth, try its phirni or one of their amazing kulfis. This is an expensive restaurant but the food is worth every penny.
Where:
ITC Maurya, Delhi
Open:
12.30 p.m.-1.45 p.m. and 7 p.m.-11.45 p.m.
Contact:
011-26112233
Meal for two:
Rs 4,500
Signature dish:
The Kebab Platter
The cuisine: Bengali
The place:
6 Ballygunge Place, Kolkata
Why it tops:
If you are looking for authentic Bengali cuisine, this is definitely the place to go to. Walk into 6 Ballygunge Place, and you can gorge on lip-smacking delicacies like Doi Ilish, Lau Chingri, Dab Chingri or Mutton Kalia.
There is also Payesh and a lot more sweets to choose from. With impeccable service and a cosy ambience, this place will surely make you feel at home.
Where:
6 Ballygunge Place, Kolkata
Open:
12.30 p.m.-11.45 p.m.
Contact:
033-24603922
Meal for two:
Rs 2,200
Signature dishes:
Daab Chingri, Bhapa Ilish
The cuisine: Gujarati
The place:
Swati Snacks, Mumbai
Why it tops:
This place, voted among the best Gujarati restaurants in India year after year, is full even on weekdays. Welcome to Swati Snacks.
Unlike most traditional Gujarati restaurants, Swati Snacks has adapted and moved with the times, without losing track of what its loyal clientele wants. Waiting for a minimum of half an hour for a table is the norm here, but the food is worth the wait.
The menu, which testifies to the culinary traditions of Gujarat, has dhokla, ponkh, srikhand and everything else Gujarati. This is one place that is as much a hallmark of Mumbai as the Queen's Necklace.
Where:
Tardeo, near Bhatia Hospital, Mumbai
Open:
11:30 a.m.-11:30 p.m.
Contact:
022-56608405
Meal for two:
Rs 200
Signature dishes:
Dal Dhokli, Panoli and Satpadi Roti, Malai Malpua
The cuisine:Konkani
The place:
Konkan Café, Taj President, Mumbai
Why it tops:
The chef here has earned an enviable reputation for his inspired specialties, garnered from the Konkan coast. Although the menu does undergo changes from time to time, the classics are available at all times. Take our suggestion and order the Red Snapper cooked in a Spicy Tomatoonion Sauce, which is baked in banana leaves; or the amazing Sukha Mutton. You can also sample Goan specialties like Chicken Cafreal or Pomfret Recheado with Feni. Savour the lovely crab cakes as well. The food will taste better with a glass of wine. Here's a secret: its cellar has an enviable collection of wines.
Where:
Hotel Taj President, Mumbai
Open:
12.30 p.m.-2.45 p.m. and 7 p.m. to midnight
Contact:
022-56550808
Meal for two:
Rs 5,000
Signature dishes:
Appams and Stew, Orange Kulfi
The cuisine:Mughlai
The place:
Dum Pukht, Delhi
Why it tops:
This is one of the most talked about restaurants in India. Like the nawabi culture from which it's drawn, the food and style at this restaurant are subtle and refined. Nowhere else will you find such a wide variety of Mughlai cuisine. Try the Dum Ki Khumb (button mushrooms in gravy, fennel, and dried ginger), Kakori Kabab or the special Raan-E-Dumpukht (a leg of mutton marinated in dark rum and stuffed with onions, cheese, and mint). Honestly, these are dishes to die for.
Everything about this restaurant is superb. It's not inexpensive but undoubtedly one of the best to sample the dum pukht style of cooking.
Where:
ITC Maurya, Delhi
Open:
12.30 p.m. to midnight
Contact:
011-26112233
Meal for two:
Rs 4,000
Signature dish:
Raan-E-Dumpukht
The cuisine: Rajasthani
The place:
Choki Dhani, Jaipur
Why it tops:
First, let us clarify why we chose a place that is not situated in any of the five metros. This is a four-and-a-half hour drive from Delhi. But many people in Delhi drive out to Chokhi Dhani after lunch to reach there for an early dinner. You can even spend the night in Jaipur before driving back the next morning. It's quite a popular option on weekends. Dining at this five-star resort is a unique experience in itself. A traditional Rajasthani meal, served in the typical style of Manuhaar, makes it unique.
As the waiters in traditional village garb bustle about serving guests, the aroma of cooking from the kitchen wafts in—a unique dining experience, indeed. In a traditional manner, water is served in clay tumblers. A set meal is offered along with two marble-sized containers that contain desi ghee with which you sprinkle any and everything you choose. Daal, gatti (besan dumplings in daal), different kinds of vegetables and three kinds of bread are then served. Afterwards you are given khichdo (daal and rice cooked together).
Where:
Tonk Road, Jaipur
Open:
7 p.m. to midnight
Contact:
0141-2225001
Meal for two:
Rs 550
Signature dishes:
Khichdo and Malpua
The cuisine:Malayali
The place:
Karavali, Bangalore
Why it tops:
For more than a decade, this indoor-outdoor restaurant has been wowing guests and winning awards. Walk into this restaurant and grab a table in the open-air courtyard, which has wrought-iron garden chairs. You can also sit inside where antique furniture and walls, adorned with old seafarer maps and a grandfather clock, greet you.
For seafood lovers, Karavali is a godsend, with Allepey fish curry and Pearlspot caught off the shores of Cochin in Kerala. There are also some great fresh bekti, shrimp, tiger prawns, scampi, squid, sole and ladyfish dishes to be had here. The chef here drums up sensational starters like the pomfret fried in a banana leaf, which you can follow with dry Malabar-style tiger prawns or Kane Fry (ladyfish). If you've any room left for the main course, try the Crab Molagu (pepper crab) with appams or Kerala Parantha and round off your meal with Addapradhavan (flattened rice kheer).
Where:
Taj Gateway, 66 Residency Road
Open:
12.30 p.m.-11.45 p.m.
Contact:
080-66604545
Meal for two:
Rs 2,500
Signature dishes:
Allepey Fish Curry, Karimeen
The cuisine: Punjabi
The place:
Punjabi by Nature, Delhi
Why it tops:
This is one of Delhi's best-regarded Punjabi restaurants, with two floors for diners and a pub upstairs. On the first floor is a display kitchen where you can watch tandoori items and desserts being made. Our tip: ask for a table here, and soak in the atmosphere. As for the food, order the Tandoori Trout, flown in specially from Himachal Pradesh. Or if you want, ask for the Masala Quail. Lobster is brought here from Mumbai and cooked to perfection in the tandoor oven. Of course, even vegetarians have a great choice. Try the Tandoori Broccoli, prepared in a mustard marinade; or Sarson Ka Saag, fresh mustard greens served with homemade cornmeal bread. Also try the house specialty, a Gol Gappa Shot: a gol gappa or phuchka filled with vodka.
Where:
11 Vasant Lok, Vasant Vihar, Delhi
Open:
12.30 p.m.-11:30 p.m.
Contact:
011-51516665
Meal for two:
Rs 2,000
Signature dishes:
Tandoori Trout, Gol Gappa Shot
The cuisine: Andhra
The place:
Nagarjuna, Bangalore
Why it tops:
Nagarjuna serves one of the best Hyderabadi biryanis you will ever taste and the place is simply irresistible for its quality of Andhra-style food.
The ambience of this place is great. It has been renovated a while back and, therefore, the interiors and the furnishings are classy. The best part is—for such amazing food—the place is not very expensive.
A Chicken Biryani costs around Rs 100, and a typical small portion of a chicken dish costs Rs 60. The best bet is to order a large biryani with one chicken dish. Or, order a Mutton Biryani with a side order of roast chicken, fish fry and an omelette, and an ice-cream at Corner House below to finish off. Bliss!
Where:
44/1 Residency Road, Bangalore
Open:
12 noon to 11 p.m.
Contact:
080-25559848
Meal for two:
Rs 500
Signature dish:
Hyderabadi Mutton Biryani
The cuisine:Kashmiri
The place:
Chor Bizarre, Delhi
Why it tops:
The name may raise an eyebrow or two, but trust us, the food here is as good as it gets, unless you are in Kashmir. Chor Bizarre is packed with fascinating odds and ends, mismatched settings, out-of-place furnishings, and re-assembled bits and pieces (matchboxes, coins, chessboards, antique combs, ivory sandals, jewellery and chandeliers), innovatively displayed to create one of India's most visually dynamic restaurants. For your information, it also has a branch in London now.
Every table here seems to have a history attached to it. One table was previously a Maharaja's bed, while a 1927 vintage Fiat has become the buffet-carrying "Chaat mobile." Order deep-fried lotus roots, prepared Kashmiri-style, and move on to Kakori Kebab, lamb marinated in 36 different spices and grilled in a tandoor. Cardamom-flavoured lamb meatballs (Goshtaba) are another delicious Kashmiri specialty, slow-cooked over an open flame. If you want a set meal, try the Kashmiri Taramis (thali), filled with treats and served from a traditional royal platter.

Where:
4/15 A. Asaf Ali Road, Delhi
Open:
12 noon to 11.30 p.m.
Contact:
011-23273821
Meal for two:
Rs 1,500
Signature dish:
Cardamom-flavoured lamb meatballs
The cuisine: Parsi
The place:
Café Britannia, Mumbai
Why it tops:
Located in the heart of south Mumbai where the Parsis still have a sizeable presence, this traditional Parsi joint remains one of the most popular restaurants in Mumbai and people come from near and far to try the food and sample their legendary hospitality. The scrumptious food—Dhanshak, Berry Pulao, Patra-ni-machhi and Sali Boti—more than make up for the simple decor here.
After a great meal, try its caramel custard for dessert. Or if you want a drink, the Raspberry Soda may just be what you want.
Where:
Sprott Road, Ballard Estate, Fort, Mumbai
Open:
12 noon to 3 p.m.
Contact:
022-22615264
Meal for two:
Rs 500 plus taxes
Signature dishes:
Berry Pulao, Patrani Fish, Dhansak, Caramel Custard
The cuisine: TamilThe place:
Raintree, Taj Connemara, Chennai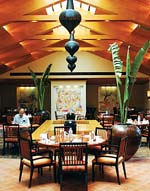 Why it tops:
Definitely one of the best places for south Indian food in India and by far the best for Tamil food.
After sipping a welcome drink—a widebrimmed copper goblet of Vasantha Neer (honey-sweetened tender coconut water), try its Kozhi Chettinad, a boneless chicken dish in an authentic Chettinad sauce, best had with appams; or try the Karaikudi Kari (lamb chops). The really adventurous can ask for Moolai Melagu, tender lamb brain cooked in a peppery masala. Order rice flavoured with tamarind as an accompaniment. Finish off with the delicious coconut dessert, Elaneer Payasam. Weekend buffets are a good value for money. A choice of six vegetarian and six non-vegetarian dishes and an assortment of eight desserts will make for a great Sunday lunch.
Where:
Binny Road, Chennai
Open:
11.30 a.m.-3 p.m. and 7.30 p.m.-11.30 p.m.
Contact:
044-66000000
Meal for two:
Rs 2,000
Signature dishes:
Karvepalai Yera, Kozhi Milagu