Cook crabmeat at home? You must be kidding, we wondered when Executive Chef Walter Lanfranchi at Delhi's Shangri-La hotel told us he would help us whip up a few cool dishes. "There are sea crabs and there are rock and mud crabs. All of them taste different. But all of them taste slightly sweet.
Crabmeat is highly rich in calcium. The trick is to cook it in its shell. It ensures that the meat retains the juice and the flavour," Walter tells us, as we move into the hotel's plush kitchen.His recipe for the day: Crab Timbale—a yummy crab salad.
Get 'em cleaned:
When cooking crabs at home, it is advisable to buy cleaned crabs. "The Alaskan king crab is my pick since you get a lot of meat in it," he says as he readies the meat. His tip: never wash crabmeat in hot water. Just rinse it quickly in salted water (at room temperature) so that the flavour is not lost.
The marinade:
Walter fishes out some tomato, red wine vinegar and lemon grass, places them on a muslin cloth and allows the water to drain. Next, he seasons it with salt and pepper.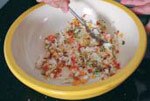 The dressing:
"Now is the time to go chop-chop-chop…" says Walter. I watch patiently as he finely chops cucumber, celery, red-yellow-green capsicum, green chillies and mango.
Next, he mixes the diced vegetables, chilly, coriander leaves and the Alaskan king crabmeat with a couple of teaspoons of olive oil, before adding a dash of lime juice, salt and pepper. "You can also use grape juice or orange juice. It adds freshness to the salad," he says.
The final cut:
It's time for some action. Walter puts me to work. He gives me a mould and asks me to "layer" the salad. I take the cylindrical mould and place it on a tissue paper (to absorb extra water). I first make a layer of crabmeat and the vegetable mix inside the mould. Next, I put a layer of mango and finally top it up with caviar.
Now comes the tricky part where Walter takes charge again, placing the mould delicately on the plate and removing it. He does it with absolute perfection. The salad is now out of the mould and on the plate. He garnishes it with tomato, a dash of red wine vinegar and herbs of his choice. We are ready to dig in and Walter wants us to enjoy it with a glass of Chardonnay. We oblige.
The diy crab recipe


Singapore Chilli Crab For two persons
Ingredients:

1 kg live mud crab (cleaned and cut in
pieces.)
2 tbsp sugar
2 tbsp oyster sauce
½ tsp black Soya sauce
50 ml calamansi juice
500 ml chicken stock
120 ml sweet chilly sauce
120 ml tomato ketchup
1 egg
½ tbsp corn starch (to thicken the sauce)
Dash of Chinese wine
Dash of sesame oil
6 tbsp cooking oil
Spicy blend ingredients:
120 gm fresh red chillies
20 gm fresh garlic
30 gm fresh ginger
All ingredients need to be finely blended.
Cooking method:
Heat oil and stir fry the crab for two minutes on high heat, deglaze with Chinese wine and sesame oil, add the chilli sauce blend and cook for another two minutes. Add the remaining ingredients except corn starch and egg. Cook for 6-8 minutes, dilute the corn starch with a bit of cold water. Add it to the crab and stir well, whisk the whole egg and add it. Cook for 30 seconds and remove from fire. Serve with steamed rice. Garnish with fresh coriander.