GETTING THERE IS HALF THE FUN.
Or, is it? When officials of the Cunard Line shipping company famously used this catchline in the 1950s to herd tourists into its luxury cruises, they certainly weren't referring to airport layovers. According to most passengers, having to wait for a connecting flight at a terminal in the middle of nowhere land is akin to being stuck in limbo - far from the starting point and not a lot closer to the destination - with nothing better to do but twiddle your thumbs. The creaky chairs and packaged sandwich lunches don't help either, and for some reason, you just can't get the theme song of The Terminal out of your head. But things are changing, for the better. Airports across the world have realised the importance of making visitors feel at home, especially the ones who stay for stretched periods of time in their visitor lounges. Besides enhancing culinary options with the establishment of gourmet restaurants and upscale watering holes, they have introduced entertainment-cum-comfort facilities that range from 4-D movie theatres to bowling alleys and golf courses. For travellers inclined to high art, there are museums and exhibitions that promise to make them wish that the weather delays their flights for just a little bit longer. A look at five of the best airports across the world for a layover.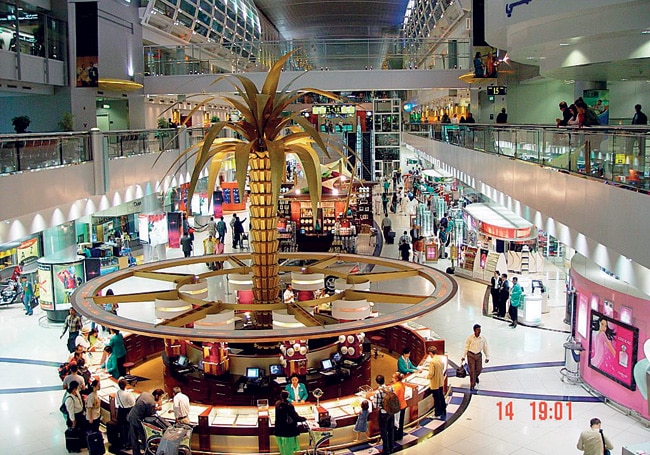 DUBAI INTERNATIONAL AIRPORT
If you believe that shopping is the best cure for ennui, this airport located in the capital city of the United Arab Emirates should be the apt choice for a layover. Stretch your legs after a non-stop 24-hour flight with a brisk walk through the world's largest airport duty-free Mecca, with over 58,000 feet of shelf space devoted to perfumes, liquor, tobacco, watches and luxury articles. Once you have indulged your baser instincts at the shopping arena, treat your tired bones to some well-deserved rest at the luxurious Dubai International Hotel, featuring 88 beautiful suites and a world-class restaurant with panoramic views. The fun doesn't end there.


For fitness enthusiasts, the fully equipped G-Force Health Club at the Sheikh Rashid Terminal features resistance and cardio-vascular machines, a swimming pool, shower facilities, saunas, jacuzzis, steam rooms and massage rooms. Qualified instructors and masseurs work 24/7 to help you make the most of your visit. But, just then, you get a call from your office - asking you to urgently set up a virtual conference with five clients across three continents. Make your way to the in-house Connect Business Centre, which offers a wide range of business support services round the clock. In addition to complete secretarial services and computer workstations, the centre has a number of conference rooms - the largest of which features a rear-projection video display system.

AIRPORT FACTS
Country United Arab Emirates
Main Airlines Emirates, KLM, Air India, British Airways
Look out for
1. World's largest duty-free Mecca
2. Fitness club for health enthusiasts
3. Connect Business Centre for corporate travellers
---
VANCOUVER INTERNATIONAL AIRPORT
There are very few airports that cater to every whim of a person, and if you happen to be passing through Vancouver - rest assured, you are at one of them. If you are travelling with your wife, she may want to visit the pre-security dental office for botox treatment. If food comes to mind, there is no shortage of establishments - from bars, fast food joints and sit-down restaurants like White Spot and Milestone's - that cater to the hungriest of tummies. And then, for others, a layover at Vancouver is like staying overnight at the biggest of shopping malls. Apart from 13 different duty-free establishments at the airport, visitors can splurge their money on everything from electronics to fashion and jewellery at various outlets located across an expansive commercial zone. Bookworms may browse through the numerous newsstands and bookstores that dot the airport - they have enough to fill up an entire library. However, all this plays second fiddle to the Vancouver airport's main attraction - an 114,000-litre aquarium located in the main atrium of the international terminal. While this piece of display features as many as 850 species of Pacific-specific marine life, such as fish-eating anemones and mottled sea stars, a smaller cylindrical tank upstairs holds more than 100 graceful moon jellyfish. For the art enthusiast, there are paintings and art installations displayed across the domestic and international wings. Many of the pieces showcase First Nations art from the Northwest Coast, such as a traditional longhouse doorway and 12-metre carved canoe.

AIRPORT FACTS
Country Canada
Main Airlines Air Canada, Finnair, British Airways
Look out for
1. Expansive duty-free shopping centre
2. Exotic marine aquarium
3. Paintings and art installations
---
HONG KONG AIRPORT
Now, this is one place Tiger Woods would love to be stuck in. Nestled in Terminal 2 of the Hong Kong Airport is the Sky City Nine Eagles Golf Course, complete with a nine-hole expanse, an artificial lake and floodlights that facilitate night play. But if virtual gameplay is more your thing, the Hong Kong Airport has an answer for that too. Welcome to the Play Station Gateway, a virtual entertainment arena that offers the latest in PS3 and PSP games. Or, would you care for a movie instead? Head to the 4-D Extreme Cinema Hall at the airport, which features second-run releases like Saw 3-D and The Nutty Professor with multi-sensory special effects. Just remember - you might want to hold your breath every time Eddie Murphy indulges in some on-screen flatulence.

AIRPORT FACTS
Country China
Main Airlines Cathay Pacific, Lufthansa, British Airways
Look out for
1. Airport golf course
2. Virtual gaming arena
3. 4-D Extreme Cinema Hall
---
CHANGI AIRPORT
Getting bored at Changi would take nothing short of superhuman abilities. Rated no. 2 in the Skytrax list of best airports, it has something for everybody - from a free X-Box and PlayStation game centre to one of the most interesting botanical gardens you may have the good fortune to come across. You could start your Changi experience by checking into the Crowne Plaza Hotel, voted as one of the world's top 10 airport hotels. Once inside, you find yourself enveloped by a tropical environment - complete with courtyard gardens, a landscaped pool area and peaceful garden views from the lobby lounge. Next, pick up the keys to your accommodation from the counter, and let the bellboy escort you into a comfortable bedroom with state-of-the-art amenities. While you are at it, pamper yourself with a wide range of spa and massage treatments as well as a fine selection of bars and restaurants. But wait! Maybe your flight is just a few hours away, and you would rather go on a quick tour of Singapore instead of wasting your time lounging around in a hotel room. Hop into an airport bus for a free two-hour ride through the city - immersing yourself into a harmonious blend of culture, cuisine, arts and architecture. A joint venture between Changi Airport and Singapore Airlines, the tour covers most of important landmarks of the city, including the Singapore Flyer, Gardens by the Bay, Marina Bay Sands and The Esplanade, and brings you back well ahead of the departure time for your next flight.

AIRPORT FACTS
Country Singapore
Main Airlines Singapore Airlines, Malaysia Airlines, Virgin Australia
Look out for
1. Free tour of island city-state
2. Balinese-themed rooftop pool
3. Live Butterfly Garden