As the afternoon Shatabdi Express chugs into Kathgodam, the weather still seems warm for the foothills of the Shivalik range. The jeep ride that follows has all the hallmarks of a hilly holiday in India-winding roads, rhododendron flowers in full bloom, and signs of encroaching urbanisation-only, it isn't any cooler than the searing northern plains.

But soon after Bhimtal, and just as I am about to resign myself to the loss of paradise, the setting starts to change. We roll down the window panes and the wind is almost nippy. Budget hotels, settlements and shops thin out, making way for lush foliage of sub-tropical pine, silver-oak, cedar and coniferous trees.


We walk
on the narrow clearing through terrace farms. En route is a serpentine stream cascading through apple and orange orchards.
And then comes a moment of instant gratification. As we hit a hairpin bend, we catch a glorious view of the great Himalayas; the fabled powdery peaks of Nanda Devi, Trishul and Panchachuli, aglow in the evening sun. Mountains can have a magical effect. Just a glimpse of these towering peaks is therapeutic for a tired citydweller. Rejuvenated, we continue our journey to Dhanachuli, as the sky changes from a brilliant cerulean to a warm tangerine.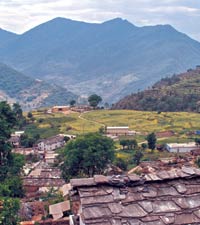 The road forks at Bhateli. One stretch leads to the famous pilgrim stop of Mukteshwar; the other to our nondescript destination. Located at a height of 2300m, Dhanachuli is perfect for the summer and
doubles up as a winter wonderland
. This sleepy village with just 200-odd homes is far removed from the crowded hill stations of Kumaon. I look at my cellphone. It isn't picking up a signal. This is going to a be a good holiday.
Te Aroha, my retreat in these hills for the next two days, appears on the last bend to Dhanachuli, its canary-yellow sloped roof beaming and inviting. Standing at the gate, I see the various wings of the estate stacked one on top of the other, blending well with the terraced slopes on which they stand. The place has a colonial charm to it-right from the wooden staircase leading up to the main lobby, to the large fireplace fringed by sink-in sofas, and wide, open decks intended for unhurried afternoons in the sun.
Each of the ten rooms (four suites and six doubles) in Te Aroha come decked in period furniture and are themed. Every piece of furniture, upholstery, and decorative has been personally hand-picked by owners Sumant and Asha Batra. This property, once their ancestral summer home, has been turned into a bonafide boutique hotel meant for discerning clientele.
There's no place for the idiot box in these rooms; only books and travel magazines lay strewn on the coffee tables. Huge glass windows come with glorious panoramas of the Himalayas. These make the rooms sufficiently sun-lit and add to our satisfaction. My room is the spacious Master Bedroom with a stately four-poster bed and an ensuite living room. The small balcony overlooks the valley below. I intend to spend a lot of time here.
ALSO READ
-
Perfect getaway: The Tree House Resort
The place is truly one-of-its-kind. Consider Cafe Flashback, which sits at the very top of the property. This kitschy museum cafe houses Sumant Batra's personal collection of sepiatinted film posters and advertisements, original pieces of period furniture, some wooden toys from his childhood, and a fully-restored Lambretta in the centre. Savour the cafe's selection of aromatic teas and coffee, and delicious finger foods while taking in the 360-degree view of the Dhanachuli valley.
The resort is staffed by a team of locals. They have a certain simplicity about them that's singular to hillpeople. The restaurant works on a set-menu basis and sources its ingredients locally. The chef's special preparations are gaderi ki subzi, bhaatt ki dal, and a Kumaoni roast lamb curry that you must have with steamed rice. The food at Te Aroha echoes the rusticity of the region.
The next morning, we set out on a hike into the original Dhanachuli settlement that's located downhill from the village. We walk on the narrow clearing through terrace farms. En route is a serpentine stream cascading through apple and orange orchards. Morning rush hour takes a whimsical twist here-little children in bright red pullovers trudge past us on their way to school.
Farmers on their way to the fields, hum local tunes. In the valley below, a cluster of hutments draw our attention. The villagers claim that these are the homes of the first settlers in the region. These long-abandoned homes are made of indigenous wood and stones. The wooden pillars and beams flaunt intricate floral carvings that must have taken days of manpower. Even after decades of harsh weather, gales, heavy snowfall, and lack of proper maintenance, the structures still stand intact.
A chill runs down my spine as I imagine the people and their primitive life in the valley. What made them abandon their homes and this fertile land? No one has a conclusive answer to that. In the midst of the settlement stands a fairly large temple dedicated to a local deity. The temple seems to have been built recently. The sacred symbolism of the place is a tad too blatant for this agnostic's eye.
As we trek back uphill to Te Aroha, I can almost feel the profound mysticism that reverberates in these shadowy mountains. Dhanachuli's fascinating intrigue and Te Aroha's effortless allure have touched a chord somewhere deep within.
---
BT MORE RECOMMENDS
Getting There:
The best way to reach Dhanachuli is to take a morning Shatabdi train to Kathgodam station that lies about two hours from the resort. Te Aroha can send a cab to the station to pick you up if requested in advance.
Accommodation:
Te Aroha is the only upscale boutique hotel here. Rooms start from `7,500 a night of twinsharing basis and include meals.
Things to Do:
Short treks and nature walks are ideal in this seldom-visited and unspoilt location. A walk into Dhanachuli's original village dating back from 200 years in very interesting. Temple town, Mukhteshwar, is just 17 km away and calls for a visit.