Technology is not all about small, shiny gadgets that occasionally need to be plugged into a wall. The stuff that goes into some of the luxury high-end timepieces is getting more and more complex—not just due to more complicated microprocessors, but also because of minute mechanical components becoming smaller and being made out of ever more exotic materials.
At the recent Basel World Watch Fair in Switzerland, some of the most complicated pieces of watch engineering ever were on display.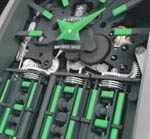 1. de Grisogono dG Meccanico

This watch is mind-boggling, not because it has a combination analogdigital display. After all, several watches have such systems.

But take a look at this one: the digital display at the bottom is made of rolling tubes. This is an amazing piece of engineering by a small watch company, and the Meccanico will set you back over $250,000 (Rs 1 crore) per piece.

Only 177 of these watches have been created, so you can buy one only by invitation.


2. HD3 Bi-Axial Vulcania

Very few cars cost more than this $400,000 (Rs 1.6 crore) masterpiece by watchmaker HD3. This watch is inspired by Jules Verne's 20,000 Leagues under the Sea and particularly the Nautilus submarine.

It has a titanium-platinum front and a unique way to tell time with the minutes on a disc and the hours on a wheel.

This is a fantastic piece of precise engineering.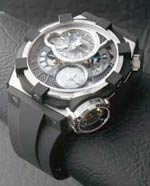 3. Concord C-1 Tourbillion

This watch has the most insane level of over-engineering because it actually has a mechanism to counter gravity — such watches went out of fashion in the 1800s.

The levels and gears on this watch actually ensure that it is not influenced by any changes in the gravitational field of earth.

These were the sort of watches that were useful before atomic clocks, but it sure looks a lot nicer now. At over $500,000 (Rs 2 crore), you would buy it, however, only if you love the technology.


4. Harry Winston Opus8

In the contest for technologically superb watches, this rare (only 50 are being made) $250,000 (Rs 1 crore)-plus masterpiece designed by ace watchmaker Frederic Garinaud stands out.

You have to tell the time by pulling a lever on the side of the watch, which in turn raises the "mechanical" pixels. But the time isn't exactly accurate and is told in five-minute increments.

None of these watches has circuits or wires. And without modern-day precision engineering (think Intel), it is unlikely that these expensive timepieces would ever have been built.