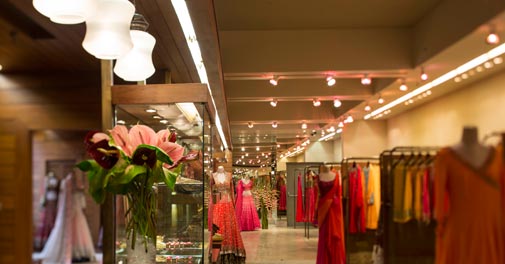 She's the woman one of India's most prominent fashion stores, Ensemble, and has made sure the brand features on the 'must shop from' list of every woman clued into fashion trends. On a personal front, there isn't any instance where you'll spot her not in style. In an exclusive conversation, Ensemble Executive Director Tina Tahiliani Parikh gets chatty on all things fashion and all things style. Excerpts:
BT More: Ensemble has established itself as one of the most influential brands in the fashion sphere. What is the one big reason behind this success story?
Tina: Ensemble is an exceptional Indian platform for both fashion and design. We represent some of the most promising talent of India's indigenous explosion. Ensemble is an iconic establishment for progressive design in India. The essence of Ensemble is in seeking out India's artistic treasures, and the richness of interactions with different people. Today it is not just a store; it is the fine service that we provide at the store that draws people to come back and the relationship that we build with our clients, which are two of the most important factors in making Ensemble what it is today. The essence of Ensemble really comes from searching for the most beautiful talent and designs in India and the sub-continent. We are stringent in our editing to represent the best pieces in all 5 categories we service: Accessories, Casual chic, Resort Wear, Occasion Wear and Bridal Wear.

BT More: What about your personal style? Is it similar to the core value of Ensemble?
Tina: Yes, it is quite similar. It's very important for me to be comfortable in what I am wearing. I also love things that are cut well at the waist as it flatters my body type. I love whites, beiges and tone on tone, though recently I have rediscovered shades of red and burgundy. I want my fabrics to breathe. Chikan is also a technique that I'm partial to. I love saris! There is nothing more glamorous than a sari that is draped and held well. I love them all, from a sexy chiffon to a traditional hand-woven piece by a master craftsman. I also love the old textiles of India. Lastly, I prefer buying things that are more classic.
BT More: What are the three trends you see going really big in the next season? And any trends you wish would immediately stop?
Tina: 'Black and White' is a major trend that I spotted in the upcoming spring summer collections; another trend is 'sporty chic' that was very prominent in a lot of designers' work. Layering is definitely here to stay in as well. As for what I would like stopped, I don't think trends should be stopped. I think it's about how one carries oneself and if one can pull it off or not!

BT More: How do you respond to the growing battle between Indian and western wear when it comes to Indian women?
Tina: I think every woman has her own individualistic style sensibility and her choices stem from that. Of course traditions and cultural beliefs also play a role in her choice of attire. I also think the comfort factor plays a huge and an important role today. Therefore I don't think it would be fair to say there is a battle between the two. It is all about what one chooses to wear!
BT More: Lastly, any tips you'd like to share when styling a completely Indian look?
Tina: I love the idea of wearing a big bindi and dark kohl when wearing an Indian outfit! It enhances the look very well!