The Fio Cookhouse at Epicuria, Nehru Place has a way of cutting the rest of crowded house that is the food court out. The moment you enter the restaurant and bar, the tall windows, cool interiors and elegant bar take over, allowing you to forget about the world for a while.
This summer, the Cookhouse has a new lunch menu (operational between 12 pm and 7 pm) that's summery, delicious and works well even for those who are on the go and are looking to grab a bite early evening between meetings. Begin with the new burrata melon salad which has burrata cheese, organic greens, watermelon and a raw mango dressing. The combination of the fresh, meaty cheese and the cool fruits makes for an excellent starter. If you would rather begin with something heavier, we recommend the spiked chicken salad which has chunks of fried chicken, crumbled gorgonzola cheese, candied nuts and a litchi mint emulsion to bring it all together. The dressing is tangy, fresh and delicious.
In a rush? Head straight for one of the small plates (they are ample Indian and European options to choose from). The crunchy chicken butter bun resembles a bao and is a mouthful of flavour and texture and is highly recommended. The prawn casalingi is chock full of mushrooms and a sherry wine sauce and works well if you would like something to dip and mop up your bread in but can be skipped if you would like to experiment with new flavours instead. The chicken jhal muri puff chat was an interesting small plate in the Indian section but can turn out to be a bit dry.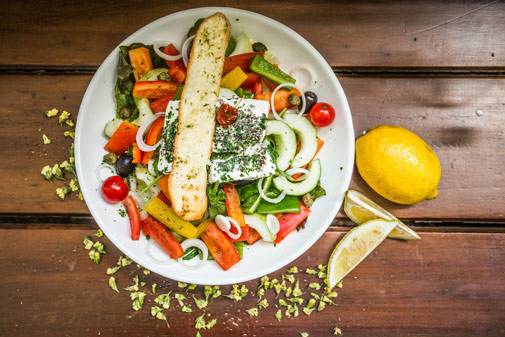 Moving onto the big plates, the ravioli with roasted tomato and ricotta was a bit of a disappointment as the dish was too acidic and needed an extra ingredient to cut that out. The pork chops on the other hand were cooked to perfection and highly recommended if you love your meat.
There are a bunch of desserts to choose from but the summer favourite is the caramel spiced mango mousse which came highly recommended. While the dish was full of summer goodness the texture of the mousse left a lot to be desired as it was granular and a bit synthetic.
The drinks are delightful, the ambience is perfect for a summer lunch and the use of seasonal ingredients works well. Heading out for a relaxed lunch? Fio Cookhouse should be your next stop.
Recommendations
Melon Burrata Salad, Chicken Butter Bun
Meal for Two Rs. 2,500.00
Reservations +911126281026 +919899228666