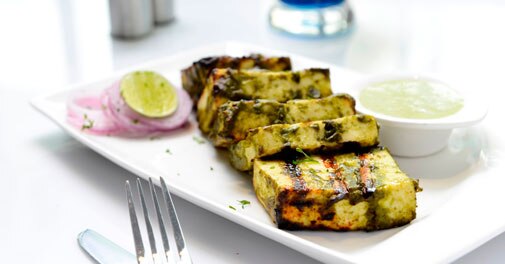 Paneer Pudina Malai Tikka.
It is small, cosy and qualifies as your neighbourhood bar. The ceiling has the old warehouse look with pipes and an unevenly cemented surface and the furniture is basic, the table's small and busy. Harry's has changed the way it looks and tastes as it makes the journey from Singapore to India and there is not much that strikes a chord between the two.
To start with the drinks menu first: it leaves you pleased as punch with smart, easy to concoct drinks at very affordable prices. Try the Curry Cucumber if you want a mocktail-fresh, inspiring and the curry leaves add a hint of spice. Want something stronger? Harry's Old Fashioned is concoction with scotch, orange peel and caramel which is strong yet sweet, giving the drink an edge. The menu is extensive and prices reasonable.
Onto the food now and the nachos keema corn carne came highly recommended but left me a tad disappointed-had far more kidney beans than keema in it. The Sichuan barbeque chicken hit the spot though and was an Asian rendition of the desi chilli chicken. The paneer pudina malai tikka is another Indian staple that finds its way into the bar's food menu. If you are keener on food than drink though, Harry's may not be the place for you. The menu is reminiscent of greasy, finger food popular at most city bars but lacks finesse and originality.
For mains for instance, my companion ordered the double cooked noodles with mixed meat butter curry which was bland and confused. The peppered tenderloin steak on the other hand was as good as can be expected at a bar. The thing about Harry's is that it does not work as a lunch/ dinner destination. If you are instead looking to hang out with friends, grab a few cocktails and watch some sport, this is the ideal place to be.
The atmosphere is young and given that there is an outdoor space (at Khan market) where you can smoke, be sprayed by mist fans and guzzle some chilled beer, it works well as a neighbourhood bar. With a cool vibe and drinks to match, it is attracting the crowds but try and stick to the finger food and head elsewhere for a meal!
Meal for two with drinks: Rs 2,000
Location: Khan Market and Select City Walk, Saket
Reservations: 011 33036834 and +91 9999407923