We know the benefits of regular exercise, how it prevents heart diseases and strokes and helps with obesity, back pain, stress, yadda yadda. But we keep making the same excuses. Gyms cost a fortune these days, with those giant signing-on fees. And who has the time? The drive to the gym, the queue for the equipment, the hassle of the changing rooms, it's all so time consuming.
Well, the excuses don't hold up. Home gyms are easy to install and they promise all the same benefits, plus they save you the trouble of applying for gym memberships, standing in queues and your privacy is guaranteed. What's more, your equipment can get to know you. "The latest home fitness equipments are built with personal software interfaces that recognises its users," says Pankaj Arora, MD, Geo Spa Fitness. "They tune in to your likes and needs dynamically, and the use of biomechanics guarantees natural, effective and safe movements."
A case in point—the Kinesis Personal from Technogym is a home gym that allows a user to perform about 250 exercises in an area that's less than one square metre. Designed by celebrated Italian architect Antonio Citterio, Kinesis uses a system of grips, cables and weight stacks, that doesn't just help you look good—it looks good, too.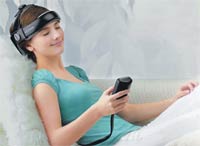 Integrating the concept of designer furniture with fitness, designer Citterio has set the cable supports into a freestanding panel and fitted it with wooden bars, transparent plastic cables and brushed aluminium fixtures. Allowing the user to move in a three-dimensional resistance to the force of gravity, it's engineered for strength, flexibility and balance inundated workouts.
So, does this mean we're saying goodbye to the good old treadmill? Not at all—we just make it a treadwall. A rotating climbing wall for training and recreation, the Brewer's Ledge Treadwall moves by body weight alone and climbing on it helps you build strength, flexibility and endurance. A simple adjustment changes the angle of the wall from an easy slope to a challenging one. And the target heart rate for cardio workouts is maintained by continuous climbing at easier angles. Steeper angles provide strength building workouts that affect nearly every muscle. Used for military training in various countries, the treadwall is user-friendly.
But well being is not about the body alone. Inflation, soaring cost of living, plunging markets and pressures at work can take its toll, leaving us drained in the process. This is where uCrown comes into play. The anti-stress head massager is designed to target specific acupressure points around your head and neck to effectively relieve tension caused by stress and fatigue. The massager boasts a patented airbag acupressure massage that soothes and tones relaxed muscles. The strategically-positioned airbags work on vital acupressure points to improve concentration, blood circulation and induce better sleep. Studies have shown that music helps to reduce stress and uplift moods. uCrown has three distinctive music categories to enhance the benefits of a massage and provide holistic mind and body relaxation.
No wonder, home fitness machines and wellness equipment are all the rage today. They're easy to install, user-friendly and their ergonomic designs need very little after care. So, what's your excuse now?
Brewer's Ledge Treadwall

Price: On Request
Availability: Multi-trading Company, Business Plaza, Santacruz (W), Mumbai
uCrown from Osim

Price: Rs 11,500
Availability: Osim outlets in Delhi, Mumbai, Kolkata and Bangalore
Kinesis Personal

Price: On Request
Check out:
www.technogym
. com