It is a chilling message for the 2.8 million strong workforce that makes up India's information technology (IT) industry. As an increasing number of enterprises adopt cloud computing, there will be a sharp slump in the demand for installation and maintenance engineers. For many in the industry, the option will be stark: reskill or perish.

SPECIAL: Infosys bets big on cloud computing


Cloud computing, which has existed in some form or the other since 2005 but only picked up over the last three years, is a new paradigm whereby computing is delivered as a service over the Internet rather than as a product installed inside a company's premises. Many believe that firms will shortly no longer have to maintain IT assets such as servers, storage and software in-house. They will be able to rent these as and when required, sharply reducing expensive upfront investments in IT infrastructure.


Cloud enthusiasts
, in fact, maintain that renting computing power will become as easy as consuming an application from the iPad - simply go to an online store, look for the applications you need, pay and use them. Great news except for those whose jobs are threatened. "The provisioning of applications was earlier being done by IT teams. There will be fewer such people required since the tenet of the cloud is automation and self service," says T. Srinivasan, Managing Director of virtualisation and cloud infrastructure firm VMware (India).
However, not all IT engineers need start worrying. "Certain categories of engineers will continue to be in demand and many more jobs could be created to offset the loss in maintenance," adds Srinivasan. The number of jobs in application development for the cloud, for instance, will increase. Engineering colleges and technical institutes such as NIIT are already training graduates and engineers who want to reskill in writing 'cloud-ready' applications. While coders use frameworks such as .net and programming languages such as Java to create applications for traditional IT, writing cloud applications will require newer frameworks such as SpringSource and Ruby on Rails.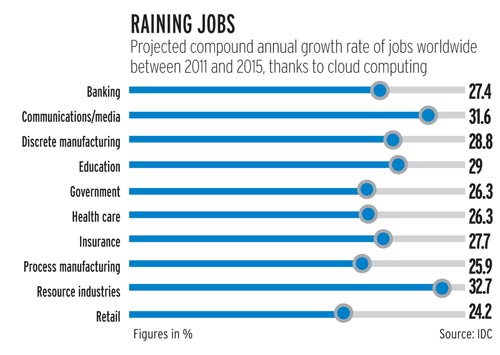 There will be more new job avenues, which will get better defined in the coming years, as the market for the cloud matures. However, it is essential for IT engineers to be ready to adapt. "Engineering for the cloud requires a mindset change," says Rajesh Janey, President, India EMC Corp, a global IT storage firm. "It is also important to develop talent from the grassroots level rather than just reskilling existing talent."
A study by EMC and Zinnov Management Consulting estimates the total cloud market in India at $400 million: this is expected to touch $4.5 billion by 2015. It expects the private cloud market, where the infrastructure is operated for specific companies, to create 100,000 IT jobs by 2015 from 10,000 today. It also warns that companies are currently underskilled in addressing cloud computing implementations.
A new role in the cloud space is that of an 'enterprise cloud architect', an expert who understands both IT infrastructure and applications, and can design and manage application frameworks and operations. "This is different from traditional IT services where the developer only bothered about developing the application and the infrastructure engineer only worried about maintaining the IT assets," says Kalyan Kumar, a senior executive from HCL Technologies' Infrastructure Services division. "In the new role, these two domains are coming together."
Besides technical jobs, marketing and selling of cloud-based solutions will also be required, which in turn will create a host of new positions. Cloud computing is also giving rise to a new generation of software product companies, which can now sell their products on an on-demand basis over the Internet. Sports analytics firm Sportingmindz, for instance, started in Bangalore in 2006 offers its products on a cloud platform. Idhasoft, an Indian company started in 2006 with operations in the US, has a cloud application that provides a management system for mediumsized hospitals globally.
"Previously, software product firms in India needed enormous amounts of money to sell abroad," says Ramkumar Pichai, General Manager, Customer and Partner Experience, Microsoft India. "They would need to send people abroad and set up offices. With cloud, you will see many more product companies coming up in India."
It is early days yet, but IT engineers who can write cloud-ready applications, provision and maintain the infrastructure at the back-end, appear to have an edge over their peers. VMware-certified engineers - the company conducts a course to enhance technical skills for cloud technologies - enjoy a premium of seven to 10 per cent in the market. "This is true of any innovation cycle," says EMC's Janey. "The early adopters they throw up tend to be valued."
The cloud's impact on other parts of the economy will also be significant. According to a paper by research firm IDC, jobs will be created across functional areas such as marketing, sales, finance and administration, production and service. More than 50 per cent will be in small and medium businesses, two million plus each in communications and media, and manufacturing, and over 1.4 million in banking. Of the 13.8 million jobs created globally by 2015 because of cloud computing, two million will be in India.
Since companies save capex by using the cloud, the money can be ploughed back into their core business. "The rationale for job growth is that IT innovation allows for business innovation which leads to business revenues. This leads to job creation," says the IDC study. Great news at a time of economic uncertainty.