Partners-in-reforms: US Treasury Secretary Timothy Geithner and Union Finance Minister Pranab Mukherjee harped on the continuing India growth story, underpinned by robust domestic demand and high savings, at a meeting in Washington on June 28.

CORPORATE

The second round of the quarterly Business Today-C fore Business Confidence Survey shows companies expect the slowdown to worsen. The Business Confidence Index fell to 64.4 in the April-June quarter from 74.8 in the January-March quarter.
Fuelling more worries on rising input costs for the corporate world and spiralling inflation, the government announced a 9 to 20 per cent hike in the prices of diesel, LPG for domestic use and kerosene. Diesel and kerosene prices were raised by Rs 3 and Rs 2 per litre, and that of cooking gas by Rs 50 per cylinder. Truck rentals and freight rates are thus set to go up. The price hike will cut the losses of the government-controlled oil marketing companies by Rs 21,000 crore. But the customs and excise duty reductions will result in an annual revenue loss of Rs 49,000 crore to the exchequer.
The Supreme Court has directed the West Bengal government not to return the land at Singur, originally allocated to Tata Motors for its Nano small car factory, to farmers, till the Calcutta High Court takes a decision. This is only an interim relief for Tata Motors as the court did not express any opinion on the merits of the case. The court also did not specifically forbid the state government from carrying out land surveys, or starting the pre-distribution process of accepting forms from farmers.
At last, the government has allowed Anil Agarwal's Vedanta to acquire a controlling stake in the Indian assets of Cairn Energy. Cairn and Vedanta will have to bear the royalty burden for the Rajasthan oil fields, vindicating ONGC's stand. Also, Cairn has to withdraw all cess arbitration cases.
The battle to grab Net users' eyeballs
is intensifying. In its answer to Facebook, Google has rolled out a new social networking product. Google+ can also be integrated with your mail, search and news functions. The Indian face behind the project is Vic Gundotra, Senior Vice President at Google. Meantime, Microsoft has launched its answer to cloud computing, its ongoing effort to keep Google at bay in office software. Its Office 365 is where Office meets the cloud, said Microsoft CEO Steve Ballmer. The product combines Webbased versions of Word, Excel and other Office applications. Office 365 allows multiple users to jointly collaborate and edit documents in real time, from PC browsers and mobile devices. According to comScore Data Mine, in May, Google sites became the first web properties to surpass one billion unique visitors. Microsoft sites came second with 905 million, while Facebook's score was 713.6 million.
Another Indian is climbing the global corporate ladder fast. The world's secondbiggest consumer goods major Unilever has appointed Harish Manwani as its chief operating officer. He is the first to be appointed to this new post. Manwani, Unilever's president for Asia, Africa and central & eastern Europe, and non-executive chairman of Hindustan Unilever, will assume the new position on September 1. Business Today first raised the issue of his elevation to the next level in an exclusive interview (see Cover Story, June 12). Replying to a question, Manwani had spelt out his organisation's priorities to BT: "The one thing we are definitely trying to do is bring about a sharper performance culture."
Finally, French Finance Minister Christine Lagarde was elected Managing Director of the International Monetary Fund amid the debt crisis in Europe. Marking another change, Italy's Mario Draghi has been appointed the next president of the European Central Bank from November 1, 2011. He will replace France's Jean-Claude Trichet. As the Eurozone's monetary policy chief, he will have his hands full dealing with troubled nations such as Greece.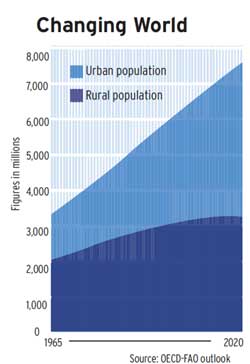 ECONOMY
By the end of 2020, the planet will have 7.7 billion people. Most of this population growth (86 per cent) will take place in large urban centres in developing countries. As per capita incomes in many poor nations are likely to increase by as much as 50 per cent over the next decade, demand for higher value-added food products will rise sharply, according to the latest OECD-FAO outlook.
India's first-ever socio-economic and caste Census to identify people living below the poverty line, or BPL, has begun. The door-to-door exercise is being conducted electronically, using lowcost handheld devices produced by Bharat Electronics Ltd. The entire exercise will be completed in 2012. The results will be utilised to effectively target welfare schemes for the poor in the 12th Plan, from 2012/13 to 2016/17. This is the first caste census in the country after 80 years.
$75 bn Private equity and venture capital investments in India are likely to touch $70-$75 billion in 2015, according to audit and advisory firm Grant Thornton.
$2.06 bn Indian companies have raised foreign loans of over $2.06 billion in April through external commercial borrowings and foreign currency convertible bonds, to part finance their expansion plans. It compares with the $5.63 billion that over 100 companies raised in March.
5.3% Growth of eight core industries - crude oil, petroleum refinery products, natural gas, fertilisers, coal, electricity, cement and steel - in May. This compares with 7.4 per cent in the same year-ago period.
MARKETS
Asset quality of banks continues to worry analysts. These assets could deteriorate further to 2.7 per cent of total advances in the current financial year due to pressure on interest rates, according to ICRA. The gross NPA percentage for banks could increase to between 2.3 and 2.7 per cent by March 31, 2012, from 2.3 per cent in the previous year. (Also see, Stressed Bank of India, BT, June 26)
The Reserve Bank of India has extended the time period for buyback of foreign currency convertible bonds, or FCCBs, issued by corporates till March 2012. It has allowed repayments through fresh external borrowings. This quells fear of default by issuers of FCCBs. (See Restless at Redemption, BT, June 26)
India has decided to allow foreign retail investors to cumulatively buy up to $10 billion worth of Indian shares through domestic mutual funds. The market regulator will issue guidelines by August 1.
COMING UP
The Internet Corporation for Assigned Names and Numbers, or ICANN, will accept applications for domains with new suffixes from January 12. That will include suffixes in Arabic, Chinese and many other scripts. Just in case you are rushing to open a website address, consider this: a unique suffix will cost you £115,000 as set-up fee, and £15,000-ayear-subscription. As against just 300 odd suffixes that are available today, the bulk of them country-code domains, millions of suffixes could now be created and categorised.