Business Today brings you important news and events to watch out for in the coming fortnight-
SATYAM'S TRUTH
What: Final verdict in Satyam Computer scam
When: April 9
Where: Hyderabad
What to look for: With the final verdict, the biggest accounting scam yet in India draws to a close. Satyam Computer Services Chairman Ramalinga Raju confessed to inflating revenues of his company, defrauding investors. The CBI has put the fraud at Rs 14,000 crore, double the amount Raju had confessed to. All the accused are now out on bail.

DOING BUSINESS WITH GERMANY
What: Hannover Messe
When: From April 12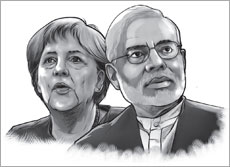 What to look for: Prime Minister Narendra Modi and German Chancellor Angela Merkel will jointly inaugurate the trade fair. The CEO delegation will include Cyrus Mistry (Tata Sons), Vishal Sikka (Infosys), A.M. Naik (L&T) and Arundhati Bhattacharya (SBI). Also, 300 Indian companies will be the exhibitors at the five-day event themed around Make in India. India seeks German investment in sectors such as energy, electronics and smart cities.
GOA BECKONS
What: Goafest, the advertising sectors annual springtime festival
When: April 9-11
What to look for: This is the 10th anniversary of Goafest. There is a 50 per cent jump in entries for the Media Abbies compared to last year. The list of speakers includes Ted Lim, Chief Creative Officer, Dentsu-Aegis Network, Asia-Pacific; Alan Moseley, President and Creative Officer, 180, Amsterdam; Neil Stewart, Head of Agency, Asia-Pacific Region, Facebook; and Guy Abrahams, Marketing Officer, ZenithOptimedia.
FOCUS ON ECONOMY
What: IMF-World Bank meetings
When: April 17-19
Where: Washington DC
What to look for: Thousands of government officials, civil society organisations, participants from the academia and private sector gather for the spring meetings to discuss progress on the work of the International Monetary Fund and World Bank as well as the global economy, international developments, and the world's financial markets.