Infynite possibilitiesInfy, Limited:
Infosys
got a new chairman in K.V. Kamath but its three remaining founders - Kris Gopalakrishnan, N.R. Narayana Murthy, and S.D. Shibulal - stay on at its helm.

CORPORATESteel giant Posco
has received a nod from the environment and forest ministry for its Rs 54,000 crore project in Orissa. After six years, that must be some relief for the Koreans. Environment minister Jairam Ramesh has said implementing Forest Rights Act was the responsibility of the state government but local opposition seems scuttled for now.
It's Oz Ahoy
for Gautam Adani for the second time in a year. The Adani Group will pay $2 billion for a 99-year lease on Australia's Abbot Point Coal Terminal. Adani had snapped up coal assets of Linc Energy from Down Under for $2.8 billion August last year.
PricewaterhouseCoopers
affiliates have agreed to pay $25.5 million to Satyam Computer investors settling litigation over the audit of the scandal-scarred firm.
Nokia's India connection is hitting headlines again. The Finnish handset company has decided to axe 300 jobs in India, and transfer about 700 engineers at its Bangalore R&D facility to Accenture. All this is part of a plan to save R&D costs by 1 billion euros annually. With Apple overtaking it as the world's largest phone vendor in January-March, and Taiwanese smartphone maker HTC surpassing it in market capitalisation, Nokia can only be hurting.
Ranbaxy, the biggest drugmaker in India, may end up paying a hefty fine of $1 billion for a settlement with the US Food and Drug Administration. The Daiichi Sankyo-controlled company has not confirmed the settlement but, if true, it can only be good news for the beleaguered drugmaker.
It's a cut-throat telecom
market out there, and the scars are showing. India's biggest mobile operator, Bharti Airtel has reported a 31 per cent drop in fourth-quarter profits, its fifth straight drop in quarterly profits. Rise in interest costs (Rs 680 crore) and loss from African operations (Rs 416 crore) were the big heads that hurt.
Carmakers are not
exactly laughing their way to the bank. April sales growth is in single digits. Rising loan rates and higher vehicle prices are putting off buyers. Sales of Hyundai India stayed flat while Maruti Suzuki saw the needle move just 4.4 per cent in April.
The fight for the tablets
market is intensifying. Even in India. Sales of iPad 2, which opened here April 29, have been brisk. Sony has launched its first tablet on the Android 3.0 operating system, but will have a tough time convincing fans of Apple and Samsung. Separately, while Sony's Playstation faces hacking issues, Apple with its iPhone4 is at pains assuring users on data security.
Insider trading charges are hurting Berkshire Hathaway, the iconic investment firm in the US. In the latest episode, billionaire Warren Buffett has criticised his one-time top colleague, David L. Sukol, for violating the code of ethics. Sukol bought shares in chemical maker Lubrizol before pitching that company to Buffett as a potential buyout target.
The United States has sued Deutsche Bank, accusing the German lender and its MortgageIT unit of lying to be included in a federal programme that had mortgages insured by the government. According to the complaint, MortgageIT endorsed, from 1999 to 2009, in excess of 39,000 mortgages with principal totalling more than $5 billion for Federal Housing Administration insurance.
India has signed up former England cricket coach Duncan Fletcher. He ended England's Ashes misery in 2005 on home soil when Australia was beaten 2-1. Fletcher, who got an OBE for that, is to coach India on tour in England from July.
ECONOMYThe Reserve Bank of India
has raised its repo rate, at which it lends money to banks, by 50 basis points taking the rate to 7.25 per cent. This was ninth time that RBI, fighting inflation, has raised the rate since March 2010. Bond markets were expecting a jump of 25 basis points. But there is likely more monetary tightening ahead: Stanchart analysts expect the central bank's hawkish stance to continue.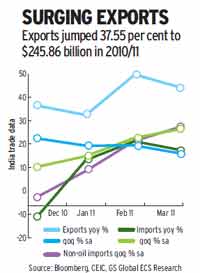 The Supreme Court
has asked the central and state governments why there should not be a ban on the production, sale and use of insecticide Endosulfan which has crippled many in India - most violently in Kerala . Endosulfan is an off-patent organochlorine insecticide and acaricide. The colourless solid has emerged as a highly controversial agrichemical and its acute toxicity has it already banned by 84 countries. Under a global convention, India has agreed to a phase out spread over 11 years.
20 mn
IPL is hogging limelight. In the first 15 days, Youtube and Indiatimes recorded 20 million views, compared to last year's 11 million views.
$30.4 bn
Global computer operating system revenue in 2010 (7.8 per cent over $28.14 billion in 2009), according to research firm Gartner. Microsoft's market share went up to 78.6 per cent in 2010, while IBM and HP stayed distant competitors with 7.5 per cent and 3.7 per cent shares, respectively. Apple, with its Mac OS, had a market share of 1.7 per cent but has power growing through other devices.
4%
The new interest rate on savings deposits. The hike from 3.5 per cent came after eight long years. Before you grin, bear with this news too. Home loans will cost you more after RBI's latest round of hikes.
MARKETS
Osama bin Laden
was buried at sea. Markets reacted immediately with the greenback surging, oil prices reversing their upward spiral. Terror cover rates also dropped but there was not mistaking who biggest benefi ciary is: US President Barack Obama, who seeks re-election in 2012.
Shares of SKS Microfinance
, India's largest microfi nance fi rm, fell by the maximum limit of 20 per cent with analyst fi rms halving share price targets. RBI earlier had put an interest rate cap of 26 per cent on micro loans up to Rs 50,000. Small hurts, it seems.
COMING UP
A new steel policy is in the works. Four task forces, soon to be appointed, will suggest how to address issues hurting the sector's growth. The earlier policy had projected annual growth in steel demand at 6.9 per cent, but it is steaming ahead at 9.2 per cent.
Buying a car? Take stock. New fuel efficiency norms are expected soon. With ecofriendly vehicles getting extra mileage, expect small cars to benefit. The new standards are expected by 2015.
Power Financing Corporation's FPO will be open May 10 to 13. It will be the government's first divestment this financial year and is expected to rake in Rs 6,000 crore.