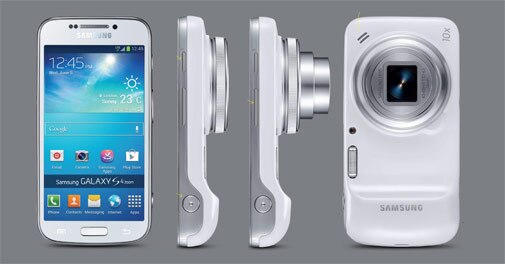 Samsung Galaxy S4 Zoom
So, can a camera phone kill a standalone camera? Well, it seems Samsung is getting closer to the answer. First it made a camera with 3G connectivity, now it has integrated an optical zoom to a phone, the Galaxy S4 Zoom.

Samsung Galaxy S4 Zoom
Rs 29,999
Specs: 4.3 inch display; 16 MP camera; Android 2.2; 1.5GHz dual core processor; 1.5GB RAM; Bluetooth, Wi-Fi, 3G; 208 grams; 2330 mAh battery Contenders: Apple iPhone 5; Samsung Galaxy S4; HTC One; Sony Xperia Z, Nokia Lumia 925/1020.

Why we fell for it:
A good option for shutterbugs and Instagram addicts.

Design:
The Galaxy S4 Zoom has got a weird design for a smartphone. Yes, it is a slightly compact version of last year's Galaxy Camera, but we are not sure the concept works as a smartphone. The lens at the back makes it awkward to grip. Then there is the 208 grams weight that could tire your hands in under 10 minutes. You will also have to live with the constant stares from people.

Battery:
The 2330mAh removable battery on the Zoom struggled to survive a day with a couple of hours of calling, data connectivity and a few clicks here and there. However, if used judiciously, it can last longer.

Camera:
The camera is very decent with a 16MP BSI CMOS sensor, Xenon flash and 10x optical zoom. The user interface of the Zoom camera is similar to the Galaxy Camera with all popular shooting modes. The pictures we captured in the auto mode came out well. The low-light picture quality is good too, but not consistently so.

Phone:
Zoom runs Android 4.2 with Samsung's Touch Wiz UI. The 1.5GHz dual-core processor coupled with 1.5GB RAM seems below par on paper, but does not result in much lag in performance. It also has some trademark Samsung features like Smart Stay.