When you view India through a prism, its multi-faceted refractions are awesome, unique and partly distressing. A multiethnic, multi-religious, multilingual, multi-cultural diverse democracy, rich in its distinctive heritage—India is, indeed, captivating. Our democracy resonates throughout the world. Moreover, the way in which India has transformed itself from a colonial, agri-based backwater economy into an independent, modern, knowledge-driven one is the stuff of case studies at the best-in-class business schools the world over. While the youth leader must appreciate these facets, he or she must have a thorough understanding of the different strands that go into the weave of India. The Partition in the aftermath of our freedom struggle has left a scar, as has the divide in the name of God. India is a country of extreme paradoxes. We are reckoned as a nation of tremendous opportunities and, yet, it is a reality that India is a place of perpetual struggle. We have large tracts of our country that have yet to witness any economic advancement.
There are issues of quality of life. Even in parts of our country where we have tremendous economic prosperity, the social fabric is under tremendous pressure.
We are home to over a billion people, which is one-sixth of the world population. We are also home to nearly one-fourth of the world's poor who live on less than a dollar a day. We have basic issues pertaining to infrastructure, healthcare and education. We need more than $300 billion in infrastructure to bring our country on par with global standards. We have not been able to ensure quality healthcare at an affordable cost to our people. We are still in the process of evolving systemic solutions to issues that confront us on this score. We face a daunting challenge in education in so far as millions of our children do not complete basic schooling. In India's hinterland, the girl child is more often than not denied education and is an object of deep neglect, even killed before birth.
Then, there is a widening of the urban-rural divide and tremendous disparities of growth between states and regions and a disconnect between the backward regions and the rest of the country. These are the ground realities that must beg a major mindshare of the youth leader. Working towards untangling these knots is by no means easy but he and his teammates should strive to take India on a different level altogether. That said, there are several positives that can be leveraged. There is a tremendous air of optimism. The BRIC Report categorically asserts that by 2020, India will grow to be the world's third-largest economy, next only to China and the US. The exuberance that we feel is a consequence of where we have reached today.
Inflection point
We stand at an inflection point today. And for the takeoff listen to the words of our Prime Minister, Manmohan Singh: "We need to build institutions which are robust, which inspire confidence and which can enforce the rule of law in a fair manner. We need a polity which is inclusive, equitable, caring and just. We need a social order which every citizen owns and is proud of. These are goals which will take us to our destiny." The Prime Minister's statement captures the essence of the task ahead. It is against this backdrop that one looks at the leader for the youth of India. Of our population of over a billion, 54 per cent of India is below the age of 25. As predicted by the World Development Report 2007, our demographic transition and the peak will come in the year 2030. That is the time when India will be the leader in the global pool of human capital.
This asset, our youth, holds the potential and promise to power our country to greater heights. How can the youth leader prepare our nation? He should epitomise extraordinary leadership and statesmanship. While he should necessarily be Indiacentric, he must be keenly aware of the forces of globalisation and their impact on India. Today, globalisation inextricably links the future of India with the future of the world. And the fortune of India to the fortune of the world.
A passion for the process of nation building at all levels and the need to change processes that are detrimental to the holistic growth of our people and our nation must be his DNA. He must keep in harness his own personal ambition or the desire to put his own distinctive seal on the nation. For him, politics must be a calling, a vehicle for public service in the larger national interest. His leadership style should be actionbased and not depend on rabble-rousing slogans.
Today, the youth is increasingly wary of stereotypes and playing to the gallery. He must lead by example. His stories must be inspirational. While his disposition must be rooted in realism, he has to keep his compass pointed on our positives.
He must be able to set out a bold vision, project that vision and drive it across right down to the grassroots. In the Indian context, the leader's vision should be to perpetuate a prosperous, secure and dignified future for all of our one billion-plus people and assure our rightful place in the comity of nations. He must marshall the intellectual and emotional equity of youth power in the urban and rural areas in the nation-building process, together with creating heightened awareness on issues such as conservation of natural resources, hygiene, discipline, respect for law, civic citizenship, dignity of labour and the pride of being an Indian.
The quintessential leader is the captain of the ship. Therefore, he has to set the direction of the ship. Necessarily then, he should have the courage of conviction and be an optimist. An awareness and a mastery of his own limitations, the humility to acknowledge them, the spunk to confront and the capability to live with hardships must be germane to his nature.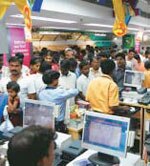 He must have the ability to illuminate issues with laser-beam clarity. One of the fundamental challenges is our system of education that needs a deconstruct and a reconstruct. Today, our education system puts our students on a process line. He or she will need to dream of an education system for India that enables every student to reach his or her maximum potential, implying that each individual is running a race with himself or herself to be the best one possibly can be, to hone one's talents such that they empower him with a tremendous strength of self-confidence. The education system should promote a scientific temper, which is the best way of unleashing our people's creative potential. Knowledge economies develop only through encouraging the faculty of original thinking.
Sir Winston Churchill once said: "…the empires of the future will be the empires of the mind." How true these words ring in the age of the knowledge economy. The vocationalisation of our educational process should be a priority. He must recognise that a country as large as ours needs to differentiate by putting in place an education system that offers options to cater to the different aptitudes and capabilities of students.
In a step-wise manner, this scientific temper must permeate into our nation's hinterland where education is a far cry. Quality education and economic self-reliance through self-employment must be integral planks of policy and power politics posturing.
Value-driven
The leader also needs to be driven by a framework of values. The values that he espouses will define his character and personality. He should be steadfast on ethics, have a strong moral fibre and work towards good governance and probity in public life. As Ralph Waldo Emerson said: "Character is everything."

He must sense and work towards a politics of constructive engagement. He should be able to stoke forward-looking political leadership at all levels of our polity. He must have the art of managing coalition politics. He should be a seeker of sorts, one who is eager to learn more. He should not be egocentric. He should always stoke the spirit of intellectual courage, recognise great ideas from all quarters and have the intellectual honesty and humility to give credit wherever it is due. The leader should leverage his understanding of critical issues to connect people across divides— the public and private sectors, the NGOs, academia, the scientific community and intellectuals— while he himself communicates and connects with the diverse segments of society.
While connecting with the masses, he must surround himself with specialists who can help him develop insights into intricate issues of policy. He must engage with experts, interest groups, academia and think-tanks to take this further. He must collaborate and build intellectual bridges. He must engage with youth leaders in other parts of the world and embed his new learnings and their relevance to our polity. Going forward, the youth leader must seek unbiased feedback from the constituents that he serves.
Youth leaders must establish themselves more as ideating leaders rather than iconic ones. Above all, leadership, in every sphere, will have to be about compassion. Even in business, we cannot adopt a system of unbridled capitalism; we have to work towards a system of compassionate capitalism, which implies making market forces work for the poor, and striking a balance between GDP growth and equity. Growth for growth's sake can never be an end in itself.
As an economy, we are growing at a 9 per centplus. Even politicians very candidly admit that growth in India is largely driven by the private sector because the sector has huge entrepreneurial capabilities. The leader must have the vision to leave business and industries to business sector and channelise the attention of the Government to national issues. The youth leader will need to speed up the pace of change.
There is a whole new generation that wants change even faster. This generation has different aspirations and is looking for opportunities—and quickly—and the political leadership will have to be sensitive to this. The youth leader must learn to master his mind, which entails a certain degree of spiritualism in life even as his work will have down-to-earth ramifications.
Spirituality is not about rigid rules. Spiritual knowledge will help him to be strong. It will also enable him to face the rigours of public life with equanimity and fortitude, brush aside the past and take forward the lessons learnt into the future and not let circumstances overtake him. Youth leaders in this mould can build an even more vibrant India, global in outlook, brimming with peace, prosperity and an air of general wellbeing. True leaders leave a trail.