Our last and current Prime Minister could not be more different: the only identifier they share is a beard. Manmohan Singh was highly educated; but for a friendship he made with I.G. Patel while he was a student in Cambridge, he might have ended up as a lifelong professor.
Despite so much education - perhaps because of it - he sought advice from experts throughout his political career.
Narendra Modi, on the other hand, knows his mind. He recognises that running the government requires administrative experience and connections. He selects a few bureaucrats, and trusts their judgement. For the rest, he has the self-confidence to rely on his own counsel.
No wonder he has felt no need for economists. Gujarat grew at an average 10 per cent a year between 2001 and 2013 without any help from economists. Economists of the previous government were asked to free up office space when the present government took over Delhi. It imported a chief economic advisor and a chief of the renamed planning commission from abroad. It engaged Bibek Debroy, an admirer of Gujarat, without specifying his job. Arvind Panagariya came brimming with ideas; he laid them all out before the Prime Minister. Then he was left to twiddle his fingers until he gave up and went back to Columbia. Arvind Subramanian prepares an interesting economic survey a couple of times a year, but the Budget is yet to see his influence.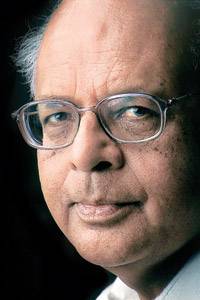 The sight and sound of the prime minister are enough to inspire India.
Laissez-faire - let it do what it likes - it needs no push from an economist to leap.
But instead of leaping like a Gujarati lion, the economy has started limping. Growth rate has been falling six quarters running. The government killed black money at one stroke, to give the white economy a monopoly; but the purification has infused no energy in it. The finance minister has pushed goods and services tax on the states to remove barriers to movement of goods across the country; but despite three years of hard work, neither the taxed nor the taxman seem to be happy.
So what has gone wrong? How to do right the first time? The government dithered and dithered; it waited for its cerebral bulb to light up. And then it happened: on 24 September, Financial Times told the government to listen to economists. And lo and behold, the Prime Minister appointed his own Economic Advisory Council (EAC) the next day. That was just coincidence; it is inconceivable that our government would follow a foreign lead. But it is undeniable that the Prime Minister has followed the precedent of his predecessor.
Not entirely: whereas Manmohan Singh received frequent reports and studies from his EAC, the new EAC will have to wait for the Prime Minister to refer questions to it. The composition is also different.
Manmohan Singh's economists were solid, dull and traditional. The new economists present greater variety. Ashima Goyal is possibly the best empirical economist in India. Surjit Bhalla is best known for his choice of invectives; I cannot remember him saying a good word about any other economist. But his barbs are always amusing.
Rathin Roy obviously found a place because he heads National Institute of Public Finance and Policy; but before he joined it, he had a most varied career across the world. If the Prime Minister meets his economists regularly, he will get many ideas from them; and they will differ often enough to give him a choice of ideas.