It all began with an email written by an anonymous 'whistleblower' under the name vikaslakshi. The email, which has been reviewed by Business Today, made some serious charges against Infosys CEO and MD Vishal Sikka as well as the Chairman of its Board, R. Seshasayee. Some of those allegations had been whispered for months within the company and amongst even sections of media.
They gained credence when Infosys' well-regarded co-founder and former Chairman Emeritus N. R. Narayana Murthy spoke to a newspaper on 'behalf of founders' and alleged that corporate governance at the company was down and that the board needed an overhaul. The company initially claimed all was well, but as Murthy and other senior ex-foscions (Infosys' former employees) continued their barrage of attacks, the board called for a press conference to clarify its position. Since then an uneasy public truce has prevailed.
Business Today went behind the scenes and spoke to a range of people - current and former employees, analysts, competitors - as well as some of the protagonists involved, to bring you a clear picture of what these allegations are, the truth behind it and how the current impasse maybe a temporary truce and a precursor to another cold or an even full blown war.
Punching above its weight
The Infosys story attracted attention primarily due to its founders' background. Unlike some of its industry peers - say TCS, which came from the house of Tatas, or Wipro, which built on the legacy of Azim Premji's father, a wealthy merchant - the Infosys story was about a bunch of middle class people who made it good, without a pedigree or breaking laws. In the bargain they created thousands of jobs and billions in wealth, which was shared in a more egalitarian fashion. It set standards in disclosure and governance norms. For instance in 1995, GE - which then used to contribute 25 per cent of its revenues - walked away after a pricing dispute. Infosys, which had been listed merely two years earlier, publicly acknowledged the loss and vowed to minimise its dependence on a single client. The company was also one of the first to adopt GAAP (Generally Accepted Accounting Practices) even before it became the norm.
But inspite of lofty ideals, Infosys allowed its founders to take turns at the top job. It responded to criticism only when its performance began to lag. Murthy came back from retirement to try and do a rescue act, and when that failed, Infosys decided to hire its first non-founder CEO. In June 2014, when Vishal Sikka was named the next CEO and MD of India's second largest IT services exporter, he was seen as a prize catch.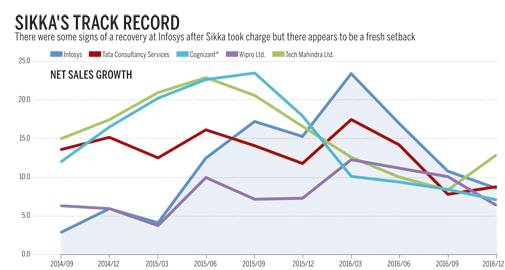 Sikka had made a name at German enterprise software behemoth SAP. A protégé of SAP co-founder Hasso Plattner - a relationship that would eventually come to haunt him - he was credited with success of HANA, an analytical relational database offering, which had become a hit.
In October 2014, Murthy stepped down from all executive and non-executive positions in the company. Whatever the current circumstances, it is commendable that Infosys founders chose to walk away from their creation which then had revenues of $8.2 billion, a net profit of $1.7 billion and a market capitalization of $30 billion.
The fact that promoters over the years had diluted their stakes and now held collectively a mere 12.75 per cent in the company, with institutional investors owning bulk of it, made the decision easy.
Honeymoon and the aftermath
By all accounts the Murthy - Sikka bonhomie in the initial days was genuine. With promoters resigning from all positions including the board, Sikka got a free hand to implement his agenda for change and growth. He quickly discovered that change in a company like Infosys, with nearly 200,000 employees was easier said than done. While promoters had moved on, some of the senior employees who had helped build the company were still a part of the system. Sikka, who came from a products and not a services background, decided to do a fundamental power shift in the company. While the old Infosys obsessed about margins and execution, Sikka wanted to target growth. By basing himself in the US market - the first Infosys CEO to do so - he shifted the company's centre of gravity. He decided to hire a bunch of new senior executives including a number of his ex-SAP colleagues.
This caused considerable heartburn in the company. Several old timers chose to leave, others were sacked. The anger was accentuated by the fact that some of the incoming former colleagues of Sikka were hired at high pay packets. Murthy, who initially gave a freehand to Sikka ,increasingly saw some of the old-timers complain about these new practices. Inspite of his professorial air, Murthy, used to being in charge, began to pass on some of the feedback.
Acquisitions and allegations of payoffs
Sikka initiated new moves like design thinking, zero distance and other programmes to retrain employees for the changed marketplace realities. The Indian IT services players in the recent past, have been forced to shift from being mere order takers, to being consultant-innovators who need to have domain expertise. This requires a mind shift in the workforce. The new leadership also publicly declared its aim to reach revenue of $20 billion by 2020. Sikka has since backpedalled on this to say it is 'an ambition, a goal we want to achieve.' Of the 10 quarters under Sikka's leadership, Infosys has positively surprised the market only three times. In the past he has indicated that this $20 billion revenue would also come from acquisitions worth between $1.5-2 billion.
Historically, Infosys believed in organic growth to protect its high margins. Even today the company enjoys net margins of 25 per cent. Though sitting on a mountain of cash it has been loath to make acquisitions, a strategy for which it has been criticised. In the 31-years of its history before Sikka took charge, Infosys made a mere four acquisitions. Sikka on the other hand, made four acquisitions spending $510 million in 2015 alone. One Infosys acquisition was the Israeli company Panaya for $200 million. Panaya, a SaaS (software as a service ) company provides cloud based quality management services for enterprise applications. Sudin Apte, CEO of Offshore Insights, an offshore advisory firm, points out that even at the time of acquisition, he had pointed at the narrow focus of the company being acquired and the relatively high price paid. It did not help that Hasso Plattner, Sikka's SAP mentor, held a stake in the company. The anonymous whistleblower claims that there were illegalities and fraud in the deal with the price being inflated.
However the company, and R. Seshasayee, Chairman of the board of directors of Infosys point out that the deal was cleared only after full due diligence, including external valuers. In media interviews, Sikka has pointed out that Platnner is a billionaire and owed only 5-6 per cent stake in Panaya. Infosys has strongly denied any illegality and Seshasayee says that those allegations have been thoroughly probed and found not to be true. Whatever the truth, it is a fact that when the then CFO Rajiv Bansal - the then compliance officer on the deal - rather abruptly stepped down, he was offered a huge severance pay of `17.38 crore amounting to about 24 months salary despite his contract stipulating just a 3-month payout. Similarly, David Kennedy, the former General Counsel of the company was also paid a generous one-year severance pay. T. V. Mohandas Pai, a former CFO of Infosys himself, says such a large payout is suspicious.
Narayana Murthy also accused the remuneration committee of the board of having failed in its duty of upholding highest norms of governance and questioned whether large payouts was some kind of 'hush money.'
Seshasayee though defended the moves saying that it was an error of judgment and was not hush money. "There will be no more Rajiv Bansal like situation at the company as we have formulated standardised practices and benchmarked severance pay packages." He has also pointed out that only `5.2 crore of the `17.38 crore has actually been paid out and the rest suspended pending certain clarifications.
There were similar murmurs in the acquisition of Skava but Sikka has said that the Panaya deal is clean and Infosys is a victim of malicious rumours.
High living and profligacy
Inspite of being a billionaire, Murthy still resides in a modest upper middle class neighbourhood in Jayanagar, Bengaluru. This modesty has been ingrained into the cultural DNA of the company from its inception, where even senior executives don't come in flashy cars or travel internationally on first class. Former CFO V. Balakrishnan points out that none of the former senior executives, including former CEOs, flew in private jets. Yet, Sikka has been accused of hiring private chartered flights at great expense. Seshasayee has denied any misuse and pointed out that less than 3-8 per cent of the CEO's travel has been on chartered flights. "Focus on value and not the cost."
Sikka has also been accused of living it up at company's expense. Infosys leased a property in Bay Area's high street at a monthly cost of nearly a million dollars, says another former senior executive. The chairman of board though claims that presence on high street was required as a part of brand repositioning and that parts of that property have been sub-leased. Seshasayee has pointed how Sikka actually sits in an open office arrangement and shares his digs with other senior executives. The other major sore point has been the increase in Sikka's salary. When Sikka's salary was raised to $11 million and his tenure extended by 2 years till 2021, the promoters wrote to the board expressing concern over the pay hike.
Seshasayee again points out that the CEOs pay has been benchmarked to global peers and shareholder approval sought through postal ballot before increasing the same. Even the fixed component of the package has been brought down to $4 million from $5 million earlier, claims the chairman. On concerns about induction of Punita Kumar Sinha (wife of minister of state for civil aviation Jayant Sinha) on the board, implying political connotations, Seshasayee has defended her saying she is highly qualified and "a woman should not be judged by the profession of her spouse." Sinha has earlier worked at Blackstone, JP Morgan and World Bank.
Big Man Syndrome and a fight to the finish?
A current senior employee of Infosys who did not want to be identified says, "Murthy suffers from the big man syndrome. It is not unique. Look at the difficulty in transitions of Deveshwar at ITC, A M Naik at L&T or Ratan Tata at Tata Group, they all suffer from the big man syndrome. Inter-generational power shifts are never easy. Remember Vishal is 49 and Murthy is 70. For now while Vishal seems to have prevailed, it is wrong to underestimate Murthy. It would be graceful if the promoters let go."
Sikka and Seshasayee have made conciliatory noises. Sikka says he shares a warm relationship with Murthy even as Seshasayee promised to have a more regular dialogue with the founders and seek their inputs. Peter Bendor Samuel, CEO of Everest Group, a research firm, says the fight is about two competing visions of Infosys's future. "Arbitrage-first or digital-first. Under the arbitrage-first vision of the founders, Infosys will consolidate its role as the leading labour arbitrage player." The digital first vision of Sikka's will ensure that Infosys will transform itself into a digital company in much the same way Accenture is driving its transformation. "Infosys will accelerate its investments in automation, analytics, cloud and cognitive technologies to build a new source of value for its customers," says Samuel.
While the digital first vision is appealing, it requires investing heavily in new technologies, acquiring firms which have already developed digital business, developing a new talent base and adopting new business models which will likely be less dependent on labour arbitrage. "The Sikka vision of transformation is high risk but could result in substantial value creation for shareholders, which would trade cash now for a more valuable company in the future," adds Samuel. Phil Fersht, CEO and Chief Analyst of HfS Research, says that removing Vishal Sikka would be a mistake. "Infosys needs to stick by Vishal and his bold plans for the firm. The traditional IT businesses are stagnant, but need to be kept stable, and focusing on automation and innovation is the only way to grow the firm profitably for the next five years."
That is a challenge not just for Infosys but for the entire Indian IT industry. "With TCS in leadership transition mode from Chandra to Rajesh, Cognizant having its own worries with Elliott breathing down its neck, Wipro still struggling to turnaround, it was an ideal time for Infosys to make a move to break away from the pack, till this happened. Hope the founders realise that it is their legacy which will be affected," says the anonymous senior Infosys executive quoted earlier. But with the promoters signaling that their concerns have not been fully addressed, a cold war is on.