Having lived in Mumbai for over 20 years, Ashwini Kapila had seen his fair share of India's financial capital. But it wasn't until 2005, that the Managing Director of Barclays Capital India took a bicycle ride in the city. He signed up with Odati Adventures, a Mumbai-based Adventure Sports Company, to tour South Mumbai on bicycle on a Sunday morning. An avid cyclist, Kapila, then 33, was instantly hooked by his sixhour tour which took him through Colaba, Fort, Ballard Estate, Kala Ghoda, Marine Drive - places he had often driven by but had never stopped to explore. Since then, he has been on at least six more tours, covering the whole of South Mumbai, known for its amazing history and heritage.


Kapila may have been among the first clients of the still-nascent guided bicycle tourism business in India. But lately many others have been following his example. Across Bangalore, Delhi and Mumbai, an increasing number of expats, business executives, students and even housewives are pedalling to discover, or rediscover, Indian cities.
Thirty-two year old Mumbaikar Kirti Chavan took his first ride in September 2010, again with Odati Adventures. The tour, which took him past the St Thomas Cathedral, Asiatic Town Hall at Horniman Circle and the Gateway of India, was just the beginning. In the past six months, he has been on seven such trips. "I think it is a great way to see this beautiful city and know its history," he says. "I will probably go on a couple more rides until I feel I know enough about Mumbai and its heritage."
A few months before Chavan took his first ride, 36-year old Dutchman Jack Leenars was leading his first group of sightseers on bicycles in Delhi on a cold January morning around Shahjahanabad and Civil Lines in the northern part of the Capital. Leenars was no newcomer to Delhi. He had spent six years here, working with Dutch daily De Telegraaf.
Cycling's joys…
No better way to take in the sights of a city than by cycling slowly past them
Cyclists can stop wherever they want and for as long as they want
Cycling groups are small and thus get more individual attention from tour organisers
When roads are relatively empty freewheeling is a breeze
… and woes
Heavy road traffi c makes cycling dangerous. Hardly any Indian city has lanes reserved for bicycles
Bicycle tours business can be expensive - Art of Bicycle Trips in Bangalore cost upwards of Rs 15,000 a bike
Parked bicycles, specially expensive ones, often get stolen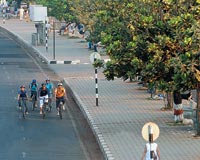 It was while cycling for the first time in India - at Hampi in North Karnataka in 2003 - that Leenars decided to eventually make a business of it. Naturally, this did not happen overnight. He chose Delhi to operate in, and it was only seven years later, in early 2010, that he felt he had mastered the routes and got the hang of the supporting logistics to plunge in full time.
A year later, his company, called Delhi By Cycle or DBC, conducts 40 tours a month. It offers three options: the Shah Jahan tour and Yamuna tour, both in Old Delhi, and the Raj Tour in Lutyens Delhi. The tours cost Rs 1,350 per person and run through the week.
"Delhi has a unique mix of cultures, great history in every street corner and beautiful parks," says Leenars, adding that he wants his cycle tours to cover the entire city. Organised bicycle tours have been a part of leisure activity in the West for some time now. New York, for example, has a 260-km cycling trail, which is very popular. European cities like Vienna and London too run similar tours. Amsterdam is a cyclists' paradise. In India, however, such tours face obvious problems. There are hardly any dedicated bicycle lanes. Nor is there any encouragement from the government.
Arun Pai, a former consultant who founded BangaloreWalks in 2003 - which provides walking tours of the city - tried hard last year, with support from bicycle maker BSA, to organise cycle tours too. He failed. "The economics go haywire," says Pai. "You can handle no more than seven to eight people, but you actually need 20 to 25 to make money."
But such challenges have not deterred others. In Bangalore, engineering graduates Pankaj Mangal, Pradeep Sharma and Gaurav Mehndiratta began Art of Bicycle Trips eight months back. Art of Bicycle Trips organises two tours - a 15-km tour on Sunday mornings across Victorian Bangalore and a 40-km trip to Nrityagram Dance Village on the outskirts. It is only a weekend hobby at present, but Mangal thinks the business can break even in the next 12 months. "This is brilliant," says Richard Hornby, an18-year-old tourist from Britain who took the Victorian tour.
"I've been cycling for 10 years back home. This is a comfortable way to see the city." Sanjay Kamath, a senior manager at Philips India, who has been in Bangalore for eight years now but seen little of it, has also signed up. "We've finally seen the inside of monuments we otherwise drive by daily. We also get to meet different types of people," he gushes.
In Mumbai, Odati Adventures founder Jayesh Morvankar himself leads all tours and gives clients a peek into the history of Mumbai - pointing out significant spots, elaborating on the Gothic architecture seen. "We started six years ago and now get an average of 12 to 15 people on most Sundays," he says. Odati charges Rs 1,250 per person, which includes bicycle hire, breakfast and lunch. Is it a commercially viable proposition? "Of course," says Morvankar. "Otherwise I would not be doing it for six years."
In its first year, Odati organised just four to five cycle rides a year which has gone up to 25 at present, emboldening Morvankar to offer cycle tours by night too. Apart from the weekend cycle tours off city limits, however, all tours are still held only on Sundays, the only day when traffic is sparse. Now, Woodside Inn, a continental restaurant in Colaba, has tied up with Odati to conduct rides for its customers - a threeand-half-hour tour that starts and ends at the restaurant.
The trend is fast catching up. Mumbai is seeing its share of bicycle clubs while more and more cyclists are taking to the streets on the weekends in other cities as well.
However, there are still problems galore. Chaotic traffic and the absence of bicycle lanes remain huge deterrents to city cycling tours. Getting tourists to pedal through the bedlam of Connaught Place in Delhi or Lower Parel in Mumbai is not only a challenge, but also fraught with risk. Further, bicycles are expensive - Leenars in Delhi pays Rs 5,000 for his gearless BSA cycles, while the 22-gear ones in Bangalore cost more than Rs 15,000. Maintenance takes time and effort. Costly bicycles are often stolen. Chalking out and fixing a safe yet interesting route is another challenge for the operators.
"We have been offering cycling tours of Vienna since 1996. It is ideal for cycle tours because most sights are centrally located and we have many bike paths," says Austrian Rick Watts. "The main challenge is offering a good tour. Since there are bookings from all over the world, good guides are equally important."
The challenges have not deterred the fledgling community of bicycle tour operators in India. "It's the best way to explore new places, as I discovered," says Leenars. "And I wanted to share the experiences with others." More and people are buying the idea. And gearing up to make discoveries of their own.