Billionaire Sajjan Jindal is a man on a mission. He is on an acquisition spree in an effort to give his $11-billion JSW Group even greater heft and scale. Jindal's takeover targets include steel, power and cement plants. The adverse market conditions and, more importantly, mounting debt don't appear to have deterred him.
Consider this. Jindal has inked a deal with his younger brother Naveen's Jindal Steel and Power (JSPL) for buying a 1,000-megawatt (MW) power plant in Chhattisgarh. Depending on the availability of coal mines and long-term power purchase agreements (PPAs), the valuation will be finalised between Rs 4,000 crore and Rs 6,500 crore.
Jindal's JSW Cement has submitted a bid for acquiring the 11 million tonne (MT) cement plants of French major Lafarge in India worth Rs 10,000 crore. Then, JSW Steel is eyeing the assets of Tata Steel UK, which is struggling with accumulated losses and a debt burden of $4 billion on its books. "We continue to look for opportunities across the globe," says Seshagiri Rao, Joint MD & Group CFO. JSW Steel also intends to acquire iron ore mines coming up for auction in Karnataka in July. They have a capacity of 10 MT and JSW will be bidding for the entire assets.
Meanwhile, JSW Energy has entered into a binding agreement to buy 500-MW Bina thermal power plant in Madhya Pradesh from the Jaypee Group. It also has a non-binding pact with Monnet Ispat and Energy to acquire its power unit, which is developing two coal-fired thermal power plants with total capacity of 1,050 MW in Odisha. Both deals are yet to fructify.
And there's more. JSW Sports is looking to buy out IPL franchise Royal Challengers Bangalore after the exit of Vijay Mallya.
Clearly, Jindal is in a hurry to ramp up operations. JSW Group companies have already acquired nearly eight assets over the past few years at a cost of Rs 28,000 crore. These include Ispat Industries from L. N. Mittal's brothers, two hydropower assets from Jaiprakash Power Ventures, the plate and pipe mill of his brother Prithviraj Jindal in the US, and Welspun's Maxsteel.
While buyouts by large corporate houses during an economic downturn at cheap valuations are not uncommon, Jindal's JSW Group already has accumulated total debt of around Rs 56,000 crore. Also, its major businesses have an exposure to sectors facing challenging times - steel, power, cement and ports. In this context, is Jindal's expansion strategy fraught with risk?.
All in the Family
Jindal has struck some big deals with his family members. They have not yielded the desired results, prompting some analysts to wonder whether those acquisitions were done more to preserve the assets within the family than for business objectives.
In 2007, Jindal bought his elder brother Prithviraj's ailing assets - steel plate and pipe mills - in the US at an enterprise valuation of $900 million (Rs 3,854 crore then). The three entities had a net loss of $42 million and revenues of $510 million in 2006/07. But the acquisition price was 6.25 times of earnings before interest, depreciation, tax and amortisation (EBIDTA).
After the acquisition, JSW Steel pumped in millions to modernise the mills for capturing the growth opportunities in the US oil and gas market. Jindal had expected to recover the costs, including the acquisition price, in four years.
But the latest numbers show that the mills produced 0.197 million tonne (MT) plates and 0.054 MT pipes, representing a capacity utilisation of 21 and 10 per cent, respectively, in the last financial year. The turnover of the plate and pipe mills almost halved - dropping 49.5 per cent to $178.93 million - during the period. It registered an EBITDA loss (including other income) of $27.57 million as against a growth of $6.24 million in the previous year. JSW Steel (US) suffered a net loss of Rs 329 crore and Rs 302 crore in 2013/14 and 2014/15, respectively.
Analysts are also not convinced about the deal with JSPL for the Chhattisgarh power plant. Raamdeo Agrawal, Joint Managing Director, Motilal Oswal Financial Services, says that the firms go for acquisitions based on their needs. "If JSW acquires iron ore and coal mines, it makes sense. But I am not clear whether the acquisition of JSPL's power plants is for buying a lucrative asset or for helping the brother and keeping the asset within the family," he says.
Indeed, the operations of JSPL's Chhattisgarh power plants are hampered by coal shortages and lack of long-term power purchase agreements (PPAs). JSW Energy has still valued the plants at Rs 4,000 crore. "The major worry about the power sector is the lack of clarity in understanding risk-adjusted returns. There are distressed assets around. But if the risk-adjusted return is not higher, the turnaround time will be indefinite," says Kuljit Singh, Partner and Industry Leader, Infrastructure, EY (Formerly Ernst & Young).
However, some acquisitions outside the family appear to be working for Jindal.
Making Acquisitions Count
When JSW Steel took over the loss-making Ispat Steel from Mittal brothers in 2010, the turnaround prospects were bleak because of the inadequate supply of raw materials at its 3.3 MT steel plant at Dolvi. But the plant was the first in India to adopt the latest technology - a combination of Conarc technology and compact strip production (CSP) - for making steel. Ispat had a debt of Rs 7,000 crore in 2010.
The plant, which had a negative EBITDA of Rs 77 crore at the time of acquisition, turned around in three years, registering an operating profit of Rs 1,180 crore by the end of March 2013. This was made possible by sourcing cheaper iron ore and reducing power and gas costs. JSW is now setting up 3 MT coke oven plant at Dolvi in two phases, at a cost of Rs 2,000 crore, through an associate company.
Similarly, Welspun Maxsteel was suffering from irregular natural gas supplies. It is still an issue but Jindal hopes to turn it around by next year.

The Game Plan
The acquisitions are part of the $11-billion JSW Group's big plans. Seshagiri Rao says that JSW Steel wants to more than double its production capacity over the new few years - from 18 MT now to about 40 MT by 2025. "We have added 4 MT capacity recently. It will increase the production by 25 per cent in this financial year. With this we want to increase our market share to 15 per cent from 13 per cent," he says.
JSW Steel also plans backward integration through acquisitions - it doesn't have iron ore and coal mines. The Mines and Minerals (Development and Regulation) Amendment Bill 2015 offers an opportunity to the company to achieve this goal through the auctions route. "We will be participating in the auctions. We look at overseas opportunities also for backward and forward integration," adds Rao.
Then, the steelmaker is looking to improve the product mix by increasing the share of valued added steel in its total production - from 35 to 40 per cent. It plans to build tin plate and electrical steel capacities for increasing the value-added portfolio.
Similarly, JSW Energy plans to more than double its capacity in five years - from 4,500 MW to about 10,000 MW. With the addition of JSPL's Chhattisgarh plants, the capacity will increase to 5,500 MW. The company is on the prowl for more distressed assets to enhance its portfolio.
The port business, which comes under JSW Infrastructure, has 33 MT capacity, which will be raised to 95 MT in a year's time. "We are further looking to increase the capacity to 200 MT in five years, adding greenfield capacities," says Rao. The conglomerate is also looking to buy debt-laden port assets in the country. The planned expansion could bring its port capacity on par with Adani Ports and SEZ - the largest private sector player. It is targeting a 200 MT capacity by 2020, up from 150 MT now.
Plans are also afoot to raise the cement capacity of the group more than four fold over the next five years - from 6 MT to 25 MT. The expansion to 12 MT is already underway. Acquisitions, again, are part of the game plan.
Ambareesh Baliga, independent market expert, says that it's the right way to buy assets cheaply during a downturn. "The acquisitions of Corus (by Tata Steel) and Zain (by Bharti Airtel) were made in an expensive market. JSW group has low cost credits available because of its size. They could pay off most of these debts in three years," says Baliga.
Burgeoning Debts
The large-scale acquisitions will increase the financial liabilities. JSW Steel's debt to equity is 1.78 while debt to EBIDTA is higher at 6.33. The debt stands at Rs 38,461 crore while the EBIDTA stood at Rs 6,072 crore.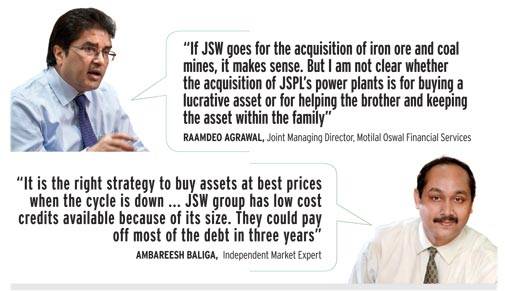 Rao says that debt has fallen in the last financial year. The high debt to EBITDA can be partly explained by the low steel prices, he says. It will be corrected soon with prices gradually rising again, asserts Rao. The international prices gained 70 per cent to $470 per tonne since February. The imposition of minimum import price (MIP) on various steel products and the lower coking coal price provides some relief to the steelmaker in the short term despite the rise in domestic iron ore prices.
JSW Energy is in a comfortable position at present with a debt of Rs 14,149 crore and an EBIDTA of Rs 4,500- Rs 5,000 crore. But after the JSPL deal, the debt is likely to reach Rs 20,000 crore. The new additions such as Bina will burden it further. Port and cement are profitable companies with little debt on their books, says Rao. The debt of the port business stands at Rs 1,200 crore while for the cement division the figure is Rs 1,100 crore.
The group plans to combat the rising debt - particularly that of JSW Steel's - through better cost management. Streamlining raw material sourcing, logistics and fuel consumption is on the cards. With technology, it is also trying to improve the product mix. "There is always an opportunity for refinancing and reducing the costs. The interest costs came down by 16 basis points to 7.16 per cent in the last financial year because of refinancing," Rao explains.
JSW Steel has a capital expenditure plan of Rs 7,000 crore. About Rs 4,300 crore will be spent in this financial year for improving operational efficiencies such as conveyor belts for iron-ore transportation, water reservoir at Vijaynagar (Karnataka) plant and a 1.5 MT a year coke oven at Dolvi (Maharashtra).
Financing Troubles
If JSW persists with its mega-expansion plans, its debt requirements will shoot up. Back-of-the-envelope calculations show that the group needs to shell out Rs 1.4 lakh crore for achieving its targets. The steel expansion will require around Rs 60,000 crore. Power, cement and port expansions will need around Rs 30,000 crore, Rs 20,000 crore and Rs 20,000 crore, respectively.
Raamdeo Agrawal says that JSW group needs to think of deleveraging their portfolios before going for expansions. The companies will have to raise at least 70 per cent of the future investment as loans.
On a standalone basis, JSW Steel's net sales fell 20 per cent to Rs 36,202 crore in the last financial year. In comparison, rival Tata Steel's net sales fell 8.7 per cent to Rs 37,815 crore. JSW Steel reported a net loss of Rs 3,498.28 crore in 2015/16 - compared to a profit of Rs 2,166.48 crore in 2014/15, after making provision for the reduced value of investments and loans in its subsidiaries in the US and Chile. Without this provisioning of Rs 5,860 crore, it registered a profit of Rs 2,362 crore. Tata Steel's provisioning is insignificant and it registered a 24 per cent fall in net profit to Rs 4,900.95 crore.
JSW Energy's standalone revenue fell about 6 per cent to Rs 5,959.42 crore in the last financial year, while profit fell 3 per cent to Rs 965.85 crore. Tata Power reported 1.64 per cent growth in revenue at Rs 8,819.65 crore and 23.6 per cent fall in profit at Rs 771.62 crore. Tata Power's profits fell because of provisioning for reduced value of its investment in Tata Teleservices and two joint ventures by Rs 300 crore.
So Jindal's two flagship businesses are on par with industry giants. The cash flow will not be an issue for the companies. But it will be risky doing back-to-back acquisitions of ailing assets in a dull market. It is going to be a tight rope walk for Jindal.