Shishir Panjikar, a resident of Bihar, had no idea about the surprises awaiting him when he booked Baleno, the latest hatchback from Maruti Suzuki, known more for its affordable cars than anything resembling luxury. The minty pearl arctic white 1.3-litre Baleno he had booked was sent to his house in the remote Tilkamnjhi block in Bhagalpur on a flatbed truck, covered bumper to bumper with a red velvet cover. His entire family was invited to a makeshift camp for the car's unveiling, followed by a cake-cutting ceremony, exchange of gifts and handing over of the keys.
At the centre of the effort was NEXA, a chain of plush showrooms - where tables are laid in style and freshly-baked cakes are offered during delivery of vehicles - that Maruti is opening to re-invent itself for the premium segment. The idea is to shed its image as a maker of budget cars.
---
WHERE MARUTI STANDS
Market Share: 47 per cent (India)
Profit(FY15): Rs 3,711 Crore
Cash Reserves: Rs 8,000 Crore
---
The initiative was started in July, a few days before the onset of the festive period, when car sales peak. At last count, Maruti had opened 85 such showrooms for selling its latest offerings - the S-Cross and the Baleno hatchback. The NEXA showrooms, which will sell only high-end models, are delivering around 8,000 cars per month.
Maruti, in spite of its pole position (47 per cent market share), has always struggled to make a mark in the premium segment. NEXA, it says, will offer options to customers looking for upgrades.
"There is a perception that Maruti, though highly reliable, is a value-for-money brand. NEXA is a serious attempt to notch up customers in fancy segments," says Maurti Suzuki Non-Executive Chairman R.C. Bhargava.
But will it click? While NEXA's lacklustre record till date and the fate of Maruti's earlier attempts to crack the premium end of the car market don't inspire confidence, a lot of experts say that NEXA has the right ingredients that can make it work in the long run.
Slow Takeoff
Maruti plans to open 100 NEXA outlets by March 2016 and 200 by March 2017. The target is to offer upscale customers personal relationship managers, iPad-operated store systems, virtual tours backed by a mobile app, and emergency support. Maruti has hired 1,000 relationship managers so far and plans to take in another 1,500 over the next few months.
However, reports suggest that the first vehicle sold through NEXA, the S-Cross SUV, has not done very well. Launched in July, it has been overshadowed by Hyundai Creta, launched around the same time, and is being sold at a steep discount.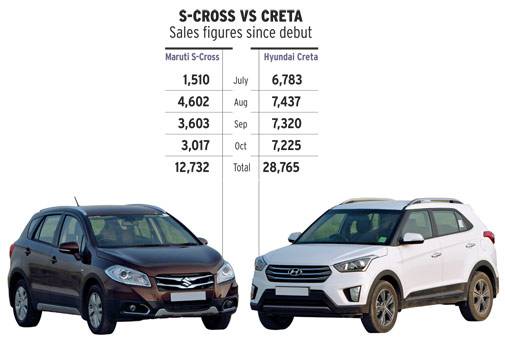 This forced Maruti to deviate from its strategy of using just NEXA for upmarket products. It allowed Baleno, its next launch, to be also booked at the regular 1,682 outlets. Deliveries, though, are being done only from NEXA outlets. A non-NEXA dealer gets around Rs 15,000 for each booking that it forwards to NEXA.
"We have developed a hub-and-spoke model for catering to all customers going for our new launches. While the cars can be booked at all the outlets, the deliveries will be handled by NEXA. We are trying to create a 'wow' factor in the car ownership experience," says R.S. Kalsi, Executive Director for Market and Sales.
---
NEXA STRATEGY
100 outlets by March 2016
85 sales points already operational
Synergy with existing dealers who are well-entrenched with the company
Maruti is targeting 2 million sales by 2020
---
"NEXA is exclusively for premium cars, something that Suzuki, Maruti's parent, has always craved for, just like the multi-level outlets that Toyota has in Japan. After its exit from the US and Canada, Suzuki's latest attempt to earn the premium tag has had a tough start," says Deepesh Rathore, the Founder-Director of New Delhi-based EMMAAA, which provides consultancy to automobile companies. The tweak in the business model, though, seems to have worked for Baleno. Around 30,000 bookings have been reported in the first month of the launch, which is impressive if we consider that the company has dispatched just 12,732 S-Cross since the SUV's launch in July. Of course, one reason for this could be Baleno's artificially lowered invitation price, Rs 4.99-8.11 lakh, which the company is calling an introductory offer. The price of S-Cross (Rs 8.34-13.74 lakh) is considered high by several experts.
The other problem is lack of service centres. The cars sold through NEXA are being serviced at regular Maruti service stations. This means customers do not get the premium experience they are being promised at the time of purchase. "We are trying to channelise our services through NEXA, but that will take time. Till then, we have asked our relationship managers to take care of the service needs of NEXA customers," says Kalsi.
'We are trying to reach out to a new segment of customers for the first time as half the market is currently not with us'.
Kenichi Ayukawa
MD & CEO
Experts say that these gaps may dilute the brand value of NEXA with some dealers even questioning the viability of their investments. As it is, the high cost of real estate in India means opening a NEXA outlet could cost Rs 5-10 crore, even more in cases where land also has to be bought. Even Maruti has sunk in a lot of money in the initiative. Its advertising agency, Hakuhodo Percept, for instance, is reported to have got the NEXA account for Rs 100 crore. Industry sources say promotional budgets for both S-Cross and Baleno have also been quite high. The company refused to confirm these details.
Maruti, however, maintains that NEXA very much gels with its larger long-term plans. Its MD & CEO Kenichi Ayukawa says NEXA is part of the fresh initiatives necessary to attain the medium-term annual sales target of two million cars by 2020. "We have to take initiatives to meet the diversified expectations of customers. NEXA provides a never-seen-before hospitality experience in a rapidly-changing India and caters to a diversified range of customers. We are trying to reach out to a new segment of customers for the first time as half the market is currently not with us," he says.
Diversify or...
How different is NEXA from Maruti's other attempts to diversify, only a few of which have been successful? It had, after all, opened differentiated dealerships in early 2000 too, after hiring an ex-Uniliver honcho. The entry-level vehicles such as Maruti 800 and Omni were sold at majority of the outlets while a few dealers such as Rana Motors and Marketing Times were roped in for more expensive cars such as Zen and Esteem. However, these were merged with the regular outlets due to poor sales. Maruti had also ventured into the financing business. These subsidiaries, opened with GE Capital and Citibank, were scrapped. Also, a co-branded customer loyalty card programme with Citibank was shut down in 2010.
One of its biggest successes is, of course, True Value, launched in 2003 as India's first organised used car business. It sells over 3.58 lakh cars every year, more than the combined sales of Honda, Toyota, Renault, Volkswagen, Nissan and Skoda. Also, the rural sales initiative, started in 2007, accounts for 34 per cent sales, helping the company sell small cars in more than 1.5 lakh villages.
Such a mixed record on new initiatives warrants a question - has Maruti got the timing of NEXA right, especially as car sales in the country are muted and Maruti, Hyundai and Honda are the only car makers in India that are doing well?
"There is a growing disenchantment with the Indian car market, which has not lived up to expectations. Anticipating steady growth, almost all car companies built huge plants here. Most are now saddled with under-utilised capacity," says Amit Kaushik, Country Head with JATO Dynamics, a global automotive research and consulting firm. According to the Society of Indian Automobile Manufacturers, the country's 16 car makers can produce six million cars annually, but rolled out just 3.22 million in 2014/15. Of these, 2.60 million were sold in the country and 0.62 million were exported.
'There is a perception that Maruti, though highly reliable, is a value-for-money brand. NEXA is an attempt to notch up customers in fancy segments'.
R C Bhargava
Non-Executive Chairman
Maruti thinks NEXA is just the right fit in this difficult market as it taps the emerging class of customers looking for upgrades and pricier/bigger vehicles. Its confidence stems from the fact that in spite of being a maker of low-cost cars, its profits continue to soar. Revenue growth, for instance, has been 35 per cent a year for the past five years. In 2014/15, it earned a profit of Rs 3,711 crore on top line of Rs 49,970 crore. In the quarter ended September 2015, its profit rose 42 per cent to Rs 1,226 crore. So, if there is one car maker in India that has the ability to take big risks, it is Maruti. And NEXA, say automobile experts, may just be its answer to critics who point to the failure of its earlier premium launches such as the Grand Vitara SUV in 2003 or the top-end Kizashi sedan in 2011.
Maruti has made several attempts in its three decades of operations in India to go beyond its core customers, points out Abdul Majeed, an auto expert and a partner at consultancy Price Waterhouse. "Despite introducing India's first contemporary sedan, Maruti 1000, in 1990, it has remained a small car company. With the exception of Esteem, most of its bigger cars could not motivate customers to not look for options such as Honda, Toyota, or even Skoda. Now, with the company planning to introduce 15 new cars, many of which will make their global debut in India, NEXA could be an answer to some of its past mistakes."
A confident Bhargava says they are working on long-term solutions for the country's market. Besides NEXA, another step in this direction is a plan to invest around Rs 4,000 crore to buy land parcels that will be given to dealers on lease. "Given the high cost of real estate in India, the initiative will help the company sustain its marketing drive and retain the edge amid rising competition. Also, this will incentivise dealers to expand their network in rural markets that generate huge incremental sales," says Bhargava.
Other Lessons
Among the first auto makers to experiment with the retail strategy was Tata Motors, which launched its Concorde outlets in 2002. These are not exactly what Lexus is to Toyota or Acura to Honda - separate brands with new pedigree of vehicles - but outlets that sell and service Tata cars in big cities like Bangalore, Chennai, Hyderabad, Delhi, Mumbai, Pune and Cochin. But limited reach prevented it from becoming a benchmark in automotive retail.
Bajaj Auto had also opened Probiking outlets to sell top-end Pulsar bikes. These were for 200cc-plus models, but the market for high-end bikes did not expand much, making the outlets unviable. Bajaj converted these into KTM outlets.
Japan's second-largest carmaker, Nissan, which entered India in 2007, tried a different strategy. It outsourced sales to Hoover Automotive India. The arrangement lasted a few years and was marked by bickering between the two sides. Nissan finally took control in February 2014. The experiment to separately sell the low-cost Datsun cars didn't work either. So, Nissan came out with a twin-brand strategy where Datsun cars are retailed along with Nissan-badged vehicles. But the latest launches, the Datsun GO+ wagon and the Go hatchback, have also not taken off, and it seems the strategy is not working. There are reports about deliberations for completely segregating Datsun.
---
THE FUTURE
Aggressively-priced Baleno hatchback has started off well.
New products may add traffi c over the next few months. This may improve S-Cross sales as well.
The service is still done at non-NEXA outlets. A new set-up is being worked out.
Non-NEXA dealers fear their business will be hit. They have already forced Maruti to share revenue for referrals to NEXA.
Investment for a NEXA outlet is three times higher than that for a regular outlet. Whether the dealers invest so much money remains to be seen.
---
That is why Maruti is not leaving anything to chance. According to industry experts, marketing and ad spends for NEXA and S-Cross are in the range of Rs 140 crore, more than the Rs 116 crore that has been spent on the Ciaz sedan since its 2014 debut.
Still, it will not be easy to build a presence in the premium segment. "I am not convinced about their new strategy, though it is too early to draw conclusions about NEXA," says Rathore of EMMAAA. "Also, the performance of many premium models is under question. Maruti lacks new engines and crispy designs like its rival Hyundai, while many other car makers have been able to import engines from Thailand or Japan to bring in diversity. Baleno shares Swift engines, which may irk upmarket and premium customers," he adds. A majority of Maruti sales, close to 60 per cent, are accounted for by hatchbacks such as Alto and Swift along with the DZire sub-compact, all sub-Rs 10 lakh products.
Global Edge
The dynamics of the car market are changing fast. The entry of global players in India with their hugely successful models has put immense pressure on Maruti Suzuki to perform better. These include Japanese peers like Honda and Toyota, which have already launched India-centric models, increasing their share of the market.
This can hardly be good news for Suzuki, which is already out of the strategically important markets such as Canada and the US. Sales are also sliding in critical markets such as Europe and Japan. This has put Maruti under strain to keep its leadership intact for long-term sustenance of the parent. The emergence of NEXA stems from Maruti's thirst to get its rightful place in the premium segment.
Ayukawa clarifies his vision for the new set-up: "NEXA's mission is to offer innovative value and direction, so that we can adequately respond to the new segment of Indian customers and offer services they value. NEXA will allow Maruti Suzuki to cater to a broader range of customers who value innovation and personal touch in their car-owning experience."