What just happened?
In a matter of ten years, so much is changed. Rather, inverted. We are cool. At the turn of the century, India was still agonising over population explosion. Today, demographics is its differentiating strength. A competitive advantage even China can't beat.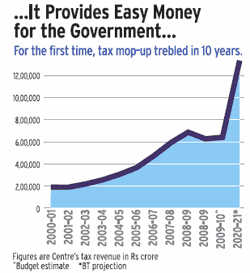 In 1991, we feared the International Monetary Fund (IMF) was arm-twisting us. In 2009, we gave the IMF a word of advice on managing international financial crises and regulations. We can be cool because while the world economy is at its worst since the Great Depression, in the July-September quarter of 2009-10, India's GDP beat all expectations by growing 7.9 per cent.
In the '90s, we lost sleep over stagnant growth, a depreciating rupee and unwilling foreign investors. We feared jobless growth and de-industrialisation of India. At the end of this decade, the economy became too hot to handle, appreciating rupee and influx of dollars is a concern and exports of items ranging from cars to medical devices has created a buzz about revival of manufacturing. The reversal of fortune was explained best by Kumar Mangalam Birla, Chairman, The Aditya Birla Group, at the India Today Conclave in 2005 when he said: "Our companies used to be market-driven, (today) they are driving markets."
Even till as late as the 1990s, success came in limited edition. Opportunity was locked up; its key shared by a privileged few. If you could source elusive licences, enter controlled markets, obtain scarce information, it was yours. Opportunity was freed up in these last ten years. And with it, access to success. Business idea, and not business licence, became the key ingredient for a start-up.
Politicians began to recognise, accept and even implement the change. A scam-accused politician from Bihar, who was the epitome of poor governance, turned Indian Railways around—though the last word on the sustainability of this turnaround is yet to be heard. State chief ministers promised (which they had in the past, too) super-fast approvals and super-fat incentives to industrialists, and many of them actually delivered on their promise (which they had not in the past). Most importantly, politicians shed shyness over talking of growth.
"We believe that growth is the best antidote to poverty," former Finance Minister P. Chidambaram told a gathering in Harvard in 2007. "Without growth, India will remain a poor, rich nation." Statements like these should one day soon settle the age-old debate between "the size of the cake and slice of the cake"—that is, whether economic policies should focus more on wealth creation or on wealth distribution.
It took us 60 years to reach the $1-trillion annual GDP mark, but it will take less than 10 years to reach anywhere between two-to-three times that size. Says Ashima Goyal, Professor at Indira Gandhi Institute of Development Research: "The last ten years have been India's best since the economy has seen the highest-ever growth rates, accompanied by real qualitative transformation. Since we are in a transitional, catch-up, high growth phase, the next ten years will be better than the last decade."
A number of factors are lining up that could ensure that the economy does grow by an average rate of at least 8 per cent a year (needed to reach $3 trillion by 2020). Shown in the graphs on these pages are most of these growth accelerators — high and rising savings rate, young population, big spike in investment and almost continual inflow of foreign funds and technology.
The ratio of non-working population to working population will fall from 0.62 to 0.48 over the next 20 years in India. Not only will this mean more potential labour, but also if this labour is fully used, it will mean more savings—by one count an additional savings rate of 14 per cent of GDP over the next 20 years. Add to it the capital India is already beginning to attract from abroad as it becomes a more attractive investment destination and as foreign aging populations save for retirement. Clearly, neither labour nor capital should be a constraint in future.
But that doesn't mean there will be no constraints. Our trillion-dollar economy still has some 100 million families without water at home, over 150 million households without electricity and 40 per cent of its villages without road connectivity. The economy loses roughly Rs 30,000 crore annually because our roads don't allow commercial vehicles to cover more than 250-300 km a day, compared to 500-600 km a day in developed economies. These are serious challenges, and unless these are addressed even the anticipated higher-than-the-past-decade-growth will look hollow.
This decade did show some sure signs of a war on infrastructure deficiencies being waged, but the outcomes are still slow to come by. The industrial job creation too, though higher than in the past, is nowhere near the potential. That's because, when it comes to private, or even public, enterprises, our policies still focus too much on preservation and too little on creation or destruction. Perhaps, soon enough, somebody of the stature of Prime Minister needs to state it loud and clear: "We should let growth help the process of redistribution, instead of redistribution stopping growth."
Economists and experts advocate four things to keep the growth momentum going: First, keep strong incentives for growth alive. Second, improve infrastructure for investment. Third, constantly improve the flexibility of the economy and fourth, create better safety nets.
If growth is a marathon, then India has just finished one lap. Others are well into the race, but India is young, and has fresh legs. We should be proud of the past decade's achievements, but not satisfied. As Raghuram Rajan, Professor of Finance at University of Chicago's Booth School of Business and Honorary Economic Adviser to the Prime Minister once said: "If India has to take its rightful place among nations, every sixth CEO of a Fortune 500 firm should be an Indian. Every sixth Nobel Prize winner should be an Indian. There should be food on every table in the land. Only then we can afford to pause and say, with justification, mera bharat mahan."