In the past decade and a half, two very different sectors of the Indian economy have generated enormous wealth and thrown up a record number of billionaires. One of these is the software services industry, which has been in the limelight for a long time. The other, the pharmaceutical and healthcare sector, is only now beginning to garner the kind of attention that it has long deserved.
Between 2005 and 2013, the pharma industry alone has more than doubled - moving up from $6 billion to over $12 billion in revenues. By 2020, it is expected to be $55 billion in size. The hospital - or healthcare - industry is poised to grow to $100 billion by the end of 2015 and $280 billion by 2020. These projections are driven by some fundamental facts. For one, despite having a vast pharma/healthcare industry, only half of the country's rural population is covered by the sector; two, thanks to the long gestation period of pharma companies, the entry barrier is very high, which makes the successful enterprises even more valuable; three, domestic pharma majors are being eyed by global pharma and healthcare companies for their obvious strengths in generic drug development and extensive domestic market reach; four, the global pharma industry is in a flux as stricter norms by drug regulators is leading to fewer and fewer molecules being approved. That is putting drug inventors under enormous strain. At the same time, governments around the world are beginning to favour generics - the strength of most Indian drug companies - for greater affordability. And finally, as Indian average income keeps rising and the lifespan increases, the middle and upper classes are spending more on healthcare than ever before - and this will only keep rising in the future.
In March this year, the phenomenal rise of the pharmaceutical sector in India was hammered home when Dilip Shanghvi, the mild mannered and low key founder of Sun Pharma, found himself in the spotlight for having become the richest man in the country, displacing Mukesh Ambani of Reliance Industries. But while Shanghvi found himself as the most prominent face of the pharma industry in the list of Indian billionaires, he was by no means alone. Today, the pharmaceutical and healthcare industry accounts for a quarter of India's 100 richest families. Like Shanghvi, some of them have become household names - Ajay Piramal, who sold the formulation division of Piramal Healthcare to Abbott for $3.7 billion in 2010, the Singh brothers of the Fortis healthcare chain, who sold pharma firm Ranbaxy to Daichhi Sankyo (since then, the latter has sold it to Shanghvi), the Reddy family of Dr Reddy's Laboratories, Dr Prathap Reddy of Apollo Hospitals, Deshbandhu Gupta of Lupin, Y.K. Hamied of Cipla, Cyrus Poonawala of Serum institute, and Kiran Mazumdar-Shaw of Biocon, to name a few.
But this story is not about them. It is about eight other pharmaceutical and healthcare entrepreneurs who have built significant empires. All are estimated to have a networth well in excess of $1 billion, but keep an exceedingly low profile. Some of them go to great lengths to avoid attention - and have not given interviews to anyone in many years. Others have kept their companies private just to avoid the attention that a listed company founder tends to get. They all have one thing in common: Within the pharmaceutical industry, they are all known for making astute choices, finding niches that others had ignored, building scale and taking audacious bets. For instance, when Murali Divi started out on his own, he decided to focus only on bulk drugs so that he could marshal his meagre capital in the best possible manner. Mankind Pharma's Ramesh Juneja decided to sell in small towns and villages when others were focusing on big cities.
Most of them started with very little capital and resources. And all of them persevered through the bad times of the industry. Some of them have become world leaders in their specific areas and niches.
Their passion is unmistakable. The promoter of Alkem Laboratories, Samprada Singh, is 89, but still attends office six days a week. And they are not interested in just accumulating wealth. Dr Azad Moopen of DM Aster Healthcare has vowed to give one-fifth wealth for charity.
BT arrived at the listing after an elaborate quantitative exercise. The wealth of promoters of listed companies such as Aurobindo and Divi's Labs was a simple calculation of the market value of their equity holding in pharma/healthcare companies promoted by them. For the unlisted companies, we depended on consultants and private equity firms and other rankings: Read on...
BANKING ON BIOLOGICS
Early entry into Europe and development of biologic drugs has helped Intas become the country's 12th-largest drug company.


Ahmedabad-based Intas, India's 12th-largest pharmaceutical company by revenue, has extensive presence in the domestic market. However, its promoters keep a low profile, whether it is the 81-year-old Chairman, Hasmukh K. Chudgar, or his two sons, Vice Chairman Binish Chudgar and Managing Director Nimish Chudgar.
In 2014, Singapore's Temasek Holdings bought a 10.16 per cent stake in the company from private equity investor ChrysCapital. Dealmakers say Temasek paid Rs 880 crore for the stake, valuing the company at over Rs 9,000 crore. The price was 20 times what ChrysCapital had invested. This made it one of the most profitable investments in India's pharmaceutical industry.
"It was an excellent deal for ChrysCapital with Intas growing revenue at 27 per cent compounded annual growth rate (CAGR) since the investment in 2006," says Sanjiv Kaul, Managing Director, ChrysCapital.
"Our revenue was Rs 5,150 crore in 2014/15," says Binish, who has been guiding Intas since the early nineties. While he focuses on strategy, his brother oversees operations and manufacturing. Intas earns about 55 per cent revenue from the international market, mainly the US and Europe. "Our exports have grown 40 per cent a year for the past five years," says Binish.
One differentiator for Intas has been Binish's push to tap into global markets early. In 1996, he set up a world-class plant in Ahmedabad. In 2001, Intas started exporting to Europe and was among the first Indian generic companies to enter developed markets. The company is making huge investments in biologics. "We have invested over $125 million to develop and enhance our biosimilar capabilities over the past eight years," says Binish. Intas has the largest number of indigenously developed biosimilars, eight, in the domestic market. Another six-seven are in the pipeline.
Intas was the first company in the world to launch a nano particle-based targeted delivery Docetaxel drug DoceAqualip. It is an innovative chemotherapy molecule designed to reduce the drug's hypersensitivity among cancer patients.
It has filed for listing twice in the past. "We may look at an initial public offering in the next three-four years. It could be earlier if we make a significant acquisition in the US or Europe," says Binish.
CHANGE AGENT
P.V. Ramaprasad Reddy's hard work has taken Aurobindo places. The company is now looking at niche areas for growth.


To those who have seen Aurobindo Pharma and its co-founder P.V. Ramaprasad Reddy over the years, one thing is clear - the company, founded in 1986, is now more visible in terms of growth, size and a swank office in Hyderabad, while Reddy is more publicity shy and behind-the-scenes than he was in early growth years in the company's purely functional office in the city's Ameerpet area.
Of course, he is closely involved in the business, though he has chosen to locate himself in the US, where the company is expanding its business. While his designation is now non-executive director, he still leads the company's strategic planning initiatives.
Those who have known him for years vouch for his hard work and focus. "He has displayed an ability to learn along the way. He never knew technology but learnt it. He used to believe he could do everything himself and did so for a long time but has now gone the other way and professionalised the company," says C. Krishna Prasad, Chairman and Managing Director of Granules India, a fast-growing pharmaceutical company in Hyderabad with customers in over 60 countries.
Aurobindo was founded in 1986 by P.V. Ramaprasad Reddy and K. Nityananda Reddy (the two are related as Nityananda is married to Ramaprasad's cousin and Ramaprasad's son is married to Nityananda's daughter). They named the company Aurobindo as its first factory was in Pondicherry, the adopted home of Sri Aurobindo.
The company started with bulk drugs, its mainstay for over two decades, and is now pursuing a strategy to move up the value chain. About six years ago, bulk drugs - also called active pharmaceutical ingredients - accounted for nearly 60 per cent revenue, while finished drugs, or formulations, contributed the rest. Now, the bulk of revenue comes from finished drugs.
It is also looking at niche areas for growth. For instance, it is focusing on injectibles and limited-competition products, particularly those that cater to select segments such as cancer where profit margins are higher.
Other than that, it sees growth in areas like penems and controlled substances. Penems are a new class of antibiotics while controlled substances are medicines with narcotic products that are used in areas like pain management.
MARGIN PLAY
Murali K. Divi has leveraged chemistry skills to earn high margins in the bulk drugs business.


Kallam Anji Reddy, the founder of Dr Reddy's Laboratories, in his memoirs, An Unfinished Agenda: My Life In The Pharmaceutical Industry, released nearly two years after his death, talks about several business associates. One person to get a special mention is Murali K. Divi, the founder of Divi's Laboratories in Hyderabad. Reddy describes Divi as "a very good chemist" who "worked extraordinarily hard" and goes on to say that "he had the kind of zeal that makes for a successful entrepreneur." Though he has been critical of Murali Divi - the two had split after a long association - there is little doubt that Divi knew early on that since chemistry is amenable to process innovation, leveraging it could give him an edge.
Divi's has banked on the chemistry skills of its researchers to attain market leadership in select products. Its focus is on bulk drugs, also known as active pharmaceutical ingredients or APIs. For example, last year, L. Kishore Babu, Chief Financial Officer, Divi's, had told Business Today: "In dextromethorphan (a cough suppressant) and naproxen (an anti-arthritic), we supply 60 per cent of the world's requirement and have markets in the US and Europe." The two contribute around 25 per cent to the company's revenue.
Divi's has few directly comparable companies, with its standalone API focus. However, some analysts compare Divi's to Sun Pharma before the Dilip Shanghvi-owned firm acquired Ranbaxy given the more than 30 per cent, and sometimes 40 per cent, margins Divi's earns. This is creditable considering that Sun operates in areas where margins are generally healthy while Divi's works in a more challenging and low-margin API business.
The company is now working on a big expansion plan, which may limit margin expansion for some time. Arvind Bothra and Amey Chalke, analysts at Motilal Oswal, said in a report on January 31 that while the revenue outlook was bright, margin expansion looked unlikely. "The management remained confident about 18-20 per cent revenue growth for 2015/16 on the back of a healthy order book. Divi's has announced a Rs 500 crore expansion at a new facility in Kakinada in Andhra Pradesh, likely to be commissioned by 2016/17. Operating margins are likely to be maintained at 37 per cent levels due to capacity addition restrains."
Murali Divi's two children have been working actively in the company with his son handling marketing for the last 10 years and the daughter taking control of the crucial areas of procurement and finance. The company was in the news last year when analysts talked about Ranbaxy having possibly tied up with Divi's as an API supplier for its generic version of Novartis anti-hypertension drug Diovan in the US. Divi's officials, however, would not comment on this.
BUSINESS DRIVE
Samprada Singh has put Alkem among the top 10 domestic drug firms.


Even at 89, Samprada Singh, Chairman of the Mumbai-based Alkem Laboratories, attends office six days a week. So does his brother B.N. Singh, 14 years younger. It is their 40 years of hard work that has put Alkem among the top 10 domestic pharmaceutical companies in the country.
Today, 14 brands of Alkem are among the top 300 selling drugs in the Rs 89,000-crore domestic pharmaceutical market. Its anti-bacterial brand Taxim-O (cefotaxim) has sales of Rs 167 crore a year. It was the first drug to cross sales of Rs 100 crore in India. "We did around Rs 3,200 crore revenue in 2014/15," says B.N. Singh, Managing Director.
This growth has a lot to do with the vision and passion of the two brothers. Born in a middle-class family of farmers in a village in Bihar's Jehanabad district, Samprada Singh jumped into the Indian freedom movement at 15 and was part of a mob that torched a police station near his village. He graduated in commerce from Gaya College and took up farming before trying his luck selling umbrellas. After this, he started a medical store with a partner, and later extended the business by entering drug distribution. In 1970, he decided to enter drug manufacturing and moved to Mumbai with his brother to start a firm with a partner. That did not work well. After three years, he founded Alkem to make Broadicillin and Metron. Five years later, Alkem opened a factory at Taloja in Navi Mumbai and started making about 12 drugs. The big break came in 1989 with the launch of Taxim. It is No. 1 in the anti-infective market and second in anti-osteoporosis and multivitamin segments. It earns over Rs 700 crore from sales in 48 countries, including in the US, Europe, Australia and Africa.
Samprada Singh says Alkem has been growing at over 20 per cent for the last six years, higher than the industry average. He says next big growth driver will be exports. Alkem has already done three acquisitions in the US and Australia, and has over 100 drugs under development, with 50 pending approval in the US, the EU and Australasia markets. The company is also preparing to launch generic versions of off-patent biotech drugs. "Our plan is to make Alkem a billion-dollar company," he says.
Alkem is also planning a stock exchange debut. It has appointed Nomura and Axis Capital as lead bankers for a planned share sale, likely this year, to raise between Rs 1,500 crore and Rs 1,800 crore.
DOCTOR OF THE GULF
One of the richest Indians in West Asia, Moopen has healthcare solutions for one and all.


Dr. Azad Moopen did MBBS from Calicut Medical College and completed his MD in 1982 before he started teaching at the institute. Five years later, he visited Dubai on a philanthropic mission. "Medical care facilities were inadequate in Dubai and I thought of starting a clinic there. The plan was to be there for just two years," says Moopen. Twenty-seven years later, Moopen's DM Healthcare network has over 175 facilities, including hospitals, diagnostic centres, pharmacies and medical colleges, across West Asia and India.
Moopen's success has a lot to do with the branding of healthcare facilities along the lines of various income groups. His Aster brand caters to the middle-income group. Medcare is a high-end brand catering to the upper segment while Access targets lower-income groups.

"It is like travelling from one destination to another in economy, business or first class of an airplane," he says. In 2001, he set up a 600-bed hospital in Kozhikode under the MIMS brand. Two more are coming up in Kannur and Perinthalmana. The Wayanad Institute of Medical Sciences, a 1,000-bed facility, and a medi-city in Kochi, are the other feathers in his cap. While the company plans a pan-India presence, including centres at Pune, Bangalore and Hyderabad, its global plans include Jordan, Kuwait, the Philippines and Bahrain.
THINKING SMALL TO GROW BIG
Focus on rural and semi-urban regions gives Mankind an edge over its Indian peers.


It is an all-family affair at Mankind, the fifth largest and fastest-growing Indian drug company in terms of revenues. The company was launched in 1995 by Ramesh Chandra Juneja, the Chairman, along with his brother Rajeev, the CEO, and sister Prabha Arora, the MD. Prabha's son Sheetal and Ramesh's son Arjun have recently been inducted as MD and Director-Operations, respectively. "The 11,000 employees of Mankind are like a family and all of them have my mobile number," says Rajeev.
However, the birth of Mankind was from a rift in the family. Ramesh, a science graduate who had joined Lupin Laboratories as a medical representative in 1975, first went on to start Bestochem with his two brothers in 1983. Ten years later after a split with one of them, he launched Mankind Pharma.
Mankind started with just Rs 50 lakh and a small factory in Gurgaon. Within one year it posted revenues of Rs 4 crore. In the following five years it jumped to a whopping Rs 2,000 crore. Mankind is said to be valued at over Rs 15,000 crore. According to recent news reports, private equity fund Warburg Pincus has offered to buy ChrysCapital's 11 per cent stake in the company for $250 million. If the deal happens, ChrysCapital will make over 15 times its investment.
While his peers were looking at export opportunities, Ramesh decided to target local markets. "We were a young firm and lacked adequate capital to invest for exports," he says. Mankind has been aggressively tapping rural and semi-urban markets with its wide basket of low-cost drugs. Tier-I cities contribute only 40 per cent to revenues.
Mankind's dominance in the market is evident from the fact that 61 products of the company rank first in their categories, 47 are at the second spot and another 94 are in the top five in terms of sales. Its anti-lethargy drug Nurokind and antibiotic Moxikind have annual sales of over Rs 200 crore each, while its erectile dysfunction drug Manforce earns over Rs 250 crore a year.
"We have 16 plants in Himachal Pradesh and are constructing one in Udaipur. Around 90 per cent of our manufacturing will soon be our own," says Sheetal. The company is also planning to launch patented drugs of multinational pharma companies in the Indian market and has started exporting its products to developing markets, including Africa. It has witnessed growth of 20-25 per cent for the past five years. "We should be having Rs 4,200-crore turnover next year," he adds.
TAKING MNCs HEAD ON
Focus on meeting global standards has set the Suranas apart.
In 1963, a young man left Balrai, a tiny hamlet 15 km from Pali in Rajasthan, and took up a job at a pharmaceutical distribution company in Bangalore. After eight years, Ghewar Chand Surana decided to start out on his own and took up a marketing and distribution contract for Delhi-based La Medica. When the company failed, Surana decided to get into manufacturing drugs. He borrowed Rs 1.25 lakh to set up his own facility in Chennai in 1973. Micro Labs was born.
From day one Surana was clear about one thing: Micro Labs would get into product categories dominated by multinationals instead of products where competition from local players would be intense. He decided not to play the price game or emphasise on volumes and, instead, focused on profits. The lack of a strong intellectual property regime in India helped him to reverse engineer popular drugs. Says Surana's son and Chairman and MD Dilip Surana: "My father's ability to pick up the chemistry of a drug was amazing. For him there was no holiday. He lived and breathed business and inculcated the same values in us. Even during my high school days, he made sure I learn the trade, starting from the lowest rung."
A few years later, Dilip's younger brother, Anand, joined the family business. The duo brought in fresh ideas and Micro Labs became one of the few companies in the mid-1980s to have separate strategic business units that focused on areas such as cardiology, neurology, dermatology and nephrology.
From Rs 30 crore in 1987, Micro Labs posted a turnover of Rs 2,500 crore in 2014/15, with its global business contributing 40 per cent to its revenues. It posted a net profit of Rs 350 crore and carries zero debt on its balance sheet. It has 16 manufacturing facilities across India and one plant in South Africa, employing 9,000 people. Micro Labs has been aggressively investing to increase capacity and boost exports, and is also planning to set up manufacturing units in the UAE and Indonesia.
BIG CONTACTS, BIGGER FOOTPRINT
Rooted to pharma and healthcare, Shetty also has business interests in IT and realty.


June 2014 saw an Abu Dhabi-based Indian touch down in London to buy a majority stake in a foreign exchange company with operations in 27 countries. Market observers were surprised to see B.R. Shetty take over the Travelex Group at a valuation of »1 billion.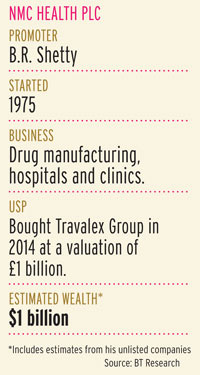 Shetty, a native of Udupi in Karnataka, was, however, a known face in the Gulf. His penchant for occasionally making splashy moves had grabbed eyeballs when he bought two entire floors of the Burj Khalifa in Dubai in 2012 for an estimated $25 million.
But, how did a clinical pharmacist become a billionaire? Industry observers give credit to Shetty's business acumen. He spotted prospects in the health care space in the Gulf region early and set up New Medical Centre (NMC) in 1975 to tap into the local and the burgeoning population from South Asia.
Shetty's partnership with Abdulla Hamid Al-Mazroei, a senior minister in the UAE government, paved the way for the exponential growth NMC has witnessed over the years. Today, he runs a chain of hospitals and clinics across the Gulf, apart from having interests in hospitality, pharmaceutical, drug manufacturing, education, jewellery, information technology and real estate.
NMC Health was listed on the London Stock Exchange in 2012. It posted $644 million in revenues with a net profit of $77.5 million in 2014/15. Its market cap is in excess of $1 billion.
The 73-year-old is also planning to open new facilities in Kerala, Punjab, Chhattisgarh and Rajasthan.
(Research inputs by Jyotindra Dubey)