Vinita Bali, Former Managing Director, Britannia Industries
Not only did she quadruple Britannia's revenue from Rs 1,615 crore in 2005/06 to Rs 6,342 crore when she exited the company in 2013/14, Vinita Bali, 60, also made biscuits more nutritious. Right from the NutriChoice range to milk bikis and bread, Bali made sure all of them are fortified with minerals. "We knew that biscuits are an excellent carrier of micronutrients? we combined this with the stark reality of malnutrition and decided to fortify several brands with micronutrients," she told BT earlier. Now, every biscuit maker has forayed into the category. Her passion to make the world free from malnutrition continues. She is on the board of several organisations such as Scaling Up Nutrition, an initiative of the United Nations and Global Alliance for Improved Nutrition.
Shobhana Bhartia, Chairperson and Editorial Director, HT Media
When Shobhana Bhartia took over the reins of her father K.K. Birla's pre-independence newspaper business, Hindustan Times, profit was the last thing he was bothered about. The newspaper was his passion, which he had passed on to this daughter, in whom he saw all the qualities of a good newsperson. Bhartia, 58, has turned this passion into a successful and profitable business. While Hindustan Times is the second-most widely read newspaper in the country, Bhartia also runs business daily Mint. The group also has a presence in radio broadcasting.
Renu Sud Karnad, MD, HDFC


Under Renu Karnad's leadership, India's biggest mortgage lender with an asset base of Rs 2.53 lakh crore has managed to protect its turf despite stiff competition from banks. Karnad, 63, also gives strategic direction to the group in new areas like education, property venture and asset management. A financial sector veteran, Karnad also sits on boards of big companies like EIH, ABB India, WNS and Bosch.
Chanda Kochhar, MD & CEO, ICICI Bank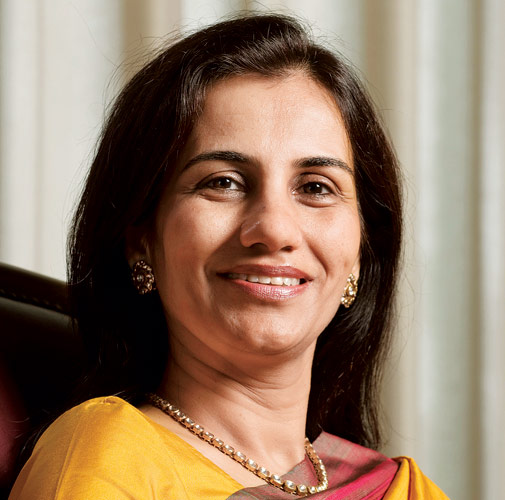 Kochhar, 53, heads the country's largest private sector bank. Under her, the bank has been taking big strides in digital banking, especially mobile and video banking. Despite a challenging operating environment, under her, the bank has managed to achieve healthy growth in loans and deposits, a comfortable capital adequacy ratio and control non-performing assets.
Naina Lal Kidwai, Chairman, HSBC India
Kidwai now has a regional role in the UK-headquartered HSBC. As a director of HSBC Asia Pacific, the 58-year-old has a larger strategic role. In India, she continues to support Indian operations in key businesses of banking, mutual funds, insurance and back office.
Kiran Mazumdar-Shaw, Chairperson and MD, Biocon
Kiran Mazumdar-Shaw's biggest achievement in the past year has been taking Biocon's arm, Syngene International, public. "I have been able to unlock a value of $1 billion from our research services business...we continue to build value and create differentiation," says the 62-year-old. The listing, coupled with Biocon's four biosimilar programmes advancing in the clinic, means the company is raising its profile as a global biopharmaceutical company.
Zia Mody, Managing Partner, AZB & Partners
Zia Mody, 59, is the last word on corporate M&As, securities law and private equity in India. After her master's degree from Harvard Law School in 1979, Mody practised in the US for five years. Her star shone when the Indian economy opened up in 1991 and her friends and old clients in New York approached her for advice on investing in India. Mody is also a member of a SEBI panel on mutual funds and FICCI's capital market committee.
Kalpana Morparia, CEO, JP Morgan India
Morparia, 66, overseas JP Morgan's India business encompassing investment banking, asset management and treasury with added responsibility for global research, technology and operations. She is also part of JP Morgan's strategy team headquartered in New York.
Swati Piramal, Vice Chairperson, Piramal Enterprises
A medical doctor by education and an alumnus of Harvard School of Public Health, the 59-year-old Piramal used her background in medicine, public health and business to change the trajectory of health care, education and public policy in India. She is regarded as a pioneer who campaigned for new drug research in India and highlighted the importance of scientific innovation. She also served as an adviser to the prime minister on science, technology and economic policy from 2006 to 2014.
Renuka Ramnath, MD & CEO, Multiples Alternate Asset Management
The investment advisory firm led by Renuka Ramnath, 53, manages $400 million (Rs 2,600 crore) raised from Indian and foreign institutions, and is said to be on the road to raise a second fund of $500-600 million. The first fund had adopted a sector-agnostic strategy and invested both in listed as well as unlisted companies. It has so far invested in 11 companies, including Arvind, PVR, Vikram Hospital, Indian Energy Exchange, Sara Sae, Livpure and Delhivery. It also made two exits - South Indian Bank and Cholamadalam Investment and Finance Company - both in early 2015.
Preetha Reddy, Executive Vice Chairperson, Apollo Hospitals Enterprise
She might have passed on the title of Managing Director to her sister Suneeta, but Preetha Reddy, the eldest daughter of Apollo Hospitals founder Prathap Reddy, still plays a key role in the hospital chain. Preetha, 58, is the go-to face of the family which interfaces with clinicians and doctors. She has shown a deft touch in attracting and retaining talent. One outcome has been the 99.7 per cent satisfaction rate among patients.
Shikha Sharma, MD & CEO, Axis Bank
Axis Bank, under Sharma, 56, continued its momentum this year. Despite pressure on corporate India, its loan book jumped 22 per cent to Rs 2,81,083 crore in 2014/15. Its capital position is comfortable (15 per cent-plus) with low net bad loans of 0.44 per cent. The bank is poised to exploit opportunities given the poor state of affairs at government banks.
Mallika Srinivasan, Chairman and CEO, TAFE
The monsoon might have played truant this year, impacting the fortunes of most farm equipment sellers in the country, but for tractor queen Mallika Srinivasan, it has been a productive year. TAFE, India's second-largest and the world's third-largest tractor maker, retained its market share. During the year, Srinivasan, 55, also invested close to $140 million in its US partner AGCO to become one of its top shareholders with an almost 13 per cent stake. With TAFE operating in more than 82 countries, and with a higher stake in AGCO, Srinivasan is likely to continue influencing the global farm equipment industry.