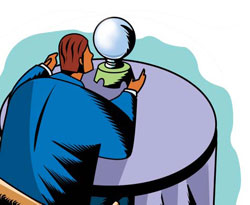 It all happened in 2007. India Inc. recorded a second year of 9 per cent plus GDP growth rate, cross-border acquisitions grew bigger and multi-billion dollar stock offerings saw the light of day as public issues of DLF and ICICI Bank sailed through. Backed by a strong domestic growth and robust inflows, the stock market leaped to an alltime high—the bellwether Sensex surged 38.99 per cent this calendar year. But will India Inc.'s rising optimism and its business confidence rub off positively on 2008?
The year 2007 marked the second straight year of 9 per cent plus GDP growth rate for the market. Investments in new capacities and infrastructure have surged to an all-time high. Manufacturing, mining and construction have all seen robust growth rates. But the year 2008 could see a lag effect of the higher interest, currency appreciation and a slowing global demand playing catch up with the economy.
Growth rates are expected to come off from the highs of 9.4 per cent plus to a more sombre 8-8.5 per cent the next year. Consumption demand, though robust, is slowing down due to the increase in interest rates. And as fears of a US slowdown are likely to rub off on the Indian economy.
According to Fidelity International, a global investment management major, the outlook for global equity markets is mixed, as easy credit conditions tighten. But Fidelity says Asia will remain buoyant on the back of continuing economic growth. The trick would be to look beyond the benchmark indices and keep an eye out for specific stocks. Fidelity also suggests that "diversification away from leveraged markets will be key to good returns in 2008". According to Michael Gordon, Head of Investment Strategy at Fidelity International, 2008 "could be one of the most interesting years for equity markets this decade&rdquoAt least two of the three pillars that have propped up the equity bull markets of the West since March 2003—leverage, consumer spending and corporate earnings—could be missing in 2008. Fears, however, of a hard landing are exaggerated. India is largely insulated from the US economy, in case there's either a recession there or a global slowdown, or both.;.
India's favourable demography along with its high savings and investment rate and the rising corporate productivity stack the odds in favour of a steady growth in the Indian economy. India's economy is also less export-driven as compared to some other emerging economies. And the investment-led growth in capacities and infrastructure is bang on track.
Notwithstanding the economic slowdown, corporate India is on track to maintain a steady profit growth in 2008. However, the last four years' record profit growth of 30 per cent plus is unlikely to materialise next year as a rising base effect and the lag effect of the rising interest rates catch up. Profit growth could moderate to 18-20 per cent, though the underlying earnings momentum is as strong. "The domestic economy is strong," says C. Jayaram, Executive Director, Kotak Mahindra Bank. "There's no reason why domestic companies will disappoint."
The factors that will keep earnings on track such as interest rates, commodity prices and increasing consumption are still playing out in favour of India Inc. Interest rates, market analysts contend, has peaked out. The Reserve Bank of India has been tightening interest rates for much of 2007, but analysts contend that the hard part is over. Commodity prices increased to record levels and chances are they will stay steady, even as raw material and input costs remain low. Domestic consumption is steady and pointing up, and investment-led increase in capacities and infrastructure has never been higher. Says Seshadri Sen, Associate Director (Research), Macquarie India: "India will continue to log good growth, the worst of the tightness is over."
But the big question is will foreign investors continue to pour in the dollars? Last year's record inflows of more than $10 billion propelled the market into a new orbit—that of 20,000. But towards the fag-end of the year, foreigners turned negative and withdrew $1.15 billion from Indian shores. With the dollar strengthening lately, foreign investors have shifted a bit of their portfolio back to dollar assets. But despite the recent pullout, capital flows into the stock market are set to record another strong year. Foreigners continue to be enamoured of the India growth story.
The capital flow signs are healthy. India needs to attract capital to finance its infrastructure spending, there's a positive differential in interest rates. The number of foreign institutional investors increased to 1,213, up from 993 the last year. If anything, the stock markets should see another great year of foreign fund flows. Says Sen: "I would think that foreign inflows in 2008 will be better."
Yet, by some accounts, the prevailing mood on D-Street is of caution due to the global weakness in equities. The Sensex is currently trading at a priceearnings ratio of 22 on expected 2007-08 earnings and, going by historical valuation yardsticks, it does not appear cheap. Not only are the stocks trading on the higher side, an earnings moderation can make the markets look more expensive. To top it, globally the risk appetite of staying in the stock market is coming off. Says Jayaram: "Stock markets aren't going to be anywhere as good as they were in 2007. Global equities are going through a weak phase."
While the immediate prospects don't look promising, the year should eventually turn out well for the stock markets, if not better. Brokerage houses have assigned higher year-end targets to the Sensex. HSBC India has a year-end target of 23,000 and Sen reckons that the market could touch the 24,000 mark. From current levels, that's still a promising 20-25 per cent return.