The chant emanating from the park-facing house in Noida's Sector 15A can be misleading. "Disco... Disco... Disco... Disco...," it goes. Once inside, you realise it is not John Travolta re-igniting Saturday Night Fever.


The house and the voice belong to 77-year-old R.C. Bhargava. Disco is his golden retriever, who has grown a bit long in the tooth and is not the most obedient of pets. Even otherwise, Bhargava is hardly likely to try the Strut or the Hustle these days. As the Chairman of Maruti Suzuki, which has 39 per cent share of the car and utility vehicles market, he is
facing the worst year in a decade
.
The rest of the industry is just as badly off, if not worse. Eleven of the 20 companies making cars in India show falling sales in the 11 months to February. In February alone, a month in which sales slow as people wait to see what the Budget does to their income and prices, car sales fell 26 per cent.
Not that the Budget helped. On the contrary, Finance Minister P. Chidambaram raised the import duty on luxury cars from 75 to 100 per cent and on high-end motorcycles from 60 to 75 per cent. The one that really hurts is his decision to raise the excise duty on sports utility vehicles from 27 to 30 per cent.
"The finance minister is looking to get more out of SUVs because they are the only growing segment," says Bhargava. If you add SUVs, growing at 54 per cent, to February's calculations, the drop in passenger vehicle sales is only 16 per cent.
The excise duty increase comes wrapped in confusion. The way SUVs have been defined - on the basis of length, engine size, and ground clearance - creates absurdities. Maruti SX4, Honda Civic and Toyota Corolla - which look like sedans and drive like sedans - qualify as SUVs.
"The definition should be more clear," says Sandeep Singh, second-in-command at Toyota Kirloskar Motor, which makes the best-seller Innova. "You cannot categorise an SUV based on ground clearance and engine size." The Innova, which is a crossover between a car and a utility vehicle, faces higher excise duty. In a developed market such as the United States, it would be called a "people carrier", vehicles which attract families and hold no appeal for adrenaline junkies who fail to think beyond SUVs.
The
industry has taken this up with the government
and the definition may soon get modified. Otherwise, the likes of the SX4, Civic and Corolla will be caught in a pincer attack. Even as the excise, a tax levied at factory gates, goes up, manufacturers cannot dream of raising prices now.
As the screws tighten, how are carmakers coping? They are trying to lure customers with unprecedented discounts. For the buyers, this should be the time to disco.
MUSIC TO BUYERS' EARS
Volkswagen is ready to give you a new Vento if you turn in your old car and pay Rs 1. Instalments on the new car will start after a year. A Skoda dealer in Gujarat is offering a free Fabia if you buy a Rapid. The Fabia will be delivered after five years.
There is some hook or the other on nearly every car. Some of these are disguised as a "special corporate discount", others as a "loyalty bonus" or an "exchange bonus", and still others as free insurance and accessories. Ripped to the bones, all of them serve the same purpose of reducing the amount you need to shell out.
Tata Motors is the one not mincing words. The company has taken the extreme step of cutting prices outright. So the Manza is cheaper by eight per cent. What's more, the company will buy it from you after three years at 60 per cent of what you paid. Among its other cars, Indigo eCS is available for Rs 45,000 less and Indica Vista for Rs 60,000 less than what the price tag reads.
"There are a lot of offers going on in India, which is putting pressure on margins," says Joginder Singh, head of Ford India. And what are the companies getting in return for sacrificing their margins?
Not much, if you go by the March numbers. Sales at Maruti were down 4.3 per cent, Hyundai 13.5 per cent, Tata Motors 27.6 per cent, and Ford 42 per cent, even if you include utility vehicles. Only Mahindra & Mahindra (M&M) and Toyota reported higher sales. Clearly, despite the industry's attempts to induce the buyers, they are refusing to tango.
DISCORDANT NOTES
The subdued economy - gross domestic product may have grown five per cent in 2012/13, the lowest in 10 years - has curtailed disposable incomes and taken optimism out of consumers. What the two things can do can be seen in the numbers for 2006/07, when passenger car sales - not counting utility vehicles - crossed a million for the first time.
That year, the GDP grew 9.6 per cent. Interest rates, which remain high as the Reserve Bank of India tries to fight inflation, have pushed up EMIs on car loans. In a market where 80 per cent of all cars are bought with the help of loans, that can never be good news. In recent months, the central bank has relented a little and banks have reduced rates by 50 basis points, but that, according to analysts, is a mere drop in the ocean.
"The high interest rate is one of the main factors that has pulled down car sales, along with the GDP growth going down," says Wilfried Aulbur, former head of Mercedes Benz India who now heads Roland Berger Strategy Consultants in the country.
Rinchen Ghosh, who owns a design studio in Delhi, drives her mother's Zen. She plans to buy two cars - a sedan for the family and a hatchback for herself - but has been stuck in the planning stage for months. Last October, she almost bought Volkswagen's Polo, before deciding to continue with the old Zen. "I don't know the future fuel prices, so I cannot make a hasty decision," she says. "Petrol cars are cheaper and everyone says diesel prices will go up in the next 10 months, so I think I will wait."
Many manufacturers will kill to be in Ghosh's position, one in which you can choose what to do, or to not do anything. The auto industry had the choice a few years ago and felt compelled to invest in diesel capability as government subsidies kept diesel prices much lower than petrol prices. At one point, the gap had widened to Rs 25 a litre. With the higher fuel efficiency of diesel cars, it meant that Rs 40 spent on diesel could take you nearly 20 km, while the same amount of money spent on petrol would take you no more than half that distance. Naturally, everyone wanted a diesel car.
To meet the surging demand, the industry began to invest in diesel like never before. In the last 18 months alone, an estimated Rs 15,000 crore to Rs 17,000 crore have been spent on dieselrelated capacity.
Having given up hopes of parity between petrol and diesel prices, Maruti entered the diesel segment in earnest only in 2006. Since then it has spent close to Rs 2,500 crore on diesel capability. And there is more to come; it plans to invest another Rs 1,700 crore in a diesel plant in Manesar, Haryana.
M&M and Hyundai, along with Tata Motors, were the early converts to diesel and have stayed on that path. Hyundai has set aside Rs 1,600 crore and M&M Rs 3,000 to Rs 4,000 crore more for diesel. The last petrol bastion fell on April 2, with Honda Cars India announcing that it had begun shipping its new sedan, the Amaze, to dealers. The Amaze is the kind of car Honda has never made in India before; it runs on diesel.
"Only for the past two years there has been dieselisation, and that has happened only because of the subsidy on diesel," says Jnaneswar Sen, who heads marketing and sales at Honda Cars. The company is spending Rs 2,500 crore to catch up.
HEAVY METAL
That is a lot of heavy betting by the companies, but what choice do they have? Diesel cars comprised a mere 15 per cent of the market in 2008/09. The figure rose to 35 per cent in 2011/12, and 56 per cent the year after. No other country has seen such a quick switch from one fuel to another.
But the march of diesel may hit a speed bump as the government changes its approach to the fuel, allowing for minuscule increases that must add Rs 10 to the price of a litre of diesel by the end of 2014. Petrol prices, meantime, have stayed more or less static, with a bit of a rise now and a bit of a fall then.
The thing is that even as the cost of running a diesel car gets closer to that of a petrol car, the price tag on a diesel vehicle cannot get too close to that on its petrol version. Diesel technology is expensive, the cars have bigger and heavier engines, and the compression is more. "The price differential is unlikely to come down," says Kumar Kandaswami, Leader of Manufacturing at consultancy firm Deloitte in India. "The components that go into the making of a diesel car are more expensive."
With the overall slowdown in car sales, stocks at factories have piled up. An 11-day closure in Jamshedpur, for maintenance, has come at a good time for Tata Motors. It will reduce the stock pile by close to 10,000 units. A few weeks ago, Maruti took a day off.
"Manufacturers are struggling [to decide] whether to stop production, or take a hit on the margins to sell the cars," says Abdul Majeed, who heads the automotive practice at audit and consultancy firm PricewaterhouseCoopers.
OFF KEY
"Car companies are confused in their strategy," says Deep N. Mukherjee, Director at Fitch-owned India Ratings & Research. "Every company is pushing the other towards a death trap."
Some in the industry echo this view. To Marc Nassif, who heads Renault's India operations, "Discounts are like sugar, when you eat too much sugar you get hyperglycemia."
But others throw their hands up in helplessness. "You need to keep the plants running. You cannot let the inventory pile up either in factories or with the dealers," says Rakesh Srivastava, Vice President of Hyundai's sales and marketing in India. Srivastava was earlier with Maruti and says he saw Bhargava's style of working from close range, without copying it. "As of now the biggest challenge is to sell cars and utilise capacity."
Bhargava agrees with Srivastava: "When the market has shrunk so much, and everybody had planned capacity keeping in mind a growth rate of 15 per cent, what do you do? You either cut down production or push your products by giving discounts."
Their options are anyway limited, since the industry is producing only 68 to 72 per cent of what it can produce.
To make matters worse, new capacities in the works will add anywhere between 36 and 47 per cent to what the factories can produce. Everyone, therefore, wants a piece of the one segment that's growing.
Despite the uncertainty over taxing of SUVs, you can expect seven to eight new ones in showrooms this financial year. The first is likely to be Ford's EcoSport, with Chevrolet's Enjoy, Maruti's XA Alpha, and Ford's Endeavour just a few paces behind. They will take heart from the Duster, which has been driving Renault's sales in India, accounting for 75 per cent of volumes in the last 11 months. "Before the Duster you didn't have a modern SUV with high technology at that price," says Nassif.
SWEET SPOTS
Companies like Ford pin their hopes on exports. Once its new plant in Sanand, Gujarat starts running, it will produce 440,000 vehicles and 610,000 engines every year. The company hopes to export 20 to 25 per cent of those engines. What gives Ford breathing space is that its plant can simultaneously make diesel and petrol cars.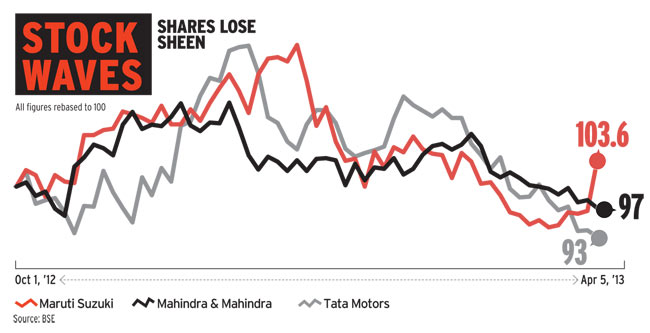 Similarly, Hyundai's facility at Sriperumbudur in Tamil Nadu has assembly lines that can switch from petrol to diesel and back, depending on demand.
But not everyone can have this flexibility. It has to be built from the ground up, costs more, and - this is crucial - cannot be added to an existing facility.
"The investment might be a bit higher, but this gives us immense flexibility to react to the way the market shifts," says Hyundai's Srivastava.
The diesel-petrol churn has changed a few other things. India has traditionally been a hatchback market, but the share of hatchbacks has fallen from 77 per cent as recently as 2007/08 to just 53 per cent. As the heavier diesel engines need bigger bodies to carry them, a large number of small hatchbacks continue to run on petrol, fuelling the sales of diesel-driven sedans.
No wonder, sedans have been growing at 11 per cent, even as entry-level hatchbacks have fallen 21 per cent. Only a couple of years ago, when Maruti launched an upgraded Alto, the largest selling model in the country, its monthly sales climbed to 33,000. Now all the seven cars in Alto's segment of entry-level hatchbacks huff and puff their way to just 54,000 a month.
BT RETRO
The auto industry's problems have been persisting awhile. BT's August 21, 2011 cover story on the sector highlighted how auto companies were grappling with declining sales and labour troubles (see businesstoday.in/auto-goingnowhere).


"The small-car segment is the worst hit," says Vishnu Mathur, Director General of automobile lobby Society of Indian Automobile Manufacturers. "This is the most price-sensitive segment, and buyers would hold their purchases even if there is a Rs 5,000 increase in price."
Lowell Paddock, who runs General Motors India, says the country is behaving more and more like China, where customers do not want to be limited to hatchbacks and notchbacks.
Srivastava says the market will get better after the monsoon. "Good rains will bring positive sentiments into the market, which means the pace of the industry may pick up after six months."
The one bright spot has been imported high-end cars, which, as per newspaper reports, flew out of showrooms after the Budget. But their flight would have run out of fuel on April 1, when the higher import duty came into effect. Meantime Disco, the four-legged one, is not too concerned. When
Business Today
met him at Bhargava's house, he chewed the notebook that had all the sordid facts about the car industry.
Additional reporting by Alokesh Bhattacharyya