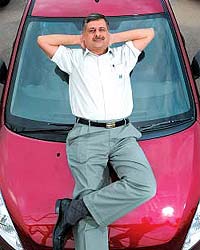 From the snows of Ladakh to the hot deserts of Rajasthan and India's monsoon tracks, and tackling competition from the world's best, Maruti Suzuki has been there, done that. And so it is with rankings: the carmaker has improved its market capitalisation ranking from #34 in 2008 to #18 in 2009.
So when Maruti drove right into the recessionary mire in the second half of 2008, posting negative sales of 3 per cent and 11 per cent in the July-September and October-December quarters, respectively, it did not get into a funk.
"We did not lose focus on our long-term goals during the slowdown. We wanted to convert the downturn into an opportunity," recalls Ajay Seth, CFO, Maruti Suzuki.
No slashing sticker prices. Instead, increase market share. That became Maruti's focus. It tapped new segments—government employees whose bank balances had been topped up by pay commission arrears. And new territories— rural India.
"The Sixth Pay Commission recommendations meant that government employees had more disposable incomes while we focussed on rural India as it's under penetrated," says Seth.
Maruti scaled up its already formidable distribution network, increasing sales outlets and service centres across the country. It has increased its sales outlets from 600 across 393 towns at the end of fiscal 2008 to 726 in 495 cities now. Its service outlets increased from 2,628 in 1,225 towns to 2,800 in 1,335 towns in the same period.
Maruti Suzuki in BT 500

Rank '09: 18
Avg. Market Cap (Rs cr)*: 33,730
Rank '08: 34
Market Cap (Rs cr)*: 19,977
*April-Sept
To drive growth, it continued to launch fuel-efficient models like the A-Star and the Ritz.
Says Vaishali Jajoo, Analyst, Angel Broking: "Maruti has a sizeable competitive advantage over the new foreign entrants… its widespread service and distribution network is not easy to replicate."
There was no slowdown in capital expenditure: Rs 1,600 crore during 2008-09 and a planned Rs 1,800 crore in the current financial. And there's been no let up in spending on research and development, investments in innovative products and selling and marketing.
Says Seth: "The idea is to bring in the right product and technology in the market at the appropriate time."
Manufacturing capacity has been ramped up. "The market is showing definite signs of recovery and it will help us in meeting the growing demand," says Seth.
The company has been...
Gaining market share
Pruning costs
Building capacities
Referring to the BT 500 ranking, Seth says: "Strong fundamentals form the basis of shareholders value. Market cap increases based on investor's perception of the value of the company."
And this, he says, is based on Maruti Suzuki's "strong product portfolio, financial strength, customer's preference, internal controls, sound corporate governance and prudent financial management policies".
Says Jajoo: "Maruti's strong brand image means that it has the ability to maintain market share in intensifying competition."
Maruti is now increasing its focus on exports even as its Japanese parent, Suzuki, aims to make Maruti its smallcar manufacturing hub for the world. Already, Maruti is riding the demand for fuel-efficient small cars.
Since its first shipment in January 2009, the "A-Star" has led Maruti's exports and has been well-received in the European markets such as Germany, the UK, the Netherlands, France and Belgium. The company planned to increase its exports this fiscal to 1.5 lakh units from 70,000 last year, aided by the global economic recovery. Its dedicated export port facilities for cars at Mundra is already complete and was used for the A-Star shipment.
Says Jajoo: "We estimate the company's exports to act as a buffer to any loss of its domestic franchise to new entrants."
Seth is not worried about the crowd of foreign brands jostling for space on Indian roads, although he admits that the competitive environment has become more dynamic with the entry of foreign players and changing customer preferences.
Maruti Suzuki has maintained its market share at around 52 per cent consistently over the last few years, he points out.
"Our diverse product offerings, new product launches and fuel efficient cars with advanced engine technology have helped us in outperforming others. We have made focussed efforts for rural markets and government employees. Continuous focus on kaizen, cost reduction, process improvements and productivity enhancements helps us keep our operations lean and provide the edge over our competitors," the CFO says.
"In terms of financial performance, too, we have outperformed…. We are the least leveraged company," Seth points out. Maruti's EBITDA margin was 12.2 per cent for 2008-09. "This, to our understanding, is higher than that of our competitors," he says.