Sheikha Hessa Al-Thani, of the royal family of Qatar, visited India last year, and she took some unlikely items with her back home. Trunks. And eight of those.
During her stay at one of India's finest palace-turned-luxury hotels, Rambagh Palace in Jaipur, some objects caught her eye. Gelling with the unmistakable sense of history that transcends time, a couple of trunks were placed in the pristine white marble lobby of the hotel.
Placed next to them was a stack of visiting cards and a note that led the Sheikha to their craftsmen: Trunks Company, Jaipur. A series of trunks were commissioned by the Sheikha that ranged from steamers to customised jewellery trunks.
Ram Rathore, Director, Sales and Marketing, Rambagh Palace, says the high-profile guests who stay at the luxury hotel have been so intrigued with these trunks that they want to take them back as a memorabilia of their trip. What fascinates them is the fact that they can be customised as per their fancy, according to Rathore.
"It's a reflection of what the country can offer in terms of luxury and how customisation is India's forte. Very Indian in colours and scheme, and of international quality, these trunks get in a lot of inquiries from our guests," says Rathore.
Designed to last a lifetime, minute detailing goes in crafting a product to match a clients lifestyle, passion and preferences - from hand-picking leather and suede from Italy, to superior hand-carved teak, German brass accents and LED lights from Japan.
Once synonymous with the royalty and elite as their premium travel accoutrements in the 19th century, trunks are making a comeback with the well-heeled. International trunk makers such as LV, Goyard, ST Dupont and Pinel have recreated the magic of the bygone era of luxury travel to perfection.
In the domestic market though Trunks Company has little competition. Paritosh Mehta, Founder of Trunks Company, says that conventional trunks got lost because people no longer travel in ships. "Now, trunks are here to treasure possessions, reflect subtle aspects of the possessor's personality, and as installations for contemporary spaces as art pieces."
Indeed, the market for trunks is growing - from the small travel, watch, turban and shoe trunks to the big bespoke wardrobe, dressing, watch collectors, music, jewellery safe, rifle and sword, coin, bookshelf and bar trunks.
Mehta says that a substantial chunk of the trunks business is being commissioned through interior designers, from the likes of Pinakin Patel, Kiran Gala and Adil Ahmad among others.
These designers are using the trunks as both utility and decor and lifestyle pieces. Early this year, Trunks Company was commissioned a bar trunk for actor Ranbeer Kapoor by interior designer Sussanne Khan.
Mehta has 40 craftsmen working on these customised handcrafted pieces. A special team takes care of the delivery and after-sales maintenance of these pieces. Mehta's core team includes brother Priyank and Livio Delesgues, a Frenchman who personally designs every trunk for the client.
The Mehta brothers were earlier leather goods exporters from Jaipur . A chance meeting with Delesgues led to the launch of the Trunks Company in 2011.
"We found trunks fascinating and wanted to recreate their magic and take them beyond travel needs," says Mehta.
Trunks are unique and not everyone possesses them, points out Mehta. "It's not like a sofa or a table. What the clients treasure in the trunks, makes them even more unique. Ninety-five per cent trunks are bespoke," he adds. The company had a turnover of Rs 2.3 crore in 2013/14. For bespoke pieces, depending on the size and preference of the customer, it takes one to three months for a trunk to be made.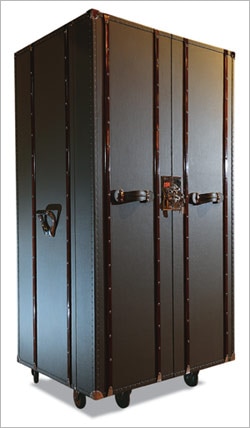 Interior designer Adil Ahmad says the trunks made by Trunks Company are of the finest international quality and design and fit well in the affordable luxury segment ranging from Rs 3 lakh to Rs 15 lakh.
However, the small fashion trunks start from Rs 50,000 onwards. Ahmad is currently working on the interiors of the SUJAN Rajmahal Palace, Jaipur, and plans to use these trunks as mini bars and cabin trunks in the suites. These trunks are also increasingly been used as subtle decor accessories in the living rooms and bedrooms, beneath the console or bed side.
Manisha Mayur Shekhar, luxury marketing expert, says that these luxury vintage trunks are especially becoming popular among women to store their clothes, shoes, jewellery, watches, makeup, etc.
Trunks have made a comeback, especially as a part of wedding trousseaux. "Bespoke trunks are all the time in demand as an important luxury accessory but marriages seems to be a big market for these handcrafted luxury trunks. Indians prefer big extravagant trunks which are ideal for the wedding trousseaux," says Shekhar.
"The trunks are commissioned on the needs of a client. These may be used as gifts to the bride and groom or the close family, termed as 'dowry trunks'," she adds.
Shekhar estimates that in the marriage season demand for trunks goes up by five to six times.
"Rough estimates suggest that in the last five years, sale of luxury trunks in India has grown at 40-50 per cent annually."
No wonder, then, that Trunks Company has recently customised a 1800-kg safe trunk for a royal family to adorn 100 rings, 120 earnings and 40 necklaces.