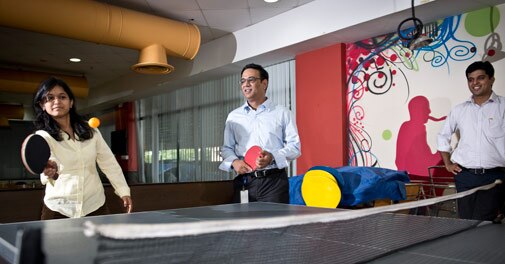 Photo: Nishikant Gamre
Vishal Kaushik joined the Indian School of Business, Hyderabad, after serving as a doctor in the Indian Army. He then joined Abbott India Ltd as a senior marketing executive. Within months, he realised it was difficult to grasp the core of an industry without previous experience in it. His mentor, Rehan Khan, suggested he spend some time as a medical representative to understand the job. "For six months, I carried a medical representative's bag in Mumbai, waiting for four to five hours in a doctor's clinic just to make my call. It was very challenging, but now I know the heart of it," he says. He hopes to use this knowledge in Vietnam, Thailand, Malaysia or Brazil, when posted in one of these.


Anant Jain, 31, made a radical professional switch about four years ago. He joined the finance team at US pharmaceuticals giant Abbott Laboratories's Indian arm after a stint in the consumer goods industry. It was a whole new world, but Abbott made it easier for him: it enrolled Jain in an executive MBA programme at the Indian Institute of Management, Calcutta to help him learn the nitty-gritty of financial forecasting. Over the next few years, he honed his skills and today, the company is moving him to Dubai to handle financial planning and analysis for the entire region. "You can walk up to the country manager and speak your mind. Abbott engages employees at a deeper level; there are moments you realise everyone's human," he says. "I have to prepare business forecasts for the long term. It is part of my profile to constantly challenge the numbers so that we can prepare something that's achievable."
Jain could not have climbed the professional ladder so fast without Abbott's supportive approach. The Abbott group is rated one of the country's
best places to work
because of its people-focused policies - it helps staffers every step of the way so they can attain their personal goals and, in turn, help the organisation achieve its overall goals. The human resources team works to chart detailed development plans for every employee which are reviewed at regular intervals.
Abbott begins by setting short-term 30-day goals for employees, evaluates the targets achieved at the end of the month and then repeats the process after 60 days and 90 days. "Our goal is to provide employees with a clear career path through functions, timelines and reviews," says Bhasker Iyer, Vice President, Established Pharmaceuticals, a division of Abbott Laboratories.
Full Report: The Survey for Best Companies to Work For
All companies have annual goals and reviews as a matter of routine. What sets Abbott apart is its unique model of combining training and evaluation. Every time a new employee joins, he or she goes through an elaborate three-month orientation compared with a week at most other companies.
Iyer says Abbott has developed a "70:20:10 model" of employee training and appraisal. In line with this ratio, the largest chunk of the business plan is devoted to enhancing staff ability through on-the-job learning, while mentoring and training fill any skill gaps that may still exist.
Abbott is a
people-focused group
that isn't afraid to think out of the box while hiring. The company hired Vishal Kaushik, a former army doctor with an MBA from Hyderabad's Indian School of Business (see box) and provided him a way to understand marketing through sales. Abbott provided all the support he needed to adjust to a task that would be unthinkable for a doctor - working as a visiting medical representative. Kaushik went from one doctor's chamber to another for six months marketing Abbott's neuropsychiatry products. Today, he handles the marketing of a brand from that portfolio.
"The funny thing would be the expression on the doctor's face when he realised a doctor was doing a medical representative's job. Sometimes it was difficult to explain why I was doing it, but in the end, it has worked out well," he says.

Abbott Laboratories
has many businesses in India, including Abbott India, Abbott Healthcare and Abbott True Care. The group, which has more than 12,000 people on its rolls in India, is best known for its Brufen and Digene brands. It also makes stents, neuropsychiatric drugs and nutritional products. In 2009, Abbott Laboratories paid $3.7 billion for Piramal Healthcare's formulations business in one of the biggest deals in the Indian pharmaceuticals sector.
At the end of the day, Abbott's structure and systems have one long-term goal: financial profitability. The group's revenue from various businesses in the country was about $900 million (Rs 5,371 crore) last year. It expects sales to top $2.5 billion by 2020.
Company officials say hiring the right talent is key to their business strategy. Abbott focuses on a candidate's behavioural traits and prior responsibilities while choosing.
While psychometric tests may provide pointers on certain parameters, they can be difficult to calibrate every trait the company thinks is suitable for a particular job profile. "It is people who provide results," says Iyer, who himself plays a mentoring role for top company officials.