Three years in the world of technology passes in a trice. India Today G&G is today marking the completion of three years as a chronicler of a history that changes by the day. It seems like only a few clicks of the return arrow when we launched what has become a popular magazine. In the first issue in June 2009, G&G recorded the big ambitions of the mobile phone. We wrote about how the phone was becoming bigger, better and faster. The specifications that we then benchmarked as the ultimate are dwarfed by today's smartphones.

3D television was only a concept then. Today, TV has gone beyond 3D to be linked to the Net and controlled by voice and gestures. The gap between compact cameras and DSLRs has closed remarkably between 2009 and 2012. We prided ourselves on our dual-core computer processors. Three years later we have quad-core processors even on phones. Android and tablets and 3G were unheard of in the summer of 2009. But beyond these big changes in technology, there have been numerous other innovations taking place. Away from public adulation, these have created small gadgets that contribute their own mite to the joy technology brings in our lives.

On its 3rd Anniversary, G&G pays tributes to these unheralded heroes. So you have in the following pages the top trio among the tech world's unsung best. They take centrestage even as the regular stars look on from the wings. From accessories to apps to mini marvels in their own right, these are the Three of the Best.

We also take this celebratory occasion to thank you for walking along with us. Today, we stand tantalised by the world of future technology. Even that will soon become the past - but at every step, G&G will be there to record for you the blink-of-an-eye progress of gadgetry.


DIDN'T THINK YOU NEEDED THESE, DID YOU?

Heat Clip
Do you end up burning your dishes as you are not sure about the temperature in the pan? Get yourself a heat sensitive clip that attaches to any utensil and tells you when the pan is ready for cooking. When attached to the edge of the pan, the tomatoes in the clip change colour indicating the pan has reached the optimum temperature for cooking.
Price:
Rs 110, excitinglives.com
V10700 Phone
Sanitiser
The mobile phone has often been called the dirtiest gadget around, often as bad as a public toilet. So while we are habitual users of the hand sanitiser, the next thing we hold after the ritual could be the phone. The Violight phone sanitiser-a dock with a cover-uses ultraviolet rays to keep the phone germ free.
Price:
Rs 3,500
Clocky Running Alarm Clock
Despite it good intentions, an alarm clock gets pushed away rudely when it wakes you up in the morning. But the Clocky Running Alarm Clock will ensure that you get out of bed to switch it off. The wheels on the Clocky take it away from the bedside, maybe to hide in the bathroom as you grope around for the snooze button. Rise and shine lazybones.
Price:
Rs 2,890
BACK TO THE FUTURE, ACTUALLY

Fujifilm X10
The Fujifilm X10 is a feature-loaded digital camera with looks so traditional that it would not look out of place in a 1970s tech magazine. Slightly larger than regular compact cameras, the X10 has a black matte finish and with an optical viewfinder, a 2.8-inch LCD display and features a 12MP camera with CMOS sensor. With 4x optical zoom, it has optical image stabilisation and captures videos at 720p and 1080p resolution. Not that old fashioned, mind you.
Price:
Rs 39,999
Portronics Phony
Remember the old landlines phones with their big coiled-wire receivers? Portronics Phony is an easy to use accessory that tries to replicate the old experience. The Phony connects to a mobile phone through the 3.5mm jack, without eating into the battery by using Bluetooth connectivity. You just have to pick the phone to take or make a call. There is also a volume key on the receiver that helps control the volume. And it is available in multiple colours.
Price:
Rs 899

Grace Digital Victoria Tunewriter III
Wondering what to do with the old vinyls and cassettes in your musty music collection? Get the Grace Digital Victoria Tunewriter III, a 7-in-1 stereo entertainment system that is equipped with a recording feature that can record music from vinyl and cassettes directly to the PC or Mac. The Tunewriter comes with the Audacity Cross-platform sound editor which can be used to edit digitally recorded audio tracks.
Price:
Rs 8,966
TAKING A CALL

Apple iPhone 4S
While the new iPhone is just a couple of months away, the iPhone 4S still rules the industry with the best touch display, a whole world of applications, intelligent voice assistance Siri and the wonderful 8MP camera. Although it runs on a dual-core processor when everyone seems to be looking at quad-cores, it still scores high on actual performance. Even when the new iPhone is launched, chances of the iPhone 4S getting discountined are bleak. Instead, the users will be able to update to the new OS and get a better experience.
Price:
Rs 44,500
Samsung Galaxy SIII
One of the most awaited smartphones of the year, the Galaxy SIII has its own charm. With a huge 4.8-inch capacitive display, the phone has a number of motion and gesture controls. Thanks to the quad-core processor paired with 1GB RAM, playing heavy graphic games is real fun. The 8MP camera captures crisp images and the phone comes with 16GB internal memory with an expandable card slot.
Price:
38,500

HTC One X
The competition is stiff between the One X and the Samsung Galaxy SIII as both have the latest version of Android and a quadcore processor. But considering the look, feel and price, the HTC One X is the winner. The unibody design makes it easy to hold while the HTC Sense UI neatly covers the typical Android user interface. There is also a multitasking key, a superb 8MP camera with zero shutter lag and continuous shooting mode. It can also record 1080p video and comes with 32GB memory on board.
Price:
Rs 35,000
DON'T FORGET THESE

Bamboo Stylus
Even capacitive touchscreens can do with a bit of help from a stylus. The resistive screens require a pointed stylus, but this one mimics a finger. The Bamboo stylus has a satin textured metal body and can be conveniently used for highlighting text, writing, sketching and doing much more. There is also a Bamboo Paper App for iOS and Android that can be installed for taking notes or for sketching.
Price:
Rs 1,575

Roto Phone Charger
Cell phones often run out of charge without a power socket in sight. An eco-friendly but simple solution for such emergencies is the Roto phone charger. Plugging the charger to the phone and rotating the handle creates electricity that starts charging the phone. Although it won't be able to charge the mobile handset completely, it will prevent the phone's battery from dying. In the meantime, find a power point.
Price:
Rs 350(excitinglives.com)
i-flashdrive
Forget about iTunes to transfer images, videos or documents from your iPhone. A fast and simple way of doing this is to get yourself the i-flashdrive. This cool accessory has an iPhone connector on one end and USB on the other. It also comes with an onboard storage of 8/16/32GB and a software that transfer the images with a few taps.
Price:
$99.95 for 8GB
www.hypershop.com
FOR A COUCH POTATO

Osim uSqueez Warm
Osim's uSqueez Warm foot massager is a perfect gadget to pamper yourself on your couch. It offers a warm-spa experience while massaging the leg using warm air technology to relax the tired muscles and improve blood circulation. There are also foot rollers for various healthreflexology points and squeezing massagers to soothe calves, ankles and feet.
Price:
Rs 39,000
Re Universal Remote Control
This application can be used to replace the remote and control a TV, DVD player, set-top box, audio receiver and home entertainment devices. Available free of cost, the app makes you buy the additional Re IR Accessory that turns the iOS device into an universal remote. This solution can instantly set up and eliminate the clutter of remotes.
FreeDyson Air Multiplier
The bladeless fan from Dyson is an out-of-thebox tech. Better looking than conventional fans, this device uses a special air multiplier technology that doesn't involve blades or buffeting. Instead, it uses an airfoil ramp shape, 'like a cross-section through an airplane wing' that amplifies the surrounding air.
Price:
Rs 20,320
SMART & LARGE

LG 55LM8600
This 55-incher has the best 3D around and a host of smart features. But what really sets this LED apart from the competition is the edge-to-edge screen which gives a true cinema experience. The 3D is also the best around with different conversion options for 2D to 3D so that you don't miss out on anything due to the lack of content.
Price:
Rs 2,65,000
Samsung PS51D550
This 51-inch plasma TV is good value for money. A giant screen, 3D and Full HD for this price is possible only because plasma are losing steam to LEDs. While prices of plasma TVs are on a freefall, it is still difficult to find one with all these features, its size and its affordable price.
Price:
Rs 78,000
Samsung 55ES8000
This LED comes with cutting-edge smart features which will take some time for the others to adopt. Motion sensing, voice control, upgradeable hardware, this TV has it all. Some of the technology might need some fine-tuning, but there is no other product around that shows the future of TV better. Yes, and its 3D too.
Price:
Rs 2,67,000
SOUNDS GOOD

Apple iPod Touch
Apple rules the music industry with its iPod range and iTunes. The company's grip on the segment is such that music players are now simply called iPods. There is the Shuffle and Nano, but only Touch opens up to the amazing world of apps. The Touch has a 3.5-inch display that can be useful when playing games, browse the Net, checking email or making video films.
Price:
Rs 10,800
Bose Cinemate 1 SR
This new slim sound bar from Bose is all about sound and style. It can be placed in different orientations under a large TV as the Bose Flex Mount System senses how the speaker has been placed. The sound output is superb and offers a great experience while watching HD content. There is also a remote control, which once configured, can be used to also operate a TV or Blu-Ray player.
Price: Rs 1,12,388
JBL Onbeat Extreme
JBL's onBeat Xtreme shows why iPad docks could be the next in thing. Apart from playing music like it was a hi-fi system, this dock also
holds the iPad in a position that makes it easy to watch movies, surf the Net or make a Skype call, all hands free.
Price:
Rs 24,990
THESE PASS THE AURAL EXAMS

Bose Bluetooth Headset Series 2
One of the best options available in the market, the Bose Bluetooth Headset Series 2 is in a league of its own. Designed for a single ear, one can choose which ear they plan to wear the headset in. Comfortable even when used for long durations, it has amazing call clarity at both the ends. But with no loops attached, it might fall out during a workout.
Price:
Rs 8,888
Nokia Bluetooth Stereo Headset BH 221
This unit can instantly connect with the smartphone using NFC or Bluetooth connectivity. Available in bold colours, the BH221 has an OLED display to display the caller ID, song title, radio station, etc. Used with the phones for calling and music, it also has an inbuilt FM radio. Nokia promises a music playback time of up to seven hours.
Price:
Rs 3,500 approx
Sennheiser RS 220

Sennheiser RS 220 is a headset, which, despite being wireless, delivers sound without any sort of distortion or noise. The sound is crystal clear, powerful and soft at the same time. But with a 30 meter area indoors, a solitary wall or obstruction does not bother this headset thanks to the cutting-edge Direct Sequence Spread Spectrum used.
Price:
Rs 24,990
DRIVE HOME THE ADVANTAGES

SOS CarMate
Accidents can happen anytime, anywhere. That is why it is advisable to keep the car helpline SOS CarMate handy. It is a small kit with six life-saving functions, including an automotive hammer designed to break the vehicle's toughened glass with one hit, a seat belt cutter to rip the seat belt in case you are trapped, an air-bag puncture spear, a distress light in case of vehicle breakdown, a sharp whistle to draw attention and a torch light. The kit comes with a magnetic mount bracket that holds the tool firmly in place, within the driver's reach.
Price:
Rs 799, www.hitplay.in
Chiller Case
No more unscheduled stops for drinks. With the Xindao Chiller Case in the car, you have enough cooling space to store bottles for the whole family. The case comes with an in-built thermometer that indicates the temperature of the case.
Price:
Rs 1,499, www.egiftingideas.com
Key Finder
Forgot where you placed your car keys? With Key Finder at your disposal, losing your key will take some doing. The Key Finder is an instant key search gadget with a long detection range of up to 120 ft. It locates the key in drawers, pockets, purse, under pillows, etc. The Key Finder comprises a key chain and a transmitter. Just add the key to the keychain and let the transmitter find it for you if you can't.
Price: 1,499, www.hitplay.in
TECH IN A POCKET

Portable Travel Scale
While travelling, the baggage weight can be a matter of distress. A portable travel scale, one that itself weights just 175 gm, could be an ideal companion on flights. This digital scale has been designed ergonomically with a large display. The scale is is accurate to a tenth of a gram. Capable of weighting baggage up to 40 kg, it comes with a strap which you need to attach to the handle of the bag you want to lift and weigh it.
Price:
Rs 999, hitplay.in
Logitech Mini Boom Box
This powerful Bluetooth speaker can turn any quiet place into a party venue and you wouldn't even notice where the music was coming from. Easy to pair with smartphones and tablets, this little box has an inbuilt microphone that can be used for answering your phone calls.
Price:
Rs 7,999
Portronics POR-315 LED Pico Projector
The latest Pico projector from Portronics offers great projecting packed in a small size. With a 45 ANSI lumen lamp, the projector is good at a throw distance of around 7 ft. It has a host of connectivity features, including USB port, HDMI, VGA and AV ports with the latter connecting to DVD players and camcorders. One can even use the SD card slot to view images and even scroll through text files.
Price:
Rs 23,999
THE MARTIANS HAVE LANDED

Kondo KHR-3HV
One of the most versatile humanoids available in the market, this robot tries to imitate human movements and can do a lot many movements other toy robots can't. This include object recognition. It can even dance or act like a security guard by beaming what is sees over a Wi-Fi.
Price:
Rs 10,800, nex-robotics.com
LG Home Bot
This efficient yet quiet robot can clean your home and the dirty spots even when you are away. With cameras on the top and front, it has a comprehensive visual data, updated 50 times a second to learn its position while moving around and cleaning. Moving between the chairs and other obstacles, it can clean the carpet and rough surface with ease.
Price:
Rs 43,990
Zapak TurboZ 4 Channel Remote Control Helicopter
Take-off, landing, flying around... all just a spin in the part for the Zapak TurboZ 4 channel remote control helicopter. Just 8 inched in total, this chopper lets you control the flight altitude, take it forward and backward and even control the direction of the helicopter. The helicopter comes with a controller, charger and tool kit. Kids just love to play with this one.
Price:
Rs 3,149,ebay.in
GADGETS WITH THE 3RD EYE

Asus VG236H
Asus was among the first to come up with a 3D monitor for PCs. The VG236H comes with NVIDIA 3D vision and users can view Full HD 1080p movies and games in 3D by just using active shutter glasses. But that fact that this comes from Asus makes it the preferred choice of gamers who like the extra dimension.
Price: Rs 41,000
Sony Personal 3D Viewer
A revolutionary product from Sony, the Personal 3D Viewer is the video equivalent of a Walkman. These glasses are capable of playing HD and 3D content while giveing you an individualised theatre-like experience with 5.1 channel virtual surround sound. But, yes, headaches could be a part of the show.
Price:
$799
VU 3D HD camera
VU has taken the plunge and brought out the first 3D videocamera for the Indian home user. Equipped with dual lens, the VU 3D camcorder captures good 3D content that can be viewed on the 3.2-inch display as well as on a 3D TV. Prepare for Bunty weds Bubbly in 3D.
Price:
Rs 19,900
CAN'T DO WITHOUT THESE

Apple new iPad
Ruling the tablet space since its launch, the iPad just got better with its latest version. The crisp retina display is a show stopper while the enhanced graphics processor renders heavy graphic games with ease. From watching HD videos to reading ebooks on the tablet, everything is so easy on eyes. Voice dictation icon on the keypad and 5MP iSight camera makes it a winner.
Price:
Rs 30,500 onwards
Dell XPS 13 Ultrabook
With edge-to-edge Corning Gorilla glass display, the Dell XPS 13 is one of the most powerful ultrabooks around. Coming really close to the Intel's standard, the XPS 13 is just 18mm thick and weights 1.36 kg. Running Intel's Core i5 processor, it is paired with 4GB RAM and Intel HD 3000 graphics. The keypad is ideal for long typing sessions, while the keypad is pure silk. And six hours of battery life to top it up.
Price:
Rs 79,900
iMac 27 inch
Apple's iMac 27inch has got it all - good looks, superb performance, big display and utility ports such as Thunderbolt port. Powered by a 2.7GHz quad-core Intel Core i5 processor with 4GB RAM and AMD Radeon HD 6770M graphics processor this one has a 1TB hard drive onboard. A must have for the creative types.
Price:
Rs 1,06900
UNYOKED AND FANCYFREE

HP OfficeJet Pro 8600 eAiO
The HP OfficeJet Pro 8600 is a Wi-Fi enabled all-in-one printer that can be used for printing a document from almost anywhere. It has inbuilt wireless networking that can be directly configured to a Wi-Fi network reducing the clutter of wires. Also the HP ePrinting technology allows you print documents from smartphones, notebook, PC and other mobile devices with ease using the ePrint app.
Price:
Rs 16,499
Go Flex Satellite Mobile Wireless Storage
This device from Seagate allows one to access media stored on it from any wireless device. Istead of piggy-backing on a wireless network, this create a network of its own so that you can play movies and music on air. Works with iPad, Android and other smartphones.
Price:
Rs 9,699
Samsung WB150F
Transferring images from your camera to the PC usually involves a long process of either plugging the camera or the memory card to the PC. Samsung's WB150F is a Wi-Fi enabled camera that if connected to the network can directly upload photos and videos to social networking sites like Facebook, Picasa, YouTube, Photobucket as well as email them. The login ID and password can be typed using the virtual keyboard using the control dial and the camera will remember it for future pairing.
Price:
Rs 12,900
MINIS WITH MACRO SKILLS

Android mini 40 PC
With everything growing smaller, we now have an Android mini computer running on Android v4.0 the size of a pen drive. The mini 40 PC comes with AllWinner A10 or a 1GHz Cortex A8 Chip with 512 MB RAM and 4GB internal Storage which is expandable upto 32 GB and can be connected to any monitor.
Price:
$74
SanDisk Extreme Pro CompactFlash 128GB card
We have heard about memory cards with 8GB, 16GB and 32GB capacities, but now SanDisk has pushed the bar with 128GB storage, leaving all the Full HD and 3D DSLRs drooling. This Extreme Pro CompactFlash card can write at up to 100MB/sec.
Price:
RS 64,356
GoPro HD Hero2
Changing the way how amateur and professionals make videos, the GoPro HD Hero2 gives professional video-making power to every hand. It captures video in Full 1080p resolution with its 11MP camera. It comes with a waterproof housing that can be used for making sport and adventure films with ease. The camera is wearable and gear mountable and can capture full 170 degree wide angle. Of course, it is compact and portable to carry around.
Price:
Rs 299
IMPRESS YOUR WORKERS

Portronics Green Lock
Looking beyond password protection, green lock is a convenient way of protecting important data on your system. Just plug in the green lock adapter to the PC using a USB port. As soon as you walk away from your PC, it will instantly lock the screen and unlock it as you return. The Green Lock works on 2.4 Ghz radio technology and is an effective solution to keep your data safe from spying eyes.
Price:
Rs 1,999
Jabra Speak 410 Series
Jabra has designed a special product just for conference calls. Speaker 410 is a speaker phone that can be used for one-to-one and even small group calls. It offers loud and clear sound and is portable enough to be carried from one room to another. Available in two variants, it needs to be connected to a PC to work. There is also a 3.5mm headset jack for one-to-one conversation.
Price:
Rs 9,858
Canon imageClass MF8010Cn
This all-in-one laser printer from Canon manages to print 12 monochrome prints per minute and 8 colour prints. While it can easily photocopy and scan documents, there is an additional feature where users can scan and save the documents directly to the USB flash memory in PDF format.
Price:
Rs 39,995
THE RAMBO STANDARD

Panasonic Toughbook CF S10
This one from Panasonic's Toughbook stable is as rugged as they come. Each and every component of this laptop, from display to keyboard to hard disk, is built to withstand damage. With a 12.1-inch display, it is among the lightest in this category at 1.36kg. The S10 has Intel Core i5 2.5GHz processor along with 4GB RAM and 320 GB HDD. Above all it has been designed to withstand drop, water spill and it uniformly distributes load of up to 100 kg on the lid.
Price:
On request
Griffin Survior Case
Designed to meet US and UK military standards, the Griffin Survivor Case can completely protect your Apple iPhone 4/4S from almost everything and anything. Comprising of a screen protection, hybrid frame system and sealed ports, this case can resist drop or a shock from the height of up to 6 feet on a concrete floor, can easily stay submerged for up to an hour in 200mm water.
Price: Rs 4,500
Nikon CoolPix AW100
This camera from Nikon is waterproof, shockproof and even freeze-proof. It can dive in water up to 33 ft, fall from five feet and stay in cold temperatures of up to 14 degree without any fear. The AW 100 has 16MP CMOS Sensor with 5x optical zoom, full HD video capture, 3 inch TFTLCD and built in GPS.
Price:
Rs 15,450
UNDERWATER CHAMPS

Motorola Defy+
Looking for a smartphone that can withstand rain or water spills? The Motorla Defy+ is designed to have a water and scratch resistant body. Along with this it is also dust proof. The phone runs on Android Gingerbread and comes with a 3.7-inch touch display and is powered by a 1GHz processor and 512 MB RAM.
Price:
Rs 16,190
Shower Radio V3
This is a funky gadget music lovers will go crazy about-a water proof radio that can accompany them to the shower. The V3 has a splash resistant FM radio that can be used to scan channels manually, catching the weakest radio frequencies. It has a cord attached so that it can be hung in the bathroom. It has dual speakers for loud sound output and can tune into most radio stations.
Price:
Rs 699, hitplay.in
Sennheiser CX 680i Sports
Sennheiser in partnership with Adidas has come up with some headsets that look stylish and yet can be easily worn by gym and fitness freaks. The CX680i Sports is one of the few headsets that can resist water as well as sweat. With great sound output and very low distortion, it has an inbuilt microphone as well as a remote. The ear buds have a good fit that makes it comfortable to wear.
Price:
Rs 4,990
WHAT? UNDER 500 RUPEES?

Quantum USB Kit
A great utility kit that comes handy while on the move. It contains eight different USB tools including a mini USB optical retractable mouse, USB light, Four port USB hub and other cables.
Price:
Rs 499
Belkin Premium USB 4-Port Travel Hub
Wish your laptop had more USB ports? Get Belkin's Premium USB 4Port Travel Hub that only blocks a single port while adding four new ports. Pebble shaped, this hub has two ports on each side, that can be used to connect to an iPod, camera or any other USB device.
Price:
Rs 456
Dotz Identifier
Wires can be messy. A fun yet good looking way to handle them is by getting the Dotz Identifier. The pack contains 10 coloured dots and punch-out icons. Identically coloured dots with the same icons at each end of a wire prevents confusion. What is more, these are reusable.
Price: Rs 500
BEST BANG FOR A BUCK

NOPOPO FlashLight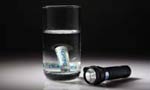 Forget batteries, this flashlight from NOPOPO runs on water. The flashlight comes with two water chargeable cells, which when filled to the brim can work for up to five hours. And here's the fun part of it all. In case you are nowhere near a water source and you need to use the flashlight, the batteries can also be filled with other liquids such as cola, saliva, even urine.
Price:
Rs 599
Micromax Aisha
Micromax has always come up with affordable phones, but Aisha is somewhat special. Priced competiteviley, the Aisha runs on Android. But what takes the cake is the artificial intelligence voice assistant software named Aisha that works exactly like Siri on the iPhone. Using the network data, it nonchalantly fetches weather reports, job searches, etc.
Price:
Rs 4,999
JBL Tempo
Considering the price tag, the JBL tempo packs in a lot more than imagined. Offering clear sound, it can also be loud and soft as the need arises. Interestingly, it is compact and folds flat making it the ideal companion for a long trip aboroad. Lastly, the self adjusting on-ear ear cups are designed in a way that it doesn't cover up the whole ear, leaving space for air to enter.
Price:
Rs 2,749
DOES THIS DOES THAT TOO

LG LSM 100
It looks exactly like a traditional mouse but has an inbuilt scanner as well. Turning the mouse upside down reveals the small transparent surface that can be used for scanning an A3 document. When the software is launched, the mouse automatically enters the scanning mode. Moving the mouse over the sheet of paper scans the area, letting the user view the scan simultaneously on the display.
Price:
Rs 3,500
Sony Ericsson Xperia Play
Coming from Sony Ericsson's stable, the Xperia Play is a great combination of a smartphone and a portable handheld gaming device. The top panel of the slider phone looks and works like any other Android device. But, the panel hidden below has PlayStation Portable controls instead of a keypad.
Price: Rs 21,115
Godrej Edge SX MuziPlay
Before the launch of the Godrej MuziPlay series, refrigerators were only meant for cooling and preserving food and drinks. But the MuziPlay has turned the refrigerator into a musical device. Equipped with both an FM radio and MP3 player, housemakers don't need to invest in a separate music device for the kitchen.
Price:
Rs 17,900 onwards
GIZMOS TO BE WORN

Nike+ Fuel Band

Nike's Fuel Armband is a bracelet that tracks all your activities through a sport-tested accelerometer. It tracks running, walking, dancing, basketball and plenty of other daily activities. The band has a 20-colour LED display that shows the tracked progress from red to green. Pair it with Nike+ FuelBand mobile app for the wireless sync and to track progress.
Price: $149, store.nike.com
3D Flashing T-shirt

Look beyond the regular t-shirts and get yourself one with flashing lights. The 3D flashing t-shirt works using 4 AAA batteries and a 3D illuminating panel. The LED panel lights up and dims in sync with the music. The detachable battery pack can be turned off when not in use and removed before a wash.
Price: Rs 799, excitinglives.com
Burg Watch

James Bond may have used it eons ago in his movies, but it is only now that a wristwatch mobile phone has become a reality. The Burg watch comes with an inbuilt SIM tray and works like a regular phone. Numbers are placed around the circumference of the dial and the wristwatch also stores numbers.
Price: Rs 9,000 onwards
IMAGE CONSCIOUS

Nikon D800
The DSLR with the most megapixels in the world (36.3 MP) has the potential to change photography and HD videography forever. The camera has an improved 51-point auto focus system which ensures that every pixel in the image is sharp and crisp even in low light. With the shutter speed range of 30 seconds to 1/8000 and the maximum ISO range of 6400 'monumental images'would not be a problem with this camera.
Price:
Rs 1,49,950
Sony W690
Look at the price and you would not expect much from this Sony Cybershot. But this point-and-shoot features a 16.1 MP digital camera, 10 x optical zoom and has a gyro sensor onboard. The camera offers four picture effect modes, 360 degree sweep panorama, optical steady shot and intelligent auto mode packed into a small body. Now that is handy.
Price:
Rs 10,900
Canon 1100D
The Canon 1100D is a perfect DSLR camera for those who wish to try their hand at photography while looking beyond the pocket camera. It has got a 12.2 megapixel APS-C Size CMOS sensor and captures both RAW and JPEG images. The camera has a 2.7 inch display to view pictures and comes with a EF S18-55 IS II kit lens.
Price:
Rs 29,900
THESE CLICK INTO PLACE

PowerCam
This little app lets you do many things which otherwise is not possible on an iPad. There is a FaceTimer, Colour Splash and Tilt-Shift along with a Magic Shot option that lets you add many effects to your pictures even before your click. Plus, there is an instant share to option to post your pictures directly to social networking sites.
Free
, By Wondershare Software Co., Ltd
Reagan Camera
Still in awe of Ronald Reagan? Well, this Android app might be just be what you have been looking for. Use the app to put the Cold War-era American President in every frame you click with your phone camera-in a family photo, with your dog or maybe even one with Fidel Castro. A fun app that will definitely get you some eyeballs.
Free
, By Diligent Labs
Camera+
This iPhone app lets you click pictures with zoom and grid, edit them add effects and share them with friends in one click. The app has multiple Fx effects, borders and crops. Then there is the burst mode, which lets you shoot like with a machine gun, though the quality of the pictures is a bit on the lower side.
Price:
$0.99, By tap tap tap
ARMCHAIR ARENAS

Mass Effect 3
Available for Microsoft Windows, Play Station 3 and Xbox 360, Mass Effect 3 is one of the best action roleplaying games available today. This game marks the final chapter in the Mass Effect trilogy of video games and "plunges you into an all-out galactic war to take Earth back from a nearly unstoppable foe". How you fight that war is entirely up to you.
Price: Rs 1,299 for PC
Max Payne 3
The recently released Max Payne 3 is the third title in the franchise. This eponymous hero is based in Sao Paulo, Brazil where he takes up a job to protect the family of a wealthy real-estate mogul Rodrigo Branco. The game features cutting-edge shooting mechanics for precision gunplay and new, advanced Bullet Time and Shoot Dodge effects. Along with the single player game, it also introduces multiplayer gaming. Max Payne 3 is available for Xbox, PC and PS3.
Price:
Rs 2,499 for XBox, PS3
Diablo III
Suitable for playing for 16 years and above, the Diablo III is a horror themed action game. Coming from Blizzard Entertainment, the game is based in the dark fantasy world of Santuary and features events 20 years after the Diablo II. This game engages in fast paced combat that tests reflexes and rewards tactical decisions. As the player slay horde of monsters and challenging bosses, one earns experience and ability to learn new skills and acquire items of incredible power.
Price:
Rs 3,020 for PC
BONUS FOR THE GAMER

Logitech G27 Racing Wheel
For a more realistic car racing experience, get yourself the Logitech G27 racing wheel. This racing wheel features a dual-motor force feedback, six speed shifter, RPM/shift indicators, 900 degree wheel rotation, Steel gas, brake, and clutch pedals along with 16 programmable buttons plus D-pad. As good as a car, eh?
Price:
Rs 28,899
Microsoft Smart Glass
Just released at the world's biggest gaming exhibition, E3, the Smart Glass from Microsoft brings wireless technology that enables users to stream Xbox 360 content across different screens. This means users can transfer music and videos to their smartphones, smart TVs and even tablets, irrespective of the operating system they are running on. The app will be compatible with Android and iOS platform as well.
Price:
TBA
Corsair Vengeance M90
Optimised for multiplayer online gaming and real time strategy games, the M90 mouse gives precision movements and response with 5700 DPI laser sensor. It comes with 15 intelligent positioned buttons on the left that enhances the gaming experience. There is also an extra long fabric cable and a rubberised roller for added comfort.
Price:
Rs 4,500
Courtesy:
Gadgets and Gizmos