Use dipper at night," suggests a signboard on Jaydev Vihar, a crucial link road in Bhubaneswar. This six-lane thoroughfare, which links the city's IT hub with the airport, betrays no signs of the heavy downpour the night before. There are no potholes, and, therefore, no puddles, and no waterlogging. But singling out Jaydev Vihar for praise will be unfair. The story is no different across most parts of the city.
That isn't the only blessing for residents of the city. They also enjoy one of the lowest power tariffs in the country and get adequate piped water each day. "Bhubaneswar is the new star of the east," says T.V. Mohandas Pai, Director, Human Resources, Infosys Technologies. He should know, considering that his company and Satyam Computer Services have been the two IT companies to have remained invested in the city for 10 years.
It's raining investments
They aren't alone. Bhubaneswar is increasingly seen as an attractive city to a wide variety of potential investors. "Over the last three years, investors have committed investments worth Rs 6,00,000 crore in Orissa," says Naveen Patnaik, Chief Minister of the state, adding: "And the MoUs that have been signed are not just steel plants but also for investments in the aluminium, IT, tourism, hospitality, healthcare and education sectors."
Fact file
Area: 135 sq. km
Population: 1.1 million
Roads: 1,450 km
Main industries: Mineral-based (steel, aluminium and power), IT and education
Per capita income: Rs 22,036 per annum in 2004-05
Rents (commercial): Rs 40-100 per sq. ft
Peak power demand: 130 MW
Peak power supply: 130 MW
Power surplus/deficit: No deficit
Power tariffs domestic: For first 100 units, Rs 1.40 per unit; next 100 units, Rs 2.30 per unit; the next 100 units, Rs 3.10 per unit
Power tariff commercial: Rs 3 per unit
Power tariff industrial: Rs 3 per unit
Total water supply: 200 million litres per day
Per capita water supply (city): 190 litres per day
Public transport: Autorickshaws
South Korean steel major POSCO and the world's largest steel company, Arcelor Mittal, have each announced Rs 50,000-crore plans to set up 12-million-tonne steel plants in the state. Then, Tata Steel has committed investments of Rs 25,000 crore; it is setting up a 6 million-tonne steel plant at Kalinga Nagar, a port in Damra and plans a SEZ in Gopalpur. Naturally, a lot of their offices and other infrastructure will come up in Bhubaneswar.
These are the headlinegrabbing investment proposals. Even as the national media agonises over the excruciatingly slow progress of these projects, several other smaller investments are slowly transforming Bhubaneswar.
Vishal K. Dev, Managing Director, IDCO (Orissa Industrial Infrastructure Development Corporation) and Director, Information Technology, in the state, points out that ICICI Bank is planning to set up its eastern regional hub, which will employ 10,000 people, in the city. BPO powerhouse Genpact is also planning a 5,000-seat call centre here that will become operational over the next 12 to 15 months.
Then, software company MindTree is setting up its third campus, after Bangalore and Chennai, in Bhubaneswar. And IT majors like TCS, Wipro and Satyam Computer Services plan to aggressively ramp up their existing operations in the city. Dev adds that the number of IT units in the city has doubled over the last four years.
The attractions
Why are so many big names of the corporate world making a beeline for Bhubaneswar? "It's a planned city and offers a good standard of living," says H.M. Nerurkar, Chief Operating Officer, Tata Steel. Adds Kasi Raju, COO, Care Hospitals: "Bhubaneswar is in the right growth corridor and has the potential to become a major hub for knowledge-based industries and also for manufacturing units. A major attraction is that costs are still relatively low in the region." Care, a Hyderabad-based hospital group known for cardiac care, opened a 100-bed hospital in Bhubaneswar last year. It is in the process of acquiring five acres of land to set up a new 300-bed facility that will be ready by 2010.
This is just an example of how the healthcare infrastructure has improved in the city. It now has dozens of big and small private hospitals, many of them at par with the best in the country, compared to the situation a few years ago, when there were only government hospitals.
Educational infrastructure of a reasonably high quality has also sprung up. "Over the last year alone, 17 new engineering colleges have come up. Today, there are a total of 63 colleges that churn out 20,000 engineers every year," says IDCO's Dev.
"I'm happy that more companies are coming in. One of the major reasons for attrition in Bhubaneswar is the absence of companies in which the spouses of our employees can work," says Abhijit Sen, Associate Vice President, Divisional Manager and Centre Head, Bhubaneswar, for Infosys Technologies. Over the last three years, Infosys's head count in the city has grown from 1,200 to more than 3,000.
Law & order
The clincher, for many companies, is the peaceful law and order situation in the city. "I can tell you that operations here have never been impacted because of any law and order problem," says Sanjay Kumar Tripathy, Team Lead, Corporate Services, Satyam.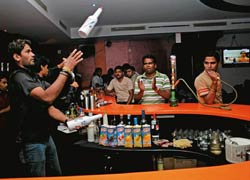 But there's more to a city than just a good law and order situation and free-flowing traffic. A big problem is that entertainment options in Bhubaneswar fall way short of requirements.
This is obviously a big put off for the young and the upwardly mobile. There is still no multiplex in the city and only a handful of malls. But this may be about to change. Says Kishore Biyani, Founder CEO of Future Group, who already has two Big Bazaar stores and one Pantaloon outlet in the city: "I feel Bhubaneswar has all the right ingredients for modern retail. It is a new city with a young population. As a growing centre, it is generating wealth, which has to be consumed somewhere. I see this as a city with immense potential."
The yearning to consume is as apparent among the young here as elsewhere in the country. On a visit to Liquid, one of the few hip hangouts in this still sleepy city, this correspondent found young executives sipping Mojito and listening to popular Bollywood remixes at 11 p. m., just like their counterparts in any other major city.
Interestingly, the lack of many entertainment options has increased the popularity of gyms. "Gyms are full every evening. After work, many of our young employees hit the gym, the swimming pool or the basketball courts, while some others have signed up for Salsa lessons," says Sen of Infosys. Since all of this is offered on campus, it is quite common to see employees hanging out in the campus after work.
Then, there's another issue that the city will have to deal with as it grows—it has no public transport system to speak of. This will have to change fast if Chief Minister Naveen Patnaik has to realise his dream of turning his capital city into the best in India. But well-wishers advise caution. "Bhubaneswar should ensure that it does not make the mistakes that some other cities have made. It should plan ahead so that it is not overwhelmed by the growth that seems around the corner," says Infosys's Pai. "Bhubaneswar," he adds, "needs to focus on thinking ahead and faster. It must build capacities, enhance water supply, have ring roads and a good public transport system."In short, the message to those at the helm in the city is quite unambiguous: the road is clear; use the dipper; it's always good to be careful, but speed up.
'My goal is to make Bhubaneswar the best city for business'
On a day full of back-to-back meetings, Orissa chief minister Naveen Patnaik took time out from his busy schedule and spoke to BT on why he thinks Bhubaneswar is the best city for business and what potential investor can expect from the state government. ``Not only do we have the advantage of mineral industries, a lot of other industries and companies are coming up in areas where do do not have a natural advantage but we have made it into an advantage like in sectors like IT, education and health,'' says Patnaik. Excerpts from the interview:
Q: How attractive has Bhubaneswar become for business and what lies ahead?
A: In the last three years, if you see the total quantum of investments that people who make here, it is to the tune of Rs 6,00,000 crore. That in itself will tell you of the investment interest here. I will give you one example. This is of the biggest foreign direct investment in India of Rs 50,000 crore that is coming here from Posco (One of the world's major steel-maker from South Korea) alone ins a steel plant. What is more, all the MoUs that have been signed for investments are not just in steel sector but across industries like steel, aluminium, IT, tourism, hotels, health and education sectors besides others. So, it is a fait accompli in terms of investments coming into Orissa and naturally Bhubaneswar being the state capital, a lot of their offices and other infrastructure will happen here.
Q: How much of these investment interests has actually fructified?
A: Investments worth Rs 50,000 crore have fructified and there are Rs 3 lakh crore worth investments in the pipeline and the majority of these are in the power and mineral-based industries.
Q: Cities that are generally considered the best also tend to plan in advance. Say plan for 20 years from now. What is being done for Bhubaneswar?
A: When you talk of Bhubaneswar as a city, let me tell you that this month itself IIT Kharagpur is giving a masterplan for the twin cities of Bhubaneswar and Cuttack and the outlying areas. Cuttack is very close to Bhubaneswar city. This is going to be a very detailed masterplan for both the cities.
Q: Why is this needed and how will it help when talking of investing for the future?
A: Naturally, this is to make it convenient in every way whether it is traffic or about where poor people live, evaluation of the amenities and services so that we have an up-to-date visionary plan for the city.
Q: What about some of the current problems that are quite evident? Take poor air connectivity to Bhubaneswar?
A: From a very few flights even a year ago. Now, you have, I understand, about 20 flights coming in from all areas, including 4 or 5 from Delhi. This will increase as travel, tourism and business interests grow and this is increasing. As I have told you, in one year alone it has gone up to 20 flights.
Q: Investors also complain in terms of land acquisitions. There is a lot of litigation. What are you doing to ensure that land that is acquired is free of litigation?
A: We now have, in the past year or so, the best rehabilitation policy in the country. Many think, it is the best in the country. . Yes, where there are very large land holdings there may be a few hurdles but we are trying to smoothen that and I have often said that we believe in the peaceful industrialisation of Orissa.We are for instance, encouraging many of these people to have direct negotiations with the land losers.
Q: There will be elections again next year and industry will always want stability in policies. How are you trying to address this?
A: Our policies have been very progressive, particularly as far as industry or investments are concerned. We have a huge benefit in our state as far as mineral wealth is concerned and we will certainly use this in a proper way as our interest naturally is that the value addition comes to our state and that plants and infrastructure are all put up here. Because with these, there will be more revenues for the state and more jobs will get created.
Q: What is your vision for the city five years from now?
A: Bhubaneswar is already seen as a cleanest city in the country. My vision is that it should be ecologically looked after, that the pollution levels are as low as possible, that the traffic flow is good, both for the comfort of the citizens and for the investors. As long as Bhubaneswar remains ecologically correct, inviting and peaceful, investors will come and we want to attract them from a cross section of industries.
Q: What do you see as your key challenges today?
A: I think, an enormous amount of problems for the city will get sorted out when in this month IIT Kharagpur will have given us that masterplan for the city. Then, we will tackle whatever problems exist and need to be dealt with.
Q: Such as.....
A: When we get the plan, we will get the details.
Q: Finally, Today, why do you think, Bhubaneswar should be seen as the best city for business?
A: That is because, not only do we have the advantage of mineral industries, a lot of other industries and companies are coming up where we do not have a natural advantage but we have made it into an advantage like in sectors of IT, education and health with increased number of colleges and institutions and making the talent available.