Guddu Manjhi's life seems simultaneously full of possibilities and the likelihood of them ultimately not being realised. The 12-year-old is a Class VIII student in a government school in Khairma village, about 90 km southeast of Patna, Bihar. His father, Bindeshwari, is a daily wage labourer earning Rs 150 to Rs 200 on days he finds work. He has not studied beyond Class IV, but vows Guddu will never have to cut short his education. "No matter what it takes," he says in his native Maghi dialect.

Guddu is far from alone. He is representative of youngsters from among India's poor whose parents are throwing everything into their education in the hope of a better future for them. One of the most positive trends in data generated in Census 2011 was growth in literacy level in the poorer states such as Bihar, Uttar Pradesh, Jharkhand and Arunachal Pradesh. In all these, growth in literacy levels between 2001 and 2011 outstripped the increase in population. Of the lot, Bihar's performance was the most impressive. Its literacy level grew 74.8 per cent, while population rose 28.75 per cent. The literacy rate now stands at 63.82 per cent against the national average of 74 per cent.

"Education was always very high in the Bihari's priority list," says Medha Sekhar. She has been running a nongovernment organisation, Purwa, in Patna for the last 10 years. "Wanting education is not new," she adds.

Sekhar believes that the data on Bihar reflects a national trend. Increase in income levels has put money in the hands of poor people, who are using much of it to pay for their children's education. Bihar, where Sekhar has lived for 25 years, has seen a mushrooming of English-medium schools, she says.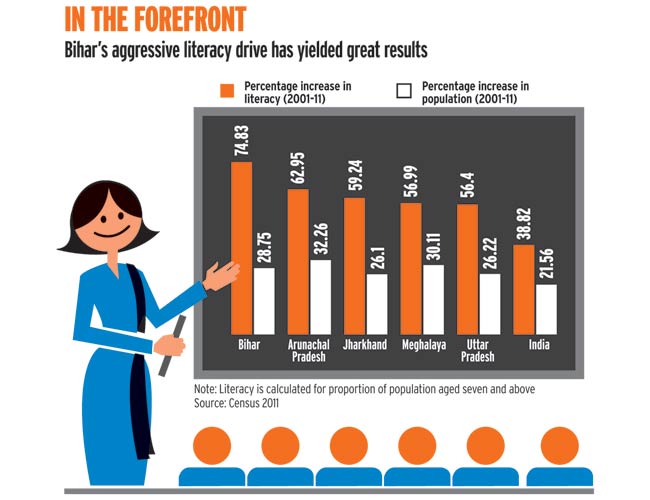 The growth in Bihar's literacy rates has also been pushed by massive education programmes. Over the past decade, the central government's drive through the Sarva Shiksha Abhiyan (SSA) brought over 60 million more children to schools, which the
Planning Commission
says is unprecedented in history.
The possibilities ahead for children like Guddu are just one part of the story. The SSA and an explosion of English-medium schools do not guarantee quality. There is little control over teaching outcomes and it continues to a be a shoot-and-miss in most institutions. But efforts by a handful of private foundations focusing on primary and secondary education is beginning to take shape on ground across India.
The number of children these initiatives cover will take long years to match the numbers churned out by government-funded schools and other private schools but they hold immense promise in terms of the demonstrative effect they could have on the rest of the sector. Then, there are a bunch of skilling companies making school and college graduates ready for the marketplace.
The spurt in literacy rates is not without challenges. But it indicates that a start has been made. This is a lot better than growing up without hope. Ask Bindeshwari Manjhi.

Sanjiv Shankaran and Anand Kumar Sinha