Anupam Gandhi took up a job immediately after graduating from Indraprastha University, Delhi, in 2005, even as most of his peers were trying to get into various B-schools. He had no choice. "Due to personal constraints I needed to start working," he says. "I could not afford to take months off to prepare for B-school entrance exams, nor could I pay the stiff fee."
Gandhi joined GlaxoSmithKline Consumer Healthcare as a sales trainee. For the next seven years he worked various markets in North India, rising slowly up the corporate ladder till he was made Area Sales Executive in 2013. That was when both his manager and the company human resources head suggested he take some course to hone his management skills. But how to go about it? He could not afford a sabbatical to attend B-school. Neither did he care, at this stage in his career, about flaunting a traditional management degree. "But I did want real-time skills to deal with my day-to-day business challenges," he says.
His seniors had a solution - he could join Bridge School of Management, run by India Education Services, a joint venture of media group HT Media and the US-based education services provider, Apollo Global Inc. Its learning centres are located in the National Capital Region where he works. In any case, a lot of the learning is online, so he could take up the course alongside his day job. He followed their advice and believes he benefited greatly. "The course allowed me to interface with a diverse peer group and very high quality faculty," he says. "It also gave me all the exposure I needed to understand different roles in business."
FULL COVERAGE:India's Best B-Schools 2014

Bridge School of Management, begun in April 2013, is one of a growing number of new institutes, which, without calling themselves 'B-schools', are helping professionals upgrade their management skills and thereby enhance their employability. "Our focus is not theoretical knowledge or coming up with research papers," says Rajesh Puri, CEO, India Education Services. "We offer industry-oriented skills training."
Or take Avneet Kapoor, a software engineer who graduated from Punjab Engineering College in 2001 and joined Quark Media House, Chandigarh, before moving on to semiconductor manufacturer STMicroelectronics in Greater Noida. He did a part-time, three-year distance learning MBA from Amity University, but remained unsatisfied. "I felt the need to enhance my skills further, but I did not want a teaching module that was only about cramming concepts from books," he says.
He turned to Sunstone Business School set up by serial entrepreneur Rajul Garg in July 2011 which, like Bridge, concentrates on solutions to practical problems managers face. It is aimed at IT and IT-enabled services professionals with at least five years experience. "Our difference lies in the flexibility and the life skills we teach in tackling business challenges and taking one's career forward," says Garg. Sunstone teaches mainly through online discussions and webinar tutorials with face-to-face contact at least once a month.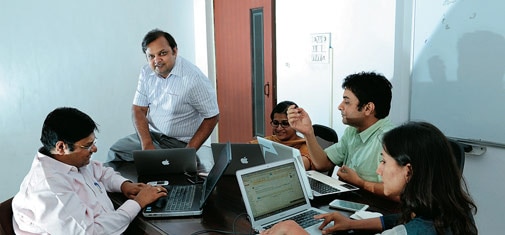 Bridge and Sunstone are two such schools which have sprung up in recent years. Apart from their unconventional approach to teaching, they have their contact centres located in office hubs making it convenient for students to visit them whenever required. They also structure their courses flexibly. "Realising that most working people hesitate to commit themselves to a full year of study, we have split our programme into three parts of four months each," says Garg. At Sunstone, the tuition fee is Rs 55,000 for the first level, Rs 85,000 for the second and Rs 1.25 lakh for the third. "About 50 per cent of our students do all three levels, the rest do only the first level," Garg adds. "We are more like a skills' centre."
VIDEO:Bridge School aims to provide productive manpower to corporates

Companies have taken note. "These schools bring a practitioner's perspective to teaching," says Prashant Bhatnagar, Director at marketing and consulting firm Sapient India. "We employ a number of people who have benefited from their courses." Yuvaraj Srivastava, Senior Vice President and HR Head, MakeMyTrip.com, agrees. "Business schools that consider the constraints faced by working professionals are likely to do better," he says.
These courses are particularly useful for women professionals, who find it even more difficult than their male counterparts to get away, since they have family responsibilities. Meenakshi Verma, who took a course at Bridge School in the founding batch in 2013 and has been promoted to Project Design Leader since, says: "My office is in Noida, so I'm glad the classes I had to attend were also in Noida. "In addition to learning, it was the convenience of the location that made me sign up."
How are the traditional distance learning programmes of B-schools competing with the newcomers? "We do not advertise, but have been recording steady growth for the last several years," says Aman Uttam, Director, Onyx Education, the front-end partner of Hughes Global Education which manages student enrollment and operates study centres for
some IIMs
and other
top B-schools
. The advantage of these courses no doubt is their brand and the discipline the rigour of a traditional MBA syllabus imparts.
"In fact, 'distance' learning is a misnomer," says Sandeep Srivastava, Head of Sales and Marketing at auto systems maker MAGNA Closure Automotive, who has signed up for an MBA from IIM Kozhikode. "Students get to spend nine hours a week with professors. V-Sat connectivity is as good as being face to face." These courses also allow some leeway to the extent that, after giving prior notice, student can take them in different towns if they are travelling or get transferred. But the two-year commitment is sacrosanct. "One has to find a way to carve out the time to attend lectures and study," Srivastava adds.
For those unable to get away from the workplace even temporarily, the options for further study are clearly growing.