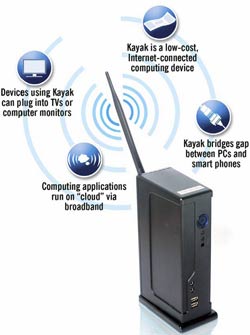 In a couple of months, a diverse group of senior citizens, professionals and students across India's hinterland will be roadtesting a Qualcomm device, the Kayak. The machine, which combines wireless broadband access with a personal computer (PC) processor, may hold the key to Qualcomm's aim to rival Intel in computer chips—and spark a broadband revolution in India.
Is PC penetration in India poor because there is no broadband? Or is broadband use low because of poor PC penetration? When Mukund Rajan, Managing Director, Tata Teleservices Maharashtra Ltd., launched the company's wireless broadband solutions recently, he hoped the easy availability of broadband now would spur PC penetration.
Kanwalinder Singh, President, Qualcomm India, who was also present, wants to tackle the problem from a different platform, one that combines its mobile telephony prowess with computing. India's wireless broadband market is hotting up, finally. Reliance Communications (RCom) and Tata Teleservices, both of which use Qualcomm's CDMA technology, launched their wireless broadband in March within a week of each other—forced by WCDMA-based offerings by the government-owned Bharat Sanchar Nigam and Mahanagar Telecom Nigam weeks earlier.
Joydeep Ghosh, Director, ICE, KPMG, says: "India has a low Internet penetration of around 5 per cent, while broadband penetration is much lower, around half a per cent. There are around 5.85 million broadband subscribers, far lower than the target of '20 million by 2010'". PC penetration was always poor, and the recession has added to the gloom in PC sales. To push their mobile broadband, Tata Tele and Reliance are promoting low-cost PCs (Tata Tele under the Novanet brand and Reliance via PC makers like ASUS, HCL and Lenovo) that work off the "cloud" or online servers with the operator.

Enter the Kayak
In comes the Kayak, at the core of which is Qualcomm's MSM7-series chipsets, which have a modem and processor integrated. It can be a low-cost, broadband-enabled (3.1mbps) PC or a phone, or even a 3D-gaming machine.
Why in India? It is now the world's second-largest CDMA market after the US, adding 2.5 million subscribers a month. Singh says: "We are talking to mobile phone makers, PC makers as well as mobile operators for manufacturing the Kayak." For the moment, the Kayak is just a reference design that others can use to make computers or phones. Packaged with a monitor, keyboard and mouse, it should come for a little over Rs 10,000— less, if the buyer decides to buy his own monitor or use the TV at home. The price is the key: the cheapest netbook is not less than Rs 15,000. The bonus for rural users: the Kayak can be used the whole day with one charge, like a mobile handset.
The next step: the Snapdragon chip, which can do WCDMA and CDMA, and is seen as the future. Singh plans to bring in "smarter smart phones" on this chip at Rs 25,000 or more and a netbook that would be priced close to the Kayak.