Natarajan Chandrasekaran, 49, CEO and Managing Director of
Tata Consultancy Services
(TCS) wakes up at 4 am every day to go for a run. He has been a marathon runner since 2007. "Well-being is fundamental. Unless you are both physically and mentally well, you cannot look after your family," he says. "And if you cannot do either of these, you cannot look after the company."
And by the looks of it, Chandrasekaran seems to be doing all right. Under his watch, TCS has, for the first time, emerged the
top company in the BT 500 list,
pushing Reliance Industries Ltd (RIL) to second place. It is the first private sector company to pip RIL - which has repeatedly bagged the No. 1 spot in previous years - in a decade.
EXCLUSIVE INTERVIEW
:
TCS CEO and MD N. Chandrasekaran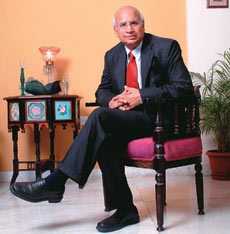 Not long ago, many investors believed that even within the information technology sector, rival Infosys had the brighter future. Though TCS was always ahead in terms of revenue, Infosys enjoyed the more attractive profile. Today, not only is the situation reversed, TCS is the biggest company in the country in terms of market capitalization, measured as the average between April 1 and September 30. With the successful launch of its initial public offering in 2004, it has proved a champion long distance runner.
While the two successive downturns of 2008 and 2011 in the US and Europe - from which Indian IT companies earn the bulk of their revenues - ravaged rivals like Infosys and Wipro, TCS has held its ground. The TCS scrip, at Rs 526.80 on January 1, 2008 (adjusted for a 1:1 bonus issue in June 2009) gained 147.7 per cent since then to Rs 1305.20 on October 18, 2012.
VIDEO
:
'Being on top in BT500 a pat on the back'
Since Chandrasekaran took over as CEO in 2009,
TCS has more than doubled
its revenue lead over Infosys. The latter was always known for the high profit margin it kept on contracts, but in recent years TCS has bridged that gap as well.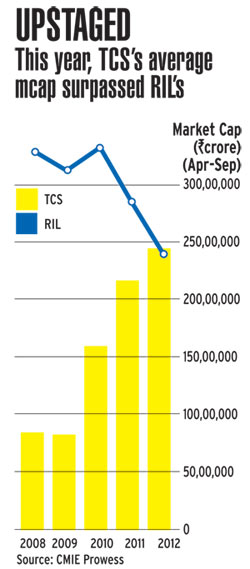 Founded in 1968 as a small IT division of Tata Sons, the main holding company of the Tata Group, TCS, then headed by F.C. Kohli, quickly acquired an enviable reputation. It was incorporated as a separate entity in 1995, and led by S. Ramadorai, its first CEO, grew at a furious pace. Revenues rose from $160 million in 1996 when Ramadorai took over to $6 billion by the time he retired in 2009. Under Chandrasekaran since then, TCS's revenues have grown to over $10 billion. And though the Tata conglomerate operates around 100 companies, TCS contributes about a third of its net profit, apart from generating significant wealth for the group in terms of market capitalization. (Tata Sons owns 74 per cent of TCS.)
So what is Chandrasekaran's magic formula for success? In the three years since he stepped into Ramadorai's shoes, he has reenergised the company, say market analysts. "The energy levels of the top 50 executives at TCS are very high," says Sudin Apte, CEO of outsourcing advisory firm, Offshore Insights. "Their top clients say TCS's ability to look into the future and invest proactively makes them happy."
Chandrasekaran has rejigged positions within the organisation without causing much disruption, hired executives from competing firms to head important accounts, revamped TCS's marketing, chased deals aggressively and made TCS focus obsessively on customer needs.
In a discussion in his artefactsladen room at TCS's headquarters in Mumbai, however, he refuses to be drawn into any comparisons with Ramadorai. "You do different things at different times," he says. "Growth is the result of an equation. That equation has a lot of variables."
What are these? "The variables you have to drive and focus on every day are relevancy to the customer, assembling the team and giving it the opportunity," he says. "I think what we have achieved is due to a combination of the organisation's structure and the right mindset. The organisational structure has been built to drive empowerment, agility, nimbleness and create aspiration within the team."
Global food and beverage behemoth PepsiCo outsources a good deal of its IT operations to Infosys, Cognizant and TCS. Though Infosys remains its biggest partner, says Caroline Watteeuw, Global Chief Technology Officer (CTO), PepsiCo, TCS does more of the innovative and emerging technology work for the company. "TCS does analytics, difficult specialty applications such as transportation optimisation systems," she says. "We have only recently started working with them but they are very impressive." Credit rating agency Moody's Corporation has TCS managing some of its maintenance work. "I have worked with other Indian vendors, but TCS brings in a lot of depth of talent," says Brian Clark, CTO, Moody's.
So too Ankur Rudra, analyst at investment group Ambit Capital, who, in January 2011, was the first to downgrade the Infosys stock, remains gung ho on TCS. "The company has got three things right," he says. "It focused on infrastructure management much earlier than its peers, and that is the fastest growing service line in the industry. Next, it has been able to maintain a much leaner cost structure than its rivals such as Wipro and Infosys. That has helped it maintain profitability despite getting into low billing contracts in emerging markets or running infrastructure systems. Third, it has been aggressive in investing in new growth geographies such as Latin America and parts of the Asia Pacific and Europe. These are paying dividends now."
It is primarily the leaner cost structure that has enabled it to lately bridge the margin deficit with Infosys. Were its lower margins in earlier years the result of charging too little to attract more business? Chief Financial Officer S. Mahalingam denies this emphatically. "Our lower margins earlier were a result of two factors - the cost of serving customers [more onsite work] and higher selling, general and administrative expenses," he says. "Both these have been looked at."
Between April 2009 and June 2010, TCS improved its operating margin by 4.1 percentage points. Mahalingam explains the changed approach. "In the growing years, if there was a potential of getting $1 million in revenue from an onsite location, we would set up an office there," he says. "The location may not have had more than one customer. At one point we said, what the hell are we doing? Instead of opening offices everywhere, we ensured people communicated with clients in different forms, including travel to the concerned locations."
But some forms of aggressive pricing remain part of TCS's strategy. While structuring deals, it offers clients payment flexibility of a kind the likes of Infosys do not. For instance, clients are often given the leeway to pay over longer durations, which helps in attracting business during difficult situations like the present one. Despite the downturn, TCS's clients providing business of over $50 million and $100 million annually have doubled in the last two years, to 46 and 14 respectively. The company's accounts with some of its biggest customers such as GE, Citibank, Home Depot and JPMorgan Chase have significantly increased, market watchers say.
Will TCS be able to sustain its No. 1position? There are indeed challenges ahead. In coming years it is likely to face more competition from multinationals, which are becoming experts at replicating the low cost Indian IT model. There may be more pressure on margins because of higher onsite hiring, as some advanced markets resort to protectionism. Business from telecom and banking customers is likely to remain under pressure because of smaller IT budgets. The rupee appreciation against the dollar, lately begun, is another worry. Over the next few months, the IT sector could underperform the broader market.
"I am not a fortune teller and nobody can predict the market," says Chandrasekaran. But he remains an optimist. "What I do know is that this is an industry with phenomenal opportunities because of the rise of new technologies, the growing complexities, and the need for companies to take help from partners to adapt and take advantage of what the technologies have to offer." Looks like the TCS CEO intends running even harder.