None of the aggression TCS has lately been displaying is evident in the demeanour of its CEO and Managing Director, N. Chandrasekaran. He is immensely restrained, speaking softly in a tone that hardly varies. Yet Chandra, as he is commonly referred to in his company, knows how to make a point when he needs to. He met Goutam Das and Suman Layak in his office at TCS's headquarters in Mumbai. Edited excerpts from the interview:

Q. Analysts and customers have noticed a change in TCS's approach. They claim there is a new aggression since you took charge. How do you view the new TCS?
A. The comparison with the old TCS is a bit unfair. I am happy we are very customer-centric, energetic and nimble. But I will also tell you that we have significant opportunities to improve in each of these areas even today. These are things you have to get better and better at.

Having said that, look at the numbers delivered by Ram [S. Ramadorai, Chandrasekaran's predecessor], $160 million when he took charge, to $6 billion when he retired. That is phenomenal growth in 13 years. He was extremely aggressive. I don't think anyone should say the company was not aggressive before.


When I took over, I felt we needed to take some steps, and
the company was of a different scale
. Today, we have 250,000 people. How you manage a company comprising 10,000 people is different from the way you do it when employees number 50,000 and 100,000.
If you ask me: will you be a 350,000 people company one day, I will say yes, we will be. If you ask me how we will manage the company then, I don't know. But we will constantly look at ourselves. Our focus is how to be very customer driven. We will continue to look at our employee base and at how to tap its potential.
Q. What are the most important decisions you've taken as CEO?
A.
There are four or five themes. The organisational structure has been built to drive empowerment, agility and nimbleness. Letting people aspire and not putting some artificial goals before them. I think it is a combination of the structure and the mindset. Create an aspiration within the team of high growth and customer centricity. Then come the investments we make as a company ahead of the curve, whether it is in cloud, mobility or analytics.
PODCAST:
Senior Editor Suman Layak on TCS' rise in the ranks
Q. In the last three years, TCS has increased the revenue gap with its nearest rival and bridged the margin gap at the same time. How was this achieved?
A.
The first and foremost thing is to have belief, which I think I have been effectively able to communicate. And we as a team have been collectively able to take up the challenge. The combination of belief, the right management teams in each unit, and working with them - as opposed to setting an artificial goal such as we will grow at the rate at X per cent - has worked. It is a process and that is what we have driven. The results come on their own.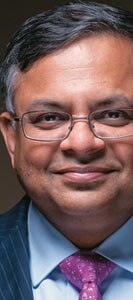 Q. What about changes on the sales side?
A.
Once you have the mindset and the goal alignment, yes, there is a change in the value proposition. You partner with clients. Somebody is driving efficiency, others growth and innovation. We have a complete innovation ecosystem. There is a culture of innovation, there are innovation labs for every industry we work with, we have set up a collaboration centre for customers on the West Coast (of the US). How do we bring the power of technology to the customer? It is not about selling a menu card. It is about finding the solution to the customer's problem using the technology. That results in business.

Q. The IT industry has two models - the high value services model that one of your rivals practises, and the commoditised model. In the current environment, does the high value services model have a future?
A.
This is a misnomer. We do what it takes to make the client successful. We do a number of high value engagements. We also do a number of engagements where the customer (only) needs us to maintain the infrastructure. I don't understand what is high-value and what is low-value. I think the customer needs both and we provide full services. We do consulting, innovate for the customer, co-create. To me high-value is all about that. What is important for the customer is important to me and not some classical, bookish definition of high value.
VIDEO:
Being on top in BT 500 a pat on the back, says Chandrasekaran

Q. Can you give us some examples of how you partner clients?
A.
I will not give client situations. But there are many. Our customers tell us that one thing with TCS is that it does not act differently at good times and at bad times. We work the same way. It is a culture. Yes, sometimes we could have negotiated harder. But we believe the ultimate objective is to ensure the customer is successful. We work towards that.

Q. Has the fact that many of your senior executives are now younger than before made a difference?
A.
I will not get into age, gender and diversity. I would rather get into performance, energy, drive, agility, relevancy, innovation. We have to think about these every day. All of these matter. And we promote health and wellness. It is not just sponsoring marathons. We have internal campaigns to keep people fit. It is important, well-being is fundamental.

Q. Run us through your lifetime at TCS and how you saw the organisation evolve.
A.
TCS has had an incredible run. I came into this company in 1986 to do a college project and eventually joined the company in early 1987. We were less than 1,000 people. The next year, revenues were in the region of Rs 27 crore. The company grew to $150-160 million in 1996 and $1 billion in 2003 and then to where it is today. It moved from pure technology services to domain-related engagements as well as engagements that require complexity management in terms of schedule, project management, etc. The company had a culture of venturing into new areas and has always gone into different industries and markets.
When I began I was here in Mumbai for a year and a half. Then in early 1988, I went to the US. For the next 10 years, I lived in different parts of the world and did three to four major assignments. I grew from being a technology guy to a programme manager to managing clients, working with clients and being a partner to them. I have enjoyed it because it has given me an opportunity to understand the business and the industry, understand the challenge from a customer perspective.
I came back to India in early 1997 and joined Mr Ramadorai. I have worked very closely with Ram, and got a lot of mentoring from him. Then I moved on to take delivery in one region and then global delivery. Then I became responsible for a lot of strategic initiatives in the company, evolved the concept of global delivery and ventured out - set up centres in Eastern Europe, Latin America, China and other parts of the world. I focused on building up e-business when the concept first came in 1999-2000, creating a model of how to enter a new business and how to scale it. Then I started to run sales and delivery around 2003, then took over as chief operating officer in 2007 and became CEO in 2009.

Q. When was it evident to you that you were in the reckoning for the CEO's role?
A.
I am a person who genuinely tries to enjoy what I do every day. This is not to say that I don't think about the future. But I don't take the future in isolation in terms of a title or a role. It was not that I was putting up a goal that this year I should be a vice president and this year I should be something else. I have always believed that if you follow the work, rewards will come. How you do your work is more important than what you do. There are many things that need to be done in a company. Sometimes you are assigned what people think is sexy and sometimes you are assigned what people may not think is sexy. How you do it makes the difference.
VIDEO:
Chandrasekaran talks about his hobby of running in marathons

Q. How important is TCS to the Tata group?
A.
Every company is important to the group. (Pause) The group has a history of more than 140 years. It has entered into varied businesses and many of these businesses go through cycles. Sometimes businesses have a good year, sometimes they do not. It depends on the economy, the market, the demand.
Each business is different. The beauty of the group is that it has such a diversity of businesses. It has the ability to keep these businesses functioning, each with an independent board and each doing the right thing for that business, but bound by a common set of principles of value, integrity and quality. In that context, all the businesses are important. Some of the top businesses are large. I don't think you can isolate saying this particular business is more important. You should see it on a time horizon and not at a particular point in time.