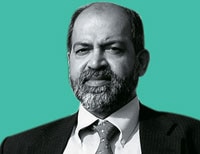 ABOUT: Adil Zainulbhai's appointment to head the Quality Council is among the first reach-outs by the Modi government to the private sector for talent. The former chairman of McKinsey India with expertise in telecom, infrastructure, high-tech and financial services, believes quality is an imperative for India. An IIT Bombay, Harvard Business School alum, he sits on the board of Reliance Industries.
Long seen as some sort of an esoteric idea, the importance and embedding of quality into goods, services and now governance can no longer be undermined. We are at the cusp of a quality revolution that sees it not only as an economic necessity but a political statement, through the "Make in India" campaign, as well. If one leg of the campaign is investments and jobs, its other leg is quality.
Some of the highest quality software in the world is being written in India, world-class cars and two-wheelers are being built in India, and, of course, some of the best sarees and woven fabrics in the world are being made in India. But, by and large, if you ask the average citizen, or the average consumer or average business, the quality of goods and services in India lags that of many other developing countries like China, Malaysia, Thailand and, of course, many developed countries such as Japan or Germany.
To achieve the goal of "Make in India" and "better governance, less government", we need to fundamentally improve the quality of our products and services. In the past, we made a virtue out of necessity by celebrating chalta hai and jugaad. To get to the next level of growth, we have to fundamentally improve quality at every level. It is not just product quality that needs to be improved; with 60 per cent of its GDP coming from services compared to 15 per cent from manufacturing, we need to improve the quality of services as well.
As consumers, we have a natural inclination to look to the government for everything, but the best quality comes from voluntary adherence because it makes business sense to do so. In that context, the architecture of quality in India has to have two thrusts. One, mandatory standards that ensure products and services do not endanger national security, health, safety or the environment. These standards also ensure that no deceptive trade practices take place. There are certain sectors which are liable to regulation like food, drugs, electrical appliances, etc. Most countries have a set of standards they legislate and enforce. I refer to these as "minimum" standards.
And two, voluntary standards that serve to achieve the highest quality. Under these, the industry comes together to agree on a set of standards which then it chooses to follow. These are the norm in most industry sectors other than those regulated, and even in regulated sectors, these are prevalent and often much higher than mandatory standards. I refer to them as "maximum" standards.
To make these work, we need a quality infrastructure that includes:
>>Standards setting bodies for mandatory standards, typically the regulatory bodies like the Food Authority or the Drugs Controller.
>>Industry-driven national standards bodies, the Bureau of Indian Standards (BIS) that create and follow best practices on a voluntary basis.
>>Inspection or certification bodies and laboratories - the conformity assessment bodies in government or private sectors.
>>Accreditation body to attest competence of conformity assessment bodies NABCB [National Accreditation Board for Certification Bodies] and NABL [National Accreditation Board for Testing and Calibration Laboratories] in India.
>>Metrology to ensure reliable measurements - the National Physical Laboratory.
>>Training and counselling bodies to help improve quality in companies.
TO ACHIEVE THE GOAL OF 'MAKE IN INDIA' AND 'BETTER GOVERNANCE, LESS GOVERNMENT', we need to fundamentally improve the quality of our products and services... To get to the next level of growth, we have to fundamentally improve quality at every level.
Many of these exist, but the overall effectiveness compared to our aspiration is low. So it requires a massive ramp up (especially, of training and counselling) to meet our goals. China is committed to a 10-year programme with more than $10 billion in investments to meet the quality standards of Japan and Germany. On our part, in addition to its work in health-care, conformity assessment, education and other areas, Quality Council of India (QCI) will start two major initiatives.
One, improve quality in the small and medium enterprises (SME) sector and try to reach at least one million of the 45 million SMEs. While large companies have taken on the challenge of improving quality because of international requirements, SMEs have not focused on quality. However, they are critical to the overall mission of "Make in India" and "Zero Effect Zero Defect". QCI has worked with various industry bodies such as CII, FICCI and ASSOCHAM to help SMEs. What's missing is dramatic scale-up. Technology may give us the required push here.
And two, improve the quality of government services for the citizen. While 20 states have passed legislations on guaranteeing public services, most have not done much to implement it. If we could systematically set standards for citizen services, track performance, transparently share the data, train the providers of these services to adhere to the standards and deliver, it would be boon to the citizens through a huge improvement in quality and productivity. Of course, this means working with states, municipalities, districts and panchayat, but in terms of outcomes, the payback would be enormous.
Technology can help dramatically in simplifying these tasks. An example: the Karnataka government recently launched a single e-governance app for various services like income tax, weather forecast, bank accounts and traffic management. Smaller islands of technology adoption for e-governance are increasing. The labour department is going to one form of four pages on a portal instead of an 88-page form, and putting all inspection reports online in 72 hours, for instance. Or making the entire application process for passports online. Can we do something similar for a whole series of other citizen services across India?
There is a lot of work to be done to improve quality in India, but with the right leadership and drive from the top working in tandem with a systematic programme, we can make a big difference in both the growth of the economy and the improvement in the lives of our 1.2 billion citizens.