TCS CEO N. Chandrasekaran, standing on top of the Air India skyscraper in Mumbai Photo: Rachit Goswami/www.indiatodayimages.com
TCS House, where the corporate headquarters of Tata Consultancy Services (TCS) stand, is a 1922-built baroque revival-style heritage building in Mumbai. In October 2009, soon after he took over as CEO of the company, Natarajan Chandrasekaran rearranged the spacious, well-lit chamber he was to occupy in it. He brought in a new leather sofa, a white board to scribble on, did up the shelves and hung on a wall two photographs of the snow-capped Himalayas he had himself taken. Well known as a marathoner, Chandrasekaran is also an avid trekker and has hiked extensively in the Himalayas. The man loves heights.


And he has taken TCS to new peaks. So much that India's largest software services exporter appears to be a company on steroids. Its hiring hasn't slowed despite economic ups and downs, and today it is one of the largest employers in the technology world. It has more employees than the population of several countries. By the end of December its staff strength will have overtaken the 288,725 strong population of Barbados. Its revenue has nearly doubled in the past four years to $12 billion. Its market value has climbed at the same pace, helping it consolidate its position at the top of
Business Today
's list of 500 most valuable companies in India and widen the gap with second-placed Reliance Industries.
The
surge in market value
follows a series of spectacular financial performances over the past many quarters. Steadily, the company has widened its revenue gap with closest rivals Cognizant and Infosys. Profitability has improved, too. Its operating margin expanded to a record 30.2 per cent for the three months through September.
Many of these performance metrics looked ordinary even half a decade back when the competition mockingly called the company 'Tata Civil Services'.
"Their executives then reminded one of middle-aged and process-bound bureaucrats," says Rajeev Sawhney, an ex-head of HCL Technologies's European operations. "That view has quickly evaporated in the past few years. The company has become hungrier than ever before."
A lot of credit for this newfound hunger goes to Chandrasekaran, or Chandra as he is popularly called.
"TCS was never the best in quality. They were always No. 2," says Al-Noor Ramji, a former chief information officer of British communications services giant BT Group, a longtime TCS client. "Their customer interface was not as polished as Infosys's. Now, they are getting better with more onshore hiring. Chandra has managed to take TCS into new areas faster. He is also very approachable... [and] has an easy-going personality."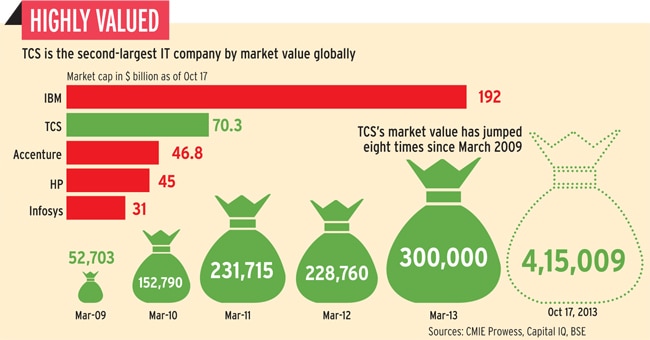 Chandra's personal charm, say top TCS executives, is one reason why the company has done a better job compared with its rivals in managing its huge army of employees that cuts across generations. Suresh Muthuswami, who heads the insurance and health-care business at TCS, says Chandra knows 5,000 to 10,000 employees by name and can strike up a conversation with anybody. Chandra has formed an emotional connect with employees that other leaders in the Indian IT industry struggle to build.
CHANDRASPEAK:
'TCS staff is pumped up, I have to keep that going'
Taking a cue from Chandra, senior TCS executives are now working to make the younger generation comfortable - Gen Y today forms about 70 per cent of the workforce. "With more and more young people around, it is important for people like me to learn better how to operate like a young person than for a young person to learn to operate like us," says Chandra, 50. Last year, he introduced a social networking platform for TCS employees called Knome - pronounced as Know Me - where, much like Facebook, they can post videos, updates and connect with each other.
The company also allows employees to bring their own devices to work, despite concerns this can pose major data security risks. It has also developed several apps that employees can use. These include fitness app Fit4life and MYTCS, which can be used to make travel requests. These initiatives have increased employee engagement and are reflected in TCS's attrition rate, one of the lowest in the industry at 10.9 per cent. In contrast, the attrition rate at Infosys, excluding its subsidiaries, is 17 per cent.
Unlike Infosys, TCS has also been able to retain its senior executives, many of whom have been with the company since the 1990s. Some of them got bigger roles after Chandra restructured the company on taking over, but everybody stayed on. A cricket fan, Chandra often borrows terminology from the game to explain his point of view. He says it has been recognised that as a team the company performs better than as individuals. "If it's good for the team performance to open [the batting] one day and to go four down an-other day, that has to be recognised, and as long as we can communicate it clearly, people see," he says. "We try to be valuable players instead of everyone aspiring to be captain. That's a culture we have been able to drive."
Nimble giant
Restructuring the company was Chandra's second game plan to grow business and make TCS future-ready. He organised the company by industry verticals to deal with clients. Though he is known as a person who pays attention to detail, he doesn't micromanage. He made the vertical heads responsible for achieving revenue and profit goals but gave them enough freedom, almost as much as entrepreneurs have, to operate their respective businesses.
"I believe I have to drive the aspiration and the behaviour and I have to let them (vertical heads) drive the metrics," says Chandra. The operational freedom inspired senior executives to press the accelerator. Many businesses expanded rapidly. Revenue at the retail business unit, for instance, surged to $1.5 billion in 2012/13 from $400 million five years earlier. A sharper focus on sales, following the new structure, has meant a steady stream of large accounts now. A few months ago, TCS won an estimated $150 million contract from Scandinavian Airlines and another from Nordic telecom operator Elisa - both new clients. In the Scandinavian Airlines deal, TCS outbid five competitors including the company's last IT vendor, Computer Sciences Corp. The decentralised model is allowing TCS to be big and nimble at the same time. The creation of business verticals has brought in more customer centricity, agility and accountability in the company, says Chandra.
Customer centricity is a buzzword in TCS. While Infosys in earlier years placed great stress on investor delight and HCL Technologies says it puts employees first, TCS has placed customers at the centre of its existential ecosystem. Its focus on clients is reflected in a centre it set up in Santa Clara, US, in 2012 which customers visit to understand the innovation TCS can bring in. The centre showcases the company's work in emerging technologies such as big data, analytics and mobility, and helps customers collaborate with other innovation players in Silicon Valley. Many executives wanted to name it the 'Innovation Centre', but Chandra prevailed and called it the Customer Collaboration Centre.
When customers are concerned, Chandra leads by example. In 2011, advisory company KPMG invited bids for a large IT outsourcing project, no less than $200 million. TCS was in the fray but was going nowhere. One Sunday afternoon, Pradeep Udhas, the head of markets at KPMG India, sent the TCS CEO a text message: "I don't know if TCS is serious about the project." Within minutes Chandra called back. In two day's time he was on a flight to New York where KPMG has an office. He worked on a plan during the flight and made a presentation that impressed everybody. While TCS didn't get the project, Chandra formed a relationship with KPMG's global chairman. Shortly after, KPMG and TCS started addressing customers together.
Betting on digital
TCS's new entrepreneurial approach to business is visible in the several bets it is making for the future. The company was early to spot technology changes that are transforming the way global corporations are buying IT services. Banks, insurers and retailers are increasingly looking at beefing up their mobile products, and they want to offer customers the flexibility to buy their goods and services over the phone. "It is a significant transformation of the enterprise," says Pratik Pal, who heads the retail, consumer goods, travel and hospitality vertical at TCS. "The spending will erupt in the next three to four years as brick-andmortar retailers solidify their position against [online retail giant] Amazon." Pal, who joined the company in 1991 as a programmer and gradually worked his way up, says TCS has the innovation ecosystem that will ensure the company is ready for technological changes.
TCS started a data team in 2012, and later formed a digital unit to bring all new technologies under one umbrella. The head of the digital team and the man who is spearheading innovation at the company is Satya Ramaswamy. Previously a Silicon Valley entrepreneur, Ramaswamy joined TCS in 2010 after the IT giant acquired his startup venture Brightfon, which was working on technology solutions for retailers. He is now busy assembling a team of people with bright ideas to build innovative intellectual property. "We are taking entrepreneurs from Silicon Valley and empowering them with global resources.
Acquiring start-ups is one model. The other model is to look for entrepreneurs who want to create new products. They come on board as our employees," he says. Ramaswamy has hired a dozen people in Silicon Valley and five in India. "It is like running 17 start-ups," he adds.
The digital unit has thus far created products for different verticals and service lines and is working on developing applications for Google Glass, a computing device with an optical display being developed by search engine giant Google Inc. TCS is gaining traction in digital - although it does not give a breakup of revenue from the unit, the company's earnings press release for the July-to-September quarter listed 18 deal wins in digital services.
Clearly, TCS has identified digital as an important growth driver. The digital unit is working on products that will sharpen TCS's edge in new contracts. It will also take forward its nonlinear agenda, which refers to growing sales without hiring more people. The Indian IT industry, thus far, has mostly followed a linear model of growth - it grew revenue by adding people; clients are typically billed on the cost of labour.
Non-linear revenue can be generated by using more intellectual property-based solutions. Currently, nonlinear initiatives make up 10 per cent of TCS's new revenue. Chandra says he would like to see non-linear revenue contribute significantly more three years from now. "It is the future business model," he says.
The technology giant is also placing long-term bets on emerging markets - India, Asia Pacific, West Asia and Africa make up about 18 per cent of the company's revenue but these markets may become more important in the future. The company has taken a cue from Europe and the UK - while TCS was marketing its services in the region at least since the late 1970s, the market took off only around 2006/07 and now generates 27 per cent of its revenue.
TCS has started promoting services other than application development and maintenance - the IT industry's bread-and-butter - which generates up to 43 per cent of its revenue. Historically, the Indian IT industry has grown by custom-developing and then maintaining all kinds of applications, from banking to retail, for customers. The company talks of offering a comprehensive range of products and services that will make it a one-stop shop for clients. An important piece in its strategy for the future is the business process outsourcing (BPO) unit. TCS recently opened a BPO centre in Saudi Arabia staffed entirely with women, a bold move in a deeply conservative country that also provides a good branding opportunity. "The idea is to look at local talent," says Ravi Viswanathan, President of New Growth Markets, who joined the company in 1990.
The non-voice BPO work that TCS does is becoming increasingly important in the context of high-value transformational deals the company wants to pursue. For instance, TCS is setting up digital back offices for some US retailers where it manages their catalogues and orders on the web.
When Western clients want to expand in emerging markets and launch new products, they would require BPO support as well. To step up growth, TCS has added analytics services to its BPO portfolio and wants to pioneer the field of robotic automation in back offices.
Abid Ali Neemuchwala, Vice President and Head of Business Process Services at TCS, says that depending on the project the company would be able to reduce the number of people required for a BPO process by half in the future. "Our customers see us as the most innovative BPO unit because, unlike pureplay BPOs whose revenue is based on the number of people deployed at a customer, we have differentiated by saying we will automate as much as possible," says Neemuchwala, who has been with TCS since 1992.
TCS has added analytics services to its BPO unit and wants to pioneer robotic automation in back offices
While the strategies TCS has put in place will see it through for at least another three years, the company still faces long-term challenges. Hiring truckloads of people may not be sustainable and TCS has to work on forging relationships beyond the chief information officers. While CIOs traditionally gave out IT contracts, there is a subtle shift in the power centres of global organisations. Many digital projects, for instance, are awarded by the chief marketing officers and not the CIOs. And to be viewed as a global company, TCS needs to hire more international workforce. The company had 21,282 foreign employees as of March, less than a tenth of its total workforce.
"The big challenge will be to become truly global in the next five to 10 years in terms of geographical presence and the scale of operations," says KPMG's Udhas. "Chandra believes it is the way to go. He is trying to move the company to a non-linear model. But this is not easy because the stock market is measuring him all the time."
Captain Chandra, however, is in fine touch as of now and is batting solidly at the crease.