It was St Valentine's Day. The year was 2008. Ronnie Screwvala was on tenterhooks.

It was not the kind of anxiety some men, with certain intentions, experience on the day. It was the premiere of Jodhaa Akbar, co-produced by Screwvala's UTV Motion Pictures with director Ashutosh Gowariker. It had cost Rs 50 crore to make and was UTV's most expensive project yet.

The same day he had spent four hours in a conference room at UTV's broadcast arm's head office in New Delhi at that time, watching a presentation on the company's two movie channels slated to go on air a week later.

As his team went through the slides on the two channels, UTV Movies and UTV World Movies, Screwvala's eyes stayed glued to his phone. But every time the team thought he might not be paying attention, he would ask a question that would make them think again.

Two days later, Screwvala sprang a bigger surprise on his team. On a hurriedly convened conference call, he said Walt Disney Company was going to more than double its equity holding to 32 per cent in UTV Software Communications, the group's motion pictures, gaming and television content arm. The United States-based entertainment behemoth would also acquire 15 per cent in UTV Global Broadcasting, which, as the name suggests, was the company that owned the television channels.


"During the presentation on the new channels, Ronnie was actually giving final touches to the deal. So he was doing three things at a time: listening to us, coordinating for
Jodhaa Akbar
's premiere, and sealing the Disney deal," recalls Pankaj Krishna, CEO, Chrome Media, a data analytics and media research agency, who was then the business head for the two channels.
Screwvala attributes his multitasking skills to his dalliance with theatre 35 years ago. "To be in front of a live audience requires confidence and improvisation. You may have a scripted line, but, unlike in the movies or anywhere else, you have nothing other than the rehearsals [to fall back on]. You can't stop and bring down the curtains and say you have forgotten your lines." Almost four years after that whirr of activity, Screwvala raised the curtains on a new career in December 2011. He sold all his equity in the UTV companies to Disney and became an employee of Disney UTV, the merged entity, though richer by Rs 2,000 crore from the deal and designated managing director. Those who knew him - or thought they did - as a driven entrepreneur still cannot digest the transformation.
Screwvala has something more difficult to swallow. He has yet to wipe off the trace of that Valentine's Day five years ago.
Jodhaa Akbar
earned Rs 95 crore at the box office to become the highest grosser of the year, but the two television channels launched a week later fared very differently. UTV Movies has never risen above number four in its genre and its advertising rates are less than a third of what rivals Star Gold and Set Max command. UTV World Movies has no rival, but not too many takers either.
Today Disney UTV is king of the Bollywood box office. It produced five of the 10 Hindi movies that have hit the jackpot this year. Its television business, though, has continued on the journey started five years ago without getting too far.
A Yen for the Movies
Screwvala's knack for all things movies was in evidence as far back as 2006. His old faithful Siddharth Roy Kapur, who has also stayed on with the merged entity and heads its movies business, recalls the film
Khosla Ka Ghosla
coming their way because no production house would touch it. A simple tale of a family losing a plot of land and reclaiming it through some earthy ingenuity, it did not excite the Bollywood minds fed on glitzier, spicier stuff. It did not help that Dibakar Banerjee, who had directed the film, was a nobody from Delhi and had no connections in Mumbai.
"By the time the film came to us the print was full of scratches and seemed ancient. But the moment Ronnie saw it he was excited. And his belief was that if all of us were excited by the film so would be the audience," says Roy Kapur.
UTV spent Rs 2 crore on marketing the film, which had been made at a cost of just Rs 3 crore. The film went on to earn more than Rs 10 crore at the box office.
"That was the first instance in which
UTV
displayed its marketing prowess," says Roy Kapur.
With the passage of time, that prowess has only grown. In the last six months,
Kai Po Che!
,
Yeh Jawaani Hai Deewani
and ABCD - all UTV releases - have brought in 42 per cent of all box office money earned by Hindi movies.
Yeh Jawaani Hai Deewani
, co-produced with Karan Johar's Dharma Productions at a cost of Rs 50 crore, went on to make Rs 189 crore.
Kai Po Che!
was an even bigger delight to the bean counters. It yielded a nearly 6x return (cost of production: Rs 12 crore, box office revenue: Rs 70 crore).
Earlier,
Barfi!
, made at a cost of Rs 30 crore, raked in Rs 166 crore, just a whisker behind stablemate Rowdy Rathore, which brought in a crore more, but had cost Rs 55 crore to produce.
Johar, the man about tinseltown, who also worked with UTV to produce
Wake Up Sid
and
I Hate Luv Storys
, says Screwvala is part of a rare breed that understands the magic as well as the economics of filmmaking. "He is instinctive and his assessment is usually bang-on." Johar refers to the ease with which Screwvala and his team made a Bollywood potboiler like
Rowdy Rathore
as well as sensitive tales like
Kai Po Che!
and
Paan Singh Tomar
.
It is not that UTV has hit the bullseye each time. In the last 12 months,
Himmatwala
and
Joker
were the joke of the town for the gap between the hoopla and the moolah they generated.
Joker
, made at a cost of Rs 40 crore, did not even recover its cost at the box office. However, good-old de-risking pushed it comfortably over the line by garnering Rs 20 crore in satellite, television and music rights. But no one could help
Himmatwala
, Hindi for the man of courage.
The Elusive TV
Screwvala did not start out with movies. He entered the broadcast industry in 1990 hawking content. He made
Saanp Seedi
for Zee TV, based on the popular board game snakes and ladders, which lays claim to being the country' first reality show. He entered the world of soap operas in 1994 with
Shanti
, starring a more fetching Mandira Bedi wearing designer bindis. But it was not the usual prime time warrior. Shanti helped open up the afternoon hours for soaps. He started his own channel in 1995, but again with a difference: TSN was India's first home shopping channel. It did not get much purchase and was making annual losses of Rs 100 crore in 2001 when Screwvala decided to shut it down. "TSN was ahead of its time," he says. "The consumer wasn't ready for it. She wanted to touch and feel the products. The credit card penetration was also low at that time."
His second shot at broadcasting came when TSN was still on air. In 1998, Screwvala acquired Vijay TV, a Tamil channel from Vijay Mallya's United Breweries. Later he made it a joint venture with Star India and the channel managed to garner 12 per cent of the Tamil general entertainment market. But he exited it in 2004. "I exited Vijay because it needed huge investments and we didn't have that kind of scale."
Movies happened alongside. The first was
Dil Ke Jharoke Mein
, which Screwvala produced way back in 1997 - it is a film few would remember now. Taking a break from production, he distributed
Major Saab
, starring Amitabh Bachchan, in 1998 in a few territories and hit the jackpot with Aamir Khan's Oscar-nominee
Lagaan
in 2001. Riding on the impetus, he got into co-productions and made
Chalte Chalte
with Shah Rukh Khan's Red Chillies Entertainments and
Swades
, another Khanstarrer, with Gowariker.
It was time to put an end to the ginger steps. Screwvala took the plunge and moved to the studio model with
Rang De Basanti
in 2006, taking care of everything from content creation to marketing and distribution. Winning commercial as well as critical acclaim, the film set him on a path that has brought him to his current hegemony over the box office.
But, somewhere along the way, television was left behind.
There was Hungama, a channel for children Screwvala started in 2004. It became number one in its segment before Disney bought it in 2006. More than the $30.5 million the deal brought in, it started UTV's relationship with Disney. And this is what Screwvala is banking on to extend his purple patch into television.
He will need a generous dash of that colour. Looking at it one way, he has done everything right in television, while sticking to his theme of doing things differently and leveraging his film content.
Bindass
was the country's first youth-centric entertainment channel, targeting the 15-24 age group. It had just a couple of hours of original programming and that too only during the weekends.
The rest was film and music content, which needs to be paid for just once. A regular entertainment channel, on the other hand, has at least four to five hours of original programming, which has recurring costs.
In a country with half its mammoth population below the age of 25, it could have been a masterstroke to focus on the youth. But the analogue distribution system tripped up Screwvala. Carriage fees were as high as Rs 30 crore a year. Penetration was difficult. Thing are looking better with growing digitisation and Bindass's reach has risen from 66 per cent of the total television viewing homes to 82 per cent, according to channel tracking firm Chrome Track, Chrome Data Analytics and Media.
"Digitisation has been a shot in the arm. Our ratings have increased substantially as our reach increased," says M.K. Anand, MD, Media Networks, Disney UTV. The broadcast arm has recently picked up a 26 per cent stake in IndiaCast, the distribution arm of Viacom 18, which distributes over 35 channels. This, claims Anand, has given him much-needed might to negotiate with cable operators.
It may take a little more than browbeating cable operators to turn things around. There are five UTV channels in the fold. Of them, the two Hindi movie channels (UTV Movies and UTV Action) together get gross rating points (GRP, the most widely accepted measure of viewership) of 76. Segment leader Set Max alone gets more than twice as much. Bindass is doing well with 50 GRPs, but is behind youth segment leader Channel V. UTV Stars, in the same segment, has to make do with just 14 GRPs.
The four Disney channels - Disney, Disney XD, Disney Junior and Hungama - provide succour, together pooling in 327 GRPs. The flagship Disney Channel, which had a 69 per cent reach before digitisation, now has a 77 per cent. It leads the children's segment along with Pogo - the two are neck and neck.
The Professional
In his new avatar as the Disney UTV MD, Screwvala wants to approach the business the old way: differently. He won't touch the general entertainment segment, something he has avoided all his career. Screwvala's plan is to take forward the Walt Disney ethos of creating intellectual properties and building franchises. But that could be a risk in India, where the concept is still alien.
He will continue to create content for television, but only for his own channels. That will keep the intellectual property in-house. Unlike in the West, where the content producer owns the intellectual property of the content, the ownership in India is with the broadcaster. This limits the content producer's scope for monetising his content on other platforms.
Screwvala also wants to move to season-based programming, a popular concept in mature markets where shows appear for a just a season of 13 to 24 episodes, once a week for half an hour to an hour.
In India, of course, they appear five days a week, all year, every year, until nobody watches them anymore. The season approach helps in focusing resources better, since the money does not have to be stretched to cover 250 episodes a year, nor does the script.
"The psychology of making daily soap operas is that when you get something right the last thing you want to do is take it off the air. You tend to carry on. The exhaustion level sets in and in any case you are killing it. If you give it a break of three months and start again, you bring freshness into the content and that could work better," says Screwvala. He cites the example of the popular US sitcom Friends, which ran for 10 seasons for a total of just 180 episodes.
On the other hand, Star Plus's most popular show,
Kyunki Saas Bhi Kabhi Bahu Thi
, ran non-stop for eight years and aired more than 1,800 episodes. The ratings of the show, after peaking at 30 GRPs, dipped to a low of four. The broadcaster had to pull it off abruptly, without waiting for a logical ending.
42% Disney UTV'S share in Bollywood's revenue so far this year
The last year-and-half Screwvala has been busy integrating the Disney and UTV businesses, and thinking brands and franchises. "The Walt Disney Company is about creating intellectual properties and building franchises that span movies, television, games, theme parks, consumer products and more." Mickey Mouse, for instance, is a $5-billion franchise whose reach need not be described here.
Disney, a $42-billion enterprise, is known the world over as a family entertainment brand and Screwvala believes that will clinch the issue in India, too. "We see no one really occupying the 'family brand' space here. And I think Disney is best equipped to move into it. You will see the family positioning across all our verticals." Theme parks, though, are out of bounds for now.
"For a Disneyland to be created there has to be a certain minimum scale. The basic infrastructure is important, not just inside the theme park but in all the avenues leading to it from airports to railways lines to roads and public and private transport. So there are no plans for this at present."
The next few years would be spent building scale. "That's absolutely the key and what Disney has done is augmented the creative capital they had here. Actually, UTV is also a creative organisation - we create in television, in digital and we create in movies. If you look at that, you have the whole nucleus together."
A Matter of Scale
Scale, incidentally, was the reason Screwvala chose to sell. He admits that it would have been difficult to build UTV into a bigger company. "Scale has always intrigued me. From the UTV perspective also we were looking at scale. From the Walt Disney perspective they had an office here and were looking at scale. The question of making deep investments in all the verticals was the exciting part to me. Scale and the diversified business is the sharp level, where I think for the next few years I could contribute."
For Disney, Screwvala believes it was UTV's content creation capability, in contrast with others companies' platform capability, that held the biggest appeal. The US giant had been trying to enter film production in India and even got into a partnership with Yashraj Films to produce a series of animated films. Their firstborn, animated film
Roadside Romeo
, sank without a trace. It turned out to be the last of the partnership.
Disney UTV is looking at Disney-branded Hindi movies. How would those be? "Uplifting, heart-warming, family entertainment loaded with values. That would be the broad framework," says Roy Kapur, adding that a number of them are already in the works.
The operative word here is "family". Even when Disney makes an animation film, it is not merely for children. "Disney doesn't make animation for kids, it makes them for the family. You are going to see
Finding Nemo
not because you are just accompanying your daughter or your grandchild, you are going because you want to see it and you are taking them along," says Screwvala.
And yet animation is nowhere on the agenda right now. It wouldn't be, what with Arjun, an animation feature made at a cost of Rs 12 crore that released in May 2012, bombing at the box office. "India doesn't have an animation market because everyone thinks that animation is for a juvenile audience. The bulk of the cinemagoers in India is between 15 and 24 years. The company had attempted to attract them through its animation film
Arjun
last year, but it failed. A part of Arjun's experimentation was to start to age-up animation. It's going to be a slow process in India as nobody grew up on animation.
In the West people have grown up watching animation," says Screwvala.

Call of the Entrepreneur
So much for Disney. What about the entrepreneur who is remembered by his peers as "hands-on", "restless" and "aggressive"? Is that a thing of the past?
"I am surprised Ronnie has stuck to Disney, a rather laidback company. He is used to working 90 hours a week and is always hungry to do new things," says Ashoka Holla, Director at film content marketing firm Berserk Media, who owes it to Screwvala for sowing the seeds of entrepreneurship in him.
Screwvala has not cut all links with the world of start-ups. He has used his money from the Disney deal to set up Unilazer Ventures, which recently picked up 45 per cent equity in agri-based company INI Farms for Rs 20 crore. Unilazer also supports Swades Foundation, an NGO that aims to provide a million people in rural Maharashtra with drinking water, livelihood, health care and education in five years.
Screwvala, however, says Disney UTV is where his focus is. "I do have an inclination for philanthropy, but is that going to be a full-time occupation? No," he says. But those who know him - or think they know him - refuse to believe it. "Maybe he is bound by a contract and would soon be on his way out," says the former COO of a leading media network. He sounds almost wistful.
'We look to localise our businesses all around the world'

Andy Bird, Chairman, Walt Disney International, discusses his company's India plans with Ajita Shashidhar in an email interview:

Q. How different is India from your other businesses across the world?
A. Our goal is to create an "Indian Walt Disney Company", ensuring that each business and brand is locally relevant and reflects the local consumer's habits and tastes, while maintaining the core values of the company that remain the same around the world.

Q. Most global media companies have not localised their business and mostly look at exporting US content. Do you really have a strong priority to localise? So far, apart from your acquisition of UTV, there are few signs of it.
A. We look to localise our businesses all around the world. If you travel to Japan, for example, you will see a range of businesses designed specifically for that market, including Disney Mobile – a mobile phone service that is unique to Japan. In China, we have Disney English, an English language learning business that is unique to China. We tailor our consumer products, TV and digital businesses to each market.

We are doing the same in India and the acquisition of UTV was part of the strategy. UTV is now one of the brands of The Walt Disney Company, India, along with Disney, Marvel, Bindass, Hungama and Star Wars, so we have a range of very locally relevant businesses and brands in our portfolio.

Q. Without a general entertainment channel in your broadcast bouquet you are viewed as a niche player. Don't you miss out on the Hindi entertainment space?
A. Unlike most media companies in India, we have a diversified set of businesses that range from movies and TV, to mobile gaming, consumer products and beyond. What is unique, particularly with the Disney brand, is the ability for con- sumers to experience it across many businesses. So a consumer can watch Disney Channel, buy Disney consumer products, watch a Disney movie, even go to Hong Kong Disneyland.

These options give us greater breadth than just TV and so there's no need for us to get into the GEC (general entertainment channel)space.

Q. What is your vision for some of the verticals, such as Consumer Products and New Media/Digital?
A. The ability of consumers to experience Disney across many businesses is very important. Clearly, as retail develops in India, we will have more and more opportunities to build our consumer products business. Similarly, as 4G enters the market, there is going to be a revolution in terms on how consumers access media and games and that gives us a great opportunity to build on the success of Indiagames. We will continue to envelope our TV channels and movie studio and look to see if we can bring new businesses to India, like Live Entertainment.

Q. Your association with UTV and Ronnie Screwvala dates back to 2006, when you bought Hungama. Can you tell us what you saw in the company that you bought it?
A. I am a great believer in people building success and with UTV and Ronnie, I saw an entrepreneur and team that had built success quite rapidly. Hungama is a great example of how they looked at the market and took on and beat a well-established competitor in Cartoon Network in a relatively short period of time. In our efforts to build a more locally relevant company in India, I felt the acquisition of Hungama was a good start. Over time, I felt that we needed to build scale in India and there was no better way of doing that than buying UTV and folding it into TWDC India. I wanted Ronnie to lead the new organisation, so that we could make use of his entrepreneurial skills and develop a longterm strategy for the company.

Q. Do you see Screwvala at the helm of Disney India or do a succession plan in place?
A. Once Ronnie had decided to sell UTV to us, it was natural that he'd be our Managing Director and we could benefit from his vision and leadership. We never comment on an individual's employment contract, but Ronnie is fully invested with integrating all the businesses together and working on a long-term strategy for the company.

Q. Finally, where do you see Walt Disney India in three years?
A. We never take a short-term view on our businesses and three years is a very short timeframe. I know that each business will have grown significantly in that time, but more importantly, we will have set a long-term strategy in motion that will position Walt Disney India for success for decades to come.
Diversified Play

Ronnie Screwvala doesn't believe that the holy grail of every television production house India should be a general entertainment channel (GEC). "To us, creating intellectual properties (IPs) and franchises is much more valuable," he says. His model is to create content, own the IP and monetise it across his multiple verticals.

Emotional Atyachar, for instance, Bindass' channel's top-rated show, has been created by Disney UTV, which thus holds the IP for it. Hence it could next create a web version of the same programme on the Bindass YouTube channel. Apart from films and broadcast, Screwvala is betting heavily on new media and consumer products. He says that the industry's next big catalytic shift will take place with the coming of wider bandwidth. "The increased bandwidth will enable you to do several things on a portable device, be it mobile or tablet," he says.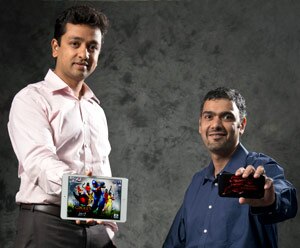 Sameer Ganapathy, COO, Digital, Disney UTV, says the mobile - or some other form of personal device - will soon replace the TV set as the primary device for content creation. "TV will remain a family device as India is still a single TV home. But if a family on an average has four members, they will have at least four personal devices on which they will consume a bulk of the content, making it their primary device," he says. This will bring Disney UTV many opportunities as content providers to offer myriad short-form content, gaming content and other specialised products.

While the industry at large feels that Disney-UTV has not had much success in its interactive business, Screwvala says that perception does not match reality. He claims that UTV has a 40 per cent share of the mobile gaming market in India (it has a portfolio of 750 games) and owns three of the top 50 YouTube Channels (UTV Group, Bindass and UTV Stars). Its content has more than 250 million downloads on the Nokia Ovi store. "We have 12 million loads per month across all kinds of games, which makes us the clear market leader. For us the big bet is mobile." says Abhiskhek Maheshwari, Vice-President, Corporate Strategy and Business Development. One of the recent games that has got six million downloads, is a mobile game related to IPL.


If a show like Emotional Atyachar is extended to one-minute web-episodes on the YouTube channel, the next logical step could be creating merchandise around it. After all over 35 per cent of Disney's revenue comes from consumer products. Consumer Products is a Rs 100 crore business for Disney UTV. Roshini Bakshi, MD, Consumer Products, Publishing and Retail, Disney UTV, says that the past year has seen one of the fastest growth rates in the consumer products business. She says that Screwvala, who was new to the retail side of the business has been a great student and a great teacher as well. "He has been a quick learner and now he questions and challenges," she adds.

Disney consumer products stretch over 2,500 stock-keeping units (SKUs) and are available in over one million stores. "What is not known and is amazing is that this year around Rs 1,200 crores of Disney licensed goods were sold and consumed in India," says Screwvala.

Ajita Shashidhar