On the 10th of every month, State Bank of India's headquarters at Nariman Point in South Mumbai plays host to some eager guests. Heads of several of India's 15 asset reconstruction companies (ARCs) make a beeline to review the 'for sale' bad loans that India's largest bank would be willing to hawk for a price. A similar exercise takes place at some of India's largest banks, though not necessarily with such regularity.
Till fairly recently, such meetings were infrequent and resulted in one-off transactions. But, of late, the intensity of deals emerging out of such exchanges is soaring. And that, in turn, is giving rise to an unprecedented boom in India's distressed assets business. In the first decade of the existence of ARCs, banks sold all of Rs 87, 049 crore of bad loans for Rs 19,308 crore. But in the past two years alone, ARCs have bought bad assets worth Rs 1,02,068 crore for Rs 43,243 crore. Last year, SBI alone had shed assets worth Rs 12,500 crore, Bank of India Rs 2,844 crore and Central Bank of India Rs 1,119 crore. These include SBI's Rs 1,600 crore loan in Bharati Shipyard to Edelweiss ARC, Rs 900 crore Hotel Leelaventure loan to JM Financial ARC and Rs 1,500 crore loan in Corporate Power to ARCIL.

Several factors are driving this flourishing trade in bad assets. But the biggest trigger came in November 2013 when Reserve Bank of India Governor Raghuram Rajan, in a strongly worded exhortation, asked the banking system to clean up its act. "You can put lipstick on a pig but it doesn't become a princess. So dressing up a loan and showing it as restructured and not provisioning for it when it stops paying, is an issue," he had said. Until then, scared to bell the cat, banks had been ever-greening their bad loans - and slipping deeper into the abyss. What alarmed Rajan was that the gross and net
non-performing assets (NPAs)
in the banking system had hit an alarming 4 .2 per cent and 2.2 per cent, respectively, by September 2013 when Rajan came in, against an average of 2.6 per cent and 1.2 per cent, respectively, between 2009 and 2013.
Under Rajan's stewardship, the RBI has announced a host of measures that have fuelled distressed asset sale business. Early last year, the central bank allowed the banks to sell even the loans where the principal or interest was overdue by 60 days rather than 90 days, earlier. In essence, it allowed banks to start selling assets early if they felt the loan was non-redeemable. Other factors are also responsible. ARCs are betting heavily on the proposed new bankruptcy law which will give them a greater leeway (including sale of whole or part of the company and change of management or promoter) to revive the distressed assets. Four, in general, the industry believes that the Indian economy has seen through the worst of the slowdown and things can only look up from here. And, those who have the cash are happy to buy distressed assets since they come at a significant discount to an identical greenfield project.
For over 10 years, it was only ARCIL, backed by SBI and ICICI, which was active in buying loans from its sponsor banks. But a majority of new ARCs have been set up after 2008/09. Among the newest, Edelweiss ARC which was set up in 2009, has worked up a portfolio of over Rs 20,000 crore. At the second spot is ARCIL with a portfolio of Rs 11,000 crore. The top five ARCs make for nearly 90 per cent of the accounts under management. Essentially, that means the ARC takes over the asset, or company, and tries to revive it by managing it better, instead of trying to recover money by selling off parts of it. Not everybody is chasing assets under management (AUMs) though. "We look at it as an investment business. We are not in the AUM game," grins Eshwar Karra, CEO of Phoenix ARC, Kotak Group, formed in 2004. Karra deals with only sub-Rs100-crore loans, with a focus on turning around the companies and sold quickly instead of volumes
The big reason why ARCs remain enthusiastic is because sale of bad loans will only intensify. Banks, after all, are sitting on a pile of bad debts. Of the Rs 70 lakh crore that the banking system has given in advances, nearly Rs 7.7 lakh crore is believed to be classified as 'stressed assets' that have defaulted on their payments. Of this, Rs3.1 lakh crore is already defined as gross NPAs on which there has been a default. A lot of that is likely to be made available to ARCs for sale. So, while the banks are being pushed by the regulator to clean up their books, ARCs see an opportunity of making big bucks like their counterpart asset management companies (AMCs) and hedge funds in the US.
Globally, the distressed assets market began to emerge in the late 80s and early 90s in the US. In fact, most of the modern day private equity firms - KKR, WL Ross and JC Flower - owe their existence to early successes in the distressed assets business. By now, the US is also a major market for the ancillary industry around distressed assets, including trade in bonds of distressed companies and turnaround funds which buy completely broke companies, take over their managements, turn them around and then sell them. In Asia, the distress industry grew post the East Asian currency crisis in the late 90s. Early distress investors, such as Clearwater, Cerberus Capital, GE and Loan Star Funds, have made significant gains from such junk assets. Over the years, hedge funds have become rich and powerful enough to intervene in sovereign debt as Argentina is beginning to discover in the bitter dispute between two New York hedge funds Gramercy Funds Management LLC and Elliott Management Corp. In fact, Elliott even impounded an Argentine Navy vessel for non-payment, while the Argentine President Cristina Fernandez de Kirchner has vowed never to negotiate with the fund calling it "vultures".
A Hard Job
Despite the enthusiasm around distressed assets, it is not a job for the faint hearted.
ARCs are a breed born out of the Securitisation and Reconstruction of Financial Assets and Enforcement of Security Interest (SARFAESI) Act of 2002. The objective, says former finance minister Yashwant Sinha, "was to enable the banks to acquire the securities which had been pledged and sell them without the interference of the courts". Sinha adds: "We did away under this Act with the jurisdiction of civil courts and gave a huge power to the banks to deal with the issue of NPAs."
Not everything has panned out exactly as planned. Several legal and regulatory hurdles have meant that ARCs were unable to exercise the kind of freedom to turn around these bad assets. "We have such a decrepit system for enforcing securities. In theory, it should be easier to enforce a pledge to sell a company and kick the management out, but most company managements will not go easily, and buyers don't want to get into this trouble. He will buy only if you are giving it to him 100 per cent in an uncontentious manner," says Harsh Pais, Partner, Trilegal, a Delhi-based law firm.
Take the case of Bharati Shipyard. A year after Edelweiss ARC bought Bharati Shipyard's Rs 4,570 crore loan from 12 of its 23 bankers, there awaited a surprise. As many as nine winding up petitions appeared out of the blue in the Bombay High Court thwarting the attempts of Edelweiss to turn around the cash-strapped ship building firm. Surprisingly, insurance giant Life Insurance Corporation (LIC) was also one of the petitioners despite being a secured creditor.
Yet, Edelweiss group chairman and CEO Rashesh Shah remains bullish. Shah, who began his career with the ICICI group when it was still a development finance institution and had not turned into a bank, believes he knows how to deal with stressed assets. "Very often a distressed company is still viable, but it is just that it is indebted," says Shah.
Last year,
SBI
and Bank of India jointly sold a loan of a distressed commercial mall in upmarket Bangalore. Phoenix ARC and Edelweiss ARC acquired the loans at different points in time from three banks and they agreed to work together to revive the Mall. It was a semi-finished mall with a loan outstanding of Rs 400 crore. The project also had ready tenants on papers, but because of lack of funds, the mall's work was suspended indefinitely. The banking channel refused to lend and non-banking financial institutions (NBFCs) were circumspect. The two ARCs acted swiftly by bringing in an additional Rs 70 crore to complete the project. "The stalled mall had no value, but by infusing additional funds, we will increase the value of the fully occupied mall to Rs600 crore based on the annual lease rental income of over Rs 60 crore," says Shah. If it goes according to plan, both Edelweiss and Phoenix ARC will make supernormal profits in this distressed asset. The lending banks, too, will get their money back. Phoenix ARC's Karra says resolution works for him as the company boasts the highest 70 per cent redemption record of security receipts issued to banks in exchange of bad assets. Shah is, however, looking at the restructuring route by working with promoters alongside: "We see this as a resolution business, while many of our peers are looking at it as a recovery business," he says, adding: "Resolution business is more of aggregating debt, fresh infusion of capital, identification of non-core assets, and bringing in a strategic partner. This requires a good mix of financing background, investment banking capabilities and also an understanding of the equity market." Edelweiss ARC is manned by IDBI Bank's former executive director Siby Antony.
Sale of loan to ARCs, however, is the last resort for banks. Unlike retail defaulters where banks are known to hire musclemen for quick recovery, corporate loan recovery is a different ball game. At times, there are labour unions demanding their pound of flesh; statutory authorities like income tax to excise jump in to claim their dues; employees approach the court for bankruptcy proceedings. But in most cases it is the deposed promoters/management that pose the biggest hurdle in a revival.
Sitting at the Edelweiss House in a Mumbai suburb, Antony is strategising to push the Bharati Shipyard winding up petition out of his way. Bharati has promised to repay the unsecured creditors in 12-15 months. Antony has also engaged with Bharati Shipyard's promoters PC Kapoor and Vijay Kumar, and other lending banks which did not sell their loans.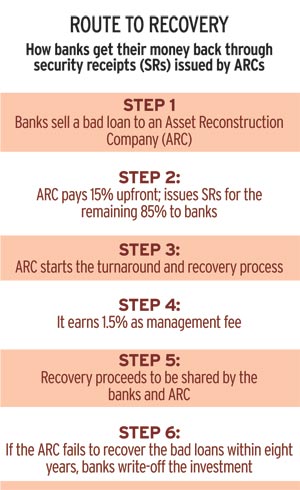 Not far away from Edelweiss' suburban headquarters is the 17th floor office of P.K. Malhotra, Deputy Managing Director (Stressed Assets Management) of State Bank of India. Malhotra, a veteran of banking with over three decades of experience, cannot seem to hide his smile. SBI had even hired consultant Alvarez & Marsal to turn around Bharati, but with no success. In fact, a corporate debt restructuring could not save Bharati. Malhotra, who spends most of his time identifying the bad loans for auction, is making sure that the bank has exercised all its options before parting with the loan. Banks' options start with a CDR package, suggesting one time settlement, exiting non-core assets, infusing additional funds, bringing in strategic investors and then suggesting complete takeover by another player.
For Malhotra, keeping bad loans in SBI's books is like feeding a white elephant. The ARC route gives the bank 15 per cent (earlier 5 per cent) of the negotiated sale amount as upfront cash, while the remaining stays in the book as investment in security receipts (SRs), which gets redeemed over a period of five to eight years, depending on the ARCs' ability to recover. Past records show that ARCs returned 50 per cent of the SRs issued to banks. Clearly, Bharati is off Malhotra's back today. It is now the headache for Antony. The company founded by two technocrat-cum-entrepreneurs from IIT Kharagpur - Kapoor and Kumar - has been making huge losses for the last three years.
Any setbacks, such as that of Bharati's, haven't deterred top ARCs from buying big. ARCIL, the oldest ARC, bought another whopper of a deal in April this year. It acquired the Rs 3,000 crore bad loans of Corporate Power, a company belonging to Nagpur-based Abhijeet Group.
For almost two years, its bankers had been negotiating with potential buyers, such as SREI, JSW, NTPC, TATA and the Adanis, to sell the loan, but with little success. SREI Infra was the first to show interest, but the deal couldn't go through because bankers were not ready for a major haircut. They believed that the company could be revived as its 1,080 MW power plant installed by BHEL (no Chinese equipment, stresses a banker) had a captive coal mine. "The plant was near the pit head. The coal was of good quality. The transportation cost was minimal," says the representative of a lender. There was an interest for complete buyout, but negotiations fell through midway. The reasons were the uncertainty over the mines as it came under CBI investigations for irregular allotment of coal mines (see The Big Asset Sale).
There are success stories too. Edelweiss claims to put Electrotherm (India), a leader in induction furnace, on a revival path. Edelweiss bought Rs 1,500 crore of the Rs 3,400 crore debt from over half-a-dozen banks. "We converted a part of the debt into equity," says Antony, whose ARC now holds a 10 per cent stake in the unit. Today, Electrotherm, which has been a loss-making unit since March 2012, has seen its revenues jump from Rs 659 crore in 2013/14 to Rs1,829 crore in 2014/15. "I have to ensure 18 per cent IRR (internal rate of return) otherwise there is no business in the bad assets," says Antony.
Bankers' Dilemma
The sale of large NPAs, such as Bharati and Corporate Power, indicate a clear change in the banks' approach towards selling bad loans.
Earlier, banks sold only the written-off bad loans which were practically dead assets. They also sought a high price. Now, with the RBI on their case, banks are in a bind, even as there is no respite from bad loans. For public sector unit (PSU) banks, the government has stopped liberal funding of capital every year. The only option now is to generate cash by selling bad loans to ARCs.
Take for instance the case of SBI, which sold the biggest chunk of bad loans of around Rs 12,000 crore in its history in 2014/15. "This has helped us to clean our balance sheet. The transfer to ARC will also generate some return for us in the future," hopes Malhotra. This is true for the banking sector at large. ARCs, says SBI, remains the most pro-active. In fact, it has made sale of bad assets like an assembly line activity. The bank's monthly sale of NPAs (quarterly earlier) say a lot about SBI's seriousness to clean the books. "We have substantially improved our information inputs to ARCs," says Malhotra. SBI allows three weeks to ARCs to do their due diligence before accepting the bids. (See SBI's Sale To ARCs).
Undoubtedly, the big shift in SBI's approach is the sale of fresh NPAs, such as the Hotel Leela-venture exposure of Rs 4,200 crore. It was put up for sale within three months of declaring it as an NPA. The sale to JM Financial ARC, however, came as a big surprise to the promoters of the luxury hotel chain. The bank reasons that there was no hope of generating cash in the next four to five years.
Patron RBI
Much of the credit for the excitement in the distressed assets business must go to the RBI. "Most of the changes have come from the regulator, which is also in response to the build up of NPAs in the system," says Nikhil Shah, Managing Director at Alvarez & Marsal. ( See The Push Has Come From The RBI).
In the past 18 months, the RBI has introduced a slew of reforms, including hiking the initial investment by ARCs from 5 per cent of the acquisition amount to 15 per cent, to discourage ARCs from relying heavily on the management fee model for their survival.
In the 5:95 model, ARCs used to buy a bad loan at a discount from banks' book value by paying just 5 per cent upfront in cash, while the balance was in the form of security receipts issued by them. ARCs also get a management fee of 1.5 per cent every year on the overall AUM they manage. In the 5:95 scenario, ARCs were content playing the management fee model because on an investment of Rs 5 (on a Rs 100 loan), they were earning Rs 1.5, which meant a 30 per cent rate of return on the investment of Rs 5 (see Route To Recovery).
Ever since the RBI mandated the cash composition to 15 per cent (15:85 model) in August last year, ARCs have a greater stake in moving from the 'management fee' model to the 'investment model' as the 1.5 per cent management fee only amounts to 10 per cent rate of return on a cash investment of 15 per cent. This gives the ARCs more of an incentive to actually turn around the company and make it profitable, instead of just passively earning profits through management fees. It also ensures that they work harder.
Restructure, Resolve and Deliver
ARCs have no magic wand to revive a sick unit. They mostly use the bilateral route by working alongside the promoter to de-leverage the business. "We are financial restructuring specialists. We are not business restructuring experts," says Eshwar Karra, CEO of Phoenix ARC. Players like ARCIL and Edelweiss are playing in big loans where dozens of banks are involved. Loan aggregation is a huge challenge and the resolution strategy centres around restructuring of loans to revive a unit.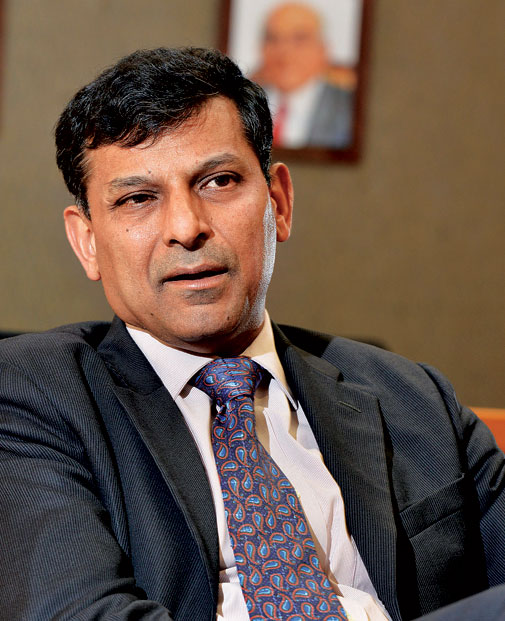 JM Financial, which bought the Leelaventure loan, is in a bind. Loss-making Leela is asset-rich with well-run hotel properties. JM is still in dialogue with the company's management, which is asking for certain concessions in interest and repayment terms from JM Financial. Meanwhile, Leela has also approached the government to provide concessions to the hotel industry, in terms of loan refinancing. "We have represented to the government for longer term loan for hotel industry by including existing hotels in the refinancing scheme. We are awaiting response," says Vivek Nair, Chair-man and Managing Director, Hotel Leelaventure.
Three months ago, JM had put out an advertisement for the sale of Hotel Leela's Chennai and Goa properties to reduce the debt burden. "They are yet to zero in on the sale. In this difficult environment selling a large hotel property is very difficult," says a banker. In May this year, the company decided to mobilise Rs 1,000 crore through equity or debt. "Ultimately, Hotel Leela will be a strategic sale to a big hotel chain," says a rival ARC official. JM Financial refused to participate in the story.
Edelweiss ARC, on its part, is arranging Rs 600 crore from high networth individuals (HNIs) to complete its order for delivering a couple of ships to Bharati Shipyard. Unlike banks, Edelweiss ARC has the flexibility to reduce the interest rates drastically, whereas banks cannot lend below their base rates. Similarly, Edelweiss could convert part of Bharati's debt into equity, whereas such decisions by banks would come under scrutiny. ARCs actually have no such worries. "Our short-term plan is to revive the company in 24-30 months," says Antony. There are some who say new investors (generally private equity) demand priority over existing lenders as they are taking a bigger risk. "This preference is not acceptable to those banks who have not sold their loans," says a market observer.
While ARCs try to identify and take only those assets which can be made viable, it does not always play out that way. The oldest, ARCIL finally got the Corporate Power loan at a hefty discount, but the entire economics of the project has now turned on its head. The coal mine was re-auctioned recently to another player. Now, the coal mine advantage does not exist any more. Another big negative is the location of the unfinished plant. The Corporate Power plant is in Chandwa in Latehar district of Jharkhand, which is a Naxalite-affected region. "We are working towards a resolution. We have to finish it. We have to get coal linkages. We have to also get the power purchase agreement (PPA) revised," says an official of ARCIL.
"Banks generally have factory buildings or land as security, but what about the other assets in a business which are not subject to security, such as business licenses, contracts, customers, employees, etc.? How do you transfer these assets under SARFAESI? There is a big hurdle in transferring the continuity of the business," says Haigreve Khaitan, Partner at Khaitan & Company.
In cases where an ARC decides to opt for the asset-stripping route without the consent of the promoters, there is lot of resistance. ARCIL has struggled to sell Tulip Star Hotel (erstwhile Centaur near Mumbai's Juhu beach) for many years. The company has successfully challenged the SARFAESI notice of ARCIL in the past. Board for Industrial and Financial Reconstruction (BIFR) is yet another escape route where, after the failure of a corporate debt restructuring (CDR), promoters can immediately approach the board. "Once you take a SARFAESI action, BIFR action gets abated. But practically, it doesn't happen," admits an ARC official.
Many ARC heads say that the legal system is the joker in the pack that spoils the recovery process. Globally, AMCs are set up to resolve NPAs. They have the backing of a judiciary to help in repossession and sale of assets. The reality in the Indian context is that you cannot throw a promoter out of the company. Shah's biggest learning in a short period is: "You cannot be adversarial with banks and promoters. You have to find a win-win deal involving the ARCs, banks and promoters." There are currently 20 lakh recovery cases pending in Lok Adalats, Debt Recovery Tribunals (DRTs) and SARFAESI. According to the RBI, Rs 1,73,100 crore worth of money is locked in courts with the recovery record at Rs 31,100 crore as on March 31, 2014. (see Resolution Through Courts).
The Bankers Guide
Bankers hold a grudge against ARCs that they are unable to turn around the stressed assets despite a lot of flexibility in restructuring a loan. "ARCs have limited financial muscle, which leaves little scope for revival," says the head of a PSU bank. ARCs have spent barely Rs 3,400 crore to acquire total assets of Rs 1.89 lakh crore of book value till date. If all the NPAs do find themselves in the market, that's another Rs 3.10 lakh crore which require at least Rs 22,500 crore of capital from ARCs by the 15:85 principle. That's the kind of money ARCs do not have today because of various reasons: they are not allowed to go public for now and there is no secondary market for security receipts.
ARCs find it difficult to access funding for basic needs like working capital. The selling banks cannot lend, while non-bank entities, such as private equity, demand 18-20 per cent interest with priority in repayment over existing debt. This leaves the responsibility of a haircut on debt on the capital-starved ARCs. CRISIL points out in its recent study that an ARC had to arrange for working capital for a textile company (name withheld) when banking channels shut their doors on it. Similarly, another ARC arranged funds for a mid-sized developer to complete the project.
There are some who suggest that the ARC game play has changed with a higher initial contribution at 15 per cent for them. "This requires an integrated approach (involving) support from PE firms, distressed funds and turnaround specialists, among others," says Hari Hara Mishra of a Delhi-based ARC.
"There have been a couple of transactions in the recent past where foreign institutions were interested in ARCs. For example, KKR showed interest in International Asset Reconstruction Company (IARC) and Hong Kong-based SSG Capital in Delhi-based ACRE. For global players, investing in ARCs enable them to take an exposure in the growing distressed market and, this may prove to be a win-win for both. "These global investors provide transfer of technical knowledge, information and capabilities, which is going to equip ARCs to handle complex cases. This will also provide access to global network in terms of investments and industry knowledge," says Munesh Khanna, Partner (Corporate Finance) at PWC.
"Foreign capital must come here because ARCs are starved of capital. The track record of ARCs has been abysmal in terms of return on equity," says Vinayak Bhuguna, CEO and Managing Director of ARCIL. The return on equity is barely double digit. So the performance has to go up to attract foreign capital. Currently, the capacity of ARCs to take up more fresh bad loans is also limited because of their low capital base. According to a report on ARC business in India by turnaround specialist Alvarez & Marsal, the current capitalisation of all ARCs put together is around Rs 3,000 crore. "With the cash component increased to 15 per cent of acquisition, the net worth of ARCs would be sufficient to acquire only Rs20,000 crore of stressed assets. Assuming ARCs acquire the NPAs at a discounted norm of 60 per cent of the book value, all ARCs put together can garner Rs 33,300 crore of NPAs," says the report.
The recent RBI move to allow banks to take 51 per cent equity by converting their debt will be a game changer. "This will work as a threat for defaulters. It will force promoters to come to the table," says Birendra Kumar, Managing Director and CEO at IARC. If that happens, a lot of stressed assets will not reach the ARC stage. Skeptics, however, say banks are not in the business of running a hotel or an airline. "Banks will enjoy a provision arbitrage for 18 months after converting their debt into equity. But after 18 months, they also have to sell the company to investors. If they don't sell, the banks will have to mark to market the value of their equity periodically," says Khanna.
More Gaps to Plug
Either way, there's miles to go before ARCs have sound sleep. One of their biggest bugbear is that banks do not follow a consortium approach of selling and, therefore, ARCs have to resort to a time-consuming process of dealing with each bank separately. Bharati and Hotel Leela are good examples of the consortium approach where SBI took a lead, but in most cases, ARCs have to run after individual banks. This process could take as much as 6-12 months. "Big banks like SBI and ICICI, which are in big loans, can take a lead in bringing together all lending banks in a defaulting company," says an ARC official.
Last week, ARCs raised another issue with Union Finance Secretary Hasmukh Adhia - that of joint bidding by ARCs. They suggested joint bidding would spread the risk in a large account. In Hotel Leela, Kotak's Phoenix actually bought a small quantity of loan from a bank, which declined the JM offer because of valuation. Similarly, private equity players should be encouraged to buy stressed assets. Global private equity player KKR has already shown interest in acquiring a controlling stake in IARC. If the deal goes through, IARC will have access to KKR's management bandwidth and its war chest of funds.
Raman Singh of Bank of India, who deals in stressed assets, says ARCs' track record shows a recovery of 10-12 per cent of the book value and 50 per cent of the acquisition cost. This indicates half the SRs are as good as junk.
mosimageThe outstanding SRs currently stand at close to Rs 50,000 crore. And, more will get added along the way. If ARCs succeed, banks will also get their money, which is the objective of promoting specialised ARCs to recover bad loans in the economy. But if they fail to recover loans, it's merely a book entry of transfer of a junk asset from a bank to an ARC. It is in the interest of everybody- the government, the banks, the legal system and the ARCs - to make the system work so that the NPA monster can be tamed.