Tern Link D8
Exclusivity comes at a price. But not everyone minds paying the extra buck to buy something which no else has. Here is a collection of gadgets which will find few takers due to a lot of factors, but are undoubtedly becoming popular within a niche group .

Tern Link D8
(Price on request)
Tern's Link D8 is a foldable bicycle that you can throw in your car's hatch ride whenever you get a chance. It has got the N-Fold technology that helps in faster and compact folds - in less than ten seconds. This one has got a 20-inch wheel and 8 speed levels. Weighing 12.1 kg, it can handle a maximum weight of up to 110 kg. For carrying luggage, there is an optional luggage truss in the luggage socket.
-N-Fold helps the D8 fold in 10 seconds
-The fork uses integrated, hi-tensile steel
-Schwalbe Citizen tyres offer puncture protection
-The D8 uses SRAM MRX Comp shifters


Spykee Mini VoxRs 7,999
The Spykee range of toy robots from Meccano can respond to voice commands and computer controls and do some interesting stuff. This interactive robot comes in a do-it-yourself box and can be assembled in a couple of hours. It speaks, moves and even dances to music and has got light and sound effect as well.
Takes voice commands in multiple languages
-
Can be personalised to respond only to one voice
-Can be used by children above the age of 7

Wantrn Mosquito Killer
Rs 999
This chemical-free battery-powered device traps mosquitos by luring them with light
Thrustmaster Hotas Warthog Flight StickRs 56,361
There are joy sticks, high-end keyboards and even steering wheels for racing games, but there are not many like this one. Aimed at those who are hooked to aviation games and simulations, the Thrustmaster HOTAS Warthog Flight Stick is a replica of the actually thing on the US Air Force A-10C attack aircraft.
-Detachable handle for cockpit-style use
-19 action buttons plus one 8-way button.
TRAKTOR KONTROL S4Rs 53,000
Traktor Kontrol S4's fully integrated system offers a hardcore DJing experience, in your home. It is powerful and fuses a premium-quality four-channel DJ mixer, a built-in 24 bit/96kHz soundcard, an intuitive controller and the flagship TRAKTOR PRO 2 software with remix decks.
-Two jog wheels, mixer and loop controls
LG Song Star
Rs 14,000
Designed with the Indian market in mind, the LG Song Star is not just another Karaoke device. In fact, this michrophone set comes preloaded with over 4,000 songs including regional languages. There is echo and tempo control as well as real-time song rating. You can also queue up to 45 songs in one go.

-There is a two-mic version too at Rs 20,000
Eton Scorpion NSP100GRRs 4,308
This compact, yet power-packed, multi-purpose digital weather radio can get its power from the sun or some old fashioned hand power using a crank. The radio can catch AM as well as FM and there is also a built-in LED flashlight. Other features include a USB phone charger.
-You touch on the side panel to move through the screens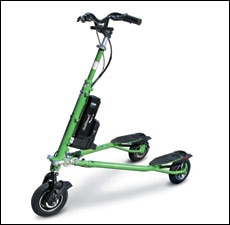 Trikke36 VliteRs 1,09,999
Segways are great, but they work better in controlled environments. The Trikke on the other hand is an electric ultra-light personal transporter powered by a 36v Lithium-Ion Panasonic battery. The transporter can be used to ride in two modes - low at 18kmph and high at 25kmph.
-The battery is good for 45 kms on a single charge
Go Pro Hero 3Rs 35,000
If you want to record your action-filled life, then there is nothing to beat a GoPro. It's latest version, the Hero 3, comes with a wearable, mountable design and can capture wide angle shots. The rugged device has a professional 4k cinema 15fps camera.
-The Hero 3 can be controlled by a remote
-The camera is Wi-Fi enabled to connect to smartphones
Celluon Magic CubeRs 1,09,999
The rumoured laser keyboard in Apple's iPhone never came true. But the closest you can get to this is the Celluon Magic Cube projection keyboard, which uses safe laser to project a fixed keyboard pattern onto a flat surface to make typing on tablets and smartphones easier.
-Works wirelessly with all iOS and Android devices
-Mouse feature tracks natural movement while reducing stress
CamelBal Asset 2L
Rs 4,999
Compact hydration system to carry on treks or bike trips. Along with the water, it has space for face helmet, body armor, goggles, snacks, tools, phone, wallet and keys
Oster Wine Chiller, openerRs 5,874
This stainless steel single bottle electric wine chiller has got an opener as well as a recharging base. It removes the cork at the touch of a button and can open up to 30 bottles on a single charge. Plus, it keep bottles chilled for a couple of hours.
Wine chiller is made of thermal stainless steel
-The base helps recharge the bottle opener
Cuisinart ice cream makerRs 21,217
Make your guests feel special by whipping up a homemade ice-cream for them. The Cuisinart ice cream maker can make frozen desserts, be it fat-free or low-fat frozen yogurts or rich icecream. With a brushed stainless steel finish, this appliance comes with 2-liter capacity. There is a detachable mixing paddle for convenient use.
-Double insulated freezer bowl eliminates need for ice
Nespresso PixieRs 19,500
For those of you who like a strong cuppa of Espresso to start your day or to instill life into your white milky coffee, the Nespress Pixie could be just the thing. With programmable buttons and a drip tray that can fold to accomodate large mugs, the compact Pixie can brew a hot one in under 30 seconds. A set of 10 coffee capsules will, however, cost your about Rs 700.
-Machine switches off after nine minutes
Portable Party Pub OBRs 55,023
Those who love to party will love this portable pub from Avanti. This 5-liter pub has got a compact design that makes it easy to carry around. It can still accommodate two mini kegs and has a glass storage shelf for chilled mugs. There is also a Draught Style Handle and Tap, a safety latch to ensure the door stays closed while dispensing beer and an interior LED light.
-
A see-through window shows the keg being dispensed
Severin Bread makerRs 8,349
Severin's bread maker comes with 12 settings for different kinds of breads, cakes, dough for buns or pizza and marmalades. Add flour, water, yeast and salt and the fully automatic kneading and baking operation of this device will do everything. It has got a user friendly LED display and baking cycle selector and can keep the bread warm for up to an hour after baking.
-The lid is detachable, so is the pan inside
Google ChromeCast
Rs 6,499
Here is one simple way to make any TV smart. Plug Google's new CromeCast to an HDMI port on the TV and it connects to your Wi-Fi network to go online or just mirror what is being shown on your Chrome browser. Set up is simple, but you need the free Chromecast app to play content.
Works with Android, iOS tablets and smartphones
Dyson AM02
Rs 33,000
Fans with blades are so twentieth century. If you consider yourself modern then you need a Dyson with neither the blades nor the grilles. Its patented air multiplier technology draws air into the fan, multiplying it 18 times to create an uninterrupted steam of smooth air. The AM02 has a tower design and its unique features make it easy and safe to use and clean.
-The fan is safer as there are no blades on it-Power settings are precise and not limited to five levels
Bose Solo TV Sound SystemRs 28,013
Bose offers a Solo TV sound system dramatically improve music, action and sound effects on TV. The single speaker is designed for flat panel TVs measuring up to 42 inches.
-There is a simple remote to control settings
-It fits under the display and has a solitiary wire
Lifesaver Bottle 4000 $160
This ultra filtration water bottle can make any water drinkable by eliminating microbiological pathogens without chemicals.