HTC One
One-upmanship is on full display. The relentless efforts of device makers to beat the competition through innovation or plain filching (often leading to patent issues) have only helped consumers. Some great devices hit the stands in the last one year. Here, we recommend the best of them.

BEST PHONES

Best Smartphone
HTC One
Smartphone makers now launch even more than one flagship smartphone a year. The one that caught our fancy this year was HTC One with its beautiful design plus great performance and impressive camera. It took on the Samsung Galaxy S4 and for us is the winner on every parameter.


Best Camera PhoneNokia Lumia 1020
Gone are the days when we had a category of devices called camera phones. Today, every mobile phone has a decent camera. But the one with the best camera that was launched this year, in our view, is the
Nokia Lumia 1020
with its 41MP camera. Images captured by it are far better than on any other device. It also offers manual settings one can play around with.
Best Phablet
Samsung Galaxy Note 3
2013 was full of smartphones boasting 5 inch + display. While there were a few impressive phablets such as the Sony Xperia Z Ultra, LG G2 and a few others, Samsung is the best in the segment with its Note 3. It has increased the display to 5.7 inches but maintained the same width and weight. Samsung has further enhanced the use of its stylus, making it a complete winner.
Best value for MoneyLG Nexus 4
Google's phone brought into the country by LG is priced at Rs 25,999, making it the best smartphone in this price category. Featuring a 4.7 inch display with a quadcore processor, it comes with an assurance of getting the latest Android updates as soon as they are released. No need to depend on LG for the software update. The 8 MP camera and vanilla Android OS too work in favour of this smartphone.
---
BEST LAPTOPS
Best AIO
Lenovo ThinkCentre Edge 92Z
All-in-ones are the future of desktop computing. And no company seems to have realised this better then Lenovo. From its bouquet of AiOs, ranging from the affordable to the luxury, the Edge 92Z stands out for being a workhorse that can take on any task in an average household. These are great entertainment devices too.
Best convertible
Lenovo Thinkpad Twist
2013 was the year when convertibles came into their own. They twisted, turned and tore to present themselves as tablet or notebooks as the need arose. The Thinkpad Twist was the best of the lot in our view as it is also a powerful device that could replace business computers. Other notable mentions are the Sony Vaio Duo II, Dell XPS 12 and the Acer Aspire R7.
Special mention
Asus Vivobook F202E
2013 will be remembered as the year in which touchscreen became mass. In India, a lot of credit will go to Asus for bringing in the first really mass market touchscreen laptop in the F202E. The first Windows 8 touch laptop to go below the Rs 40,000 mark, this 11.6-inch device offered
Ultrabook
Sony Vaio Pro 13
There were some stunning ultrabooks and notebooks this year, but this Vaio model takes the cake as far design and portability are concerned. Plus, its Intel Core i5 processor makes it good for most tasks you expect from a business or entertainment device. The Pro 13 pips the Acer Aspire S7 launched earlier in the year as it is Rs 10,000 cheaper.
---
BEST CAMERAS
Best mirrorless camera
Olympus E-PL5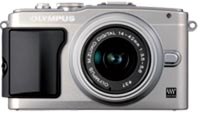 This was a tough one since there were some great cameras this year like the Panasonic Lumix G6, the Sony NEX 5R and the Fujifilm X-M1. But we cast our vote in favour of Olympus, which had also awed us with the OM-D EM-5 last year. In 2013, its E-PL5 is one of the most compact and versatile cameras you will ever use. For truly amazing pictures all you need is the 1 14-42mm M.Zuiko lens. This camera gives great low light pictures too.

Best point-and-shoot

Sony Cybershot DSC-HX300
Point-and-shoots are a dying breed, thanks to the ubiquity of phone cameras. To stay ahead top brands are adding features such as extra zoom and connectivity. The HX300 comes with a telephoto 50X which makes a big difference. The 50X zoom, which works out to 1200 mm in lens terms, is as stable as anything of that range can be. This camera is good enough to take great shots of everything from your pet dog to craters on the moon.
Best camera
Sony DSC RX1
For a change, our camera of the year is not a DSLR. The fact that the DSC RX1 is a full frame camera but gives results as good as any DSLR shows how the compact segment has evolved in the past two years. We found that the RX1 was up to any task - portraits, landscapes, macro or low-light. The only issue here is the price - it costs a bit more than the best DSLRs in the market.
---
BEST TABLETS
Best Value for Money

Nexus 7

Tablets come in all sizes
, from a 7-inch display to 10.1 inch. Still, the two most popular categories are those with either a 7- or a 10-inch screen. Google got aggressive earlier this year with its Nexus 7 launch in India. A good piece of hardware with the latest Android OS, it is priced sensibly too
Best Windows Tablet
Dell Latitude 10
The year saw the emergence of the first Windows 8 tablets. But almost all were underpowered devices. Still, the Latitude 10 stood out for its enterprise-gradebuild quality and security. The device has great battery life and an option to dock it with a keyboard.
Best Tablet
Sony Xperia tablet Z
This is one Android tablet we felt is overpriced. But Sony has packed everything in it neatly. It does come with some of the best specifications, including a 10.1-inch display with 1920 x 1200 pixel resolution and Mobile BRAVIA engine. It also has a 1.5GHz quad-core processor with 2GB RAM. It is the world's slimmest tablet at 6.9 mm width, as well as water and dust resistant.
---
BEST SOUND DEVICES
Best headphones (in-ear)
Bose QC20i
Noise cancelling on the Bose QC20i is unparalleled, at least, in devices of this kind. Thanks to the total lack of external sounds, this inear headphone becomes a pleasure to listen with. You also have the option to allow specific sounds in case you don't want to be completely cut off from your surroundings.
Best Wireless Sound Dock
JBL Flip
Portable wireless sound docks/speakers are the next big thing in sound. And the JBL Flip had us hooked. This compact cylindrical device can be used in both horizontal and vertical positions. JBL has added rubberised parts on both sides The 40mm drivers and built-in bass port offer superb sound - so powerful that it turns your surroundings into a personal theatre.
Best headphone (on-ear)
Sennheiser Momentum On-ear
The Sennheiser Momentum was a great headphone, but large and expensive. So, with the company decided to launch the smaller on-ear model, it provides the best of both worlds-superb sound and a very compact body. But what seals the deal in its favour is, without doubt, the Alcantra fabric that make the ear cups a joy to wear for long hours.
---
BEST TVs

Best television
Sony Bravia X9004
An average TV just cannot compete with a 4K TV on picture quality. But few can afford the giant, high-resolution 4K TVs. That is why the 55-inch Bravia X9004 is a game changer. This series has made the 4Ks affordable, almost as cheap as the costliest Full HD LEDs. The TV also comes with great connectivity features and the best sound quality in TVs. A winner hands down
Best value for money
Samsung UA46F700BJ
This TV from the Samsung stable deserves special mention because it made high-end smart TV features affordable. Motion control and voice commands are good additions, but they can't be the core idea behind any TV. This new model blends excellent picture quality with sharp gimmicky features. It also boasts a better 3D than before.
---
BEST GAMING DEVICE
Best game
Grand Theft Auto V
The gaming industry's costliest product ever did not take long to become its best selling title too. With over $1 billion in its kitty from almost 30 million titles sold, the latest edition of the popular gaming franchise has been lapped up by gamers like no other game before. This open world action adventure from Rockstar will have something new for you every time you play it. The details of the game have received critical acclaim too.
Best Gaming Device
Alienware 14
Alienware gaming laptops are no longer hulks. The Alienware 14 is still heavy and bulky, but with the all that raw power it can be held within a large backpack. This is also one of the most customisable computers around with an AlienFX which has a very exclusive feel. Don't be surprised if next year throws up a slimmer Alienware, may be as thin as an Ultrabook
---
BEST INNOVATIONS
LG G2
Genuine innovations have been few this year.
LG wins the race
with its phablet G2. LG's smartphones are good, but they have not been able to create the buzz in India that some of their rivals have. With G2, LG has shifted the power and volume controls, usually on the side panel, to the back, because in its view this is the place where a user's index finger usually rests. The snap-on cover has a front window through which one can access the clock and the music player. Calls can also be accepted and rejected using the window, without opening the cover. This model also has a powerful 13MP rear camera with an optical image stabiliser that captures superb images.
---
BEST APPS
Sound Note
Cost:
$4.99
SoundNote tracks what you write or scribble, and at the same time, records audio. It does all that Evernote is capable of, but what makes it stand out is the feature that brings alive the audio stream you want to access with just a touch of the text string, enabling you to recover lost moments of recorded proceedings. Sound Note
Blux Camera
Cost:
free
This camera app provides an ease-ofuse other apps of its kind do not. You can adjust the colour right on the screen even as you compose the frame. The zoom can be adjusted with the right hand. There is a feature that tells you where you are and give weather updates. Camera settings can also be opened on the screen. This is an example of how user interfaces of apps can be a USP too.
BBM
Cost: free
The launch of the muchawaited BBM app was delayed, but makes it to the list of top free apps quite comfortably. The BBM for iPhone has the same interface as on the BB 10 platform. Those with existing accounts are asked if they want their BBM shifted to this device. Others have to create a new account. The app allows only messages, voice notes and images.
Coast
Cost: free
Coast by Opera for the iPad takes tabbed browsing to a new level, letting users pin their favourite pages to multiple swipe-through screens. When you open and shut a page it starts showing in a tab. You can also pin up the page as a permanent tile. You go back to the previous page by swiping from left to right.
Real Racing 3
This is the third instalment of the popular game. It offers stunning visuals and fairly realistic simulation. Race around in all the new cars, buy cars and compete in events. "Driver Level" awards players a certain number of experience points after every race. This game is free to download with in-app purchases.