Pawan Munjal was nettled. Two years after his family parted ways with Honda, the Japanese giant was poking a finger in its former Indian partner's eye.

Shinji Aoyama, Honda's Chief Operating Officer for motorcycles, had told reporters that his Indian unit might overtake Hero MotoCorp by 2015/16.

The trouble was that Aoyama's cockiness did not seem overdone. Hero MotoCorp, which Hero Honda morphed into after the partnership ended in December 2010, was closing 2012/13 with a decline in sales. It was still the world's largest two-wheeler manufacturer, but questions were being asked about how long it would be before that changed.

And Honda was the only brand growing in the depressed Indian market. It had already overtaken Bajaj Auto to become the second largest in India.


Was Hero incapable of surviving on its own after the divorce? Was the Ludhiana bicycle brand fated to do well only if it was tethered by a hyphen to a foreign mother ship? In the 26 years that the partnership thrived, all the products were Honda's; so was all the technology. "Everyone was watching us through a magnifying glass," said Munjal. "We needed to do better."
He summoned his senior team. Hero's head office in the Vasant Vihar Community Centre in South Delhi is so unprepossessing, you would be hard put to find parking space for your motorcycle outside. Munjal told his managers to come up with a big idea to revive flaccid sales.
The next morning when the team reassembled someone suggested raising the warranty on Hero's motorcycles to five years from two. It was unheard of in the industry, but it was audacious.
It took just four days to get all the departments on message and for Hero to announce the extended warranty. The results were just as quick. The decline in sales was arrested. April 2013 ended with 8.2 per cent growth over the previous month and May with 12.1 per cent. If you count exports, Hero sold more two-wheelers in May than it ever did in any month, period. The new Hero avatar was whizzing along at a furious clip.
Used to be that things were just a little bit quicker than glacial in Hero Honda. A few years earlier when the joint venture was still intact it needed to expand capacity to meet rising demand. There was land available in Haridwar, in Uttarakhand. The state was also offering mouth-watering tax exemptions. Rival Bajaj Auto was already setting up shop in Pantnagar, in the same state. It took Hero Honda three years to go to Haridwar.
The debate, according to Munjal, "went through a loop" because it took time to convince Honda that the incentives were worth the trouble of setting up a new factory a considerable distance from the existing ones in Dharuhera and Gurgaon, in Haryana.
The Haridwar plant, which finally went on stream in 2008, currently rolls out 9,500 motorcycles every day, making it the biggest factory for Hero. The importance of the tax incentives gets magnified by the large volumes. "For someone who makes just a few hundred superbikes, these are mind-boggling numbers," says Munjal in a nottoo-subtle dig at Honda, Japan's third-largest automaker.
Taking flight
Faster decision-making is just one of the changes Munjal cites when he talks about the rebranding exercise after Honda walked out in December 2010. What he is enjoying more is the freedom to penetrate new overseas markets. The Munjals now control 52.25 per cent equity in Hero, having bought out Honda's 26 per cent.
Hero Honda was confined to the Indian market. The only places it could go to abroad were Nepal, Bangladesh, and Sri Lanka. It could not go where Honda was already a significant player - and that was in 150 countries. Colombia was the only exception, because customers there liked the type of motorcycles Hero Honda made and the Indian brand was taken there as well.
Now freed of those subcontinental shackles, Hero MotoCorp has already grown its overseas presence to a dozen countries. In four years, that number is slated to rise to 30. By that time, 10 per cent of Hero's sales will be outside India. That will equal a million units, since total sales are projected to touch 10 million by then.
Currently just about 2.5 per cent of Hero's total sales of six million is outside India.
Munjal, whose full head of hair makes him look younger than his 59 years and whose office sports enough model aeroplanes to fill young boys with envy, spends more hours in flight these days than ever before. He is out of the country at least one week every month, compared with a trip out once a quarter earlier.
He started Hero's voyage with the launch of its brand in three Central American countries: El Salvador, Honduras and Guatemala. The next big launch is scheduled for July 5 in Kenya, where a factory, Hero's first outside India, is on the cards to feed East Africa. Another plant is planned in Nigeria to target West Africa. Distributors have already been signed up in Burkina Faso, Ghana and the Ivory Coast.
Munjal's next port of call is Peru in South America. And this foray bears a bit of needle - Honda is the market leader there. The needle will get sharper with Brazil, where Honda has 70 per cent of the market.
There will be a factory in Colombia because two-wheelers sold there must have at least 20 per cent local content. This facility can take care of Central America, Peru and Venezuela. There could be a plant in Brazil, too, to feed the large local market, as well as Argentina and Uruguay.
Right now it is looking like a small boy going toe-to-toe with a sumo wrestler. But that's the way Munjal wants it, and that is how he sees Hero's continental shift.
Made in heaven
Market watchers thought Hero would wobble without Honda. It did so for a while. In September last year, 13 months after the Hero MotoCorp identity was launched in London, the company's sales stood at 393,852, the lowest since the split. Honda's fully-owned subsidiary, Honda Motorcycles & Scooters India (HMSI), sold 231,455 that month, the Japanese maker's highest in India since the split.
That is how it was supposed to pan out. What was Hero without Honda? It was the tie-up with Honda in 1984 that brought the Munjals, the family behind Hero Cycles, into motorised two-wheelers.
Hero's dominance in the pedal pushers gave it a deep understanding of the market, on the back of a formidable sales and distribution network. But every network needs a product to sell. Honda was the master of the product, and it played
sensei
(teacher) to Hero's
gakusei
(student) to the hilt.
When Honda decided to set up HMSI as its solo show in 2000, the Munjals furnished a no-objection certificate, as required by the laws of the day. In return, Honda would continue its partnership with Hero. HMSI would make only scooters for the first five years and get into motorcycles only after that. Hero was free to get into scooters, for which Honda provided the technology.
Hero Honda was the example given when people talked of successful joint ventures between Indian and foreign groups. It survived even as other two-wheeler ventures involving Indian and foreign companies foundered at the turn of the century. Honda ended its other venture in India, with the Kinetic group of Pune. Suzuki parted ways with the Chennai-based TVS Group. Italy's Piaggio ditched LML.
Hero and Honda stayed thick. So much so that Takehiko Nakajima, Joint Managing Director in Hero Honda, often referred to himself as Nakajima Munjal.
On the rocks
Beneath the bonhomie, the Munjals were chafing. "When you become that large you want to take your brand global. You want to be nimble and quick," says Pawan.
With time, the goodwill had begun to wear thin. "There was a change of generation. By 2009/10 there were hardly any people from [Nakajima's] time, who had worked with us, who knew the family, the processes here, who knew this market, and who had that relationship and that emotional connect," says Munjal.
The Munjals wanted to modify the agreement to be free to go global and build more products in India.
For Honda, HMSI, where it did not have to share profits with anyone, was always going to be its favourite child. There was also the issue of the
sensei
's pride.
"I believe that Honda executives felt coy talking about Hero Honda at global forums. Here was the largest two-wheeler company in the world, in which Honda was a partner but which it did not really control strategically," says a former Hero executive.
When the end came, it was swift. How deep did it cut?
"I would say the rebranding exercise has actually been very pleasant. I would have thought it would take much longer and be much tougher to get the brand ingrained with the consumer and the dealer."
Wasn't Hero already carved into the fence posts?
"It was Hero Honda," says Munjal. "We spent a substantial amount of time, money and effort to build that brand. Now we were doing a new brand. And it is not like the other brand has gone away and disappeared. It has become much more aggressive."
Aggressive it may be, but some of the pieces in "other brand" Honda's ambition of being number one in three years do not fit. It is pumping up its capacity and will be making 4.6 million two-wheelers a year once its new plant in Narsapura in Karnataka comes up by the end of 2013/14.
Hero, on the other hand, already has 6.9 million units. With a new plant coming up in Neemrana, in Rajasthan, and another in Halol, in Gujarat, this number will rise to nine million by 2015. That's a yawning gap.
"For HMSI to be number one by 2016, it will have to grow at 30 per cent and we will have to decline at 20 per cent every year," says Ravi Sud, Hero's Chief Financial Officer.
To avert the second scenario, Munjal is going where he never did in 26 years in bed with Honda.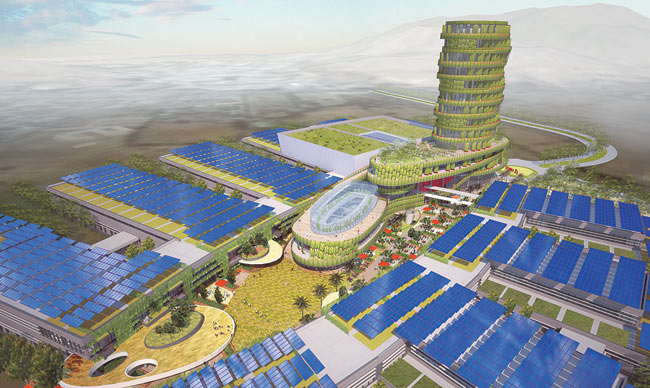 Call of Kukas
When Hero Honda developed a product, Honda would lay down a rigid process to be followed. The Hero part of the company got involved mainly in the local aspects: testing and validation for the Indian market. "Our new partners are much more open in their approach... our team is imbibing new, cutting-edge technologies," says Harjeet Singh, the head of R&D, who found time in a whirl of meetings in the United States to reply to emailed questions.
The number of engineers in Singh's department has doubled to 400 and the plan is to "increase this manifold" in two to three years. The company's design studio has acquired advanced equipment with prototyping facilities. Design, testing, and validation for finalising specifications are now being done in-house.
Ashok Taneja, who heads Shriram Pistons & Rings, a component supplier to Hero since 1985, recalls Munjal telling him after the split with Honda: "We will get technology from wherever in the world, but we will make cutting-edge products."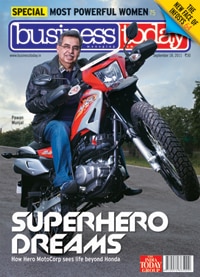 BT RETRO
BT first looked at Pawan Munjal's global ambitions in its September 18, 2011, cover story 'Superhero Dreams' , just after Hero MotoCorp unveiled a new brand identity following its split with Honda Motor

He is keeping his word. Erik Buell Racing (EBR) of the US, specialist in heavy-engine racing bikes, came on board soon after the split. The collaboration has been so smooth that Munjal is in talks to buy close to 50 per cent equity in EBR. "In some ways, you can say it will be an extended arm of our R&D, our technology centre," he says. "But I'll let them run the company and do what they do best their way."
EBR's technology will power motorcycles fitted with engines bigger than 200 cubic centimetres (cc). Hero has already test-fired one of these. The bigger engine options will be useful in international markets. Munjal is also eyeing a majority stake in a proposed joint venture with Italy's Magneti Marelli, with which he has a strategic tie-up for making powertrain components. As emission norms become more and more stringent, the joint venture will come in handy.
Italy's Engines Engineering is providing technology for mass-market motorcycles. A fourth outfit, AVL of Austria is helping with engines for current as well as new platforms. Platform is industry jargon for the basic structure of a vehicle.
Two engines for mass-market bikes have been tested. "The people in our R&D are very proud that for the first time we have test fired an engine ourselves," says Munjal.
With technology flowing in from different sources, in-house R&D is throbbing with activity. It is getting a new home in Kukas, near Jaipur. This campus will be spread over 250 acres, with a 12-storey building right in the middle.
Money is not a problem. Hero MotoCorp has no debt and its balance sheet has close to Rs 4,500 crore in cash. The new factories in India, the component development centre in Neemrana and the R&D centre will consume no more than Rs 2,775 crore.
"A lot depends on our understanding of the local market requirement and [our ability to] design products to suit it. Consistency of manufacturing processes plays a crucial role in the overall quality of products. This has always been our strength, as we always keep the customer in focus. The enduring success of several of our products is a testimony to this," says Singh.
Solitary Splendor
The enduring success of some of the products can be looked upon in two ways. The Splendor accounts for a third of Hero's sales. It has been running on Indian roads since 1994. Another 16 per cent comes from the Passion, which is very similar to the Splendor in engine and technology, and has been around since 2001.
Time and again the company has tried to reduce its dependence on the Splendor by launching a number of products. Some of them failed - "It gave us no joy," says Munjal about a 100-cc motorcycle called Joy - and some succeeded. But none has come anywhere close to replicating the hold the Splendor has on the psyche of Indian riders.
Hero's stabs at the premium segment have also met with lukewarm success. Bajaj rules the territory above 150cc with the Pulsar, which gets good volumes as well as high margins. Anil Dua, who heads marketing and sales for Hero, hopes the EBR tie-up will change the game. "The partnership with EBR and our association with motorcycle racing are geared to strengthen our premium segment."
But, as Hero looks to storm Bajaj's fort and the international market, it has to keep an eye firmly fixed on the rear-view mirror. HMSI has announced two models in the Dream series, which compete directly with the Splendor and Passion. "Both motorcycles and scooters are growing for us, but motorcycles are growing faster,"says Yadvinder S. Guleria, Vice President, Sales & Marketing, HMSI.
Since the same company developed all four models, it is Honda versus Honda out there. But Hero is not going to merely watch from the sidelines.
Munjal displayed gumption in jettisoning the Honda name in his branding a mere eight months after the
divorce
, even though he could have used it until 2014, when Honda's technology support ends.
That is when Hero is widely expected to unveil a motorcycle all its own, with no contribution from Honda. Is it not critical that the first all-Hero product be a blockbuster? "It just has to be something that delights our customers," Munjal says. "That's how we have always done our stuff."
Glimpses of that stuff will be seen around Diwali this year, traditionally a season of rapid sales when Hero will launch a new set of two-wheelers. They will still have Honda technology, but also a lot of Hero in them.
The tales of TVS, Kinetic and LML are chastening. TVS has moved from being a distant third in the motorcycle market to a distant fourth. Kinetic has sold its business to Mahindra & Mahindra. LML's once-popular scooters have vanished.
Hero, though, has hung in there. It still has over 53 per cent of the motorcycle market, down just a percentage point since the split. HMSI has no more than 11 per cent, though that is a four percentage point increase since 2010/11. Its highly successful scooters, a market in which Hero is still finding its feet, give Honda nearly 19 per cent of all two-wheelers, up from 13 per cent over the same period.
Someone who has known Munjal professionally for years happened to meet him just after the split. The conversation, in Punjabi, ended with Munjal saying: "Even if I have to go down, I will go down fighting." He has donned his leather jacket, strapped on his boots, hefted his helmet and kicked the starter. He is ready to roll.