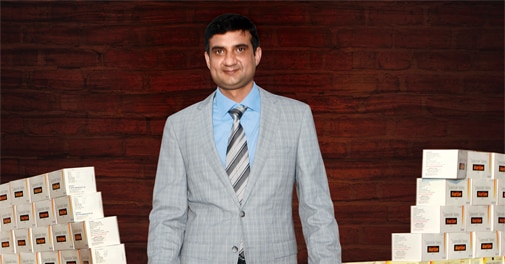 Amit Bakshi, Founder, Eris Lifesciences Photo: Shailesh Raval/www.indiatodayimages.com
When Amit Bakshi quit his job at Ahmedabad-based Intas Pharmaceuticals following differences of opinion with its management, he knew exactly what he wanted to do - set up his own company. With three of his colleagues at Intas who left with him and a few others, he started Eris Lifesciences in 2007. (Eris is the Greek goddess of discord). "I don't understand why entrepreneurs in India shy away from aggressive growth," says the 39-year-old. "I knew the potential in the industry and so left the company to venture on my own."

Bakshi received initial funding of Rs 1.50 crore from a pharmaceutical stockist for Eris, also based in Ahmedabad. He started by selling specialty drugs in segments he knew well - cardiology and diabetology - from his experience in the industry where he had been working since 1996.


Bakshi did not have a manufacturing facility to begin with. So he outsourced a batch of three lakh tablets and capsules to a manufacturer in Delhi initially. He realised soon that establishing his foothold in an industry filled with scores of generic drug makers was not an easy task. "You may not have an entry barrier [in the pharmaceutical industry], but there is huge competition," he says. What is his success mantra? Success, he says, hinges on a company's ability to penetrate the market and create loyalty among customers. For a drug maker, the most important factor is its reach at the level of chemists, he adds.
In the first year of operations Eris recorded revenue of Rs 9 crore and a loss of Rs 2.5 crore. The
company has expanded rapidly
since then. In 2010, Bakshi made his first acquisition. He bought a factory from Sozin Flora for Rs 20 crore. The factory, in Himachal Pradesh, had about 40 people and a capacity to make two crore tablets and capsules a month. Eris has ramped up the factory's workforce to 250 people and doubled its manufacturing capacity. Despite the expansion, Eris still has to outsource about a third of its production.
For 2012/13, the company ended with a profit of Rs 78 crore on revenue of Rs 430 crore. It has a total of 1,530 employees now. Its profit margin is about 17 to 18 per cent. Revenue is growing by Rs 150 crore to Rs 170 crore every year, says Bakshi. The aim is to increase it by Rs 200 crore to Rs 250 crore, he adds. The robust growth has attracted investors. In 2011, private-equity player ChrysCapital invested $50 million in Eris for a minority stake.
Over the past few years the company has expanded into new verticals such as gastroenterology, orthopedics, gynecology and pediatrics. "Eris is a small player but has caught the pulse by focusing on super-specialty drugs," says an analyst with a Mumbai-based brokerage who does not want to be named. "It is taking risks by getting into other streams of medicine."
Next year, Eris's second factory will come up, in the northeastern city of Guwahati, which would double its production capacity to eight crore tablets and capsules. Despite rapid growth, Eris still has a share of just 0.78 per cent in India's pharmaceutical market. Bakshi says his focus is entirely on organic growth. He is aware the company does not cater to the entire health-care market. He wants to begin selling conventional medicines like ayurvedic products as well as medical devices.
Medical devices is a growing segment. A decade ago, for instance, very few patients would own a device to test sugar levels. But now most diabetics have such devices at home. "The medical-devices business can pay off huge dividends in the future," says the Mumbai-based analyst.
Bakshi is aware of the challenges ahead. "This is an industry where bigger players become even bigger. The control is in the hands of the top 50 players," he says. "To compete with them you have to be a holistic player looking at complete patient care. There are gaps and we need to fill those gaps."