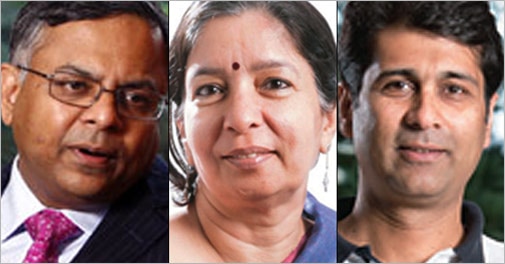 From L to R : N Chandrasekaran, Shikha Sharma and Rajiv Bajaj.
CEOs are not born. They are made. They grow into that position. We asked our CEO winners if they had any weaknesses and how they overcame them. Here is what they said:


N. CHANDRASEKARAN
TCSLong distance runner
"Running long distances helped me to listen better and also shed my shortcoming of being a man always in a hurry"
SHIKHA SHARMA
Axis BankLoves watching Bollywood movies
"I learnt to overcome my limitations at public speaking by making a fool of myself. I am very emotional too. Wayne Brockbank, Clinical Professor of Business at the Ross School of Business, University of Michigan, helped me understand emotions. He told me it is not about whether you are emotional or not, but whether you control your emotions or your emotions control you. That helped me a lot. Today, I remain emotional, but I use that emotion effectively. I demonstrate it when I want to and do not show it when it is not the right time to do so"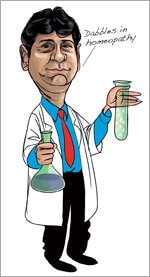 RAJIV BAJAJ
Bajaj AutoDabbles in homeopathy
After finishing mechanical engineering from Pune, he gained practical knowledge at Warwick Manufacturing Group in the UK. On his return he joined Bajaj Auto, and spent five years each in manufacturing, R&D and marketing. Sought knowledge in business books, homeopathy and yoga and adapted what he learnt to suit the specific needs of the company
ADITYA PURI
HDFC BankRelaxes by gardening
"I believe in overcoming my weaknesses through the process of assimilation. One has to learn from the job, read, fi gure out what others are doing and how they are achieving results"
AKHILESH JOSHI
Hindustan ZincLoves listening to classical music
"Having worked in the mines for most of my career, I did not have much knowledge of Indian and global commodity markets. I did not understand how demand-supply scenarios behave and their impact on pricing. I read a lot, met and spoke to analysts and investors. This helps me maximise revenue generation"
V.C. SEHGAL
Motherson Sumi SystemsHas a penchant for expensive cars
"I realised early that I needed to step back from day-to-day activities to allow room for professionals to grow and give myself some free time to set the long-term vision for the group. Stepping down is always a diffi cult decision. I realised I had to move forward and bite the bullet. I did just that and have not looked back since"
NITIN PARANJPE
UnileverEnthusiastic squash player
"When I tried to address my weaknesses with a straightforward frontal attack, I found my rate of success to be low. Instead, when I leveraged my strengths to overcome problems, I was far more successful and the process of change was enjoyable"
KAMAL K. SHARMA
LupinLikes cooking, especially Italian food
"In my younger days I would solve 90 per cent of a problem and then relax assuming that since the critical part had been handled, the rest would resolve itself. This was not the case and it almost cost me my job once. It took me a long time to overcome this limitation. I did so by becoming very conscious of it. I also took public speaking classes to improve my skills in this department. I am still not a very sociable person but I do try to strike up conversations with people on various topics in my free time"
(Contributions by: Goutam Das, Manisha Singhal, Suveen Sinha, Ajita Shashidhar, Anand Adhikari, N Madhavan, Suprotip Ghosh, Sunny Sen)