Kishore Biyani is waiting, relaxed, in a darkened hotel suite. He's just flown in from cool London to broiling Gurgaon. He talks softly and very fast, jumping in before you're done. He's only 50 years old, and has lived, breathed, talked and experimented with the business of retail for close to three of those five decades.

Just over three weeks earlier, Biyani shook hands in Kolkata with a younger, richer and equally ambitious fellow Marwari, Kumar Mangalam Birla, sealing the sale of what will be a controlling stake in his flagship Pantaloons retail stores business to Aditya Birla Nuvo Ltd. But the man in the hotel room is excited by what lies ahead. Why, just athwart that expressway, sprawled across the basement of a glittering mall, is one more of his hypermarkets. Most of us see a shimmering heat mirage in the distance; Biyani sees thousands of shoppers trooping into yet another Big Bazaar and hears the clanging of the cash registers.


"I still believe in that dream," Biyani says. Is he sad he had to do it? "No I don't feel that. I have understood something: in India people are very emotional about business…people feel that if someone is selling there has to be some act of desperation in selling. I don't think so. I think alliances, mergers, partnerships are a way forward and that should not be seen as (an) exit."
Biyani frequently describes himself - and so do his family and associates - as a rebel and an iconoclast in his own 2007 book It Happened In India. He has always been unafraid of striking out in new directions.
By the time he was 26, he had already sold trouser cloth branded WBB (white, blue and brown), readymade trousers called Patloon, started and closed a company called Dhruv Synthetics, and then launched Manz Wear, the precursor to 'modern' retail and the Pantaloons brand.
"There are three kinds of entrepreneurs - creators, preservers and destroyers," Biyani writes in his book. "I consider myself to be both creator and destroyer. Preserving the status quo has never been my cup of tea."
Biyani is fighting
a rising tide of debt
. The sale to Birla "will help reduce the company's debt by Rs 1,600 crore". How much debt his Future Group carries is a moving figure. Widespread estimates put it at between Rs 7,000 and Rs 8,000 crore, but Biyani says the debt figure is wrongly inflated by his non-banking finance company, Future Capital Holdings.
SPECIAL:
The Biyani way of dealing with debt
"(Minus the NBFC) last year we were at 4,800 (crore). This year we will be at around 5,500 to 5,700 crore at this moment. After this sale [to Birla] Pantaloon Retail would become debt free and then debt only remains in our Future Value Retail business" which operates the Big Bazaar (160 stores at last count) and Food Bazaar (44 at last count) chains.
Biyani has already declared he wants to sell his entire 53.67 per cent stake in
Future Capital Holdings
to Future Value Retail as a precursor to hiving it off. He is also looking for a buyer for his insurance business, Future Generali. "Six months ago I said I'd be debt free. People don't believe that and I want to prove that I'll be debt free. So that's a mission. If I can build businesses, I can reduce debt too," he says.
Is he circling his wagons against an enemy economy? Or is he just sticking to his knitting? Clearly he is pulling back from financial services. "It will help us to make our retail business grow... We wanted to concentrate on food and fashion as core businesses... so other businesses we could have always exited," says Biyani. The government's timidity in allowing foreign direct investment (FDI) in multi-brand retail has added to Biyani's impatience. "Exit doesn't mean you're selling off, it means you are part divesting, getting in a strategic partner," he says a trifle vehemently.
SPECIAL:
Biyani's Big Bazaar unveils the power of organised retail
"Growth gets taken care of by funding which they (partners) bring… many options emerge. Today there are no options; domestic players are the only option." So Biyani says he is emotionally "quite satisfied" by the route he has taken. "Unfortunately our satisfaction is not translated into people's understanding. That will take time."
In his book he writes that his goal is to get at every rupee in every Indian's wallet. Is that happening? "We lost that plot to be very honest," he says, sipping his tea reflectively.
"Earlier we thought that it is good to capture every paisa in the wallet of the customer. But now we are concentrating on food, fashion and home rather than doing everything. Then everything becomes small and too much to manage. It adds to the complexity."
Is he admitting that he grew too big too fast? Did it all become too big to manage? "Too big to manage and too much of micro-management. That was not possible," he says. But he reacts to criticism that he has not brought enough outside professionals into his business by listing foreigners who have headed different divisions.He laughs: "Unfortunately I take away the limelight."
Is India too difficult a place to do business, as the Cassandras would have it? "When we entered we all knew about it. It has gotten a bit more difficult in a sense," Biyani says. Has it got more difficult when it should have got easier? "I think I'd put it differently. I think first-generation entrepreneurs have to be encouraged in this country... that is a point to which I would agree more than anything else. New jobs get created by new entrepreneurs."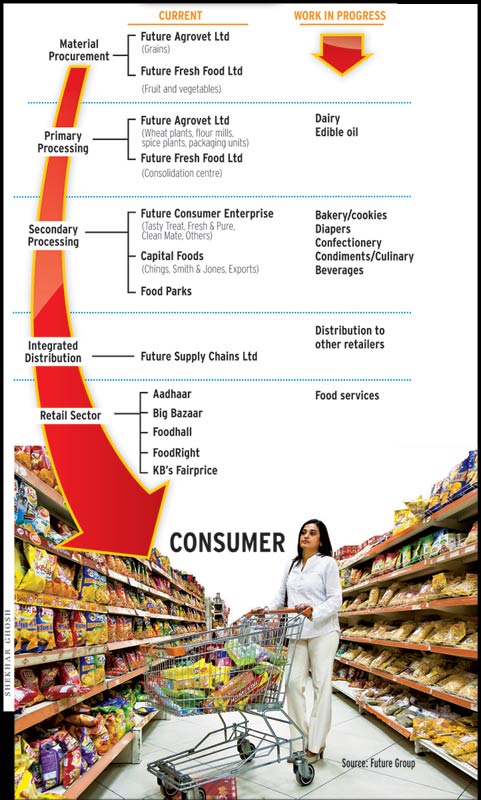 Then he snaps out of his reverie. Consumer spending has not been negative despite all the doom and gloom. What insights has he gained into buyer psychology? First, that Indians are "very price conscious". And much more than that: "It's unbelievable. We have an arm called Future Ideas that does only this. We have ethnographers, mythologists, social scientists. We track every community of this country - their habits, their festivals. We have around 12 calendars made out of communities' almanacs... We do a lot of community-wise marketing of products. It's a piece of work which we are very proud of."
Food is where Kishore Biyani sees the Future Group reigning supreme. He has the entire consumer pyramid covered: from Foodhall for style food' to FoodRight ('international hyper') to Food Bazaar in the middle, to KB's Fairprice for the 'neighbourhood mall rejectors' and, at the very bottom, the Aadhaar rural wholesale and retail food services. KB's Fairprice shops will create kirana franchisees and Biyani plans to open 1,000 stores in the next 18 months. "So that's a big one for us," he says. "Food is something which can grow as much as you want."
He is starting his first food park in Bangalore. Aadhaar - not to be confused with the Unique ID project - will focus on processing, branding, distribution and retail. "Grading, sorting, packing of fresh food and materials. So we are into every category. That is where we believe the next big growth opportunity in India is," Biyani says.
He is certainly not afraid of competition. He is sitting on more than 16 million sq. ft. of retail space. The Pantaloon Retail spinoff will lop two million off that, but he says he will add an equal amount this year. Nearly 10 million sq. ft. are occupied by
Big Bazaars
. "So in terms of lead, we are significant. We are in 90 cities. We are there. Nothing has got diluted out there!" The afternoon shadows are getting longer, and Biyani is itching to visit one of his Big Bazaars. He darts over to show me a slide on his iPad on how the pieces of the Future Group's vertically integrated 'food value chain' fit together.
Does he have any lessons for newbies entering the retail business in India now? Yes, he says. "Concentrate on regions. Don't spread everywhere and reduce the number of variables. Bring simplicity in thoughts and business. These are my three big advices."
Has he followed those tips himself? "I have made mistakes, that's why I am advising," he laughs. "You become an expert after you make mistakes."