The new face of Karnataka's industrial rebellion is not an easy man to find. Prasanna Kumar's phone is incessantly busy, and when he does answer, he is either waiting to meet the chief minister or hobnobbing with the labour commissioner. Kumar has been busy otherwise. In the past few months he has been accused at different points of instigating workers, threatening supervisors, and halting the India operations of the world's largest automaker, Toyota.
Kumar is 33 and heads the employees union at Toyota Kirloskar Motor Pvt Ltd, the Japanese company's India joint venture. He has worked here for 14 years. Almost single-handedly, he ensured that for several days 4,000-odd employees stayed out of two plants the company runs in Karnataka. Between February 10 and March 15, he led the disruption of shop-floor operations at least 32 times, resulting in a production loss of 1,988 vehicles, according to the company's lockout notice.
It all began with workers taking one-hour-long toilet breaks. That soon spiralled into stoppages of production lines and full-day strikes. Finished vehicles were scratched with key chains and supervisors abused. The company declared a lockout on March 16 as it anticipated "serious riotous acts" and "physical violence". It subsequently lifted the lockout.
Kumar, seen by many to be politically ambitious, was born and raised in the toy town of Channapatna where his family grows ragi and rice. He wasn't interested in the family occupation and wanted to work in industry instead. He joined Toyota soon after graduating from an Industrial Training Institute (ITI). His thin built and calm exterior masks his aggressive posturing. "[We want] salary hikes of Rs 4,000 a month for all workers," he says, wearing a pair of blue jeans and matching blue shirt with sleeves rolled up when Business Today met with him at a labour office in Bangalore in March. The company was willing to pay Rs 3,100. It could not pay more, executives insisted, because business had slumped - the company was using less than half its production capacity of 3,10,000 vehicles a year. The union later agreed to the company's offer but Kumar had a new demand. He wanted Toyota to take back 30 workers who had been suspended for indiscipline. The workers have now returned to work.
"His aim is certainly not pro-company. I am not even sure it is pro-worker," said an exasperated Shekar Viswanathan, Vice Chairman and Director at Toyota Kirloskar Motor, in March. "Why are we having this problem? Because of a small group of chaps who don't believe in working, who are societal misfits," he fumed, sitting at the calmer chimes of the Bangalore Golf Club, 40 kilometers away from the stress-filled air of Bidadi, where the plants are located.
Toyota's problem is a manifestation of a much larger issue. Even after nearly two years since automaker Maruti Suzuki's Manesar labour strife, where a management representative was charred to death, the manufacturing sector has been slow to learn its lessons. A sprinkling of new strikes in South India has followed the lull the North has seen after the Manesar blow-up. The manufacturing sector is still grappling with many of the same issues that plagued Maruti, such as contract labourers and their pay scales. Wage negotiations remain tricky as ever and disciplinary measures appear like going to hell in a handbasket.
While labour unrest at automakers has remained in focus, companies in other sectors also have faced similar problems. Take, for instance, Parle Products' Bangalore factory. The plant was set up in 2000 with an investment of Rs 70 crore and made KrackJack, Hide & Seek, and Parle G biscuits. Between 2011, when labour strife started, and 2013, when Parle decided to shut down operations, the factory functioned for just three-and-a-half months. Workers halted work after an employee was suspended for abusing a personnel officer. In the prolonged strife that followed, workers resorted to a stay-in strike. They damaged machinery, set fire to corrugated boxes, spilled harmful chemicals on the floor, kept inflammable film roles in front of doors and tinkered with electrical wiring that could have caused a serious fire disaster, according to the application Parle filed with the Karnataka government to close the plant.
Many more unions of smaller companies are resorting to strikes and sabotage to get their message across. This March itself, three factories in Karnataka declared lockouts. Besides Toyota, lockouts were declared in textile processing company Bombay Rayon Fashions and auto-component maker Stump Scheule Somappa. The latter declared a lockout after agitating workmen tinkered with nitrogen and liquefied petroleum gas cylinders used to run furnaces. Strikes at agri-equipment maker Fowler Westrup and at beverages giant Coca-Cola were recently resolved. In the western region, near Pune, Bajaj Auto's workers threatened a strike demanding wage hikes, equity shares at concessional rates, and revocation of suspension of 21 workers and termination of two employees. They postponed the strike after the management did not budge.
The lowering of emphasis in the manufacturing sector on HR may have resulted in supervisors not being trained enough to handle irate labourers
To be sure, India is not the only country where strikes are rampant. There is growing dissent in China, for instance. According to the China Labour Bulletin, an organisation that promotes workers' rights, there were 470 strikes and protests by factory workers in China between June 2011 and December 2013. But India does have a high percentage of strikes when compared to other countries. According to the International Labour Organization's (ILO) strikes and lockouts database, in 2010, when the last comparable numbers are available, India at 240 manufacturing strikes was second only to Spain (399 strikes). The ILO does not have data for China.
So why is the Indian industry unable to get its arms around the problem? Should they just blame staff unions with ambitious young leaders who thrive on greed? There are no easy answers. It is often a mesh of many issues.

HR vs IR
In the 1990s, the Human Resources (HR) department in a company held a prominent place. The decade after, HR became a backbencher, says Prabhat Chaturvedi, former secretary at the central government's labour and employment department. "HR was not an attractive subject in management schools. Finance and marketing were seen to be more important. This resulted in a breakage of dialogue between workers and management, which always used to happen in India after Independence. This is one of the reasons why we see problems even in industries where the wage levels are good," he says.
At Toyota, for instance, a permanent workman who is an ITI graduate draws Rs 26,100 at joining, or Rs 3.13 lakh a year. In comparison, an engineer in a top-tier software services company earns about Rs 3.16 lakh in the first year. The software services industry, however, has a greater focus on world-class HR practices - the sector has remained union-free thus far.
The lowering of emphasis in the manufacturing sector on HR, particularly industrial relations (IR), may have resulted in frontline supervisors of companies not being trained enough to handle irate labourers. It is a delicate power game and can't be leant overnight. "The union has to be seen by the workforce to have won. That is the crucial part in the relationship. Experienced management will give the union a face-saver," says Sanjay Singh, Director of Human Resources and Administration at private-sector oil exploration company Cairn India. Singh's learning in handling labourers came from tobacco-to-hotels giant ITC where he previously worked.
So, the experienced management of a company always suspends more workers than needed in the event of a strike, eventually agreeing to take back most of them. That's a face saver. After the 2005 labour violence at Honda Motors and Scooters India's Manesar factory, the company suspended about 60 permanent workers and terminated four. Most of them were later taken back in the company, says Suresh Gaur, who was among those terminated and taken back. He is now the president of All India Trade Union Congress (AITUC), Gurgaon. The company also dropped practices labourers found disgusting, like maintaining a register near the toilet - all labourers had to enter entry and exit time for toilet breaks.
Perhaps, the manufacturing sector made a mistake in making a distinction between HR and IR. Companies categorise white collar as HR and blue collar as IR. "The whole perspective has been shareholders' interest, customers' interest, talent upgradation. We treat the kamgars [workers] on the shop floor as factors of production," says Pradeep Bhargava, Director at Pune-based Cummins India, who has spent 40 years in manufacturing. "We have not only been unfair to workers but have also missed an opportunity to unleash their potential," says Bhargava.
Manufacturing companies have mostly been unfair to contract workers, who earn much less than permanent workers and enjoy fewer benefits. The ratio of regular versus contract workers was 90:10 until the 1990s. Tables turned by 2000 with the ratio becoming 30:70, says former labour secretary Chaturvedi, known to be a pro-labour official. "The model reversed. For the same work on the shop floor, a regular worker can be paid Rs 30,000 while a contract worker is paid Rs 7,000-8,000," he says. "This is exploitation of human resource. It was done for profit making. How long will the worker tolerate this?"

Marriage without divorce
At the heart of Maruti's Manesar unrest in 2012 were contract labourers, and the company eventually did away with such workers. However, almost all other manufacturing companies continue to use contract labourers citing the government's "no exit" policy.
India's labour productivity was $3,067 in 2013, versus Brazil's $11,761 and China's $6,298
The Industrial Disputes Act, 1947, mandates companies employing 100 or more workers to seek prior permission of the government to lay off even a single worker. Chapter V B of the Act bars companies from exiting or downsizing quickly. "For retrenchments and closures, I have to seek permission from the government three months in advance. That is driving me not to take permanent employees and instead make do with contract labour. The Act is not applicable to contract labour," says B.C. Prabhakar, an advocate who is a director at software giant Wipro and manufacturing company 3M India.
If there is one labour law reform the industry is crying for, it is this chapter. Since it is difficult to hand over anyone their walking papers, disciplining the workforce has become an arduous task. That is working against India's competitiveness, feels Surinder Kapur, Founder-Chairman of auto-parts maker Sona Group. "Misconduct has to be dealt with. An employer is looking for discipline in the workforce," he says. "What has happened in Japan, Germany or Korea, which are today excellent manufacturing geographies, is because there is discipline in the workforce. People in India are not achieving what they should because they are not 100 per cent compliant here."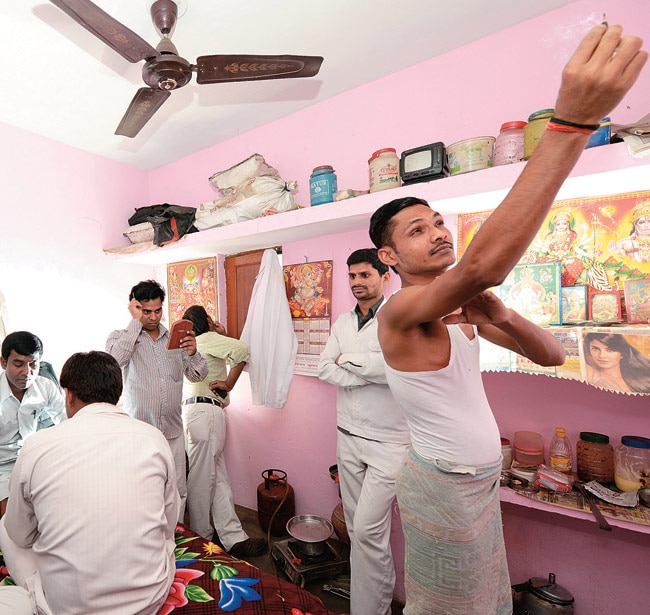 Kapur's point is not hard to see. According to the ILO, India's output per worker was $3,067 in 2013. In contrast, Brazil's labour productivity during the year stood at $11,761 and China's at $6,298. Industry watchers say higher productivity in some countries is because of their choice of technology - a more automated factory would be more productive. Even then, the consensus is Indian workers need to boost their productivity. It is easier said than done considering the current remuneration structure, their living standards, and the way they are treated.
Living conditions of workers is not a priority for most companies. Can they shy away for long?
Companies pay contract workers minimum wages as specified by the state government, or a bit above that. But much of it goes as statutory benefits like contributions to the provident fund, leaving little cash in hand. Manish Sabharwal, Chairman of staffing company TeamLease, calls the benefits regime "mandatory payroll confiscation". For instance, a worker who earns Rs 5,500 as monthly wage will end up getting only Rs 2,795 in hand, he says. (See Pockets Still Empty). "The notion of benefits being over and above salary is science fiction; the savings rate for low-wage employees is not 49 per cent. How can we confiscate that much from their salaries?" Sabharwal asks. The problem created by the huge salary "confiscation" is compounded by the fact that employees care about real wages while employers care about nominal wages, he adds.

A room with no view
With a chunk of his salary gone, where and how does a contract worker live?
Not far from the industrial bustle of old Gurgaon is the village of Dundahera. Narrow roads are dotted with buildings on both sides. The ground floors are let out for commercial activities, mostly neighbourhood retail stores. The upper floors are rented to contract workers. At 5:30 in the evening, 23-year-old Gajraj Singh arrives on the third floor of one such building, soon after his shift at auto-component maker Napino Auto & Electronics ends, where he works as a contract labourer. Singh is from Aligarh. His floor has seven rooms where 25 workers hole up from different manufacturing companies in the vicinity.
Singh shares his 80 sq.ft. room with two others - each of them pay Rs 1,000 as rent. A cot takes up more than half the room; the three often hit the sack together. A tiny window opens to a house with a balcony piled up with cow dung cakes. The building has a buffalo shed on one side and dump yard full of plastics on the other. Singh cannot open the window - his only source of natural light - as two teenaged girls live in the house with the balcony and their suspicious mother screams her lungs out if the window is ever ajar. Singh's floor has one latrine and one bathroom, which the 25 workers share. Flies hover above the latrine pan; it is cleaned once a week. There is a ruckus every day at 8 a.m. when the workers leave for work. Unable to wait, they bathe outside the bathroom, and all across the floor.
Living conditions of the worker is not a priority for most companies. Gaur of AITUC says companies often dismiss it as "not their headache" whenever housing needs are brought up. But can the industry shy away for long? The National Manufacturing Competitiveness Council, which functions under the central government's Department of Industrial Policy and Promotion, says hygienic living conditions are essential to keeping workers happy and productive. It has mooted worker hostels within textile clusters, an idea that can be replicated in the auto sector. Maruti is thinking of facilitating housing, for instance. Business Today had earlier reported that the company was talking to the Haryana government for flexibility in building laws so a large number of high-rise buildings of small units can be constructed. Maruti will help workers get land, finance, architects and contractors.
Industry cannot afford to shy away also because it needs a constant stream of labourers from states such as Bihar and Uttar Pradesh to keep its factories humming. Many of these workers today have alternatives. Shaibal Gupta, Founder-Member of the Asian Development Research Institute in Patna, says there is anecdotal evidence of reverse migration - workers returning to their home states from cities. He says the state is drawing in labourers for many construction projects, as the state's annual plan outlay has tripled in six years to Rs 34,000 crore in 2013/2014. Besides, a central government programme that promises 100 days of work to rural households has aided reverse migration, Gupta adds. The manufacturing sector needs to change its attitude towards migrant workers if it has to retain talent.
While housing is a vision for the future, a dozen companies - including engineering giant Larsen & Toubro, Godrej, Bluestar, Tata Steel, Cummins, and Mahindra & Mahindra - want to do the simple things first.
Being Humane
Bhargava of Cummins says he got a "khujli", a Hindi word that means an itch to do something in this context, after the Maruti incident. "Every time there is an incident in Manesar, in Coimbatore and Bangalore, we wake up and do just about stitching and damage control. We do not introspect," he says. Now, along with Tata Steel Vice Chairman B. Muthuraman and Rajeev Dubey, HR chief of Mahindra, Bhargava is carrying out a pilot for the lobby group Confederation of Indian Industry to look at small tweaks companies need to make to ensure equitable conduct with contract labourers.
While factory workers care about real wages, employers care about nominal wages
Bhargava is driving what he calls "hygiene" factors - ensuring contract workers get safety training, personal protection equipment, canteen facilities and uniforms. "Contract workers should be given some identity and some sense of dignity. When he leaves home he can't tell his wife he works for a company. This is a simple thing but makes a world of difference," he says. There is also an effort to bridge the wage gap between a contract employee and the permanent worker at the entry level.
All companies in the pilot have hit the nail on the head. Many companies already had best-in-class HR processes. Mahindra has been following these "hygiene" practices since 2005. In Tata Steel, if a contract worker dies or is permanently disabled at work, the company continues to pay his salary to the family till such time he would have retired. At Cummins, permanent employees can be hired from its pool of temporary workers. Maruti now employs temporary workers whose salaries (Rs 14,000 per month) are not too low compared to what trainees get (Rs 17,500).
For the manufacturing sector struggling with labour strife, these ideas are worth spreading.

LESSONS FROM PIZZA MAKERS
Everybody loves a pizza, including the honchos running manufacturing companies. But is there something the manufacturing sector can learn from pizza makers?

It would seem there is little in common between manufacturing companies and the quick-service restaurant industry, particularly Jubilant FoodWorks that holds the master franchise for Domino's Pizza in India. Think again.

In both sectors, the nature of work is repetitive, operating procedures are standardized, and precise output and timing are critical. Both also need just-in-time inventory management, offer a tough physical work environment and hire workers with moderate education levels. Sure, there are differences as well. Baking a pizza is simpler than operating a furnace; and the pizza delivery boy is more empowered than a factory worker. If he delivers the pizza late, he can decide whether to make it free. Nevertheless, there is a lot manufacturing companies can learn from Domino's management practices.

Domino's employs more than 20,000 people - all directly. But it is easier to manage them because they are all split into smaller groups - one store typically has 25 employees. This, according to Venkatraman Girish, Senior Vice President of Human Resources at Jubilant FoodWorks, emphasises the importance of operating in smaller units. Manufacturing companies, he says, perhaps, need to organise workers in smaller work groups where employees realise output, success and failure.

The second lesson is related to identity. All Domino's employees have a uniform that gives them recognition among their peer groups. That cannot be said of many workers in the manufacturing sector, particularly contract employees. But the most important lesson is perhaps how Domino's has limited class conflicts within its ranks. This is Domino's 19th year in India and many of its senior leaders joined the company at low ranks.

"People at the level of deputy general managers have risen from low ranks, like delivering the pizza. There is no class barrier because a big chunk of managers have come from within and rose up the ranks. Roughly half the manager level staff has risen up the ranks within the company," says Girish.

Everybody in the company is trained to deliver a pizza. Every new employee, whatever level he joins, trains for five days in a restaurant, from taking orders to baking the pizza. The senior management works in a restaurant once a quarter, taking calls from customers and calling them back. On high volume days like December 31, when the highest numbers of pizzas are sold, everybody in the company holes up in restaurants, from morning until close.

If top executives of manufacturing companies dirty their fingers working on machines even once a quarter, that could go a long way in bridging the divide with the "labour class".