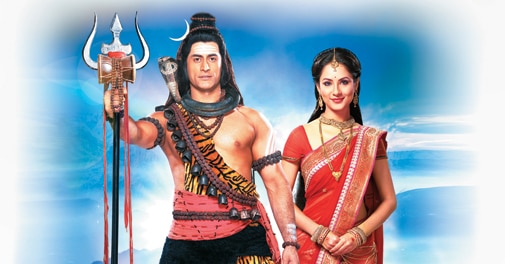 A still from Devon Ke Dev... Mahadev
When Star India was planning its second entertainment channel, Life OK, in 2011, it wanted a show that didn't just grab the attention of women but also appealed to men and children. One of the scripts that came its way was Devon Ke Dev... Mahadev, a mythological programme based on the legend of Lord Shiva. Some channel bosses felt Mahadev's saviour-of-the-world image had enormous potential, but there was also some trepidation about whether there would be any takers for a mythological character in this age of digital wizardry. After all, Ekta Kapoor's westernised version of the Mahabharat on 9X, Kahaani Hamaaray Mahaabhaarat Ki, hadn't really taken off. And even Zee TV had burnt its fingers with a re-run of B.R. Chopra's Mahabharat.

But Star India's worries were unfounded. Life OK's bet with Mahadev paid off in a big way: it went on to become one of the most watched shows on Indian television with its ratings soaring to eight points in just 10 months. At that time, most hits didn't have a higher rating than 2.5. How did the channel do it? Simple, it didn't just narrate the Shiva Purana, but gave the story a contemporary twist by getting young writers to bring out essential human values such as love, arrogance and hatred through the narrative.

"We realised that we could get traction only if we managed to package the show with a contemporary touch," says Ajit Thakur, General Manager, Life OK. "These values still resonate with this generation. Apart from the narrative which has made the God look cool, we have also styled it well and made it desirable by using a lot of computer graphics."


Mythological shows were once the coolest thing on television. An entire generation of Indians grew up on Vikram Aur Betaal, a mythological show on Doordarshan in the 1980s based on a centuries-old collection of stories about King Vikram and the wily ghost Betaal. In the early 1990s, every other Indian was gripped by Mahabharat fever and streets across the country were deserted on Sunday mornings when the epic show was on air. But then television was hit by a saas-bahu storm. Mythological shows slipped down the popularity charts and people were mesmerised by gaudily-dressed women sparring with each other on television every evening.
Now, mythology is making a tentative comeback on television.
The success of Mahadev has encouraged Zee to launch a show based on the life of Gautam Buddha. Star India launched an extravagant Rs 100-crore version of the Mahabharat on its flagship channel, Star Plus, in September. It was a monster hit that got more than 6.5 million views in the first week itself.
Like Mahadev, Mahabharat also deals with contemporary issues such as parenting and honouring women, says Gaurav Banerjee, General Manager, Star Plus. Draupadi's character, for example, has strong shades of the Delhi rape victim who media has dubbed Nirbhaya. "Krishna, in one of the episodes, talks about parenting. He says that instead of spending all their time amassing money for their children, it would be better if parents spent time with their children and helped them become good human beings," says Banerjee.
To be sure, mythology never altogether disappeared from India. What has changed is the style of storytelling and the contemporary touch to both literature and television with a mythological theme.
"Mythology had never faded, it has always been the core element of Indian life," says Manas Mohan, Chief Operating Officer, ACK Media, publishers of Amar Chitra Katha comics. He says more than 40 per cent of the publishing company's revenues come from its mythology titles.
Leadership coach and
mythology expert Devdutt Pattanaik
says mythology captures the essence of a culture's notions of identity. People are drawn to it when non-mythological literature fails to satisfy that urge, he adds. "We are in times when we are re-seeking our identity," says Pattanaik, whose books include The Goddess in India and Indian Mythology. "The Western discourse, embedded in Greek mythology, is not satisfying us. So, we seek an Indian discourse, embedded in Indian mythology," says Pattnaik, Chief Belief Officer at Future Group.
Indian mythology has even started appealing to global storytellers such as
Grant Morrison, the creator of Batman.
Morrison has teamed up with character entertainment company Graphic India to create an animated web series on the Mahabharat titled 18 Days. The web series has got more than 2.5 million views on YouTube since its launch in August.
Graphic India has also put together an animated graphic series on the Ramayan titled Ramayan 3392 AD. "Both these ancient stories speak the basic truth of humanity, which has attracted audiences globally," says
Sharad Devarajan,
Co-Founder and CEO of Graphic India.
Clearly, stories such as the Mahabharat and Ramayan can never go out of fashion if told with a modern twist. Filmmaker Jayantilal Gada, Chairman, Pen India, too is planning to cash in on the renewed interest in mythology with an animation film on the Mahabharat.
Gada, who has invested more than Rs 50 crore on this film, says it is a huge risk considering animation films have not done well in India. Last year, Disney-UTV burnt its fingers with its animation film, Arjun.
But Gada has roped in big Bollywood stars to lend their voices for the films: Amitabh Bachchan will be the voice of Bheeshma while Anil Kapoor will do Karna and Vidya Balan will be Draupadi. "I am hoping that it will be a game-changer in the Indian film industry. I am hoping to create a market for animated mythological films," says Gada.
Pen India is also working on creating about 12 animated telefilms on mythological characters such as Lakshmi, Hanuman, Ganesh, Ramayan, Luv Kush and Raavan. The production house has already signed a deal with Zee Entertainment to air these films. "Mythology will be big business five years from now, and we are investing in it," says Gada.