Prime Minister Narendra Modi (Photo: Reuters)
Narendra Modi will not need economists to decode the stubbornly high rate of inflation. An action plan on tackling food inflation, submitted to former prime minister Manmohan Singh three years ago, is perhaps still lying in a dusty corner of the Prime Minister's Office. The country's 15th prime minister now has to walk the talk as inflation tops the agenda of the new BJP-led government. The action plan, with close to two dozen recommendations, also had a suggestion for reforming the archaic Agriculture Produce Marketing Committee (APMC) Act.
This Act, dating back to the 1960s, allows farmers to sell their produce through licensed middlemen in APMC mandis in their state. The produce moves from the broker to wholesalers, traders and finally retail consumers. "That's where farmers have a short hand, because APMC markets are captured by these big commission agents and they are charging hell for a five-minute job of auction," says Ashok Gulati, chair professor for agriculture at the Indian Council for Research on International Economic Relations. The agents generally take around 15 per cent commission, though the norm is about six per cent at the Azadpur mandi in Delhi and eight per cent in the Vashi market in Navi Mumbai.
Sometimes, a few middlemen create a cartel of sorts to jack up prices. This was evident when onion prices skyrocketed to Rs 100 a kilo just before assembly elections in four states last December. The intention behind the APMC Act was to create a market for farmers to sell their produce. However, that aim is defeated, as traders and middlemen make big money. One could even argue that the runaway inflation of recent years is partly caused by the APMC Act. Some claim that overhauling the entire Act would be too drastic, but if, as a first step, the government removed fruits and vegetables from its purview, it would go a long way in taming inflation.
The Model APMC Act, which the central government recommended to the states in 2003, already lays down a good roadmap, having identified the shortcomings of the prevailing agricultural marketing system. But its adoption and implementation have fallen short of expectations. "One of the reasons for the lukewarm response from many states is the conflict of interest that exists when the market operator - the state Mandi Board - and the regulator (the state government's agriculture marketing department) are the same," says S. Sivakumar, Chief Executive (Agri) at ITC Ltd and Chairman of the Confederation of Indian Industry's (CII's) National Council on Agriculture. Early this year, even Congress Vice President Rahul Gandhi had urged a dozen Congress-ruled states to remove fruits and vegetables from the purview of the APMC Act.
MUST READ:More on the APMC Act's shortcomings

Jobs for Everyone
In its manifesto, the BJP has said it plans to create 250 million jobs over the next 10 years. It plans to do this by encouraging fresh investment, clearing pending projects and promoting skill development, among other things. However, it will face roadblocks in the form of outdated rules and regulations, especially for small and medium enterprises (SMEs), and the unorganised sector.
For instance, the Industrial Disputes Act, 1947, requires companies that employ 100 or more workers seek government permission to fire even a single worker. The regulations also bar companies from downsizing their workforce in a hasty manner. This encourages SMEs to stay small, at least on paper, employing less than 100 permanent workers, making do with contract labour.
In India, labour laws preceded industrialisation. "So they are archaic," says B.C. Prabhakar, a director at software major Wipro. "The practical aspects of running an industry are not addressed by our labour laws."
The regulations for shutting down a factory are cumbersome, too. Entrepreneurs must seek government permission three months in advance. Prabhakar says: "This is driving me not to take permanent employees, but to use contract labour. The Act is not applicable to contract labour. This is hampering investment."
Many industrialists, as well as the CII, have argued that restrictions on exit deter entry. If companies cannot fire unproductive employees, they won't look for better ones. This archaic regulation has implications for the country's manufacturing competitiveness. India has a target of creating 100 million manufacturing jobs by 2022.
The law doesn't encourage companies to train people either. The Apprenticeship Act, 1961, requires that a company absorb a minimum percentage of the people it trains. This deters companies from taking on more apprentices, they are then obligated to hire them irrespective of vacancies and requirements. Oddly, the Act does not specify the actual percentage of trainees companies should absorb. "The unstated mandate makes many companies nervous about even reaching out to apprentices," says Rituparna Chakraborty, Co-Founder and Senior Vice President, TeamLease, a human resource services company.
A small change in the Act would encourage companies to take on more apprentices. Those who are not absorbed by the company that trains them would at least gain some work experience and be more employable. S. Ramadorai, Chairman of the National Skill Development Corporation and National Skill Development Agency, says India urgently needs to look at simplifying the Act to ensure twin objectives: one, that youth are protected from exploitation and not given low salaries in the guise of apprenticeship; two, that companies are not locked into guaranteeing employment and their business cycles are taken into account.
Amending the Inter-State Migrant Workman Act, 1979, would make it more effective in addressing the problems of migrant labour in India. The purpose of the Act was to protect the rights of migrant workers by specifying minimum wages. Today, 25 to 35 per cent of labourers are migrants. Take, for example, workers who migrate from Bihar to Mumbai or locations in Gujarat, or from the Northeast to Bangalore to work in industries such as health care and tourism. The Act does not specify skill sets, but lays down the minimum wage. "The governing policy and regulatory ecosystem is inadequate, leading to exploitation of workers by the private sector," says R. Raghuttama Rao, MD, ICRA Management Consulting Services.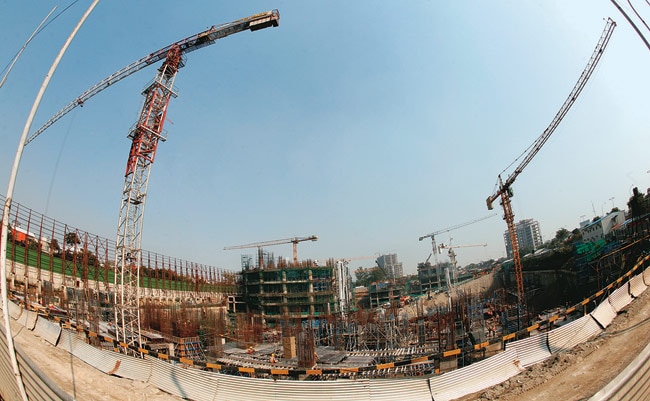 Cutting Down Corruption
Black money and corruption is on the new government's priority list. During the UPA regime, corruption in 2G telecom spectrum allocation and granting of coal mining rights was mainly due to the lack of policy or clarity in the policy. Many have argued that the unnecessary rules and regulations outlined in some laws are the breeding ground of black money and corruption.
Real estate is an industry associated with these problems, so that projects get cleared by government agencies. Take for instance, the Environment Protection Act, 1986. The rules require builders to take environment clearances for a new project, for expansion and redevelopment. This duplicates the process for builders, as environment approvals are taken at the initial stages, when the state clears the town or city plan. A city plan broadly outlines the areas reserved for residential, industrial, non-polluting industry, empty spaces and green zoning. "If the initial town planning process is done properly, the approval process for a developer should be fast," says Venkatesh Gopalkrishnan, Chief Investment Officer, Shapoorji Pallonji Real Estate. The environment ministry's approval takes six months to a year. "The duplication in guidelines has created a window for corruption," says a developer on condition of anonymity.
As with environmental issues, there are multiple layers for clearance at various stages under the Land Acquisition Act, 2013. Environment and social impact studies are mandatory for new projects. "This increases the time for acquisition of land for projects," says Rao of ICRA Management Consulting.
Some say the Modi government may use Gujarat's new land acquisition policy as a model to amend the Land Acquisition Act 2013. Rao adds: "Gujarat has probably one of the better land policies."
Another law, the Building and Other Construction Workers Act, 1996, is also a hurdle. It applies to
unorganised labour in the building industry
(labour in manufacturing comes under the Factories Act). The law requires employers to ensure welfare measures and safety precautions, and also specifies technical aspects regarding tools, machines, and medical facilities, among other things. This Act gives the labour commissioner wide-ranging powers to ask for compliance and harass employers for even minor violations.
Modi, as chief minister of Gujarat, had often talked of 24X7 power in his state. Private-sector power companies ramped up capacity in the last decade, as chief minister Modi eased the process for the industry. As Prime Minister, he is now expected to boost the power sector, which is struggling due to insufficient coal supply.
Experts say that encouraging competition in power distribution would make life easier for consumers by lowering electricity charges. Currently, the wire (transmission lines from transformers to households) and retail power distribution businesses are handled by a single distribution company, as the licence for these is a composite one under the Electricity Act, 2003. If segregated, the wire business would serve as a common carrier for all distributors, and the retail business could be opened to multiple companies in the same area. This would let consumers choose their power distributor based on price and service quality. A good example of such a system is the telecom industry, where the consumer does not care which tower transmits the signals.
In banking, rising bad loans are choking the sector's balance sheet, because of delays in seizing assets as promoters or entrepreneurs go to court to halt debt recovery. Often, suggestions to improve laws comes from within an industry, but in the case of banking, Raghuram Rajan, Governor of the Reserve Bank of India (RBI), has talked about overhauling the legal infrastructure for bad assets. "We could wish for a more effective judicial process or a better bankruptcy system, but while we await that, we have to improve the functioning of what we have," Rajan said soon after taking over as Governor.
A recent RBI working paper suggested changes in legal infrastructure such as additional debt recovery tribunals (DRTs), a special cadre of officers for DRTs, a separate bench for cases under the Securitisation and Reconstruction of Financial Assets and Enforcement of Security Interest Act, 2002, (SARFAESI) and the setting up of a special bench for corporate cases in every high court. It is well known that infrastructure is a major issue for the functioning of DRTs. "Most DRTs are sparsely staffed, with matters getting adjourned on a regular basis due to the absence of officers to conduct proceedings," says Cyril Shroff, Managing Partner at legal firm Amarchand & Mangaldas & Suresh A. Shroff & Co.
Today 25 to 35 per cent of labourers in the country are migrants
Another industry hoping for a boost from the Modi government is pharmaceuticals. The BJP's manifesto touches on intellectual property issues, and there is much anticipation of some action by him. The industry is heavily dependent on the US, a country with which Modi's ties have been somewhat strained in the past. Indian pharma has long argued that big pharma companies in the US are lobbying their government to put pressure on India to amend its intellectual property laws. For instance, Pharmaceutical Research and Manufacturers of America, an association of major US drug companies, has pointed to "India's ulterior motive to promote domestic industry and force localisation of capital" in a statement before the US International Trade Commission on January 30 this year.
The other major set of issues for Indian pharma companies is related to the domestic environment, which they say is less and less conducive to research and innovation. Take the Drugs & Cosmetics Act, 1940. A bill to amend it is pending before the Rajya Sabha since August last year. The industry wants provisions that will address its concerns about the slow grant of approvals for clinical trials to launch new drugs, among other things. Suneela Thatte, President of the Indian Society for Clinical Research, points out: "Going by health ministry figures, only 13 approvals were given for clinical trials last year, and this means, in a sense, we have gone back to the levels at which we were back in 2005."
MUST READ:More on the Aircraft Act's shortcomings

Satish Reddy, Chairman of drug maker Dr Reddy's Labs and President of the Indian Pharmaceutical Alliance, an industry body, says: "There is a clear slowdown in the process of granting approvals for new drugs. As for clinical trials, there is a lot of angst as far as the industry is concerned, and some companies are shifting clinical trials outside the country. This is a big concern. The industry also needs greater clarity on the drug pricing policy."


Need for New Acts
Only 13 approvals were given for clinical trials last year
Tweaking or rewriting existing laws won't be enough. A couple of new Acts are expected to come up before the Modi government for approval. One is a law that would make the Forward Markets Commission an independent regulator for commodities markets. Another is to create a real estate regulatory authority at the state level is also pending. The previous government initiated major civil aviation reforms, such as the setting up of a Civil Aviation Authority (CAA) to replace the Director General of Civil Aviation (DGCA) by enacting a new law. Aviation reform is even more important since the US Federal Aviation Authority downgraded India's safety rating in January. "It is important to expedite the setting up of the CAA," says Peeyush Naidu, Director at Deloitte India.
FULL COVERAGE:Saffronomics - Potential & Pitfalls

Many experts consider aviation over-regulated, with excessive concentration of powers in the DGCA, through which the central government exercises its authority. Amber Dubey, Partner at KPMG India, says commercial airlines should be allowed to fly routes that are commercially viable for them, and not those dictated by guidelines. "The government must move out of too much interference in issuing licences for pilots and also aircraft procurement, as some procedures create bottlenecks and result in delays," he says.
Some laws that affect sunrise industries need to be revised. For example, the fast-growing direct-to-home (DTH) industry needs better laws. "Broadcasting needs a new regulator and new legislation," says Jawahar Goel, Managing Director of Dish TV, the country's first DTH player. Currently, the Telecom Regulatory Authority of India (TRAI) is the intermediary authority for licensing and regulation. Goel says the sheer volume of telecommunications issues with TRAI makes a strong case for a separate authority for broadcasting. "Broadcasting isn't getting enough mind-space at TRAI," he says.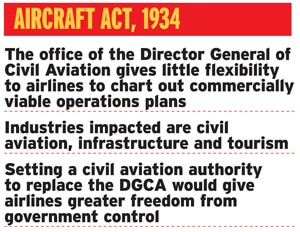 DTH guidelines could do with greater clarity. Currently, DTH licences are granted for 10 years, with no provision for extension. If a company's licence is not renewed, it impacts its entire business model. Dish TV, which has invested hugely in its business and completed 10 years, got a one-year extension last year. TRAI is expected to submit a set of guidelines soon to Modi's cabinet, after which a timeframe for renewal will be drawn up.
Clearly, there is enough to keep Modi and his government busy for the next five years.

Inputs from Anand Adhikari, Arpita Mukherjee, Manisha Singhal, Shamni Pande, Goutam Das, Suprotip Ghosh and E. Kumar Sharma.
Follow the authors at: @anandadhikari, @arpitamukherjee, @manishasinghal, @SuprotipGhosh, @ShamniPande, @Goutam20, @EKumarSharma