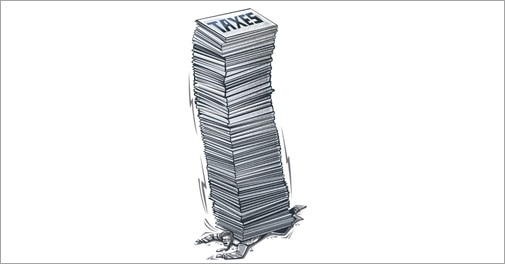 A Google search for 'tax terrorism in India' returns nearly eight million results. Most of it is junk - everything from advice on containing militancy to the activities of the terrorist group Lashkar-e-Taiba. But pages after pages are also about the acts of India's income tax department, whose officials have slapped tax evasion cases against several companies including Vodafone, Nokia, Shell India, and General Electric in the recent past.
The catchphrase became popular after the Bharatiya Janata Party (BJP) mentioned it in its manifesto for the Lok Sabha polls, where the party won a landslide victory. Indeed, soon after taking charge of his office, Law Minister Ravi Shankar Prasad said: "Retrospective taxes should be avoided in the maximum. Our larger view is that the fiscal, policy and taxation regime must be evident because India needs investment...Those who invest in India may not have to face uncertainty."
It is easy to see why the phrase "tax terrorism" caught on. As of December 2013, there were 45 corporate cases where direct-tax demands were more than Rs 500 crore. Overall, outstanding corporate tax demands from both listed and unlisted companies stood at a staggering Rs 2,46,416 crore. To add a bit of perspective, this is more than half of the corporate tax (Rs 4,51,005 crore) for 2014/15 estimated in the interim budget announced in February.
The inflection point for "tax terrorism" came in 2012 when the government retrospectively amended a law to tax mergers and acquisitions between any two companies if the underlying assets were in India. The trigger was a 2007 deal in which mobile-phone operator Vodafone bought Hong Kong-based Hutchison Group's stake in local telecom services provider Hutchison Essar. It was an offshore deal since the Vodafone and Hutchison group companies that bought and sold shares of Hutchison Essar were based out of India.

But tax authorities held the deal was taxable in India because profits were realized from the indirect transfer of a local asset. Tax claims slapped now total Rs 20,000 crore, including penalty. However, the Supreme Court ruled in Vodafone's favour. Soon after the judgement, the government amended rules which allowed it to claim tax retrospectively on such transactions, effective April 1962.
No one knows for certain how many cases tax authorities have opened evoking the retrospective amendment. Depending on whom you speak to, the number could vary from 20 to 100. One known case is that of Scottish explorer Cairn Energy. The company's bid to sell a 10 per cent stake in Cairn India was halted by tax authorities earlier this year. They alleged the company made capital gains of Rs 24,500 crore in 2006/07 when it amalgamated its group companies and assets, some of them foreign ones, under the umbrella of Cairn India. The company says there were no capital gains since it was an internal reorganisation.
The dispute has hurt Cairn Energy. The company's shares on the London Stock Exchange fell from 268 pence on January 14, a day before the tax notice was issued, to 151.3 pence on March 24. "The company plans to invest $400 million in projects from North Sea to the shores of North Africa," says an executive who does not want to be named. "Now things cannot move at the anticipated pace."
Such cases have affected foreign direct investments into India. "The first thing as an investor I look for is the pattern of policies," says Ravi K. Mehrotra, Chairman of London-based Foresight Group, which has invested in retail and oil exploration sectors. "I would be scared to put in money where the government changes law in such a way."
So what can the BJP-led government under Prime Minister Narendra Modi do?
Taxation experts Business Today spoke with say there is an easy way out - amend the amendment. "The government can make the law prospective," says Dinesh Kanabar, Deputy CEO at consultancy KPMG India. "The amendment should be made effective from April 1, 2013, because it was introduced in parliament in the Finance Act, 2012. This is the correct way to go ahead," he adds.
Mukesh Butani, Managing Partner at professional services firm BMR Legal, says repealing the law would mean the Supreme Court decision in the Vodafone case stands. "Even if you forgo taxes, you will buy a lot of goodwill. The second option before the government is to go ahead with arbitration [Vodafone wants arbitration under the India-Netherlands bilateral investment treaty]. However, the government will cut a sorry figure if it goes in favour of Vodafone," he says.
It's early days yet but the Modi government is sending out the right signals. Law Minister Prasad's comments are reassuring for Ajay P. Singha, Executive Director at the American Chamber of Commerce in India, an industry body that has been demanding simplification of taxation, more transparency in government contracts and a better investment climate. "There are investors queuing up to invest in India. If Mr Jaitley [Arun Jaitley, the new finance minister] happens to bring in these changes, tax revenue will also increase," he says.
Follow the authors at @anileshmahajan, @Goutam20