In the past fortnight, two diametrically opposite business calls captured the dilemma in one of the hottest segments of India's fast-growing e-commerce industry - grocery e-tailing.
While instant grocery delivery firm Grofers, which has raised $167 million in three rounds from Softbank, Tiger Global and Sequoia Capital, decided to stop operations in nine cities, and LocalBanya, among the top five players, halted operations, Sanjiv Goenka group-owned Spencer's Retail bought New Delhi/Gurgaon-based start-up meragrocer.com and announced that it would scale up to 35 cities.
The dichotomy - of two players scaling down due to lack of business and the other one scaling up - sums up exactly what is happening in grocery e-tail. Over the past three to four years, this business opportunity has spawned over 60 multi-city start-ups and hundreds of hyper-local grocery delivery chains. The total funding to the top five online grocery start-ups has exceeded $400 million since 2011. But with the initial euphoria dying out, it's now down to testing of business models and the business matrix. Perhaps, it's time to fine-tune those less-than-perfect business models and scrap the ones that have failed to help the businesses scale up.
Mind you, this isn't the first time money has flowed into the business of grocery delivery. The first round, in the late 1990s, saw a variant of the brick-and-mortar model that led to ramping up of neighbourhood stores by the likes of Subhiksha, which expanded to over 1,600 outlets, but suffered a massive cash crunch towards 2009, leading to shutdown of dozens of stores.
Similar was the fate of the second round that started in 2007/08 right after the great real estate and banking meltdown in the US when website-based online grocery firms such as FamilyKart, Dazo, Langhar and Ordersnack, among dozens of others, were founded, but had to scale down or shut shop. This round lasted three to four years.
The latest round started three-four years ago when app-based e-grocers such as Grofers, Peppertap, LocalBanya and Zopnow were founded. It included a not-so-successful attempt by Future Group in 2013 to deliver stuff directly from warehouses. While the first two attempts have been a total failure with some battered survivors clinging on for dear life (see Global Big-Bang Failures), the latest round, too, is threatening to go the same way.
This is not a purely Indian predicament. From Australia to US and Europe to China, grocery e-tail has been one of the biggest challenges for brick-and-mortar giants such as Walmart as well as seasoned e-tailers such as Amazon. US-based online grocer Webvan shut shop in 2001, four years after the launch, despite raising a whopping $830 million. Others that started around the same time, Homeruns and Kozmo, too, shut down. It's neither difficult to explain the rush, nor the need. While on one hand, long working hours and growing distances leave people with little time for shopping at stores, on the other hand, the near ubiquitous presence of the Internet and the advent of e-shopping have emerged as ready solutions. This is increasing grocery demand by up to 30 per cent per annum in most big cities, making India the world's sixth-largest grocery market where grocery shopping is expected to rise from $383 billion a year to $1 trillion by 2020, according to retail consultancy Technopak.
Grocery Delivery Re-run
Nearly five-seven years ago, when online shopping was going beyond books to electronics, clothing, even shoes, a dozen start-ups extended the shop-with-a-click service to fruits, vegetables, staples and fast moving consumer goods. If people bought products that were required to be touched and felt to know their quality online, why would they not value the convenience of getting dal and rice delivered home, was the driving thought.
However, it took only two years to prove the 'convenience' hypothesis wrong. A number of start-ups bled to death as they could not sustain on wafer-thin margins. Also, while investors were gung-ho on e-commerce, they stayed away from grocery start-ups, as no one was willing to burn fingers in this extremely low-margin business that was hard to scale up beyond a city and involved challenges such as logistics and perishability of the products. But with interest in e-commerce sustaining all these years, and due to fewer opportunities remaining in funding horizontal e-tailers such as Flipkart and Snapdeal, investors are back to looking at various niches in e-tailing, including e-grocery. India's largest venture capital firm by fund size, Sequoia Capital, has two competing food start-ups in its portfolio -PepperTap, in which it has co-invested with SAIF Partners besides Snapdeal and other investors, and Grofers, where it has invested with Tiger Global Management. Valuations of such start-ups are also on an upswing. Until June this year, for instance, Grofers had raised $10 million and $35 million in two rounds, its valuation tripling from $33 million to $115 million in less than six months. Towards the end of 2015, Grofer's valuation in the last funding round worth $120 million led by Japanese investor SoftBank, stood at $300 million. The number of start-ups jumping in to take a bite of 'grocery' is overwhelming. Besides Grofers and PepperTap, those who have received funding or are in the fray include Jiffstore, Meragrocer and AaramShop, apart from a dozen others such as Delyver, which was recently acquired by a larger player, Big Basket. Interestingly, Webvan, too, had got funding from both Softbank and Sequoia.
Biz Model Revamp

Despite the overall objective of catering to the need for delivering grocery instantly to the customer's home, there are vast differences in business models between the three generations of grocery start-ups, as well as between the different models in vogue today.
The latest round, for instance, is not just technology-heavy due to use of apps (barring a few exceptions such as Big Basket, PepperTap and LocalBanya), it is also asset-light as it relies less on holding inventory and more on logistics and local/hyper-local sourcing of products. A few investors see this as more sustainable than the inventory-led model that requires building of huge infrastructure such as warehouses. "In this wave, the companies are hyper local, they are technology and logistics companies," says Mukul Arora, Principal at SAIF Partners.
Like SAIF, no other investor is backing inventory-owned grocery business models, barring an exception like Big Basket, which by far is the largest and the only inventory-led online player with a total funding of Rs 280 crore. Others, such as Bangalore-based ZopNow and LocalBanya, which started with the inventory model, pivoted to hyper-local and inventory-light models, respectively.
"There are some things that we have learnt from Webvan - not to be a completely inventory-led model," says Rashi Choudhary, Co-founder and COO, LocalBanya.
Next-gen grocery start-ups are also trying out niche models. For example, New Delhi-based iorderfresh delivers fruits and vegetables within two hours of the order being placed. "Fresh foods' supply chain is extremely complex but the catch is higher margins as compared to packaged FMCG food products," says Nitin Sawhney, the Founder and CEO who started the venture in December 2014. Average margins in fresh foods are 29-35 per cent. In packaged foods, the figure is 19-25 per cent.
In sharp contrast, Amazon's India arm launched hyper local grocery delivery service KiranaNow towards mid-2015. The service, which is still at a pilot stage in Bangalore, focuses only on dry food items with long expiry dates. "I miss things like pickle from my hometown. This is the kind of local stuff we want to make available to customers through the convenience of e-commerce," says Samir Kumar, Category Head at Amazon. Kumar claims to sell more than 7,000 unique gourmet products on the platform. KiranaNow is on the lines of Prime Now, Amazon's service for local delivery of everyday products.
"We start in any city, source from mandis or consolidation centres, and later as volumes grow, move backwards in the supply chain to the farm. Our buying units are closest to the farm"
Betting on gourmet food products, Snapdeal, in early 2015, tied up with Godrej Nature's Basket to sell its products online.
Also, some of India's biggest e-tailers are betting on the asset-light model where the supply chain is simpler to handle. Mobile wallet company PayTM, which runs its own marketplace as well, launched a separate mobile application, Paytm Zip, towards the middle of 2015. It, however, withdrew the app from app stores within a couple of months. Flipkart too, launched a similar app, called Nearby, last October, to get into the hyper local space.
The asset-light model allows consumers to place an order with local kirana stores via a mobile app. The kirana store receives the order and, using the logistics services of start-ups, is able to deliver within a certain radius of the store, wider than its offline reach, assuring it incremental revenue. One of the biggest problems the hyper local grocery model solves is the speed of delivery of food and daily essentials. This is stuff that consumers will not wait for a day or two. "If you are replacing the need to run errands to the market, your delivery time should match that," says Albinder Dhindsa, Founder and CEO of Gurgaon-based Grofers, whose team of bikers delivers within 90 minutes of getting the order. Dhindsa kicked off the international operations of restaurant-listing start-up Zomato and then found his calling in entrepreneurship. Initially, two years ago, he launched OneNumber, a logistics company that would do deliveries for grocery stores. The same company re-branded to Grofers in January 2015, allowing consumers to place orders to kirana stores. The start-up operates with eight to 10 bikers per city and has hubs throughout the city that serve as cash collection and attendance points.
Same-day delivery poses a huge challenge for those following the inventory-led model as they can't afford a large warehouse in every neighbourhood. Supermarkets or kirana stores have their own micro-warehouses close by and, hence, can deliver twice a day to a customer in the neighbourhood.
Besides saving costs related to managing the supply chain and warehouses, another big advantage is that the cost incurred per delivery is lower due to shorter distances. This works better in markets with low aggregate margins. "If on a Rs 500 basket, you are getting a margin of Rs 70-80, you cannot afford to spend Rs 150 on last-mile delivery," says Grofers' Dhindsa. Grofers makes a margin on 12-15 per cent only on order values ranging between Rs 700 and Rs 1,000.
"If you are replacing the need to run errands to the market, your delivery time should match that"
Tech Unlimited
The biggest differentiator has been the extensive use of technology. "We use technology heavily, which older start-ups did not do," says Navneet Singh, Co-founder and CEO of PepperTap, which launched in Gurgaon on December 20, 2014. Singh, who had earlier founded reverse logistics company Nuvoex, believes investors have bet on the team's past experience in logistics. Among other things like digitising inventories of kirana stores and receiving orders on a mobile app, PepperTap has made sure that its delivery boys use a mobile app to know what items to pick from which store and deliver to which customers. "We need to track in real time which products are available at which store so that only the available products are shown to shoppers," says Singh. PepperTap delivers 8,000-10,000 orders a day across 15 cities. It is aiming for an annual gross merchandise value, or GMV, of $60-80 million by March this year.
Similarly, Big Basket, which stocks inventory, uses technology in each of its functions. Its back-end predicts future sales patterns. The reports generated by the system are used to place orders with vendors via an automated system. Orders placed on the website are transferred to smart phones of 'pickers' stationed in the warehouse who pick the items from the shelves. If he selects a wrong item, he gets a message. Even the routes of delivery vans are system-generated so that deliveries on the same route can be managed efficiently.
It is technology again that is at the centre of growth of the non-inventory asset-light model. As a result, e-grocers, which are essentially platforms to connect customers and local stores, are growing faster than those such as Big Basket that have embraced the stock-and-sell inventory model. Big Basket stayed in its maiden market, Bangalore, for over three years before expanding to other cities.
On the other hand, the asset-light Grofers expanded from Delhi-NCR to Mumbai and Bangalore within five months of launching its mobile app. By June, it also had operations in Pune, Ahmedabad, Jaipur, Lucknow, Hyderabad and Chennai, going up to 26 cities within the first year of operation. The company also claims to be tripling order volumes month-on-month. Currently managing a monthly GMV of $5.5 million, it is looking at touching $7.5 million per month by March 2016.
However, the biggest player, Big Basket, operating from 14 cities, aims to achieve a GMV of Rs 1,000 crore by the end of March 2016. It is innovating, giving a tough fight to the inventory-light start-ups. Since it stocks products, it is investing heavily in private labels, which (depending on the product category) deliver 20-50 per cent higher margins than the branded products. It has already created its own premium and regular brands of staples - Big Basket Royal and Big Basket Popular. Besides, it sells fresh fruits, vegetables, meat, coffee, baked-to-order breads and pani puri (a popular snack) under its Fresho brand.
Private labels already account for 35 per cent of its sales. Big Basket clocked Rs 210 crore revenue in 2014/15, up from Rs 85 crore in the previous year. Multiple other innovations are under way. Drawing inspiration from the US-based website Blue Apron, which provides packets of measured ingredients associated with a recipe, it has launched 45 recipes in the gourmet food range. The plan is to soon launch another 200-300 recipes with common Indian meals such as khichdi and rajma-chawal. The company is setting up 'dark stores' or smaller warehouses in neighbourhoods. This is besides a large central warehouse hub. This will enable faster deliveries of essentials that customers want quickly.
Then there are those that have taken the middle ground between inventory-led players such as BigBasket and the no-inventory players such as PepperTap. One such player is the Hyderabad-based Zip.in, which does same-day deliveries by consolidating orders and procuring in bulk. "We don't identify a store close to you. That would limit choice and be less efficient in terms of delivery. We deliver multiple orders at the same time - in a van. The order value is also high as we have a wide range," says Founder and CEO Kishore Ganji. His average order value is Rs 1,200-1,500. Zip.in claims 15-20 per cent margins depending on the category of the product. According to the CEO, the hyper local model of Peppertap is less efficient and has significantly less average order value.
"We use technology heavily. We need to track in real time which products are available at which store so that only the available products are shown to buyers"
GrosseryHub.com, which operates in Delhi-NCR and started in June 2013, also follows a hybrid model. Anand Kishore, Marketing Manager, says it is partly inventory-led and partly marketplace. The company operates two warehouses, buys in bulk, and so is able to give discounts. Still, he says, they have been under pressure from the bigger asset-light players such as Big Basket and so is going slow with cash burn. "We have seen 15 companies close in two years. It is not sustainable in the current environment. The market will mature in two-three years. At present, the Delhi market is driven by kirana stores. Bangalore and Mumbai are mature as 50 per cent of their population is from outside and there are more working couples and a lot of societies and apartments," he says.
Grocermax, which started operating in early 2015, is now in Gurgaon and the rest of Delhi-NCR. The founders, K. Radhakrishnan and Gaurav Juneja, tend to think of themselves as running a retail company more than an IT company. They also believe that the on-demand model of Peppertap or Grofers carries a higher risk - not only are their order sizes smaller, they are also unlikely to fulfil all the orders placed. They may take orders for Rs 1,000 but deliver orders worth only Rs 700. That is because of forecasting problems - the local stores they source from don't store everything since the cost of capital is high in India, they say.
Grocermax has a hybrid model and 60 per cent of its orders are "flow-through". Orders are taken till 11 in the morning and aggregated. The fruits and vegetables come from Azadpur mandi and other things from Metro Cash & Carry. They are packed and sent to a warehouse from where they are picked up for delivery to customers by 5 pm.
It is not an on-demand model but caters more to the planned purchase of the customer. The catalogue size in planned purchase is bigger and the average order value is Rs 1,200-1,300, two-three times higher than the figure for on-demand hyper local companies. The company had raised a couple of million in the seed round. It is now in active discussions for Series A funding of $10 million. The founders say they need the money for customer acquisition.
Hunt For The Winner
Neither model is foolproof, though. Experts such as Arvind Singhal, Chairman and Managing Director at retail consultancy Technopak, believe that just as the Grofers' scale-down has proved, even the asset-light model is not weather-proof. While it does allow tremendous flexibility in sourcing, delivery and quick ramp-up, it is tougher to introduce the higher margin private labels because of multiple sourcing points.
There are other challenges as well. While working with local stores enables quick delivery, the stores themselves are largely stodgy. There are multiple inefficiencies involved in movement of products from the manufacturer to the store and there are several intermediaries involved. "The supply chain of these stores is primitive but we are investing to make it better through technology and having dedicated areas within supermarkets for Grofers," says Dhindsa of Grofers. "The biggest roadblock for us is the time spend at the stores."
On Sunday, June 7, Grofers delivered 6,000 orders across the country, 3,000 in Delhi alone. A lot of stores it had partnered with ran out of inventory. It usually takes three to four days to refurbish stocks when the store owner places a request with the distributor. Because of limited inventory and tardy refurbishing, the old-generation stores cannot handle a spike in orders. On the same day, June 7, the start-up sold 600 kg of tomatoes in South Delhi. All the eight stores in South Delhi that Grofers works with ran out of stock.
Also, not all retail stores find the services of delivery companies viable. Pankaj Dalakoti, who mans the cash counter at a super market in Ghaziabad, says they were approached by one such delivery company, but they refused to partner with them. "They wanted to charge a little extra to the consumer as delivery charges and we were not okay with that. We feared loss of business and reputation," says Dalakoti, who manages his deliveries via four-five locally-hired boys and does not charge a penny extra for delivery of milk and other supplies.
PepperTap says it doesn't work with small mom & pop stores because they don't keep sufficient inventory. Organised bigger stores work better.
Big Basket, however, is better placed in terms of sourcing capabilities. It sources 30-35 per cent fruits and vegetables directly from farmers. "We start in any city, source from mandis or consolidation centres, and later as volumes grow, move backwards in the supply chain to the farm. Our buying units are closest to the farm," says Hari Menon, Co-founder and CEO of Big Basket.
"I miss things like pickle from my hometown. This is the kind of local stuff we want to make available to customers through the convenience of e-commerce"
He along with others had set up FabMart, one of the earliest chains of grocery stores in 1999 that was in 2006 sold to the Aditya Birla Group. It is now called More. Similarly, for staples, the company starts sourcing from mandis and then finally ends up buying from the mills. For FMCG, it starts with the distributors and over a period of time moves to buying directly from companies.
The Viability Question

The biggest question being posed is: Can start-ups that do not own the stock actually make money? Logistics is the biggest puzzle to be solved, accounting for upwards of 70 per cent of the total cost these businesses are incurring. However, it will be difficult to pass on the delivery costs to consumers because as far as grocery items are concerned, they will not be willing to pay a penny more than the MRP. Store owners, too, are reluctant to bear the cost of delivery unless they see a very substantial spike in volumes.
"There is no business model in place," says Singhal of Technopak. Most such start-ups, including Big Basket, charge a delivery fee for orders below a certain value. Grofers, for instance, charges Rs 49 for order value below Rs 250, making no money. However, the company says it makes money after the fourth or fifth repeat purchase, when the order value swells to Rs 700-1,000.
Start-ups are also engaged in a race to expand across cities, which may backfire, as it did with Grofers. "Expanding fast and making ongoing investments with returns is the mistake that big offline retailers like Subhiksha or Future Group's Big Bazaar made. You need to get your economics right before expanding," says Singhal, who believes both LocalBanya and Big Basket expanded too fast, without capturing the market in one city. That way they faced the same risk as the offline retailers. "Three years looks like a big period but it is actually too small if you see the huge difference between the size of the market with their current turnover," he says. The Bangalore market alone is around Rs 15,000 crore as compared to Big Basket's turnover of Rs 200-250 crore by the end of March 2015. Even Amazon's grocery service, AmazonFresh, launched in Seattle in 2007, did not move beyond the city for a good six to seven years.
The other question is whether the asset-light grocery start-ups will remain e-grocers in the true sense! After all, they are largely logistics companies focused on grocery. Eventually, they may deliver products such as medicines or even a mobile charger or a mobile recharge coupon from the local market.
Take the case of New Delhi-based AaramShop, which was the earliest start-up to attempt a business model involving kirana stores. Today, it works on a different model altogether. Started in June 2012, it works with over 7,500 mom & pop retailers across the country to bring their inventory online while letting them take care of own deliveries. "We want to fix what is broken and delivery is not broken in India as it is in the US where delivery boys cost a couple of dollars per hour. In India, kirana stores have been doing own deliveries for a long time now," says Vijay Singh, Founder and CEO, AaramShop. Harping on the fact that neighbourhood stores account for 90 per cent of the retail business in India, the company earns most of its revenues by providing analytics on consumer behaviour at kirana stores to FMCG companies. "Big Bazaar gives analytics on what's happening within Big Bazaar. Our analysis talks about more than 95 per cent of retail in the country," says Singh.
In the US, Instacart was founded in July 2012 to replicate the Uber model in local delivery of grocery. While it does not invest either in inventory or logistics, it provides a technology interface to connect consumers to youngsters with cars who are willing to run an errand picking grocery from a nearby store, deliver to the nearby consumer, and get paid per delivery.
The Coming Assault
The newest challenge, of course, is the assault of the brick-and-mortar retailers. The country's largest retailer, Reliance Retail, with revenues of Rs 17,640 crore in 2014/15, had piloted its online grocery business www.reliancefreshdirect.com at its corporate park before the launch in Navi Mumbai and Thane about 10 months ago. Gradually, it expanded to South Mumbai and later to entire Mumbai. It delivers grocery orders either from Reliance Fresh stores or the nearest distribution centre. With 6,000-plus products on sale on the platform, the company is looking to scale up in Tier-I cities across India initially. The expansion will go along with the launch of its digital service business Jio.
"For a company of Reliance's size, the start-ups will never pose a threat. Right now, we are going slow with the online retailing business because of the launch of Jio. The Jio platform will help us massively expand our grocery e-commerce, cashing in on the existing network of Reliance Fresh," says an executive. Reliance Fresh operates in around 100 cities across India with 700-plus stores. Mukesh Ambani said in the recent annual general meeting, "www.reliancefreshdirect.com has seen significant success and would be further scaled up to serve new markets."
Brick-and-mortar retailer Future Group has also made multiple attempts at online and hasn't give up yet. It is getting ready yet again. The largest retailer, controlled by Kishore Biyani, is preparing to try the omni-channel model to counter the e-tailers and e-grocers by investing around Rs 100 crore. Earlier, Biyani had made several half-hearted attempts to build e-tail (futurebazaar.com, BigBazaar.com and Big Bazaar Direct, in addition to the beta versions), but achieved little success.
Biyani has around 200 Big Bazaar stores, 130 KB's Fairprice shops, in addition to 150 Nilgiris stores, 188 Easy Day supermarkets and 15 Easy Day hypermarkets, where he sells grocery. In the omni-channel model, Biyani's stores would act as warehouses and deliver to the surrounding localities. "This will help the retail chain deliver perishable goods like grocery faster to customers. Since grocery shopping is more prevalent in Tier-I and Tier-II cities, the Future Group will have an edge while selling grocery online or via omni-channel," says a retail expert with a global bank.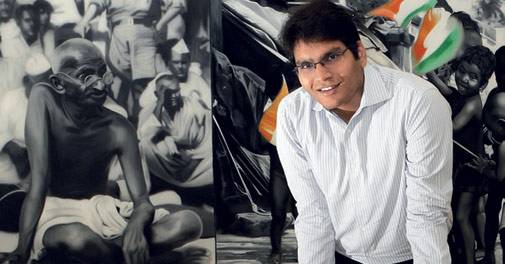 "We want to fix what is broken, and delivery is not broken in India as it is in the US where delivery boys cost a couple of dollars per hour"
Aditya Birla group's retail chain, More, too, started the online food and grocery business in Gurgaon about a couple of months ago. In May, it roped in online grocery retailer ZopNow for enhancing the home delivery business in Bengaluru, Hyderabad and Kolkata. More has 16 hypermarkets in these cities. "Technology allows us to connect a lot better with our customers and to take a true omni-channel approach to meet their ever-changing needs. We have already initiated multiple pilots to see which models work best and expect to scale up accordingly," says Pranab Barua, Business Director, Apparel & Retail Business, Aditya Birla Group.
There is a huge question mark over which model will succeed eventually. More importantly, there are doubts whether online grocery will succeed at all, especially since physical delivery of low-value goods will always run up against the constraints of infrastructure, labour and perishability. Inarguably, a great hope rests in delivery via drones that Amazon.com is banking on. Even Walmart recently sought approvals for testing the use of drones for delivery.
But a successful model still eludes e-grocers around the world. Even inventory-led businesses like the US-based Webvan shut shop in 2001 after raising a whopping $830 million. But retailers who have both a physical supply chain and an additional online front have been only marginally successful. These include the world's largest retailer, Walmart, which is already the second-largest e-tailer in the US after Amazon (though less than one-fourth its size still), and UK's largest retailer Tesco. Their perennial concern is whether there is yet another disruptor round the corner.
@KhanTaslima, Goutam20, nevinjl